In a Nutshell
INGIC Design is a world-renowned design agency that deals in all areas of design including web, animation, print, and of course, logo designing. Whichever service you need, INGIC Design delivers superior quality work, fast delivery times, and the kind of customer-centric service you can appreciate. With industry-specific logo designs, competitive pricing, and an easy to use online format, it's easy to see why INGIC Design is one of the best.
pros
Round the clock customer assistance
Unique and varied logo designs and types
cons
No information about designers
Enterprise Package is pricey

INGIC Design Visit Site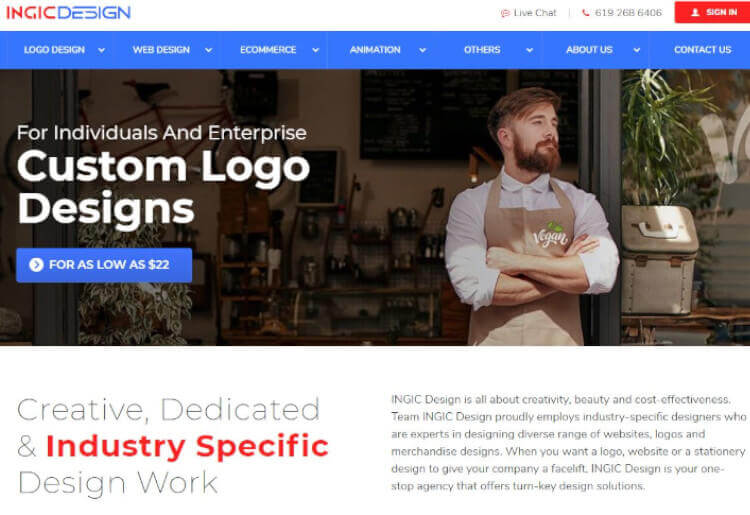 Best For
Anyone looking for fast turnaround times
Small to large-sized businesses that want quality work
Businesses looking for flexibility in design process
Value for Money
INGIC Design is a brand name for a reason, and that's because it delivers quality design products in a pleasant and professional way. It's also because INGIC Design has 4 different pricing plans to choose from, so it really caters to any type of business out there, from one-man operations to multi-location corporations. The pricing plans are more than competitive too, so you are getting excellent value for your money.
For example, if you're just starting out and don't have the budget to go all in for your logo design right now, you can choose the Discount Offer. For just $22, you'll get 2 design concepts, 2 revisions, and an expert designer working on your case exclusively. That's chump change for any business investment, and certainly a steal for a quality logo design. And the value just increases as you climb up the pricing tiers. Here's a look at what you'll get from each plan:
As you can see, INGIC Design's rates are very affordable and incredibly low for the market. You can always get something for less with a company like Fiverr and the like, but those don't come with the same quality guarantee. It's more of a hit or miss, so you can take your chances if you can't manage the $22 investment.
In addition to the basic logo design, INGIC Design offers you other design options that are included in the plans. All plans come with a 100% satisfaction guarantee, full ownership rights, and totally unique designs. They also all come with a 100% money back guarantee and 48-72-hour turnarounds.
The Plus and Prime Plans also include business card designs in the package, while the Advance Plan offers stationery design, and the Combo Pack and Corporate Plan have website design included. The upper tiers (Advance and higher) also come with a year of free domain and hosting and $100 Google AdWords coupon.
So, you are getting a whole lot of bang for your buck with INGIC Design.
There is also an Enterprise Logo Package that's only around for a limited time. This includes unlimited design concepts and revisions, 3 dedicated designers, and stationery, website, and social media account designing for a grand total of $1,105. If you're looking for the works, this is it.
Portfolio/Experience
The one downside to INGIC Design's otherwise flawless record was the lack of information about its designers. There is no information about requirements or length of experience that the designers need to have in order to be employed by INGIC Design. That being said, INGIC Design does have an exquisite portfolio that really speaks for itself. Basically, you can talk a lot about how great your designers are (as many logo design firms do), or you could put your money where your mouth is and show us how good you really are.
INGIC Design has opted for the second method, and the portfolio tells us everything we need to know. The logo designs are stunning, expertly crafted, niche-specific, and something really unique. You won't see logo designs like these anywhere else.
Contract Terms
INGIC Design has the usual T&C spelled out in fairly understandable terms. It's not as user-friendly as some companies make their terms and conditions, but anyone can get the gist of what's being said without a law degree. All payments are made up front for the plan you choose. INGIC Design has easy payment methods including all major credit cards, bank transfers, and PayPal.
Customer Service
INGIC Design takes customer satisfaction seriously, and you can see this clearly throughout the website. The customer support is a major area where this concept shines. You can reach out for service via the toll-free number, local phone number, or online contact form. INGIC Design also has social media handles that you can reach out to, including Facebook, G+, and Twitter.
What's really impressive about this department of INGIC Design, though, is the live chat. You can get in touch with an account manager any time of night or day, 24/7. The live chat function makes it extremely convenient to just get a quick answer, jot down a fast thought, and work through any issues that arise.

INGIC Design Visit Site
Design Process
INGIC Design has a simple design process:
1. It starts with a generous free consultation. During this time, you'll tell the designer exactly what you're looking for from your logo design, along with any details about your brand, industry, and preferences to help give the designers a good idea of what kind of style will work best for your needs.
2. Over the next few days, INGIC Design designers will draft several concepts for you to choose from. You'll receive your first design concepts within 72 hours of your initial consultation. You can choose the logo design with the right flair to fit your company.
3. Next, you'll get a revisions stage at which point you can tweak the logo design to better suit your liking. This includes changing font, size, shape, colors, etc.
4. Once you've finalized your logo choices, you'll receive the finished logo design in various file formats for you to use.
How many initial designs and revisions are included will depend on which plan you choose, but even the lowest plan for $22 gives you 2 initial design concepts and revision rounds. That's pretty generous. Plus, INGIC Design guarantees that you'll get your initial concepts within 72 hours of consultation, and you're more likely to see results in 48 hours.
The overall impression that we got when working with INGIC Design was one of cooperative, professional respect. The designers take their work seriously and work hard to deliver top quality designs as quickly as possible. The staff is friendly, flexible, and willing to work with you. Plus, the fact that you have multiple revision rounds even with the cheapest plan really shows how much they are willing to work together with you to give you exactly what you want from your logo design. INGIC Design really won big points in our book for a smooth, flexible, and fast design process.
Conclusion
A design company that uses digital technology to maximize the potential of your logo, INGIC Design creates high-quality logo designs that span the spectrum of niches and styles. It's just the kind of company you'd want to work with, delivering excellent results quickly and in a personable manner. Add to that reasonable pricing plans, and INGIC Design takes the cake for top logo design firms around today.