Many guerrilla marketing campaigns use public spaces, such as streets or shopping malls, as a means to provide context to product features. However, online platforms are also used to run successful guerrilla campaigns, taking advantage of the best marketing tools to capture website traffic or new customer details.
Frontline
Any list of guerrilla marketing campaigns would be incomplete without Frontline's flea spray ad. Using its environment to engage customers—also known as ambient marketing—it manages to both express the product value and create a feel-good sentiment.
The ad simply features a scratching dog on a white background, but its placement on the ground floor of a shopping mall is key to its success. From several floors up, shoppers traversing the ad unknowingly resemble the fleas which are prompting the dog to scratch itself. A large, bold text reads "Get them off your dog," cleverly referencing both the humans interacting with the ad and the fleas bothering your pet.
Mr. Clean
Mr. Clean—a popular consumer cleaning brand—also used ambient marketing principles to create a simple, yet powerful visual message. Ads often use comparison against other brands to suggest product superiority, but, in this case, the contrast is set against the fading hue of a pedestrian crossing.
By laying a fresh coat of paint over a single stripe on the crossing, with the brand mascot on top, the campaign is telling consumers that Mr. Clean makes dirty surfaces noticeably brighter. Furthermore, from a return on investment (ROI) perspective, the ad placement is strategic as it captures a lot of foot traffic in busy urban areas.
Small brands, in particular, benefit from marketing tactics such as painting, gluing, or building their advertisements in public spaces. While this poses legal risks if you don't have the required permits, some businesses do it anyway, as even a few hours of attention can significantly raise brand awareness.
Starbucks
Sometimes, brands may not intend to get extra attention, but they benefit from it anyway. An example is the mysterious coffee cup that appeared in HBO's 8th season of Game of Thrones, which viewers unanimously branded as the "Starbucks cup." This is a form of stealth marketing, whereby audiences gain trust in a product without realizing they're being marketed to.
While HBO doesn't accept product placement in its shows, it's estimated that the free publicity that Starbucks received as a result of the blunder would normally be worth between $250,000 and $1,000,000. Also, average hourly tweets about Starbucks grew by ten times after the episode aired.
Effectively, both the Starbucks and Game of Thrones brands benefited from the viral news and social media coverage, particularly as both have global consumer bases that can access their products and services.
H&M
When global fashion brand H&M opened its flagship store in Amsterdam, its launch included an impressive projection across the five-story building. Playing with colors, characters, and shapes, and accompanied by a musical score, this guerrilla marketing campaign managed to keep onlookers entertained for minutes at a time.
While this campaign approach isn't appropriate for small businesses that need to save money, it's a good example of using your best asset to create a memorable impression. To encourage locals to visit the new store, H&M used the building itself as a marketing channel, leveraging its aesthetic to tell the story. For example, one animation showed the windows opening and closing, while a huge projected ribbon alluded that the new store is a gift to be unwrapped.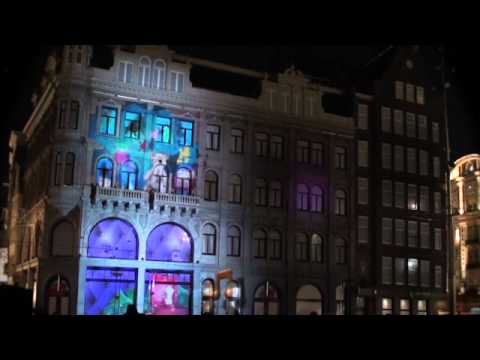 Jobsintown.de
The German job search website Jobsintown.de attached life-size posters of miserable-looking workers to coffee machines and other self-service equipment in urban areas. With the slogan "Life's too short for the wrong job," this campaign used the optical illusion of people being stuck inside a machine to make you question if you're happy in your current job.
Using a series of attention-grabbing posters across urban areas, Jobsintown.de not only leveraged significant foot traffic but also created a direct connection with the people physically using the self-service machines. As most people carry smartphones, its jobs board is only one click away, making this quite a fast customer acquisition journey.
To capture and track customers attracted through guerrilla marketing tactics, you can use tools that integrate Customer Relationship Management (CRM) records with website data and social media management, such as Hubspot.
IKEA
Famed for its efficiency-centered product design, IKEA ran a print ad that could only be revealed if readers slid the page to the side. The ad promoted a neatly organized wardrobe, bearing the brand logo.
What's skillful about this ad is that the customer's interaction with it matches the product proposition. The ad requires minimal page space and effort to be revealed, reflecting IKEA's focus on product efficiency. This is further reinforced by the optimally stocked wardrobe in the picture.
Requiring the reader to manually slide the page is also a clever play on the company's DIY tradition which has customers building their own homeware. A physical action that engages with the marketing message, particularly if aligned with the brand voice, can draw customers nearer to a buying decision.
Apolosophy
With evolving technology comes greater creativity in guerrilla marketing campaigns. Apolosophy—a hair products brand and part of the Swedish chain Apotek—fitted digital screens with motion sensors in subways to detect when trains arrived on the platform. The model's hair then appeared to blow in the wind whenever a train arrived. Witnessing an ad react to its environment blurred the boundaries between marketing and real life, leaving commuters wondering how it was made possible.
Later on, a video campaign featuring the technology setup, the advert in action, and the reactions of passers-by enhanced the reach of the brand message on digital channels. If you're promoting your guerilla marketing activities using online content, you can leverage marketing tools like Constant Contact to automate communications, track social media engagement, and more.
Coca-Cola
Coca-Cola has had no shortage of powerful advertising in its over-a-century-long history, including recurring Christmas-themed and summer barbeque ads. However, with increasing competition in the beverages market, the company has resorted to guerrilla marketing strategies to promote newer features.
Take for instance its "New Grip Bottle" campaign, which Coca-Cola advertised at bus stops in Paris. With Velcro added to the billboard surface, the ad hooked onto people's clothes, sending a very literal message that the new bottle had a strong grip.
This is another successful example of marrying customer-ad interaction with the product value. A light, yet unexpected interaction with one's coat or scarf means that the bus stop ad is no longer ignored, the new bottle design is quickly noticed, and a feeling of amusement makes the person think fondly of the brand.
Another great example of Coca Cola's guerrilla marketing is the 'Coke Hug Machine', which dispensed free Coke bottles in exchange for a hug.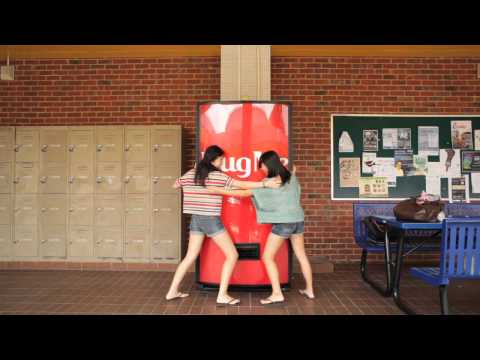 Zoho
Ambush marketing isn't usually a company's first choice. You can risk tarnishing your industry reputation, since it involves showing up at an event you're not affiliated with, usually one that promotes a competitor's products.
But that didn't deter Zoho from offering services during Dreamforce, Salesforce's annual internal conference in San Francisco hosting over 100,000 CRM customers. With dedicated teams offering its competitors' customers free pedicab rides around town as well as cooked food and other freebies, Zoho made its competitive position clear without, technically, breaking any commercial rules.
Also, a CRM seller's campaign wouldn't be complete without a call to action (CTA), so Zoho had an airplane write a URL in the sky for Salesforce customers to visit. Zoho's marketing team reported that its Twitter engagement that day was around 4 times higher than that of the company organizing the conference.
Metro Trains Melbourne
While many unconventional campaigns happen to take place outdoors, successful guerrilla marketing happens online as well. A fantastic example is "Dumb Ways to Die," a public service announcement (PSA) campaign commissioned by Metro Trains in Melbourne, Australia. This campaign used a buzz marketing strategy to spread the content via word of mouth and viral online sharing.
Featuring a music video with the same title, its catchy and amusing tune details many whimsical ways in which the animated characters accidentally hurt themselves, and culminates with a brief encouragement from Metro Trains to "be safe around trains."
"Dumb Ways to Die" is one of the most viral PSAs in the world, garnering 2.5 million views in its first 48 hours and making buzz marketing history. It carries a serious message but delivers it with humor in a medium that isn't typically used by transport bodies. Finally, its instant virality around the globe ensures that it isn't just Melbourne residents who benefit from safer platforms, but international commuters as well.
Conclusion
Brands use various guerrilla marketing types, including ambient, buzz, and ambush marketing, to create unconventional experiences for potential buyers. The more time someone spends thinking about your ad—and the more amused or intrigued they are by it—the more likely it is your company will get an influx of loyal customers.
Some guerrilla marketing examples, such as the ones from Coca-Cola and Zoho, involve direct customer interaction and have a guaranteed effect on the sometimes unsuspecting audience member. However, indirect forms of participation can work as well, such as witnessing an impressive projection campaign or becoming enchanted with a viral animated video.