What exactly is 5G? Where can I get it if it's available, and how will it benefit me? Will I have to replace my current devices, and how much will it cost me?
5G is the 5th generation mobile wireless network technology that's set to replace the 4G version that we've become accustomed to. Some of the top Internet Service Providers (ISPs) have already started rolling it out to their customers. Below are 10 interesting facts you should know about 5G.
1. 5G Is the Incoming Ruler of Mobile Networks
4G was a significant evolution in cellular technology. It was introduced over a decade ago and enabled us to stream content and download large data files. But 5G has now entered the fray with unique features that will benefit society and change how we live and work.
According to the Groupe Special Mobile Association's (GSMA's) 2022 mobile economy report, 5G will account for just over one-fifth of total mobile connections worldwide by 2025. Moreover, more than 2 in 5 people around the world will live within reach of a 5G network. That's impressive considering the level of investment needed to bring it to market, the infrastructure demands, slow adoption of new technologies, and the fact that 4G is still relevant in developing nations.
2. Home Internet Will Get a Welcome Addition
The deployment of 5G means you can now get an alternative to fiber and other cabled solutions offered by ISPs. 5G's wireless network technology ensures it can be used as a modem for your home internet, delivering a convenient mobile solution for your internet needs without compromising cost, reliability, or speed.
ISPs like Verizon—provider of the Verizon 5G Home—can offer their home internet users lightning-fast speeds to meet their streaming or gaming requirements. Gamers who want an ISP with extensive coverage nationwide may opt for Spectrum's internet solution, which is available in over 40 states.
3. The High Bandwidth Will Make Browsing Better
5G's higher bandwidth makes browsing better because you can open multiple online applications that use up a lot of bandwidth at the same time. Therefore, you can be more productive if you are juggling work, downloads, and other activities concurrently.
If you own a business, you can also use a website builder to set up a website that can manage many simultaneous visitors or empower them to upload or download data from your site. Higher bandwidth will reduce website crashes and bugs, ensuring a better user experience for your customers.
4. Experience Faster Speeds Than Ever Before
As the world adopts more digital solutions, 5G will be able to deliver multi-Gbps speeds, making downloading, streaming, video conferencing, and other data-intensive activities faster than ever before. 5G is supposed to reach 10Gbps, around 10 times higher than 4G. Smartphone browsing will reach a top level as people access higher-standard videos and live streams on their devices.
Processing larger amounts of data quickly will make services cheaper and potentially propel ISPs to increase their data caps. Currently, internet subscription plans are pricey, but they still throttle bandwidths once you exceed your allotted data allowance.
Smart home devices will be able to communicate faster and transfer data much quicker as the Internet of Things (IoT)—physical devices that are connected to the internet and exchange data with other devices—becomes more prevalent.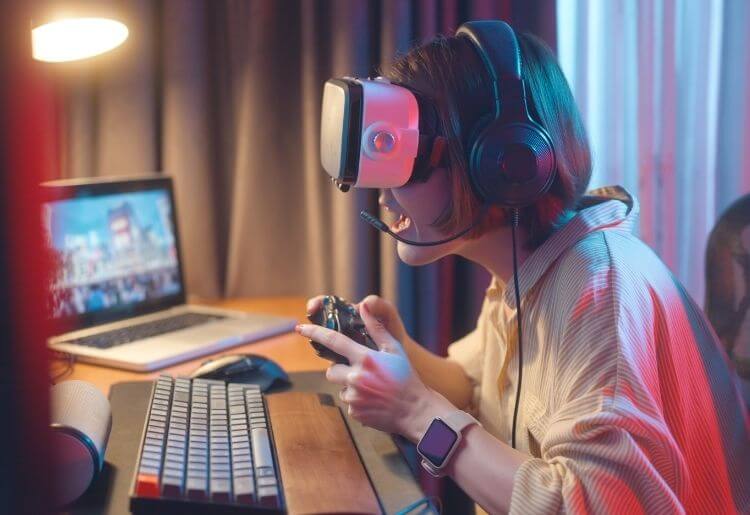 5. Experience Lower Latency
Due to 5G's robust network architecture, you'll enjoy lower latency—delayed communication over a network—thereby having a better user experience than on 4G. Furthermore, the connections will not be affected when you're using your device in a crowd or when you're moving around because the data rates will consistently remain high.
6. Is 5G Reliable? YES!
The challenge for 4G and all the other wireless network technologies is that they occasionally suffer some kind of disruption or drop-off, hindering your online browsing experience. The next-generation mobile networks always brought a much-needed evolution and reliability to their services, and 5G looks set to do the same.
5G is reliable, with low latency and higher speeds. It offers reliable connections, making it seamless to communicate online, which helps relationships, video conferencing sessions, workspace collaborations, and data sharing activities.
7. It will Play a Crucial Role in Alternate Realities
Through 5G's data-processing features, it will be possible to receive enhanced augmented reality (AR), virtual reality (VR), or mixed reality (MR) experiences on your phone. There's already been a taste of those realities with the Pokemón Go game, which had thousands of people participating publicly in the AR-based game.
These immersive and realistic experiences will also continue through the new tech concept known as the Metaverse—a virtual world where people can interact, connect with others, and build their businesses as their own avatars. Facebook announced in 2021 that it would change its name to Meta to focus on bringing the Metaverse to life. Anyone using a 5G mobile network device will find it easy to access such bandwidth-sapping worlds fast and with little to no operational delays.
8. Global 5G Adoption Will Take a While
Even though 5G cellular technology offers excellent value, many developing nations have not yet reached the peak of using 4G technology. While 5G is already being introduced in these nations, 4G still has a lot of room for growth, and it is likely to peak in 2023 as 5G starts to gain traction.
Furthermore, it's expensive to deploy new technology, and there will continue to be funding and infrastructure considerations as 5G is established worldwide. Governments must also approve any new developments, which can take time to process. However, 5G-powered devices are already hitting the market, and 5G-capable phones are displaying the 5G symbol when you enter an area where the network is deployed.
9. 5G Application in Multiple Sectors
Aside from the value 5G will bring to the ISPs, its various radio signal technologies—5G New Radio (NR) millimeter wave (mmWave) and Massive MIMO (Millimeter Wave Mobile Communications)—will make a difference in multiple sectors. For example, the 5th generation cellular technology will serve you through high-speed mobile data for online browsing and for video streaming High-Definition (HD) content on websites like YouTube without any buffering.
IoT will become the norm as more smart devices are added to provide smart-home solutions for you to enjoy. Smart tech devices, such as thermostats, will seamlessly communicate with other smart devices, enabling you to control many aspects of your home from your 5G-powered smartphone or tablet. Cities will also deploy innovative technology in adaptive street lighting, ensuring the tech-savvy population reaps the benefits of tech in their area.
Businesses will also use smart technology to offer solutions to issues such as inventory management. You'll continue to hear about factories and logistics companies using wireless connections to manage their machines or medical professionals using telemedicine to take care of their patients. Everything will work well because the 5G connections will enable you to control appliances or smart tech in real time and collaborate with your colleagues conveniently.
10. 5G's Expected Vital Impact on the World
In The 5G Economy, Qualcomm predicts that the economic effects of 5G will be fully realized worldwide by 2035. In the meantime, we shall observe multiple industries thriving and new jobs forming to meet some of the challenges that new technology brings. Greater investment in 5G tech will boost the economy by bringing in revenue and other financial opportunities.
From an environmental perspective, 5G's efficient solutions will play a part in reducing carbon emissions, meeting the Environmental, Social, and Corporate Governance (ESG) objectives that are guiding modern-day companies. With the help of 5G, greener solutions will safeguard our environment as we try to find the balance between adopting innovative technologies and managing natural resources well.
Conclusion
5G is already changing our world, and its application will positively impact our lives. 4G technology will be phased out in a few years as it finally peaks in developing nations and they are able to adopt 5G tech. 5G will provide an alternative solution to current home internet services, delivering higher speeds and better browsing experiences.
In addition, 5G will offer reliable service and consistent user experiences while exposing us to the potential for augmented, virtual, and mixed realities. 5G technology will deliver excellent results in multiple sectors, boost economies, and help to reduce carbon emissions, thereby protecting the environment. Ultimately, 5G adoption will become a reality as costs decrease and 5G network infrastructure is deployed in every country.