The good news is that many air conditioner problems can be fixed quickly and easily if you catch them early. Even better, many maintenance issues are covered by a home warranty if you choose a policy that includes coverage for HVAC systems.
In this guide, we'll take a closer look at the 10 most common air conditioning problems and help you diagnose what's causing them.
» Want coverage for your HVAC system? Check out our top 10 picks for the best home warranties for HVAC systems.
Common Air Conditioner Problems
1. Your Air Conditioner Is Leaking
Seeing a little bit of condensation around your air conditioner on a hot day is normal. But if there's enough liquid to start forming a pool, your AC unit likely has a leak.
If the pool is clear, it's probably just water. A water leak typically occurs because the condensate drain is clogged and excess condensation is backing up into your home. You can vacuum up the water and pour in some vinegar to kill any algae that may be causing the clog. If cleaning the drain doesn't fix the problem, it may be that your AC's condensate pump needs to be replaced.
If the liquid leaking out of your AC is brightly colored, it's probably refrigerant. Turn off your AC immediately, as running it with low refrigerant levels can severely damage your AC compressor. You'll want to call an AC repair service to find the cause of the leak and recharge your system. Typically, this is included under home warranty HVAC coverage.
2. Your AC Won't Turn On
If your air conditioner simply won't turn on, there could be a few reasons why. First, investigate the thermostat. Make sure it's turned on and has batteries. If the thermostat is acting funny or not doing anything when you push the buttons, it may need to be replaced. This is a great opportunity to upgrade to a smart thermostat.
If the thermostat is working properly, the next troubleshooting step is to check your circuit breaker. If it's tripped, reset it and your AC unit should come back online.
If neither the thermostat nor the circuit breaker appear to be at fault, then it might be time to call for professional HVAC repair. The most likely culprit is faulty or loose wiring, and only a qualified electrician should perform that repair. A home warranty policy will cover electrical repairs.
» Learn more about the 10 things your home warranty should cover.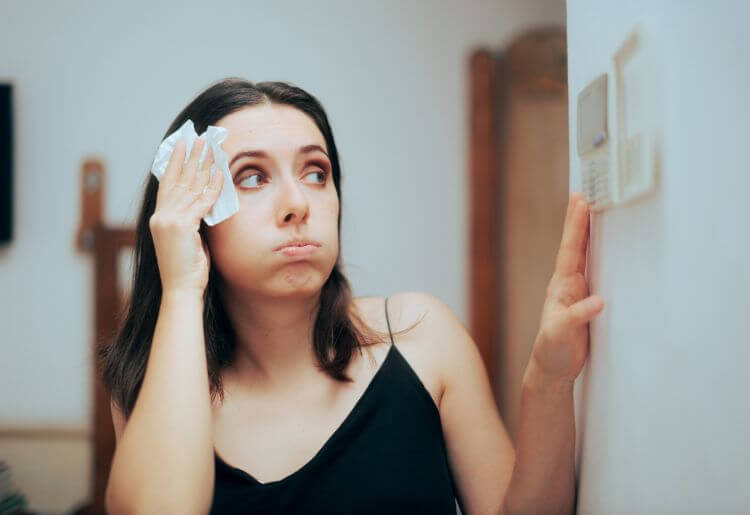 3. Hot Air Is Coming Out of the Air Conditioner
One of the most frustrating AC problems is when your AC ends up heating your house instead of cooling it. If your air conditioner is blowing hot air, the most likely cause is that the air filter is dirty and impeding airflow through your duct system. The longer air sits in the ducts, the more it warms up before blowing into your house.
Thankfully, the fix for this issue is pretty simple: just replace your AC's air filter. You should plan to replace the filter every one to two months during the summer. A new air filter won't be covered by a home warranty, but it only costs a few dollars.
It's also a good idea to have your ducts professionally cleaned once per year. This type of routine maintenance isn't usually covered by home warranty plans, but it's not terribly expensive.
4. Your AC Is Making Noises
When your air conditioner is making unusual noises, that's a sure sign that something isn't quite right. The problem can often be diagnosed by listening closely to what your AC is trying to tell you.
If the air conditioner is making a hissing sound, that's probably a refrigerant leak. On the other hand, a buzzing noise is usually the result of faulty electrical components. A faulty electrical relay can also cause a clicking sound when the AC cycles on or off.
A banging noise, thumping sound, or screeching noise is probably mechanical. It could be the fan, blower, or motor assembly, or in some cases the compressor.
For any of these problems, you'll likely need to call an HVAC professional. A home warranty for HVAC should cover repairs for any damaged components.
» Check out these home maintenance skills every homeowner should master.
5. There's a Burning Smell Coming from Your AC
A burning smell coming from your air conditioner is never a good sign. Odors typically emanate from your vents, but the root cause of the issue is in the AC unit itself.
Most often, a burning smell results from your air conditioner overheating. That could be because its air filters are clogged, forcing your unit to work harder to move air around or preventing it from getting enough oxygen. The smell could also be due to improper wiring causing plastic wire coatings to singe. Depending on the exact issue causing the smell, the odor could also be described as musty rather than burning.
Whatever the cause, it's best to turn off your AC right away and call for help. If you're not sure who to call, check out our guide to choosing the right HVAC service. Any major repairs to your AC should be covered by a home warranty.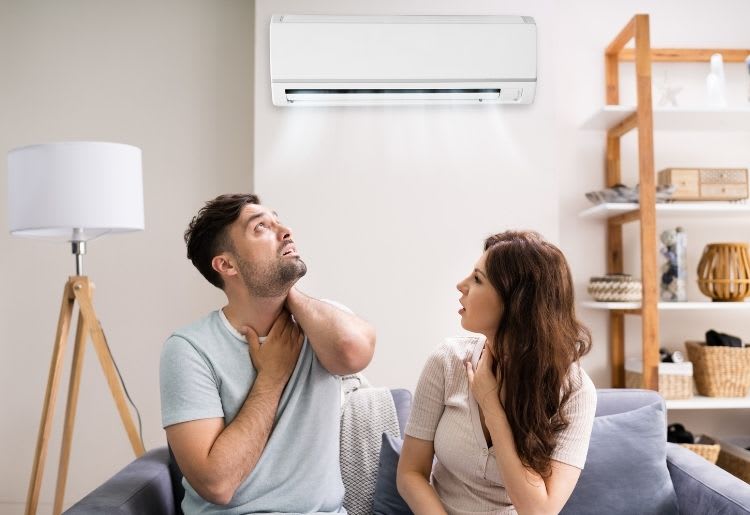 6. Your Air Conditioner Is Running Constantly
Having your air conditioner run around the clock might sound like a good thing, but it's actually a serious problem. Even when your AC is working hard, it should still cycle on and off. Otherwise, the appliance could end up overheating—or at the very least, send your energy bill skyrocketing.
There are many things that can cause your air conditioner to run constantly, and it's best to have a professional come in and diagnose the issue. Whether this will be covered by a home warranty or not depends on the issue the technician finds.
In the meantime, you can typically get the AC to stop running by turning off the fan on your thermostat. If that doesn't work, you can turn off the circuit breaker that controls the flow of electricity to your air conditioner.
» Not sure how long your appliances should last? Read about the lifespans of common home appliances.
7. The Circuit Breaker Keeps Tripping
One of the most common air conditioning problems occurs when the AC trips its circuit breaker every time it tries to cycle on. While this is relatively harmless, it can be quite annoying.
Usually, the cause of this problem is faulty wiring or a poorly done electrical installation. If your circuit breaker isn't rated to handle the output of your AC unit, it's almost certain to trip on a hot day when the air conditioner is working at full capacity.
If your home warranty policy covers electrical issues, it may pay for you to call in an electrician to redo your AC's wiring.
8. Ice is Forming Around Your Air Conditioner
Ice can form around your air conditioner's condenser coils when the system is working extra hard to cool your house. While the ice itself isn't a major issue, your AC working double-duty can send your electricity bill skyrocketing.
The first thing to check is whether the air filters are dirty. That's the most frequent cause of iced-up condenser coils, and it's easy to fix. If the air filters aren't the problem, then there may be something wrong with your AC's air projector or condenser units. You'll want to call in an HVAC specialist to fix them. A home warranty will cover repairs to these parts of your AC.
» Want to make your house safer? Watch out for these common electrical hazards.
9. The AC Fan Isn't Running
You can hear your air conditioner running, but cold air isn't blowing out of your vents. This is one of the most common problems with air conditioners, and it can be traced back to an issue with your blower. Often, the culprit is a worn blower belt that's preventing your AC unit from projecting out the cold air it's creating.
You may be able to fix the blower belt yourself, but this repair is covered by most HVAC home warranty policies if you decide to call in a specialist. First American Home Warranty offers unlimited service calls, so there's little downside to calling for help. An HVAC specialist can also check your blower's wiring to make sure there isn't a more deeply rooted problem with your system.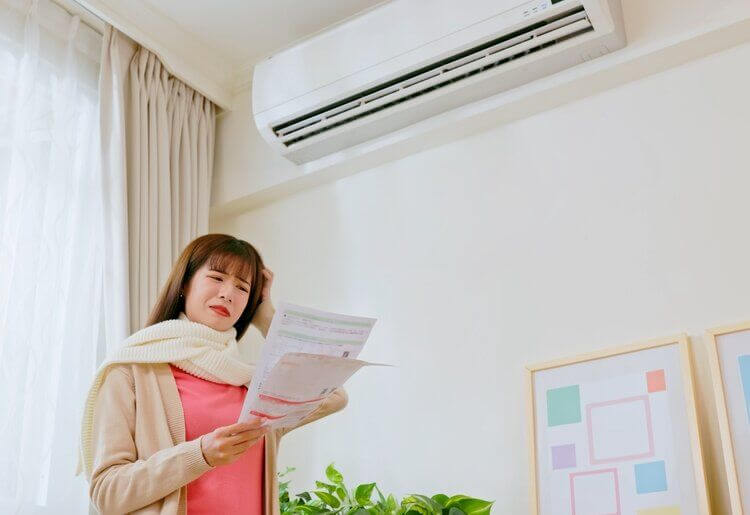 10. Your AC Bill Is Higher Than it Should Be
If your jaw drops when you check your electricity bill at the end of the month, there may be an issue with your air conditioner. Often, air conditioner brands design their systems so that they'll continue running even if there are minor issues. However, these issues can cause a lot of inefficiencies that translate to extra electricity usage.
If you're not experiencing any of the other top 10 AC problems, you might need to have an HVAC specialist check your ducts. Leaky ducts can cause a lot of the cool air produced by your air conditioner to be lost before it's delivered into your home.
Ductwork can be expensive, especially if the problem is in a hard-to-reach area. The good news is that ducts are covered by most home warranties that include HVAC coverage, like policies from Select Home Warranty.
Bottom Line
Running into problems with your air conditioner in the middle of the summer can be a serious inconvenience. The good news is that most home warranty policies that include HVAC coverage will pay for any expensive repairs to your system. So, you can rest easy knowing that your AC will be back up and running shortly if you run into any of these top 10 AC problems.
» Stay on top of home maintenance with these important home plumbing tips.