In a Nutshell
United Home Warranty is reasonably priced and offers comprehensive coverage of appliances and systems, with optional add-ons if needed. The flexible service fee enables you to lower your premium, and coverage starts only 10 days after plan purchase. However, the company's reputation is unclear given the lack of customer reviews and BBB accreditation, and customer service is not responsive by email.
pros
Flexible service fee
Coverage starts after 10 days
Guest house included
cons
Not BBB accredited
Unresponsive customer service

United Home Warranty Visit Site
United Home Warranty Plans
United Home Warranty has 3 pricing plans, with 2 focused on appliances and systems respectively, and 1 comprehensive plan covering both. Which plan is right for you will depend on what you need to cover. Plans cover guest houses and rental units under 850 square feet, as well as your main residence.


Best for essential appliances
Best for comprehensive coverage
Instant hot/cold water dispensers
Optional Add-Ons
If you need to, you can add optional extras to your plan as well, at an extra cost.
Electronic extended warranty
Guest unit
Septic tank
Well pump
Pool
Spa
Pool/spa combination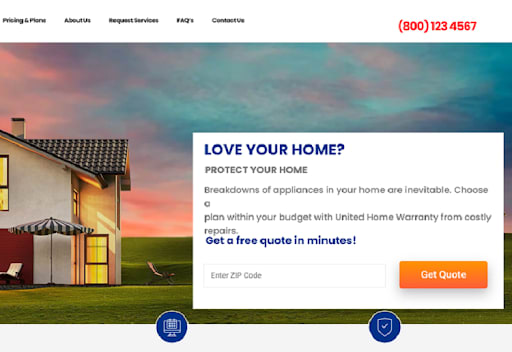 Plan Exclusions
Each appliance or system has particular exclusions, details of which can be found on United Home Warranty's website. In general, most appliances over 10 years old will have a cash out value of $250 rather than qualifying for full replacement. Plumbing system coverage is limited to above-ground repairs.
United Home Warranty Plan Pricing
United Home Warranty provides pricing for each plan clearly on the website, but we also obtained quotes for homes in Texas and California. Quoted prices were consistent with the information on the company's pricing page.
When you set up your warranty, you can choose which service fee you prefer: $65, $75, or $85. Selecting a higher service fee will lower the monthly premium. Optional add-ons range from $6.33/month to $20.83/month. You can choose to pay monthly or the whole annual amount.
Basic price (monthly premium)
Price (monthly premium) with $65 service fee
Price (monthly premium) with $75 service fee
Price (monthly premium) with $85 service fee
How to file a claim with United Home Warranty
You can request service from United Home Warranty by phone or online, 24/7. United Home Warranty will then send one of its contractors to diagnose and repair or replace your appliance or system. In some cases you may be allowed to choose your own contractor (known as Outside Authorizations), but this must be under prior agreement. United Home Warranty will then reimburse you for the services if covered by your warranty.
There is no limit to the number of times you can request service, but there are payout caps dependent on which system or appliance is affected. For example, the payout cap for a kitchen refrigerator is $2,000; for plumbing is $1,000; and for a water heater is $600. There is a 30-day workmanship guarantee, meaning the contractor can be sent back for free if repairs are unsatisfactory.
Is United Home Warranty Legit?
There aren't many reviews of United Home Warranty online, although it has been operating for a few years. In fact, Trustpilot only has one (a 5-star review). The business is not accredited by the Better Business Bureau (BBB), so it's difficult to compare its reputation to competitors.
What's Unique About United Home Warranty?
United Home Warranty's coverage starts 10 days after the plan is purchased, which is sooner than with many competitors. Additionally, you can select your level of service fee to modulate your premium cost.
Help and Support
You can contact United Home Warranty by phone, email, or through the website 24/7. However, we received no response, even after a week, when we tried to get in touch via email or through the website. There are FAQs on the website, although these are brief, and it would be helpful to have more information available on the site itself, such as a blog.
What about the United Home Warranty app?
United Home Warranty does not have a mobile app.
How to Get Started with United Home Warranty
To get an instant quote on the United Home Warranty website, just enter your contact details and address into the online form. You can then select your desired plan and service fee, along with any extras, to calculate your monthly premium. It's quick to purchase the plan online by entering your card details. Coverage will start after ten days, at which point your card will be charged.
How United Home Warranty Compares to Other Home Warranty Services
United Home Warranty's service comes in at the lower end of pricing compared with competitors, and has the advantage of a flexible service fee that allows you to lower your premium. With little information on the company's reputation out there, it's hard to compare customer experience.
$557.50-$1,649 (based on quotes obtained in September 2021)
$499.99-$639.99 (single-family home - based on quotes obtained September 2021)
Website, app, email or phone. Monday- Friday, 9:00 AM - 9:00 PM EST, Saturdays, 9 AM- 7 PM EST and Sundays, 10 am to 7 pm EST. 24/7 emergency hotline.
United Home Warranty vs Super Home Warranty
United Home Warranty offers somewhat cheaper premiums than Super Home Warranty, and a more flexible service fee. Its 24/7 service could be more convenient than Super Home Warranty's more limited timings. However, Super Home Warranty comes with an app, which allows you to schedule appointments, view updates, and contact customer support. This could be a really useful tool to help you manage your warranty and home repairs. Additionally, Super Home Warranty covers pre-existing conditions if known at the time of purchasing cover. This could give you more comprehensive coverage of all your systems and appliances, even if they have existing problems.

United Home Warranty Visit Site
United Home Warranty vs First Premier
United Home Warranty's premium price is similar to that offered by First Premier at the lower end, and service fee is only slightly higher if you choose that option. United Home Warranty's coverage also starts sooner than that offered by First Premier, so if you're looking for fast protection, it could be a better choice. On the other hand, First Premier's 90-day parts guarantee, in addition to the same 30-day workmanship guarantee that United Home Warranty includes, could give you extra peace of mind.
United Home Warranty vs Liberty Home Guard
Liberty Home Guard's premium is priced at a similar level to United Home Warranty, although its service fee is more expensive. However, Liberty Home Guard's customer service setup, with live chat and a responsive team, could mean faster support than United Home Warranty can offer. Liberty Home Guard is also offering a number of incentives, including a refer-a-friend bonus and free bonus months when you purchase a year or more of cover in one go. Liberty Home Guard also guarantees workmanship for 60 days, double that guaranteed by United Home Warranty. So, although it is pricier, Liberty Home Guard could be worth the extra cost if you'd like to take advantage of some of its perks.
The Bottom Line
United Home Warranty has 3 reasonably priced plans that allow you to cover appliances, systems, or both. With its flexible service fee, you can lower your monthly premium if you wish. And coverage starts after just 10 days, meaning you can have peace of mind sooner than with some competitors. However, United Home Warranty's customer reputation is as yet unclear, and customer service is not very responsive. However, the website does provide clear information about pricing and exclusions, along with a helpful FAQ.