In a Nutshell
If you're looking for comprehensive coverage for your home's systems and appliances, Super Home Warranty has a great deal to offer. With 4 plan types (Simple, Secure, Signature, and Lux), its policies include generous payout caps and cover unknown pre-existing conditions. Although its prices are higher than some of its rivals, it does offer a multi-functional app and a full suite of add-ons so you can customize your plan.
pros
Generous payout caps
Covers unknown pre-existing conditions
App available
cons
Only available in certain cities
More affordable options available

Super Visit Site
Super Home Warranty Plans
The provider offers 4 plan types, with the options available to you depending on the state you live in.
Best for protection all home essentials
Best for enhanced coverage
Kitchen refrigerator w/ice maker and dispenser
Warming and cooling drawers
Enhanced plumbing upgrade
Gas fireplaces and outdoor gas fire pits/pits
If you choose a Signature or Lux plan, you'll also receive an It's Covered upgrade, which includes the following:
Heating: registers and grills
Indoor plumbing: faucets and showerheads, pressure regulators, instant hot water dispensers, sewage ejectors, toilets of like quality
Water heater: expansion tanks and problems caused by sediment
Enhanced stoppage coverage
Indoor electrical: built-in lighting fixtures, smoke detectors, and doorbells
Range/cooktop/oven: rotisseries, racks, handles, knobs, dials, and interior
Lining dishwasher: racks, rollers, and baskets
Microwave oven: door glass, interior linings, and shelves
Garage door: springs, hinges, and remote transmitters
Permits and code upgrades
Refrigerant recapture & disposal
Equipment disposal
Structural modifications
Optional Add-Ons
You can also add the following to your plan:
It's Covered upgrade (available on Simple/Secure)
Enhanced plumbing upgrade
Smart home devices
HVAC equipment incompatibility coverage
Additional refrigeration units
Built-in pool/spa
Saltwater pool/spa
Additional pool pumps
Water softener and reverse osmosis
Guesthouse
Septic system
Well pump
Additional built-In refrigerator
Sprinkler system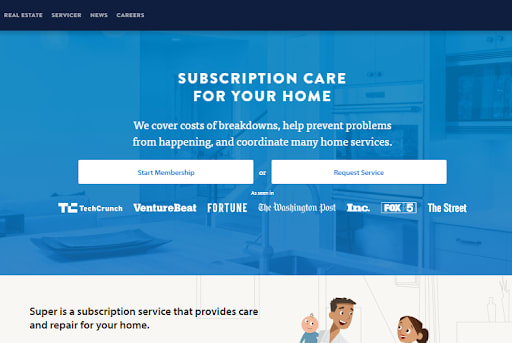 Plan Exclusions
You won't be covered for the following:
Known pre-existing conditions
Misuse
Improper previous repair
Missing parts
Acts of nature
Power surges
Accidents
Manufacturer defects
Chemical, soap, or sedimentary build-up (except water heaters)
Pest/pet damage
Food spoilage, loss of income, utility bills, additional living expenses
Restoration of walls, ceiling, flooring, cabinets, countertops, or painting
Property damage
Injury or death
Light bulbs, fuels, filters, remote controls, or batteries
Electronic, computerized home management systems
Cosmetic/non-operational components
Systems/appliances in common areas
Upgrades, components, or parts required due to incompatibility
Hazardous substances
Super Home Warranty Plan Pricing
The cost of coverage will depend on factors such as the state you live in and your property type.
Using a tool on the provider's website, we obtained the following quotes for a currently owned home in Washington DC below 5,000 square feet.
We then repeated this process for a property below 12,000 square feet being purchased in Maryland and obtained the following:
We then entered the details of a currently owned property in Texas that is between 5,000 and 7,4999 square feet. We were given the below:
Overall, we found these prices to be slightly higher than those of some competitors.
When you request a service, you'll also pay a standard co-pay of $75.
How to file a claim with Super Home Warranty
You can schedule a service request via the provider's website, mobile app, email, or customer service line.
During normal business hours, the provider will call you within 4 business hours (48 on weekends and holidays) to arrange a time for a tradesperson to visit your home. If the claim is an emergency, however, Super Home Warranty will attempt to expedite the process.
Repair services are available Monday to Friday during regular business hours.
Although there isn't a limit on the number of claims, there is an aggregate coverage limit of $30,000, with the following caps on specific items:
Dishwasher: $3,000 ($10,000 on Lux plan)
Range/oven/cooktop: $3,0000 ($10,000 on Lux plan)
Built-in microwave: $3,0000 ($10,000 on Lux plan)
Garbage disposal: $3,0000 ($10,000 on Lux plan)
Trash compactor: $3,0000 ($10,000 on Lux plan)
Water heater: $1,500 per occurrence (Unlimited on Lux plan)
Interior electrical: $5,000 (Unlimited on Lux plan)
Ceiling fans: $250 per occurrence on ($500 per occurrence on Lux plan)
Kitchen refrigerator w/ice maker and dispenser: $3,000 ($10,000 on Lux plan)
Additional kitchen refrigerator w/ice maker and dispenser: $3,0000 ($10,000 on Lux plan)
Additional refrigeration units: $1,000
Additional washer and dryer: $3,0000 ($10,000 on Lux plan)
Built-in pool/spa: $3,000
Water softener and reverse osmosis: $1,000
Well pump: $1,000
HVAC equipment incompatibility coverage: $5,000
Septic system: $1,000
Brand-for-brand appliance upgrade: $10,000
Enhanced plumbing upgrade: $200
Warming and cooling drawers: $10,000
Sprinkler system and timer: $1,500 ($2,00 on Lux plan)
Additional built-in refrigerator: $5,000
Is Super Home Warranty Legit?
The provider is accredited by the Better Business Bureau and, as of September 2021, has a rating of 2.98 out of 5 on the site. It also has a rating of 3.7 out of 5 on Trustpilot, although this is based on just 8 reviews. While positive reviewers write enthusiastically about its customer services support, others complain of difficulty reaching staff.
What's Unique About Super Home Warranty
Unlike most competitors, the provider will cover you for pre-existing conditions if these were unknown at your plan start date.
Help and Support
You can contact the company over the phone or through the app. Its customer support hours are Monday to Friday 9am-9pm (ET), Saturday 9am-7pm (ET), and Sunday 10am-7pm (ET). Alternatively, you can contact the provider through its social media channels.
In the event of an emergency, customers can also call the provider 24/7 for immediate assistance.
When we contacted the company via its social media channels, we received a polite and friendly response within 3 working days, which directed us towards the correct department to answer our queries.
If you would like home maintenance tips, the company has a blog that is updated frequently. There is also a detailed selection of FAQs that answered all the questions we had.
What about the Super Home Warranty app?
Super Home Warranty's app is available through the App Store or Google Play. It allows you to do the following:
Schedule appointments
Receive real-time updates
View past service appointments
Call/message customer support
How to Get Started with Super Home Warranty
If you'd like to take out a plan, the first step is typically to visit the provider's website to check whether coverage is available in your area. As of September 2021, it operates in the following places:
Atlanta
Austin
Baltimore
Chicago
Dallas
Houston
Phoenix
San Antonio
Washington
To purchase a plan over the phone or online, you'll need to provide your:
Name
Email address
Phone number
Address
We found the process of applying for coverage extremely simple and didn't encounter any issues.
How Super Home Warranty Compares to Other Home Warranty Services
Although Super Home Warranty is at the higher end of the price spectrum and its service request hours are less flexible, it offers certain features not available through many of its competitors. For example, it covers unknown pre-existing conditions and allows you to manage your account via an app.
ServicePlus Home Warranty
In-network (number unspecified)
24/7 online and by phone during normal business hours
Super Home Warranty vs ServicePlus
When it comes to premium prices, ServicePlus easily beats Super Home warranty, with average premiums of between $419 and $756 compared against $557.50-$1,649. In another point in its favor, ServicePlus will also offer 2 month's free coverage and limited roof coverage to new customers. While Super's coverage extends to unknown pre-existing conditions, ServicePlus will not cover any pre-existing conditions, whether known or unknown. Although Super allows customers to manage their accounts via an app, non-emergency claims are only available during business hours, while ServicePlus offers this service 24/7.

Super Visit Site
Super Home Warranty vs Global Home Protection
If price is your top priority, these providers are at opposite ends of the price spectrum—with Super quoting us premiums of $557.50-$1,649 and Global Home Protection's coverage beginning at $299. Customers will face far lower service fees through Global, with rates beginning at $45 compared against Super's $75. Like many providers in this industry, Global Home Protection doesn't currently have an app, while Super offers a full-service solution. And, although we received polite and friendly customer service from both providers, we were especially impressed by the speed with which Global responded to our queries and the detail it offered.
Super Home Warranty vs The Home Service Club
Like many companies in this industry, The Home Service Club offers a significantly lower premium than Super, with rates of $552-$799. However, Super does offer a number of features not available with its rival such as covering pre-existing conditions and a comprehensive app. Another important difference between the 2 companies relates to their annual payout caps—while Super has coverage limits of up to $30,000, The Home Service Club places payout caps of between $6,000 and $9,000 depending on the plan you choose. While many similar companies offer 24/7 phone service, both companies operate during business hours, although Super does provide an emergency service.
The Bottom Line
Super Home Warranty provides robust protection for your home's systems and appliances. Although it is possible to find cheaper coverage elsewhere, we were pleased to see some features often not available through competitors, such as coverage for unknown pre-existing conditions and a comprehensive app.