In a Nutshell
Super is a subscription-based home warranty service that can provide all types of personalized repair and maintenance services that can work with a variety of budgets. The service is mobile-optimized and members only need to use their thumbs to schedule a service appointment. The company's concierge service is available with simple monthly or yearly pricing and puts all of your service and maintenance records in one convenient online location.
pros
Service rewards for referring new users
Covers unknown pre-existing conditions
cons
Only covers 1 unit per category for most appliances
Additional expenses can apply for certain repairs
Super Visit Site
Customer Service
Super Home Warranty offers extensive customer service options for paying members. The company's representatives are on hand to answer customer phone calls from 9am to 6pm Eastern time, and on Saturdays from 10am to 3pm. Outside those office hours, you can call an emergency help for immediate assistance.
There is also an online chat option.
That said, ordering repairs through Super Home Warranty can be done entirely through your computer or mobile device with just a few clicks.
It is worth noting that while the customer service is responsive, if you're trying to get a repair done outside of normal business hours, you could be charged an additional fee.
When it comes to navigating the company website, you're in luck there as well. The site has a clean, easy layout that doesn't bombard you with too much information. On the site you'll find an extensive FAQ section that should be able to answer most of your questions.
The company's concierge service also shows an emphasis on customer service. Representatives will walk through your house and examine places where you may need more maintenance or let you in on steps you can take to prevent wear and tear and breakdowns of appliances and home systems.
Transparency
Super's website and app aren't designed for coders and maintenance professionals, rather for everyday homeowners who want to keep their biggest investment safe and don't want any surprises or hidden fees. The FAQ section makes it very clear which items are covered, and provides a list of 36 different household items and systems and which plans cover them and for how much money.
Bottom line, the company makes it easy for customers to keep their house covered and monitor any and all service performed.
Super also has a really useful, 'keep me updated' newsletter with tips, guidance and reminders. It also puts customer testimonials and comments front and center, and is very clear about its pricing, particularly what's covered and what isn't. This is something that isn't always covered entirely clearly by some other providers.
Warranty Coverage
Potential Coverage
Appliance Plan
Potential Coverage Whole Home Plan
Potential Coverage Premium Home Plan
Potential coverage with Appliance
Potential coverage with Whole Home
Potential coverage with Whole Home
Additional refrigeration unit
Whole House water purification system
Permanently-installed generator
Well pump (per occurrence)
HVAC R-410 Upgrade Coverage
Super has made the company's home warranty coverage very easy to understand and includes a page devoted to its home warranty philosophy as a whole.
This page explains the frustrations that customers have with the home warranty industry, and how Super deals with these issues. This page details its Super Subscription care, and how it differs to standard American home warranty. With stand-out features such as more predictable expenses, discounts, and co-pays on service.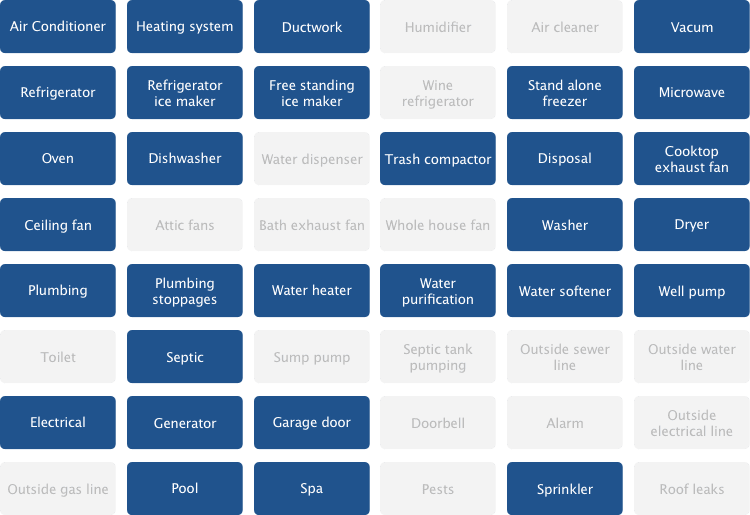 Terms & Conditions
Super puts its terms and conditions right up front and lays it out line by line what will be covered under your plan. That said, it could make its Terms & Conditions a little clearer, so they're as easy to follow and understand as the rest of the site.
So what do you get with your Super Home plan? Let's take a look.
Appliance – $20/mo ($16/mo for yearly subscription)
Whole home- $60/mo ($48/mo for yearly subscription)
Premium home - $90/mo ($72/mo for yearly subscription)
*All plans have a $75 service fee.
Optional coverage
Super Visit Site
Contractors
Super works "with high quality providers and consistently track delivery metrics to end you the right help for the right job."
Its customer service team monitors contractors' licensing and insurance as well as online reputation and follows up with customers to make sure they were satisfied with the contractor in question. Using Super's contractors is preferable to ones you'd find on your own because the company's buying power means that it is able to secure better prices for service.
Bottom Line
Super Home Warranty provides a service that's affordable and straightforward, and can fit all types of budgets. So whether you have a modest 3/2 or a sprawling McMansion, you can get some backup to keep your investment safe and sound.