In a Nutshell
Sears Home Warranty is a home warranty program available through Sears' home improvement and repair division. It features 3 different service plans that offer appliances, systems, or complete home coverage. Although its starting premiums cost more than those of some of its competitors, its plans include high coverage limits. In addition, you can contact customer support 24/7, and Sears guarantees service on repairs for 180 days.
pros
High coverage limits
24/7 customer support
180-day service guarantee on repairs
cons
Expensive premiums
Not available in Alaska or Puerto Rico

Sears Home Warranty Compare All
Sears Home Warranty Plans
Sears Home Warranty's Appliance Plan covers 10 major appliances, including your washer, dryer, and refrigerator. The cost for the Appliance Plan starts at $49.99 per month. If you prefer systems coverage, its Systems plan covers 11 items, including plumbing, HVAC, and electrical repairs. Pricing for the Systems Plan begins at $59.99 per month. In the event you want full home coverage, you can opt for Sears' Whole Home Plan. It covers all the features in the Appliance and Systems Plans for $69.99 per month.
Appliance Plan: best for appliance coverage
Systems Plan: best for systems coverage
Whole Home Plan: best for full home coverage
Refrigerator with ice maker
Optional Add-Ons
In addition, you can purchase additional coverage for the following features:
Pool and/or spa with heater
Septic tank with pumping
Stand-alone freezer
Sump pump
Well pump
Premier Upgrade Package
For $10 per month, you can add Sears's Premier Upgrade Package. This package provides $2,000 of coverage per year for charges not generally covered under your plan. Best of all, Sears offers you flexibility by allowing you to purchase add-on coverage to its Appliance and Systems Plans. With this flexibility, you can add individual appliances to your Systems Plan or systems to your Appliance Plan.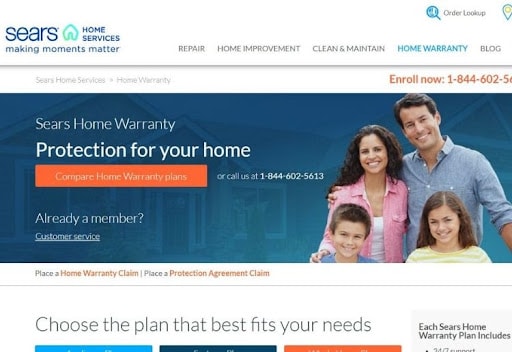 Plan Exclusions
Sears Home Warranty covers repairs and replacements for appliances and systems that break due to ordinary wear and tear. If you include commercial or ultra-premium appliances in your agreement, Sears will only pay out claims up to $1000 in aggregate per term. Examples of premium appliances include Bosch, Dacor, Delfield, Fisher & Paykel, GE Monogram Series, Jenn-Air, Meile, Sub-Zero, Thermador, and Viking.
Only certain properties qualify for coverage from Sears Home Warranty. Eligible residences include single-family homes, condominiums, townhouses, villas, mobile homes less than 10 years old, and multi-family residential properties. However, Sears excludes from coverage properties with more than 2 units. In addition, it does not provide coverage to homes listed on a historic register.
Service limitations apply to each covered appliance and/or system in your plan. Sears will not pay to repair or replace items that fall outside of your plan agreement. Exclusions include costs associated with accessing systems and appliances, haul away fees, or repairs of modified or upgraded parts or features. To learn what components and features Sears excludes from coverage, check the Terms and Conditions on its website or your Service Agreement.
Sears Home Warranty Plan Pricing
Compared to its competitors, Sears Home Warranty charges expensive premiums. Its Appliance plan starts at $49.99 per month or $599.88 per year, well above the industry average. Meanwhile, its Systems plan costs $59.99 per month or $719.88 per year. It's typical for systems and appliances plans to cost the same or similar, yet Sears charges more for its Systems plan. While its Whole Home plan provides full home coverage near the industry average, it's still relatively expensive at $69.99 per month or $839.88 per year. Sears also charges a service fee for each claim you submit. If you choose the Appliance Plan, it charges a $75 service fee. The Systems and Whole Home Plans charge a $100 service fee.
$49.99/month or $599.88/year
$59.99/month or $719.88/year
$69.99/month or $839.88/year
$75 (Appliance Plan) or $100 (Systems/Whole Home Plan)
How to file a claim with Sears Home Warranty
You can file a claim with Sears Home Warranty 24 hours a day, 365 days a year. Sears provides 24/7 support via phone at 855-256-2467. If you prefer to submit your claim online, you can log into My Account on its website. Once Sears receives your claim request, it will refer you to a service contractor within 2 hours during regular business hours or 24 hours for requests received after hours or on holidays or weekends. In the event that you require emergency support, Sears will make a reasonable effort to expedite your request.
Sears Home Warranty limits the amount it will pay per covered item and aggregate per term. In total, Sears provides coverage for up to $50,000 per term, which is higher than many of its competitors. However, it limits coverage to $10,000 per covered item per term. In addition, certain appliances and systems subject to lower limits include:
Heating systems converted from coal-to-oil, coal-to-gas, or oil-to-gas: $1,500
Septic Tank: $1,000
Septic Tank Pumping: $500
Swimming Pool/Spa: $1,000
Depending on your plan, a $75 or $100 service fee is required at the time of or before your service appointment. However, Sears will waive any subsequent service fees if you need additional service for a repaired part within 180 days. If Sears cannot fix a damaged part, it will replace an item with one of similar value. Sears also reserves the right to pay you cash to replace a covered appliance or system if Sears cannot find a suitable replacement.
Is Sears Home Warranty Legit?
Sears Home Warranty is part of Sears Home Services and the overall Sears brand, which is more than 100 years old. However, the company only began offering home warranty coverage in 1999. Currently, neither Sears Home Services nor Sears Home Warranty is accredited with the Better Business Bureau. In addition, Sears Home Warranty's parent company, Sears Holding Corporation, filed for Chapter 11 bankruptcy in 2018. As of yet, legal proceedings continue, so the fate of the company is unknown.
What's Unique About Sears Home Warranty?
New customers may qualify for a discount at the time of their enrollment in one of Sears Home Warranty's plans. To see if you are eligible, you can call customer service or enroll online.
In addition, Sears offers a 25% discount or reimbursement off the price paid on services for services not covered in your agreement. This discount applies during the 30 days before your agreement's effective date. However, if you enroll in the Appliance or Systems Plans, the discount applies on select items for the remainder of the term. If you choose the Appliance Plan, the discount applies to applicable water heater and HVAC services. In contrast, if you enroll in the Systems Plan, the discount applies to appliance-related services. Sears caps the amount you can save with the discount to $500.
Help and Support
You can contact customer services over the phone 24/7 to file or check on the status of a claim.
If you prefer to receive support online, you can sign up and access My Account through its website. Through its website, you can file and check on the status of a claim, manage your payment method, and review your plan agreement. Sears also offers a chatbot on its website that allows you to speak with a home warranty expert and ask questions about purchasing a new plan or servicing your existing plan. Alternatively, you can check out its knowledge center, which features articles about home maintenance, or refer to its FAQs. While the Knowledge Center contains hundreds of articles, the FAQs answer only a few specific questions.
What about the Sears Home Warranty app?
Currently, Sears doesn't offer a mobile app.
How to Get Started with Sears Home Warranty
To get started with Sears Home Warranty, you can enroll online or call for a quote. Sears requires you to provide your name, phone number, email, property address, and credit card information during enrollment. You can add optional coverage during the enrollment process or up to 30 days before your plan's effective date.
If you wish to cancel your plan, Sears offers a full refund if you cancel before your effective date and did not submit a claim. If you submitted a claim during the 30 days before your effective date, you can still qualify for a prorated refund minus a $25 processing fee.
How Sears Home Warranty Compares to Other Home Warranty Services
In-network (number unspecified)
Sears Home Warranty vs. First American
Compared to First American, Sears can not match its pricing for annual coverage. If you want more affordable monthly or annual premiums, First American is the better choice. However, Sears may save you money on service fees, as it offers a $75-$100 range compared to First American's flat $85 fee. In addition, Sears makes it clear that it works with over 6,800 contractors in its network, while First AMerican does not disclose its number of in-network contractors.
Search Home Warranty vs. Pride Home Warranty
When compared to Pride Home Warranty, Sears is not able to match its premiums or service fees. In addition, Pride features a larger network of contractors, with over double the number of technicians as Sears. However, what sets Sears apart from Pride is its high coverage limits, which are among the best in the business.
Sears Home Warranty vs. Puls Home Warranty
Puls Home Warranty offers a different home warranty model than Sears, which makes its premiums much more affordable. If you want to avoid paying service fees and premiums, Puls is the better choice. However, you may end up paying more out of pocket for certain repairs with Puls. In addition, Sears retains a larger network of contractors. If you want access to a larger number of technicians and higher coverage limits, Sears is the better option.
Bottom Line
Formed in 1999, Sears Home Warranty is a division of Sears Home Services. Excluding Alaska and Puerto Rico, it offers 3 home warranty plans for homeowners nationwide. While its premiums cost more than those of many competitors, it charges a standard service fee of $75 to $100. In addition, it provides higher coverage limits than many other companies, up to $10,000 per covered item and $50,000 aggregate per term. Sears provides 24/7 customer support and a 180-day service guarantee on repairs and replacements.