In a Nutshell
HomeServe USA has a great reputation amongst customers and an excellent level of support for homeowners, including a home maintenance app and a responsive live chat team. Although it's not the cheapest option out there, especially for service fees, the specialized plans should suit if you're looking to cover specific systems in the home. And the generous year-long guarantee should give peace of mind.
pros
Excellent customer support
Specialized plans
Year-long guarantee
cons
Some plans not available in every state
Higher service fees
HomeServe USA Visit Site
HomeServe USA Plans
Unlike many competitors, HomeServe USA offers a wide range of specialized plans focused on particular areas of the house or types of system or appliance. These specialized plans are as follows:
Exterior sewer/septic line plan
Water service line plan
Exterior pipes combo plan
Home plumbing and drainage combo plan
Interior electrical plan
Exterior electrical plan
Heating system plan
Cooling system plan
HVAC combo plan
Water heater repair plan
Water heater repair and replacement plan
Gas line plan
Additionally, HomeServe USA has a number of combo plans that bring together cover for different systems and appliances. These might be a better choice if you're looking for more comprehensive cover.


TotalHome warranty appliance plan

TotalHome warranty combo plan

Premium home protection plan

Complete plumbing repair plan

Best for multiple appliances
Best for appliances and systems
Best for water service cover
Best for interior systems including HVAC
Best for interior plumbing and electric
8 most-used home appliances
10 most-used home systems
Interior plumbing and drainage
Replacement for covered repairs
Optional Add-Ons
Because HomeServe USA has so many specific plans, there aren't optional add-ons. Instead, you can mix and match the individual and combo plans as needed.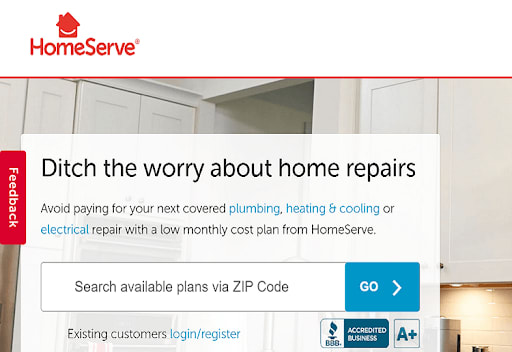 Plan Exclusions
HomeServe USA's plans don't cover pre-existing conditions (where known), or appliances/systems already covered by a homeowners' association or similar body. Plan exclusions for the TotalHome Warranty combo (the most comprehensive combo plan) are the below:
Clothes washer/dryer knobs and dials
Garage door opener remote control
Doorbell system surveillance parts
Low voltage wiring and electrical system fixtures
Plumbing fixtures (except toilet)
Damage from freezing
Pipe stoppages from roots
Water heater failure caused by mineral build-up
Heating and cooling system flues, vents, and programmable/Wi-Fi thermostats
Corrosion and/or collapsed ductwork occurring within 60 days of your start date
Damage from accidents or negligence
HomeServe USA Plan Pricing
HomeServe USA doesn't provide an average annual premium, but we requested quotes for properties in Texas and California. Quotes were the same for both locations, although not all plans are available in all locations. Service fees, where specified, were given as $100. HomeServe USA currently offers a 20% off deal for your first year of cover.
Focusing on some of the major combo plans, the costs are as follows:
Monthly cost with discount
TotalHome Warranty Appliances
How to file a claim with HomeServe USA
You can make a claim on the HomeServe USA repair hotline 24/7, and a contractor will be sent out as soon as possible. You can make multiple claims up to the annual cap of $1,500 (rising to $10,000 for some of the combo plans). All repairs are guaranteed for a year (except electrical surge protection, which is guaranteed for 90 days).
Is HomeServe USA Legit?
HomeServe USA has 56,073 reviews on TrustPilot, and 70% of these rate the service as 'excellent.' It has an equally strong rating on ConsumerAffairs, with a score of 4.66/5 over 466 ratings. Additionally, the business is rated A+ by the Better Business Bureau. Although the BBB records some customer complaints about problems with charging and service, this is a pretty good track record, especially compared to some competitors in the Home Warranty space.
What's Unique About HomeServe USA?
HomeServe USA has a one-year guarantee on all repairs (except electrical surge plans, which have a 90-day guarantee). This is more generous than most competitors. Additionally, HomeServe USA is currently offering 20% off most plans in the first year.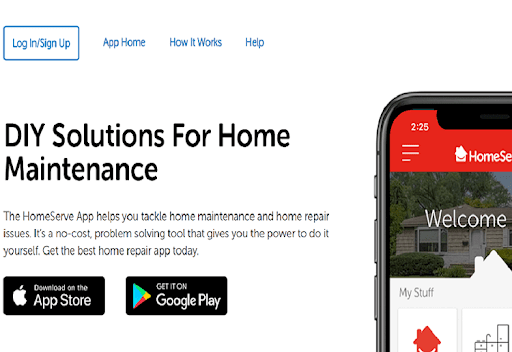 Help and Support
HomeServe USA offers a live chat support service with a quick response time. Although operators are somewhat constrained in the information they provide—they require you to give your zip code, for example—they are a helpful team. Additionally, you can contact HomeServe USA by phone or by email, 24/7.
What's more, the site has a useful blog with tips on home maintenance, in addition to the mobile app with plenty of home repair support. HomeServe USA goes above and beyond to help you learn more about their service and keep up your home maintenance.
What about the HomeServe app?
The HomeServe app is free to download and available on iOS and Android. It allows you to get product recall notices, set maintenance reminders, watch how-to videos, and create a personal library of manuals and warranties, among other services. This is really helpful, although customer reviews point out that it can be slow and doesn't allow you to manage all aspects of your HomeServe USA warranty. Nevertheless, it's a bonus that few competitors offer.
How to Get Started with HomeServe USA?
You can get a free quote on the website by entering your zip code and selecting the relevant plan. There is no distinction between property types or sizes when requesting a quote. Once you've chosen your plan, you can purchase the warranty directly from the site, with your full address and contact details required, making it quick and simple.
How HomeServe USA Compares to Other Home Warranty Services
HomeServe USA is on the expensive end of the pricing scale in terms of the service fee and the annual cost of a full combo plan, compared to some competitors, although other plans such as the Home Comfort Plan are cheaper. It also doesn't make clear its number of contractors in its overall network, making it hard to compare on that front. On the other hand, HomeServe USA has a higher rating from the BBB than many of its competitors, offers more customer service options, including live chat, and has a mobile app.
In-network contractors - no figure provided
Customers can also choose their own contractor
HomeServe USA vs AHW Home Warranty
HomeServe USA's premiums can be cheaper than AHW Home Warranty, although the service fee is a little more expensive. It's difficult to compare the size of contractor network, although AHW's 40,000-strong group is amongst the highest in the industry. But where HomeServe USA certainly comes out top is in its accreditation by the BBB and strong reputation amongst customers.
HomeServe USA vs AFC Home Club
Depending on the plan you want, HomeServe USA can be cheaper than AFC Home Club, although the fixed service fee is in the middle of its competitor's range. AFC Home Club offers more deals and discounts, including for other services like home security and credit monitoring. And AFC Home Club's lifetime repair guarantee surpasses even HomeServe USA's generous one-year promise. So, it may be worth spending slightly more on AFC Home Club if you want to take advantage of this.
HomeServe USA Visit Site
HomeServe USA vs Sears Home Warranty
Sears Home Warranty is quite a bit more expensive than HomeServe USA when it comes to premiums, although it's possible to get a slightly cheaper service fee from the former. It could be worth paying this extra if you want a high payout cap: Sears Home Warranty will cover up to $50,000 per term ($10,000 per covered item). This is far higher than HomeServe USA's $1,500-$10,000 annual limit. So, if you are most concerned about covering big repairs and don't mind paying more, Sears Home Warranty could be the choice for you. However, you'll need to weigh up the cost with the likelihood of needing repairs up to such a high limit.
The Bottom Line
HomeServe USA is a well-respected home warranty service with a lot to offer. You can pick a specific plan or go for a combo to cover more appliances and systems. The quick customer service with live chat is a particular plus, as is the mobile app that helps you organize your home maintenance. And with a year-long guarantee on most plans, you get more peace of mind. Although the service fees are higher than some competitors, HomeServe USA has a good reputation for a reason.