In a Nutshell
AHW Home Warranty offers 3 solid plans to cover your home appliances and systems in case of failure or damage. This can save you money and time, and with a range of optional add-ons, such as pool or well pump warranty, there should be enough cover for most needs. It's worth noting, however, that AHW Home Warranty has attracted a number of customer complaints, and support is difficult to reach.
pros
Nationwide network of contractors
Saves you time and money on repairs
30 days free
cons
Poorly rated customer service
10% cancellation charge

Amazon Home Warranty Visit Site
AHW Home Warranty Plans
AHW Home Warranty has 3 plans—System Plan, Combo Plan, and Appliance Plan—plus optional coverage for a range of additional appliances and systems. When you purchase a plan, you will be covered for the repair or replacement of the included items, regardless of age, make, or model.
Best for covering home systems

Best for comprehensive cover

Best for covering common appliances

Central air conditioning system
Instant hot water dispenser
Optional Add-Ons
You can also include optional add-ons to customize your plan:
Pool and spa
Additional central air conditioning
Additional central heating
Central vacuum system
Lawn sprinkler system
Well pump
Septic system
Wine refrigerator
Whole-house humidifier
Septic tank pumping
Freezer
Additional fridge
Sump pump
Water softener
Limited roof leak
Water heater
Ice-maker
Extra oven
Additional washer/dryer
Additional Dishwasher
Additional Microwave
Duplex
Plan Exclusions
Only homes are eligible for cover by AHW Home Warranty—properties used for business purposes cannot be covered. Additionally, AHW Home Warranty only covers items and systems that are inoperable due to normal wear and tear (which excludes misuse, neglect, condensation, rot, or rust, among other situations), are already in place and installed when the coverage starts, and are inside the home or an attached or detached garage—except for air conditioners, pools or spas, septic systems, and well pumps.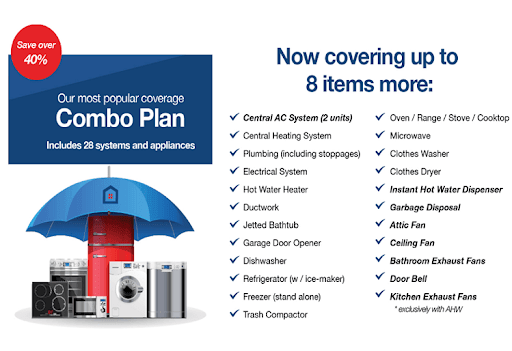 AHW Home Warranty Plan Pricing
Your first month of AHW Home Warranty cover is free. After that, the monthly or annual cost will depend on your preferred payment schedule. We obtained quotes for plans to cover properties of under 5,000 square feet in Florida and Washington D.C. The same monthly premiums were quoted in each state. Quotes obtained in September 2021 included a $75 discount.
Discounted monthly premium
The standard service call price is $75.
How to file a claim with AHW Home Warranty
Claims can be filed with AHW Home Warranty by calling its service line. This line operates 24/7. AHW Home Warranty will then contact a contractor within 48 hours or, in some cases, may ask you to engage your own contractor, with costs to be reimbursed. There is a $1,500 general payout cap, but this rises to $2,500 for air conditioning systems. The maximum payout for plumbing, electrical systems, whirlpool bathtubs, ductwork, ceiling fans, pool or spa equipment, roof leaks, well pumps, sump pumps, septic systems, and water softeners is only $500.
Is AHW Home Warranty Legit?
AHW Home Warranty has a high number of poor customer reviews on websites like Trustpilot (45% of respondents rate it 'Poor' or 'Bad') and ConsumerAffairs, where the average rating is 1.9/5. This suggests that AHW's customer service has at times fallen short, and claims are sometimes not dealt with properly. On the other hand, some customers report satisfactory service when it comes to repairs and replacements.
It should be noted that in late 2020, the business's accreditation with the Better Business Bureau was revoked for not meeting BBB standards. Additionally, there is an ongoing civil lawsuit filed by the State of Arizona, alleging, among other things, deceptive advertising, false claims, and publishing or failing to deal with fake reviews.
What's Unique About AHW Home Warranty?
AHW Home Warranty offers a month of free cover when you purchase any single payment warranty plan. It also has a very large network of over 40,000 contractors.
Help and Support
AHW Home Warranty can be contacted by phone, by email, or via a form on the website. Service is available 24/7, although when we attempted to contact AHW Home Warranty by email, our email bounced back, and when trying to contact them via the website, the contact form did not work.
What about the AHW Home Warranty app?
AHW Home Warranty does not have a mobile app. Quotes can be obtained through the website or over the phone.
How to Get Started with AHW Home Warranty?
To get started with AHW Home Warranty, you'll need to get a free quote by entering the address and the square footage of your home into its website quote tool. You can toggle between the different plans to see which one would work best for your budget. You can also select any additional extras you want to put into your plan.
Once you've entered your information, you get an instant quote and can purchase the plan directly online. Your coverage will begin 30 days after purchase, so you won't be able to make a claim before then.
How AHW Home Warranty Compares to Other Home Warranty Services
AHW's prices are similar to those offered by competitors. Its service fee isn't the cheapest out there and isn't flexible like some other home warranty services, but nor is it the most expensive service fee we've seen. Where AHW Home Warranty stands out is the size of its network of 40,000 contractors. On the other hand, AHW only offers phone service rather than an additional online claims form or portal. Its 24/7 phone line is industry standard.
Contractors are in-network; no figure provided
Service requests can be managed online or by phone 24/7.
Service requests can be made by phone or via the online portal 24/7.
Service requests can be made by phone 24/7.

AHW Home Warranty vs Liberty Home Guard
When it comes to pricing, there's not a huge difference between the premiums offered by AHW Home Warranty and Liberty Home Guard. At $75, AHW Home Warranty's service fee is at the cheaper end of Liberty Home Guard's range. Where AHW Home Warranty has a real advantage over Liberty Home Guard is its much larger network of contractors. However, Liberty Home Guard comes with top-notch customer service and a generous range of discounts and offers that may offset the slightly pricier service fees.
AHW Home Warranty vs Service Plus
AHW Home Warranty's premium pricing falls within the range of Service Plus, although its service fee is at the higher end compared to the competitor. Again, AHW Home Warranty has a much larger network of contractors than Service Plus. So, if you're looking for more reassurance that a local contractor will be available, AHW Home Warranty could be the better choice.
AHW Home Warranty vs Advanced Home Warranty
AHW Home Warranty's pricing is fairly similar to Advanced Home Warranty, although its service fee is a little more costly. The two companies both offer limited service access, with only phone service available. Again, AHW's confirmed huge network of contractors may sway you in its direction. Additionally, more information is available directly on the AHW Home Warranty website, which may make it easier to research without needing to call up.

Amazon Home Warranty Visit Site
The Bottom Line
AHW Home Warranty offers a decent trio of plans covering a wide range of systems and appliances, plus optional add-ons that make it easy to customize your coverage. It's not the most expensive option out there, and the first month is free. And with 40,000 contractors in the network, AHW Home Warranty is well placed to service your property when needed. However, its recent loss of BBB accreditation and poor customer ratings may be worth considering when you weigh up the pros and cons of the service.