In a Nutshell
If you're looking to protect the items in your home regardless of their age or make, Complete Care Home Warranty could prove an affordable option. With 3 plan types (Systems, Combo, and Appliances), it provides a 24/7 claims service and doesn't require maintenance records for your items. Although it does offer lower payout caps than some of its competitors, this may not be an issue if the items in your home are not of particularly high value.
pros
No maintenance records required
Covers all makes/models
Covers older items
cons
Relatively low payout caps
App not available
Complete Care Home Warranty Plans - incl. table, Optional Coverage
You can choose between 3 plan types.
Best for protecting the systems your home depends on
Best for covering all essential items
Best for protecting popular appliances

Plumbing system/stoppages
Optional Add-Ons
Whichever plan you choose, you can add the following items:
Pool/spa
Additional spa
Limited roof leak
Central vacuum
Sump pump
Well pump
Septic system
Septic pumping
Second refrigerator
Standalone refrigerator
Water softener
Refrigerator ice maker
Freestanding ice maker
Additional A/C system
Additional heating system
Additional water heater
Additional garage door opener
Additional oven/range/stove
Clothes washer
Clothes dryer
A/C system
Heating system
Sprinkler system
Tankless water heater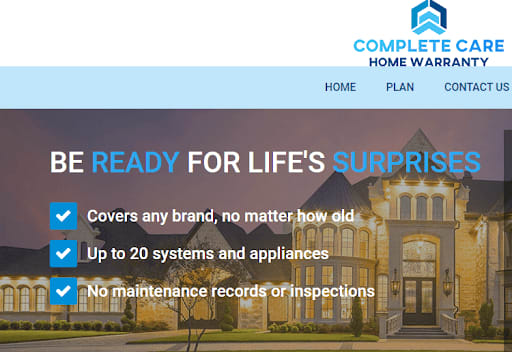 Plan Exclusions
If you take out a plan, you won't be covered against:
Malfunction or improper operation due to rust or corrosion
Collapsed ductwork
Known or unknown pre-existing conditions
Cosmetic defects
Routine maintenance
Restoration of wall coverings, floor coverings, countertops, or tilings following maintenance work
Ordinary wear and tear
Misuse or neglect
Noise without a mechanical cause
Chemical or sedentary build-up
Lightning strikes
Missing parts
Animal, pet, or pest damage
Power failure or surge
Acts of god
Structural and property damage
Flood, smoke, earthquake, freeze damage
Accidents
War/acts of terrorism
Riots/vandalism
Radiation or radioactive contamination
Mechanical failure resulting from mold, mildew, fungus, virus, mycotoxins
Condensation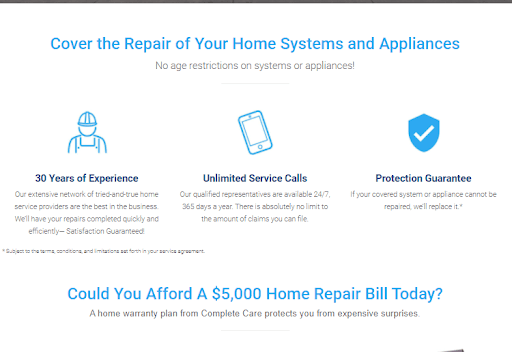 Complete Care Home Warranty Plan Pricing (Plan Pricing, Service Fees)
As Complete Care Home Warranty doesn't provide prices online, we entered the details of a single-family home of less than 5,000 square feet with a Texas zip code into the website's online quote tool, and received the following:
If you choose to pay on an annual basis, you'll receive 2 months of coverage for free. Whenever you make a service request, you'll also pay a service call fee. In our case, we were quoted a $60 service fee.
We then repeated this process for a condo of less than 5,000 square feet with an Ohio zip code and received the same results.
Overall, we found these prices affordable and broadly in line with those offered by similar companies.
How to file a claim with Complete Care Home Warranty
If you need to make a service request, you can do so over the phone 24/7. Complete Care Home Warranty will typically contact a technician within 48 hours who will be in touch to arrange a home visit during normal business hours. If, however, your claim is an emergency, the provider may attempt to expedite your request.
Once your repairs have been completed, it will guarantee the work for 30 days. You can make an unlimited number of claims during the lifetime of your plan, although the provider will not arrange a service on your behalf if you are behind on the payments on your plan.
During the term of your contract, you'll be covered for a maximum of $1,500 per item, with the following exceptions:
Repair of walls or ceilings to rough finish: $500
Plumbing system and stoppages: $500
Electrical system: $500
Water heater: $500
Ductwork: $500
Ceiling and exhaust fans: $300
Pool/spa equipment: $500
Limited roof leak: $500
Sump pump: $500
Well pump: $500
Septic system: $500
Septic tanking pumping: $200
Water softener: $500
Refrigerator ice maker: $200
Freestanding ice maker: $200
Is Complete Care Home Warranty Legit?
Although Complete Care Home Warranty has been in business for just 2 years, it claims the contractors within its network have more than 30 years' experience. While the provider is accredited by the Better Business Bureau, it has an average score of just 1.57 out of 5 on the site, which is worrying. It is important to note, however, that this score is based on just 7 customer reviews.
What's Unique About Complete Care Home Warranty?
At the time of writing (August 2021), the provider is offering a $100 discount on all plans and free roofing coverage for new customers. Unlike some of its competitors, Complete Care Home Warranty will cover all eligible appliances regardless of age, make, or model. The provider will also cover you if you rent your property and will make an effort to expedite repairs in the event of an emergency: neither of these services is offered by all competitors.
Help and Support
If you'd like to make a claim, you can contact the company over the phone 24/7. Alternatively, you can get in touch via an online query form on its website.
When we ran a quote on the provider's website, we received an email from a company representative offering to arrange a call to discuss our options. After replying to this, we received a polite and detailed response within 2 hours.
The provider also has an FAQ section on its website, which provided us with the information we needed. Unlike with some competitors, however, there is no blog.
What about the Complete Care Home Warranty app?
The provider doesn't currently offer an app.
How to Get Started with Complete Care Home Warranty
If you'd like to receive a quote, you'll need to provide information such as:
Your name
Your contact details
Address and zip code
Your property type
Your property's square footage
Unlike some of its competitors, Complete Care Home Warranty
doesn't require you to provide maintenance records or submit to a home inspection before you take out a plan.
We found the process of obtaining a quote completely hassle free and all pricing information was displayed in clear, easy-to-understand tables.
How Complete Care Home Warranty Compares to Other Home Warranty Services
When we compared the provider against the rest of the market, we found its premium costs slightly lower than the industry average. It does not, however, allow customers to make claims online, unlike some of its competitors.
Complete Care Home Warranty vs Select Home Warranty
When compared against industry averages, both providers are extremely competitive on premium prices. Select tends to offer cheaper prices at the lower end of the spectrum ($404.99 vs $450), while Complete Care is more affordable for those requiring extensive coverage ($570 vs $756). In terms of contractor availability, Select may be preferable for those who would rather make their claims digitally as it allows customers to make claims both online and over the phone, whereas Complete Care's service is phone-only. One of the most attractive features we found with Select is that it offers free roof coverage on all plans.
Complete Care Home Warranty vs Global Home Protection
Based on offers we obtained, Global Home Protection is easily among the cheapest providers in the market for its lower-priced policies, with plans available from just £299. Although this easily beats Complete Care, Global Home Protection's more comprehensive policies are, in fact, more expensive than those of its rival ($699 vs $570). Be aware, however, Global also offers a month of free coverage on new policies, which you'll need to factor in when choosing a provider. While Global Home Protection offers an online and phone claims service, Complete Care operates on a phone-only basis. Tech-savvy customers may also wish to note that neither provider offers an app.
Complete Care Home Warranty vs AHW Home Warranty
In terms of premium costs, Complete Care Home Warranty is easily the winner based on the quotes we obtained — $450-$570 vs $504-$696, although AHW Home Warranty redeems itself with the offer of 30 days' free coverage for new customers. Although Complete Care doesn't specify the number of contractors in its network, AHW works with more than 40,000 tradespeople, which is among the highest in the industry. If customer service is your top priority, you should note that, although we were satisfied with the response we had from Complete Care, we did not receive a response from AHW when we tested the service.

Complete Care Home Warranty Visit Site
The Bottom Line
If you'd struggle to meet the cost of replacing one of the systems or appliances in your home, Complete Care Home Warranty has several attractive features. As well as a 24/7 service claims hotline, it may expedite claims in the event of an emergency. The most significant drawback we identified is the relatively low payout limits offered on certain items, although this may not be an issue if the items in your home are relatively inexpensive.