The kitchen is the heart of the home. It's where we create great meals to eat, impress our friends and family, and even post on social media. It's important that we have the right appliances to help us do it all. While having a good piece of kitchen equipment is usually enough to help us achieve our cooking goals, owning an expensive appliance is an investment in our culinary future. Additionally, it's a statement that we value the time we spend in the kitchen.
But before you shell out hundreds or even thousands of dollars for that upright electric mixer or sous vide machine, ask yourself these questions. They'll give you all of the answers you need to steer clear of buyer's remorse.
» Appliances wear out. Make sure the repair cost is covered by a solid home warranty.
1. Do you need this particular item?
We've all been there: your friend/sister/coworker just bought the latest smart fridge, and now you're dying to get one too. But be honest with yourself. Are you actually due for an upgrade?
A 2020 survey by Slickdeals shows American shoppers' impulse buying increased by 18% during the COVID-19 pandemic. With little else to do during that time, people bought more due to boredom than because they actually needed the products.
There will always be temptations that make you hover over the "Buy now" button a little too long, but don't be tempted. Keeping up with the Joneses and boredom are insufficient reasons to purchase an item you may not need. To be a smart consumer, first identify your true needs in the kitchen. Only then should you pinpoint which appliances will help you fulfill those goals.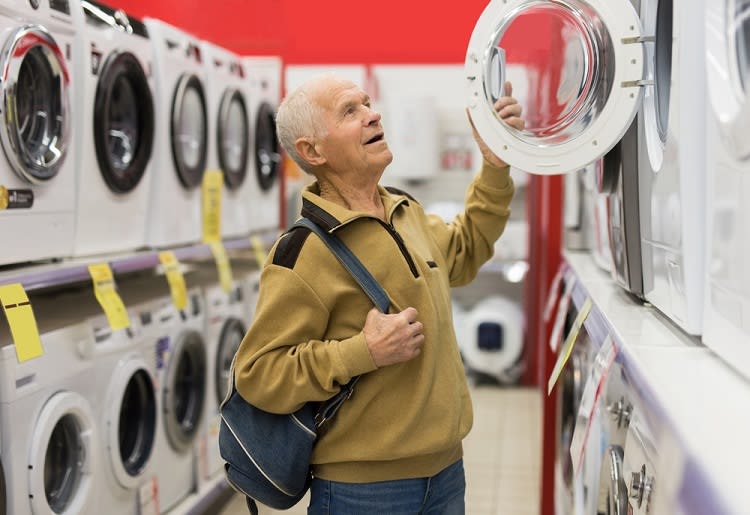 2. Is the item priced right?
We'd all love to have an unlimited budget and pick any item regardless of price. But when considering an expensive purchase like a large kitchen appliance, it's best to wait for a big sale (Black Friday, Memorial Day) and use tools like CouponCabin to find discounts wherever you can.
It's also a good idea to consider your cash flow - think about whether you have any bonuses in your near future, or if there's a generous relative who may send you a large birthday check. If there's no money coming to you anytime soon, now may not be the time to spend a lot of cash. Ultimately, you also don't want to fall into the trap of buying on credit, so think seriously about your budget before making a big investment.
3. Will the appliance fit in your space?
The most obvious consideration when buying any appliance is your kitchen size. You don't want to find the perfect fridge or oven only to discover that it doesn't fit in its intended space.
Take measurements of the area and note how large the appliance is. The rest is simple math. When you're ready to buy, make sure you have all of the necessary dimensions on hand, so you don't end up with a very expensive item and no place to put it.
4. What are the current reviews?
An informed shopper is a confident shopper. To ensure you feel good about your purchase, take the time to read what other people have to say about it. A 2023 BrightLocal survey found that about 50% of shoppers trust reviews as much as personal recommendations.
Reviews provide honest feedback about a product and can also give important information about how the product will perform over time. The Luxury Activist points out that product reviews are invaluable when shopping for big appliances as they give price comparisons and may help make the right choice when deciding between several options.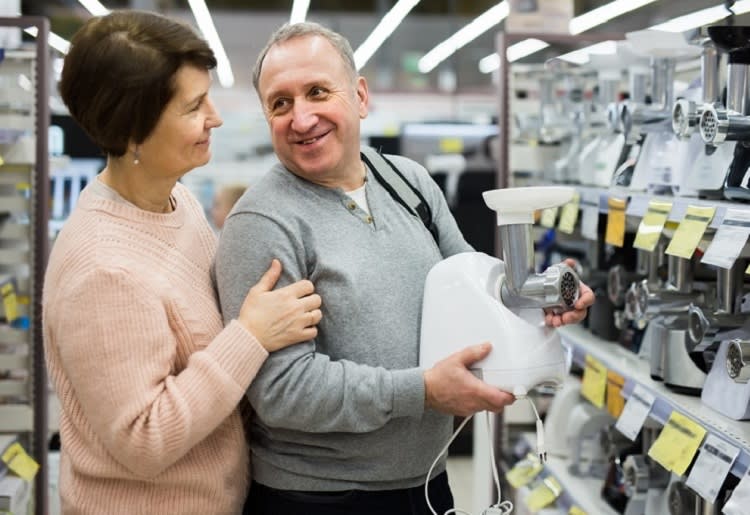 5. Is going smarter really a smart idea?
Harnessing the most cutting-edge technology for your home is a very attractive prospect to most consumers. You may have heard of the 'Internet of Things' (IoT) referenced in conversations or articles: smart devices, especially household appliances, that connect with other devices and exchange data over the internet.
Smart devices are an excellent purchase for a number of reasons. They can save you a lot of time and energy by automating tasks like cooking, cleaning, and laundry. They're also more energy efficient, helping lower your utility bills. Where they may become costly is in the price of maintenance and repairs.
Be sure to check smart appliances' warranties before you purchase so you know what's covered, and how much you'll need to pay out of pocket if something goes wrong.
6. How green should you go?
Energy consumption is an important factor to consider when buying luxury kitchen appliances. This is not only because it's wise to take care of the environment, but because the amount of energy an appliance uses influences your electricity expenses.
Compared to older models, new appliances are much more power-efficient, which means they contribute to conserving energy, helping you save on bills. Furthermore, studies put out by the IEA show that globally, "appliance efficiency policies have helped to halve the energy consumption of major appliances."
7. Are there warranties or other guarantees in place?
Like all home appliances, kitchen equipment will break down and wear out as you use it over time. Depending on each item's different lifespan, this could be in six months, a year, or even ten years—you never know when. A warranty is a good idea to help you save on the costs of repair should something go wrong.
When buying expensive kitchen appliances, it's important to understand the warranty and other guarantees or policies connected to the item. Warranties have exceptions. An extended warranty won't cover accidents, which is a common reason for appliance repair.
8. Can you afford the maintenance costs?
An expensive item comes with expensive costs. Along with determining if you can afford the product itself, make sure to consider if you can afford the maintenance. Ovens break, stoves malfunction, and fridges stop running, usually at the worst possible times.
A CNBC report revealed that the average expenditure on household maintenance, including appliances, is $6,000 per year. The same report detailed that replacing household items is much more expensive than maintenance.
While a warranty should cover most routine maintenance and servicing, uncovered problems may arise. In case that happens, make sure you're financially capable of servicing the appliance.
9. Is the purchase based on a trend?
There's always some celebrity, influencer, or TikTok content creator who has the 'next best thing' on their recommendations list. But trendy doesn't always last the test of time.
No matter how much social media traction an appliance gets, what should be most important to you is whether you can afford it and if it's good value for money, among other things.
Certain luxury appliances emerge as a trend and quickly become the must-have of the season, but diminish in value just as quickly once newer versions hit the market. Things like specific colors, shapes, and styles may also be a passing trend that make your kitchen look unnecessarily dated in just a few years.
Paying a fortune for a new, cutting-edge appliance, only to find that it is suddenly considered old news, can make you feel like you've thrown your money away. Luxury appliances are meant to be with you for the long haul (which is why home warranties are a thing).
Shopper's rule of thumb: think before you buy
Based on a study published by Grand View Research, the U.S. household appliance market was valued at an estimated $52.65 billion in 2021. That means if you're buying luxury kitchen appliances, you're not the only one. After all, they do offer better aesthetics and inject more convenience and innovation into your daily routine.
But it's important to understand that purchasing expensive appliances shouldn't be a spur-of-the-moment decision. If an expensive luxury appliance fits your needs and your budget, then it is a worthwhile purchase. Creating a tastefully designed kitchen while sticking to your budget doesn't have to be complicated. You just need to think ahead, do a little research, and be honest with yourself about your needs.