The kitchen is often considered the heart of the home, and the basic elements of any kitchen are its large appliances. Regardless of budget, everyone wants an appliance that will simplify - or even eliminate - tedious chores. But before you make a big investment in a luxury appliance, there are a few things worth considering, from its size to deciding whether to protect it with a home warranty.
Below, we've outlined nine factors you should consider before buying expensive appliances.
1. Do you need it?
We've all been there: your friend/sister/coworker just got the latest smart fridge, and now you're dying to get one too. But you need to be honest with yourself about whether you're actually due for an upgrade.
According to a 2020 survey by Slickdeals, American shoppers' impulse buying increased by 18% during the COVID-19 pandemic. With little else to do during that time, people bought more out of boredom and restlessness than from actual need. For instance, many new fridges have eco-friendly options, and an induction cooktop is proven to be the most energy efficient option for cooking on the market today. If environmental impact is an important part of your lifestyle, then investing in one of these options might be right for you.
Now that the pandemic has mostly passed, though, you don't have that excuse anymore. To be a smart consumer, you need to know what your kitchen needs are, and only then think about what appliance(s) will help you achieve those goals.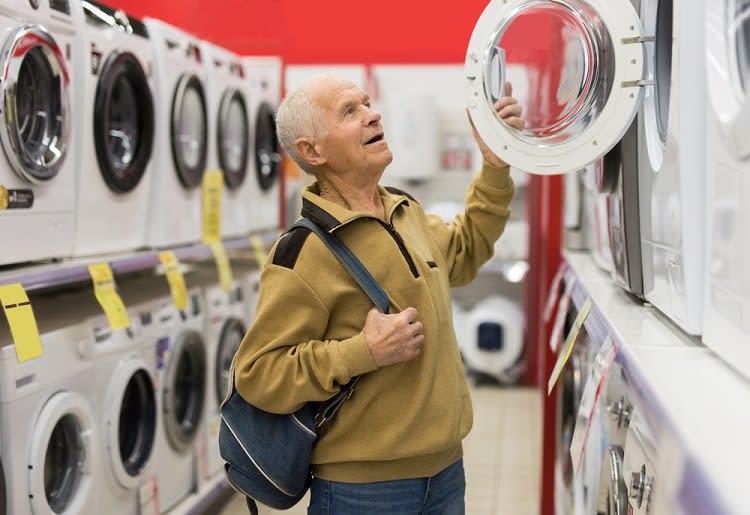 2. Is the price right?
The next thing to consider when looking to buy a large appliance is your wallet. Take careful stock of your budget and make sure that
When considering a big purchase like a large kitchen appliance, Nerdwallet suggests waiting for a big sale (Black Friday, Memorial Day) and using tools like CouponCabin to find discounts wherever you can. Also, consider your own cashflow - are you about to get a holiday bonus at work? Or do you have a generous relative who likes to give you a big birthday check? These are all things to consider that can help offset the high price tag of most luxury kitchen appliances.
Ultimately, you don't want to fall into the trap of buying on credit, so think seriously about your budget before making such an investment.
3. Will it fit?
The first (and perhaps the most obvious) factor in choosing any appliance is the size of your kitchen. You don't want to find the perfect fridge or oven only to discover that it doesn't fit in its intended space.
Take measurements of the space your appliance will go in, and make note of the measurements of your potential appliances, so when you're ready to buy, you won't fall in love with an appliance that isn't right. You're already spending so much money on these appliances. Why buy an appliance that won't fit into your kitchen?
4. How are the reviews?
Once you've decided to go all-in on buying a new kitchen appliance, the next step is to read some reviews. This may seem obvious, but a 2021 Statista study found that nearly 10% of consumers don't read any reviews before making a purchase, and between 2019 and 2021, the number of consumers who read between 4 and 6 product reviews went down.
Reviews provide honest feedback about a product and can also give important information about how the product performs over time. The Luxury Activist points out that product reviews are invaluable when shopping for big appliances because they help with price comparisons and may help you find what you're looking for if you're deciding between several options.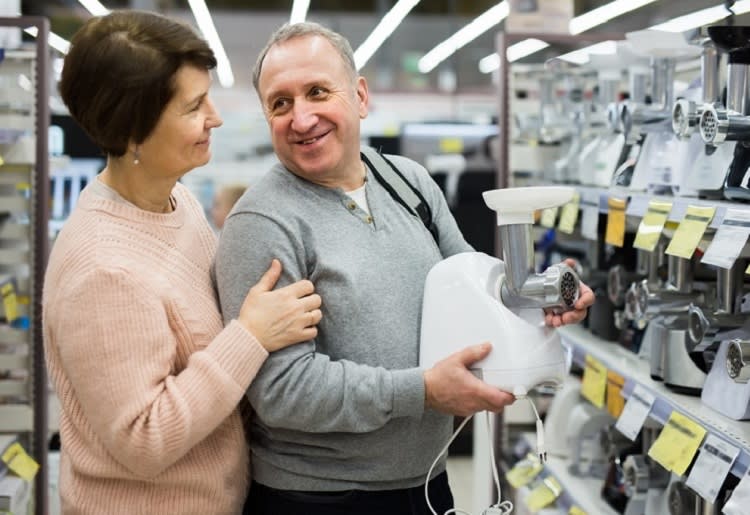 5. Should you go smart?
Harnessing the most cutting-edge technology for your home is a very attractive prospect to most consumers. You may have heard of the 'Internet of Things' (IoT) referenced in conversations or articles - well, this is what it means. Smart devices, especially household appliances, that are connected to other devices using WiFi, Bluetooth, or 5G.
It is important to note that most standard home warranties will not cover smart appliances. Unfortunately for the consumer, this means that if your smart appliance malfunctions, the cost of repair or replacement may have to come out of your own pocket. While some home warranties will cover other parts of your smart appliance that malfunctions, you won't find a warranty on the market right now that will cover the components of an appliance that makes it 'smart.'
6. Should you go green?
Energy consumption is an important factor to consider when buying luxury kitchen appliances. This is because the amount of energy used by an appliance influences how much you'll be paying for electricity.
Compared to older models, new models are much more power-efficient. Even though they may come at slightly higher prices, new luxury kitchen appliances conserve energy and help users save on electricity bills.
Furthermore, the latest studies put out by the IEA show that, globally, 'appliance efficiency policies have helped to halve the energy consumption of major appliances.'
7. Are there warranties or other policies in place?
Just like other home appliances, kitchen appliances will break down and wear out. And depending on their different lifespans, this could be in six months or a year—you never know when. So, a warranty may be just what you need.
When buying expensive kitchen appliances, it's important to understand the warranty and other policies surrounding them. A warranty can provide cover when devices break or become faulty, helping you save on costs.
Like all policies, warranties have exceptions. An extended warranty won't cover accidents, which is a common reason for appliance repair.
Which is why, the next question you must ask yourself is…
8. Can you afford the maintenance?
Along with determining if you can afford the product itself (see Number 2), you also need to consider if you can afford the maintenance of the product. Ovens break, stoves malfunction, and fridges can stop running (especially if it's full of food you prepared for a party that night).
According to Angi's 2022 State of Home Spending Report, the average household spent $2,467 on maintenance, a statistic that has been steadily increasing since 2017 (adjusting for the sudden spike in 2021 due to the pandemic).
While a warranty should cover most routine maintenance and servicing, at least within the span of years covered by the warranty, a problem with the appliance may arise that is not covered by the warranty.
Questions regarding maintenance and servicing may arise if the warranty does not cover this. In this case, make sure you're financially capable of servicing an appliance and finding a suitable maintenance company in your area before you buy it.
9. Is it just a trend?
Let's go back to the example we started out with: your friend/sister/coworker just got the latest smart fridge, and now you're dying to get one too.
After asking all of the above questions and determining that you really do want and need a new luxury appliance, the final question to ask yourself is: will I still want this appliance in 1, 3, 5, or even 10 years? Now is the time to be honest with yourself: are you buying based on a trend or a hot brand name or are you buying for the actual features of the appliance? Certain luxury appliances emerge as a trend and quickly become the must-have of the season, but they diminish in value just as quickly once newer versions of these appliances hit the market. Things like specific colors, shapes and styles can also be a passing trend that could make your kitchen look unnecessarily dated in just a few years.
Paying a fortune for a new, cutting-edge appliance, only to find that it is suddenly considered old news in just a few months can make you feel like you threw your money away. And these luxury appliances are meant to be with you for the long-haul (which is why home warranties are a thing).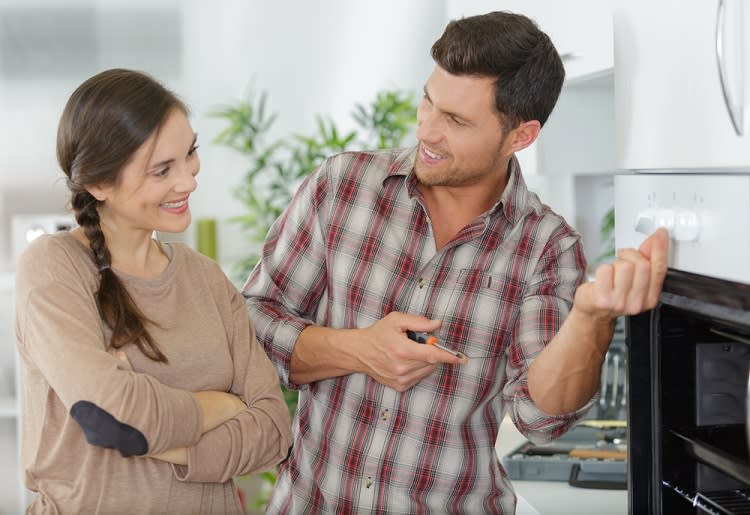 Finally, think before you buy
The U.S. household appliance market was estimated at USD 52.65 billion in 2021, based on a study published by Grand View Research. So you definitely won't be alone if you decide to invest in one of these luxury kitchen appliances. They raise the value of your kitchen and your home and usually offer better aesthetics and more convenience and innovation for your daily routine. But it's important to understand that purchasing expensive appliances shouldn't be a spur-of-the-moment decision. The above factors are a comprehensive and logical list of items you should be considering before making such an investment.
If an expensive luxury appliance fits your needs and your budget, then it can be a worthwhile and enjoyable purchase - as long as you've given it the proper thought and consideration. Creating a tastefully designed kitchen while sticking to your budget doesn't have to be complicated. You just need to think ahead, do a little research, and be honest with yourself about your needs.