Even with a home warranty to cover maintenance and repairs, certain exterior design aesthetics can be expensive to attain. Fortunately, there are many cost-effective DIY methods for achieving the look you're going for—and they won't even take longer than a weekend!
From clearing your gutters to planting some flowers, painting your doors, and changing your windows, these 10 cost-effective projects can help you modernize the exterior of your home.
1. Add Some Greenery and Maintain Your Lawn
A few tasteful hedges and potted plants here and there can do wonders for your home's exterior. Simplicity is key when designing a modern yard, so you don't have to spend too much time and money to achieve a modern front yard.
In addition, a well-manicured lawn may just be what you need to give your house's exterior a more modern feel. All you need is a lawn mower and some elbow grease.
2. Update Your Mailbox
A modern mailbox can also add to your curb appeal. You can purchase a new mailbox or get creative and make one yourself. Again, simplicity is key. Think clean lines and monochromatic colors. A simple mailbox post made of metal or wood also goes a long way.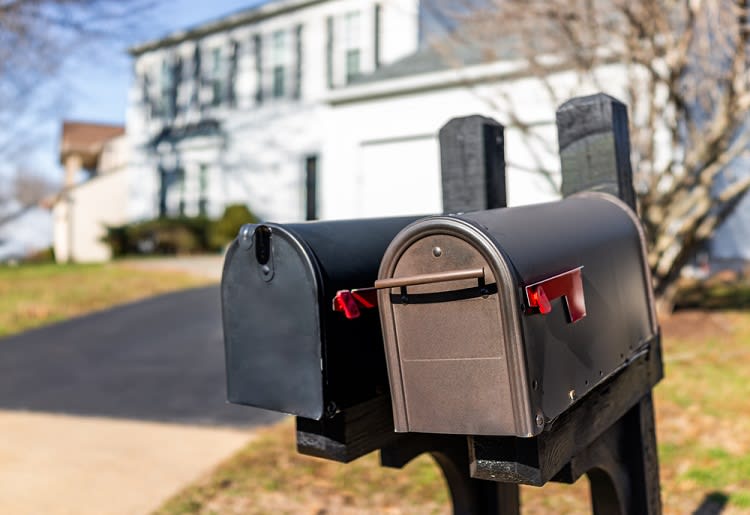 3. Improve Outdoor Lighting
Lights enhance the ambiance of any space and have the ability to make your house stand out. Modern wall lights, pendant lights, path lighting, or deck lighting can elevate your home's exterior.
For an ultra-modern feel, place two black wall lights against a white wall on either side of your front door—practical and inexpensive!
3. Replace Old Windows
If your house is older than two decades, you may consider giving your windows a new look or changing them to a modern design. Remember, it all depends on your budget. In some cases, you can simply change the glass. In other cases, you can replace old wooden frames with sleek metal ones or even go for frameless picture windows.
4. Paint Your Front Door
Giving your front door a fresh coat of colorful paint can elevate your entryway and even increase the value of your house. A bright or pastel statement color is sure to increase your curb appeal. For an extra modern touch, replace your old door handle with a more sleek and simple metal handle with a brushed or satin finish.
5. Decorate Your Front Entry
Decorations aren't just for Christmas and Thanksgiving. Add lights, plants, and modern floor tiles to make your front door pop and bring you one step closer to a modern, polished exterior. Keep in mind that a big part of the modern aesthetic is symmetry, so make sure one side of your front entry matches the other.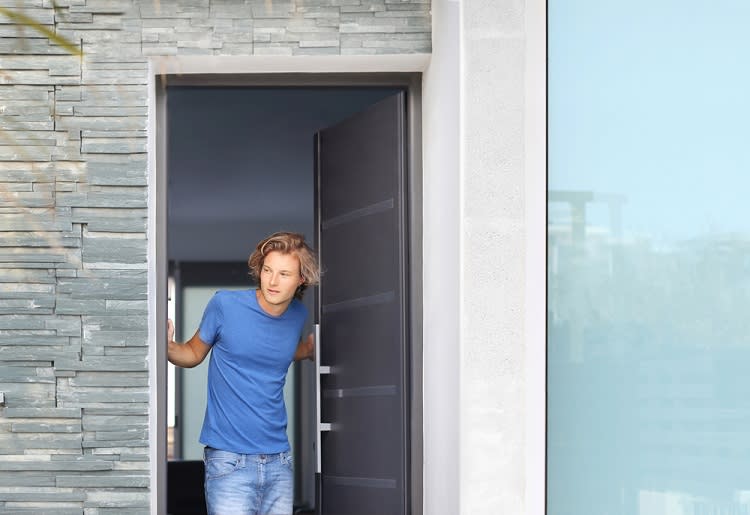 6. Keep Your House's Exterior Clean
A modern design aesthetic favors clean lines and functionality. Therefore, clearing the gutters, raking the leaves, and keeping your driveway and porch free of clutter is a subtle but effective touch that helps to give your exterior a modern feel. This is one of the most cost-effective tasks as it can be regarded as a regular domestic chore.
7. Upgrade Your House Numbers
Your house number will always be yours. At some point, your house number may appear damaged or simply outdated. There's always room to design a new one that can be neatly hung on the front of your home. Simply choose a sleek, modern font and material such as metal or stained wood.
You can do this yourself or buy new numbers from a home improvement store. Just make sure your new numbers are visible from the street.
8. Add a Bench to Your Porch
Consider placing some modern outdoor furniture on your porch to beautify the exterior of your home. You can bring a bench out from inside or find an inexpensive modern bench at a thrift store. Add one or two decorative pillows for a polished look.
9. Add a Modern Door Mat to Your Entryway
A door mat achieves two purposes: function and beauty. Whether it's made of jute, rope, coir, or coconut fibers, placing a door mat at your front door gives both you and your visitors the feeling of stepping into a modern house.
10. Create a Neat Pathway
The universal sign of a modern exterior is a neatly tiled pathway that leads to your front door and keeps visitors off of your neatly manicured lawn.
A pathway doesn't have to be expensive. You can use wood chips, stepping stones, or gravel with brick edging—whatever you prefer!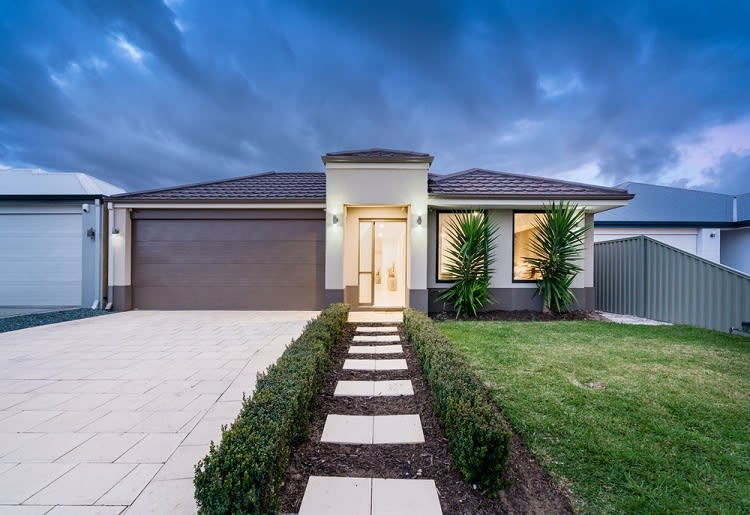 Final Thoughts
Even if you're saving to buy a home or simply have a tight budget, you can still give the exterior of your home a modern look. These 10 methods of modernizing your home are subtle but effective, helping you stick to your budget and achieve the exterior of your dreams.
And after putting in all that work, it's important to make sure you have a good home warranty protecting your investment. Home warranty companies like Select Home Warranty and Liberty Home Warranty can help you protect your valuable assets and save you money in the long run.