Protect Your Home Visit Site
How Protect Your Home Works
Protect Your Home is a vast home security company with branches in more than 100 locations across the United States. Headquartered in Indianapolis, this provider helps protect almost a quarter of a million Americans every year with their nationwide footprint of reliable home security. The Indiana-based company is an ADT Authorized Premier Provider of the #1 home security company in North America, offering monitoring services provided by ADT. As an ADT Authorized Premier Provider, Protect Your Home combines its own expertise and security staff with ADT monitoring – to offer an incredibly well rounded and capable protection and prevention service.
What Protect Your Home Offers
ADT Pulse gives customers the ability to manage and monitor their home security from the palm of their hands, such as:
Easy-to-read LCD display
Chimes to alert you when doors and windows open and close
Quick and easy access to police
Emergency response and firefighters
Wireless sensors
Built-in passive infrared motion sensor
Indoor siren Sounder
Power supply and backup battery
ADT Pulse also gives you the ability to arm and disarm your system, as well as monitor your home for burglary, theft, carbon monoxide, fire, flood or smoke, from almost anywhere with a smartphone, tablet or computer. You can set up your system to send you text and email notifications and alerts.
Protect Your Home takes advantage of the incredibly established ADT infrastructure to offer a sweeping range of features. Drawing upon the core services of home alarms, intruder prevention and CCTV monitoring – it also offers remote controlling, energy management and a fully wireless system.
24 hours a day, 7 days a week: By signing up for ADT monitoring, you ensure that trained professionals with the most sophisticated and innovative security devices are monitoring your home at all times.
More Reasons to Choose Protect Your Home
Reliable Equipment: Protect Your Home provides customers with easy-to-use wireless equipment. Matched with ADT's proven technology, this state-of-the-art security system provides users with one-touch access to police, fire and emergency response teams. World-class backup capabilities ensure systems are up even with the power is down.
Theft Protection: If you experience property loss as the result of a burglary while your ADT monitored system is in service, you are eligible to receive a reimbursement of up to $500 of your homeowners insurance deductible. ADT requires that certain conditions must be satisfied.*
Nationwide Support: Protect Your Home is the #1 ADT Authorized Premier Provider in the United States. Sales consultants are experts in ADT monitoring and will help you select the right monitoring plan for your needs. During the installation of your security equipment, your home will be assessed by one of their Security Professionals to ensure complete coverage.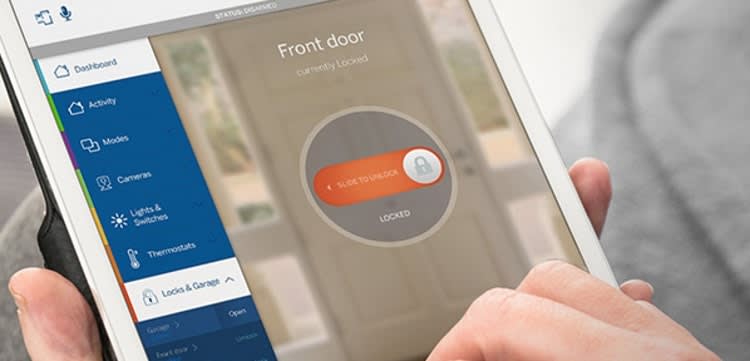 What's Unique About Protect Your Home?
Unlike many competitors, Protect Your Home offers nationwide coverage and same day installation availability. Customers receive a professional installation experience from a background-checked, trained and certified security advisor who expertly installs a custom ADT monitored security system, the right way.
The 6-month money-back guarantee ensures that all customers are satisfied with their system. If not, ADT may refund the system installation prices and pay all monitoring fees, after attempting to resolve all concerns.
Security Services
Security services from Protect Your Home are wide ranging and comprehensive – controlled centrally by a full-service digital touchpad. Additional touchpads can be purchased and placed in other areas of your home or business for added accessibility. Features include:
Easy-to-read LCD Display
Chimes to alert you when doors and windows open and close
Bypass ability, allowing you to arm the system when a door or window is open
Quick and easy access to police, emergency response and firefighters
This unit also acts as a control center for all of the security equipment around the home, including entryway sensors, motion sensors, video surveillance and more.
Monitoring Services
Protect Your Home customers can rely on an outstanding 24-hour monitoring service, facilitated by a network of ADT monitoring centers across the country. These strategically positioned locations are equipped with the best hardware and back-up facilities to ensure consistent service – and staffed by a highly trained security team. ADT Pulse also allows users to monitor their own homes from anywhere in the world with an internet connection.
Starting with the affordable price of $27.99 per month, customers can get the base package that includes everything you need to help keep your home and family safe including a digital touchpad, motion sensor, wireless door and window sensors and a wireless keychain remote.
Mobile Readiness
The ADT Pulse infrastructure is one of the most celebrated mobile home security systems on the market, leading the industry in putting control into the hands of a consumer. The ADT Pulse app for your smartphone, tablet and computer allows you to automate, monitor and control your home security while on the road. You will be able to enjoy a sense of security knowing that your home is not only monitored by the leading name in home security - ADT - but also accessible to you at any time, from almost anywhere.
Protect Your Home Customer Support
Support materials on the website includes a blog and FAQs. The company's business hours are Mon-Fri 8am-12am, Sat 8am-8pm, Sun 11am-7pm EST. You can reach the company by email at customerinfo@protectyourhome.com and you should get a response within 48 hours.
Pricing & Special Offers
*Last updated: April, 2018
You're not going to find any bargains within this system – but you will find outstanding quality. Prices begin at $36.99 per month for a monitoring plan and peak at $47.99 per month. Installation is relatively cheap compared to some of the prices we've seen for the more expensive systems, with all hardware installed for just $99.00. As the monitoring is provided by ADT, customers are subject to their contractual agreements and must enter into a 36-month agreement (in most states). The main difference between the 4-tiered plans offered by Protect Your Home is in the 2-way voice functionality and an optional cellular connectivity.

Protect Your Home Visit Site
Bottom Line
As the number one ADT Authorized Premier Provider in the country, Protect Your Home has significant experience and expertise in getting your home security systems installed. Protect Your Home offers superior technology at premium prices, and customers get an extra line of protection with those easily recognized blue signs in the front yards of homes with ADT protection. When it comes to price, you get $850 worth of world class security equipment but pay $99 upfront for parts, installation and purchase of alarm monitoring services.
If you're looking for home monitoring from a credible, trustworthy company that offers the latest security technology, Protect Your Home is for you.