In a Nutshell
TeloYears offers a genetic test that uses your DNA to help you measure and improve your vitality. The test tells you your cellular age by looking at the length of your telomeres so that you can determine the health of your cells compared to others who are your age and gender. It also offers a service to work with an expert who offers actionable insights and a plan to make smarter lifestyle decisions and improve your overall health.
pros
Finger prick kit is easy-to-use
CLIA-certified lab
cons
Can't be used by New York residents
No toll-free phone number

TeloYears Visit Site
Ideal For
60-80 year-olds wanting to analyze their telomere health to make the necessary changes to live a longer and healthier life
Health-conscious individuals who are curious to learn about the health of their cells
Young adults wanting to discover their telomere health in order to make better and smarter lifestyle decisions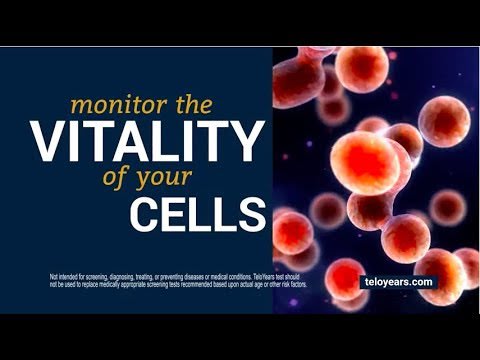 Why Go With TeloYears
The TeloYears genetic test is simple-to-use and gives you an in-depth report of your cell health – what it refers to as "teloyears." After completing the test and sending it to the lab for analysis, you will receive your TeloYears results report, as well as a blueprint for aging better. The results report is simple and intuitive, so you can learn about the health of your cells from the blood sample sent in. Included in every test result is also a blueprint for better aging, which helps you become more aware of lifestyle choices that may be affecting your age in teloyears, as well as explanations to help you better understand how different elements can affect your health, and an action plan to improve your telomere health.
The company is backed by Telomere Diagnostics, Inc., a molecular testing company that was founded in 2010 by 4 scientists including Dr. Elizabeth Blackburn, who won the 2009 Nobel Prize in Medicine for her work in telomere biology.
What's on Offer
At-home genetic test
DNA collection requiring a drop of blood
Testing is done in CLIA certified lab
Accurate results assured by qualified staff
Results report for learning about your telomere health
Blueprint to help you improve your lifestyle choices
Guaranteed privacy, protected by HIPAA laws
Pre-paid envelope for returning samples to the lab
More Reasons to Choose TeloYears
This DNA test is different than others on the market. The telomere health tracking program goes beyond simple tests such as cholesterol levels or blood pressure readings. It analyzes DNA and enlightens and empowers you to slow down the speed at which you age. After receiving test results, you will see areas you can work on to improve your health – like exercise, nutrition, and sleep. TeloYears also provides further guidance through its TeloCoach program, which pairs DNA test takers with trained telomere experts to help them better understand the meaning of their results.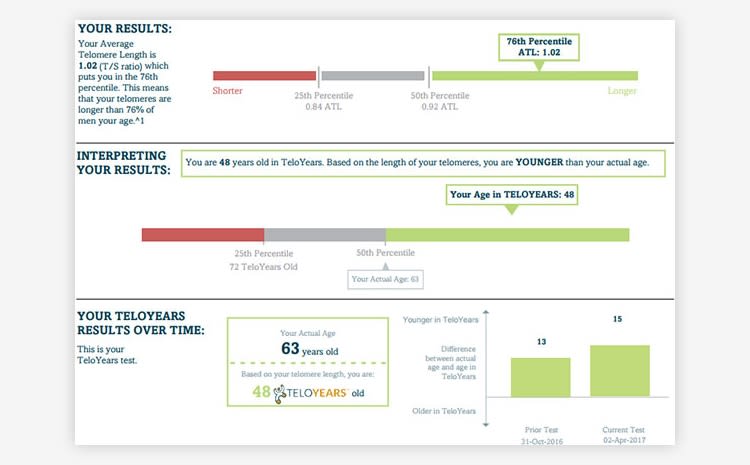 Ease of Use
To get started, you'll need to enter basic details and respond to a few preliminary questions. A doctor will then review your information, in order to ensure it's the right product for you and your needs, and place the order. You will then be sent an at-home collection kit.
The test is simple to use and only requires a finger prick to draw a drop of blood.
Use the finger stick lancet to draw blood from the middle finger of your non-dominant hand
Rub the collection stick against the site of the puncture until it absorbs a drop of blood, and then clean the puncture with gauze and cover with a bandage
Once you've collected the blood sample, mail it back to the TeloYears lab in the included pre-paid envelope.
Place the collection strip into the transport tube, place the tube in the supplied bag, and put it into the envelope
The kit should be mailed back to the lab on the same day that you took the sample, as samples that are sent immediately produce more accurate results.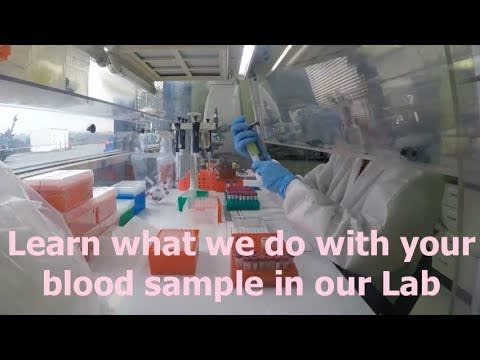 Speed of Kit Delivery and Results
After sending in the sample kit, your DNA will be analyzed in a CLIA certified lab by trained lab technicians, and results will be delivered within 2-3 weeks of receiving the sample. Results will be sent as a report, which displays the following information:
Your average telomere length and where it lies on the percentile spectrum
Your age in teloyears and how it compares to your actual age
Teloyears results over time
In addition to the report, users will also receive a blueprint for aging well, which enables users to easily take action and get the most out of the TeloYears kit. So rather than simply receiving results, you can interpret them, and use them to improve your life and extend your lifespan. The blueprint includes:
A self-assessment tool that promotes awareness of lifestyle factors affecting telomere health
An action plan for exercise, healthy eating, sleep, and stress
An in-depth review of telomeres, the science behind it, practical uses and its role in aging
The test isn't meant for diagnosing or treating medical conditions; rather it is meant to better understand your cell health in order to improve lifestyle habits. The test should not be taken as a doctor's assessment, and should not be used in place of a doctor. It's also important to note that:
The test is only available for individuals between 20-80 years old
Only US citizens are eligible to take the test (except for New York state residents)
The test isn't FDA approved
DNA Collection Kit
Blood sample
DNA Test Type
Health/cell health/telomere health
Report Features
Health information (Telomere health and vitality)
Customer Support
TeloYears offers an all encompassing FAQ section on its website, which aims to answer all potential customer questions. The FAQ is split up into categories such as "About TeloYears," "Getting TeloYears," and "Telomere Science." These categories are then broken down further to answer more in-depth and detailed questions such as "Can I get a refund?" and "How are telomeres measured?" The FAQ is broad and covers a lot of categories and almost any question one may have.
If, after scouring through the FAQs, your question is still left unanswered, we suggest contacting customer service, either through phone or email. A support phone number and email address are provided on the site. If you prefer for a customer service representative to get in touch with you, you can fill out an online form. Another avenue for support is through social media. Though it's not advertised online, TeloYears accepts messages through its Facebook page, and the response time is on average up to one day.
TeloYears' social media pages also offer insightful information on the study of telomeres and its effects in connections with various factors such as pregnancy and food allergies.
Pricing
TeloYears "Now and Later" 2-pack
TeloYears offers 3 plans, all ranging in features and price:
TeloYears, the most basic option, costs $99 and includes a test kit with a pre-paid return envelope, a results report, blueprint for aging well, and regular processing time, which is 3-4 weeks.
The mid-level option is the "Now and Later" 2-pack, which costs $169. This options offers exactly what the basic TeloYears option does, but includes an extra kit for improvement tracking. So use the first test, work on an exercise plan or healthier eating regimen, and then retake the test and see how you've improved.
The third option offered is a "super-plan." It offers a personalized tracking program, and comes with the options to discuss your results with a TeloCoach. Another bonus that comes with this plan is that you receive priority processing.
Personal information will need to be supplied to TeloYears at the beginning of the process – which is the moment you register for a kit. It does ensure that all information is kept private and that it never gets shared with third parties. TeloYears states that any sending of information only happens through encrypted connections, and that payment and contact information is transmitted in compliance with the Payment Card Industry and Data Security Standard.
Bottom Line
Testing telomere length is a great way to analyze your health and cell age, as scientists have proven that telomere length is associated with age-related diseases. TeloYears' test is easy to take, results are received promptly and include an in-depth report.
The test has garnered positive reviews, with claims such as "eye opening" results and "very encouraging!" for those seeking positive lifestyle changes. Though its accuracy isn't provable, its results lead users to learn more about their biology and health, and in turn put more thought into the lifestyle choices they make.

TeloYears Visit Site
About TeloYears
TeloYears was founded in 2016 by parent company Telomere Diagnostics, Inc., a molecular testing company started in 2010 by 4 scientists including Elizabeth H. Blackburn, who received a Nobel prize in medicine in 2009 for her work in telomere biology. Telomere Diagnostics, Inc. and in turn, TeloYears, has a good industry reputation. Its lab is based in Silicon Valley, California, and is CLIA certified, meaning it is qualified to handle complex clinical tests.
Physical Address
Telomere Diagnostics
3603 Haven Ave, Suite A
Menlo Park, CA 94025
Contact Details
Phone: +1 844 457 9944
Email: info@teloyears.com / support@teloyears.com