In a Nutshell
Legacy Tree Genealogists employs some of the most well-educated genealogists in the field to do your deep heritage research and find the answers you've been looking for. From discovering your birth parents to learning about your ancient lineage, Legacy Tree has the research capabilities, tools, and industry leaders to get you the information you want.
pros
Professional team of genealogists, hands-on research
Choose your own research goal
Shareable, easy to read report
cons
Costly research packages
No DIY tree-building tools

Legacy Tree Genealogist Visit Site
Types of Tests and Kits You can Get from Legacy Tree
Legacy Tree does not offer DNA testing kits. However, genealogy researchers at Legacy Tree can use raw DNA data from any testing company to help piece together your ancestry.
Other Features at Legacy Tree
Legacy Tree is a research service that puts professional genealogists to work uncovering your family's history. All of the research efforts are undertaken by Legacy Tree, so there is very little work required on your part.
In-depth Genealogy Research
The research team at Legacy Tree is composed of certified genealogists and individuals with decades of experience researching family trees. Researchers have access to databases from all the major genealogy services as well as physical records in libraries around the world.
Legacy Tree researchers can work with a wide variety of data to start researching your family. You can supply family members' names, DNA test results or raw DNA data, and stories about your family's history.
Customized Research Projects
At Legacy Tree, you get to define the ancestry research project you want to be completed. Example goals include discovering relatives as far back in time as possible along one branch of your family tree or confirming an ancestor's role in a war or migration in preparation to join a lineage society.
International Research
Legacy Tree has on-the-ground researchers in more than 100 countries, including in countries throughout Europe, South America, Africa, and Asia. These researchers enable Legacy Tree to find physical records that haven't yet been digitized and added to online ancestry databases.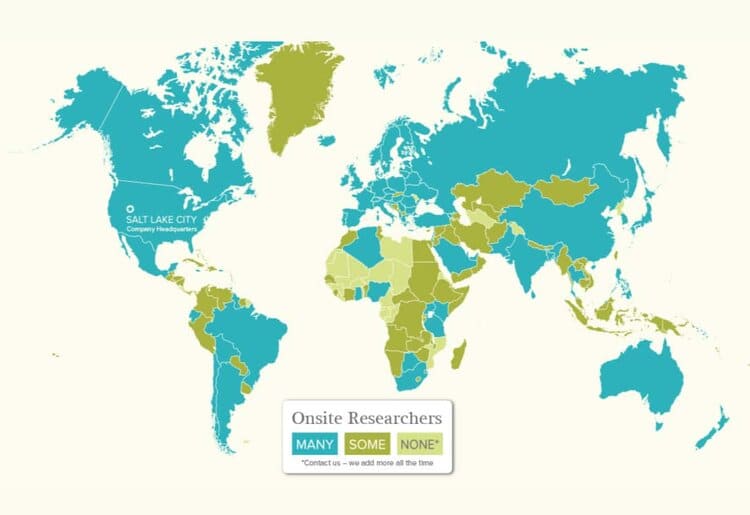 How Much Does Legacy Tree Cost?
Legacy Tree offers 4 pricing packages: Mini10, Basic25, Standard50, and Premium100.
The Mini10 and Basic25 packages each include 1 research goal (10 or 25 hours of research). A goal typically involves researching 1 branch of your family tree in 1 geographic location. The Mini10 plan is limited to researching ancestry post-1870 in the US, Canada, UK, France, Sweden, Denmark, or Norway.
The Standard50 package includes 2 goals (50 hours of research), and the Premium100 plan includes 4 goals (100 hours of research).
Legacy Tree's prices include a detailed report and shareable webpage, and they cover most record acquisition fees. Mini10 projects only take 8-10 weeks, but other projects typically take 4-6 months. You can break up payments for any Legacy Tree package into 3 monthly installments.
While Legacy Tree's prices are significantly higher than genealogy services like MyHeritage or FindMyPast, it's hard to compare these services directly. MyHeritage and FindMyPast are DIY genealogy services, while Legacy Tree does the work of researching your family history for you. If you're not a genealogist, using Legacy Tree could save you a significant amount of time.
How to Get Started with Legacy Tree?
The Sign-up Process
You can get started with Legacy Tree either by filling out a contact form on the company's website or by calling to set up a free consultation. At the consultation, you'll have a chance to talk to a genealogy researcher about what you hope to find out about your family. The Legacy Tree researcher can help you refine your project goals and point you towards the package that's most suitable for you.
During the consultation, you can also provide any information you've already collected about your family. This can be names, birth and death dates, marriage details, family stories, or any other information you think might be helpful. Legacy Tree can also accept raw DNA data through a secure online portal.
Getting The Results
Legacy Tree typically takes 4-6 months to complete research projects (or 8-10 weeks for Mini10 projects).
At the completion of your project, you'll receive a detailed report that explains everything the researchers found. The report is 10-20 pages per goal. It includes a step-by-step account of the historical records the research team found and records the team searched for but was unable to locate. The reports also include digitized copies of key records.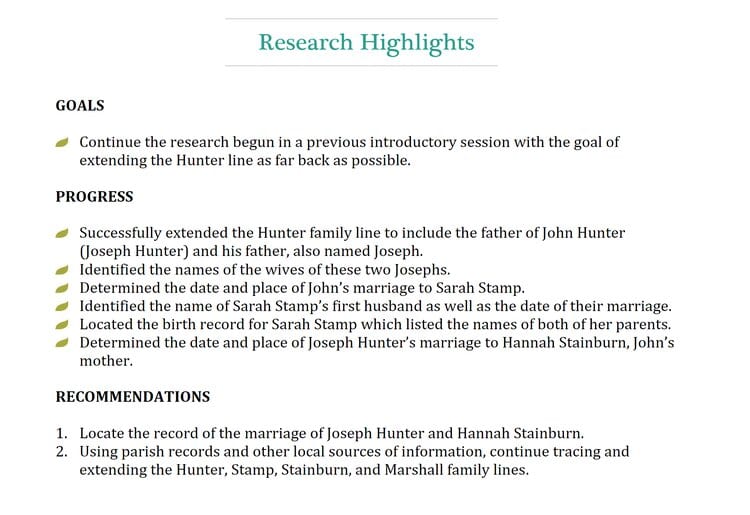 The research reports are very easy to read and include place and time-based details that help you understand more about your ancestors' lives. In addition, each report includes recommendations for areas of additional research that could extend your family tree back further in time or fill in missing details about your ancestors.
Legacy Tree research reports are delivered in print. You also receive a private webpage where you can download a copy of your family tree, view digitized records, and read a PDF version of your research report. The webpage can be easily shared with family and friends.
How Legacy Tree Protects your Privacy
Legacy Tree does not share users' personal details, contact information, or DNA data outside of its team of researchers. If you choose to share DNA data with Legacy Tree, you can do so through a secure online portal. Legacy Tree will delete users' information at any time upon request.
Help and Support
How to Contact Legacy Tree
You can reach Legacy Tree by phone and email from 8am-6pm MT Monday-Friday. The company has dedicated phone numbers for the US, UK, Canada, Australia, and Brazil. We filled out the company's online contact form and received an email back within a few hours.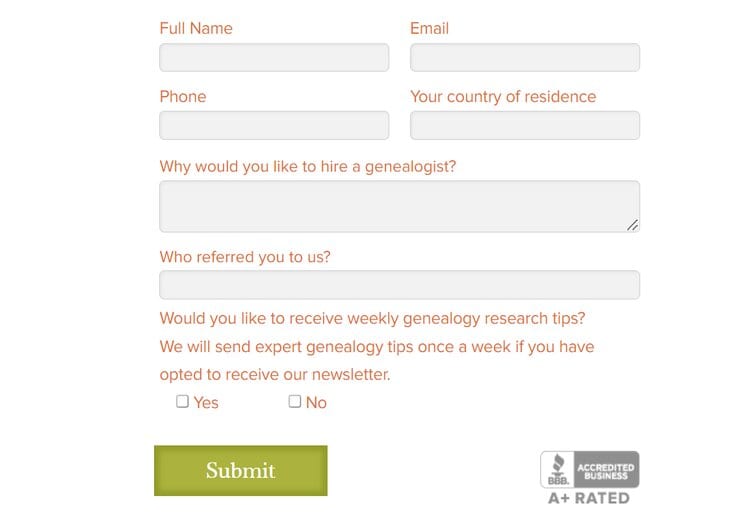 Are FAQ Pages Available on Legacy Tree?
Legacy Tree does not offer FAQ pages. However, you can find example research reports and a blog that highlights some of Legacy Tree's recent projects.
How Legacy Tree Compares to Other Genealogy Services
MyHeritage Genealogy Services
$74/month plus $5-$90/question
Professional genealogy research on your behalf
Outsourcing genealogy research to professionals
Exploring British and Irish ancestry
In-depth DIY genealogy research
Getting help with DIY genealogy research
Legacy Tree Vs. FindMyPast
FindMyPast is a DIY genealogy service that leaves it up to you to explore your family's past. The service focuses on British and Irish historical records and offers access to census data, birth and death records, newspaper articles, and much more.
FindMyPast is much cheaper than Legacy Tree, but you have to do the hard work of piecing together your family tree on your own. FindMyPast does not offer professional help or even a forum where you can ask questions about genealogy research.
Legacy Tree Vs. MyHeritage Genealogy Services
MyHeritage offers one of the most comprehensive self-serve databases of historical records currently available. The platform gives you access to nearly 17 billion records from 48 countries to help you build your family tree.
Accessing all of MyHeritage's records costs $189 per year, so the service is somewhat pricey. If you plan to keep a subscription for several years, MyHeritage could end up costing about as much as a one-off research project at Legacy Tree.
Legacy Tree Vs. JustAnswer
JustAnswer is a unique question-and-answer service that gives you access to experts across a wide variety of topics, including genealogy. JustAnswer genealogy experts won't conduct in-depth research into your family history like the team at Legacy Tree will. However, you can use JustAnswer to ask specific questions about how to find records or how to get past a roadblock in your genealogy research.
If you're interested in doing your own genealogy research, JustAnswer can be a valuable resource when you get stuck. However, the cost of JustAnswer can add up quickly since you'll pay a monthly subscription fee as well as an additional fee that ranges from $5-$90 every time you ask a question. In addition, you'll still need a separate genealogy platform to conduct research and build your family tree.
Is Legacy Tree Worth It?
Legacy Tree is a professional genealogy research service. Whereas many genealogy services create databases and tools for you to build your own family tree, Legacy Tree does all the hard work of researching your family history for you. All you have to do is set up a consultation, define your research goal, and provide any research you've already done.
Legacy Tree can find details about most families thanks to its network of on-the-ground researchers in more than 100 countries. Most research projects take 4-6 months to complete, and you receive a detailed and easily readable report at the end of the process.
Legacy Tree can be very expensive, especially if you compare it against DIY genealogy services like FindMyPast or MyHeritage. However, it's important to keep in mind that this service can save you hundreds of hours of research and can deliver better results than you may be able to achieve on your own.
If you're determined to know more about your family history and aren't a trained genealogist, Legacy Tree offers excellent value. If you want to actively research your family and learn about the process of genealogy research, a DIY service may be more suitable for you.