JustAnswer Visit Site
Overview
Types of Tests and Kits You Can Get from JustAnswer
JustAnswer doesn't offer DNA testing kits. Instead, it's effectively a marketplace that enables you to ask a pool of experts your genealogical questions. You will have to pay a fee for its service, but it's an excellent resource for those needing a little help with their family tree research. However, there is no family tree builder or other genealogical research software.
JustAnswer Features
JustAnswer has no DNA testing or genealogical research tools, but there are a number of other features worth mentioning.
View Old Questions
All questions asked and answered on JustAnswer are available to the public. You can leverage this to your advantage if you have a general genealogical question that has already been answered. Of course, you will still need expert assistance for more specialized queries.
Unlimited Conversations
With a monthly subscription, you can ask JustAnswer's experts unlimited genealogical and other questions. This makes it an excellent budget family tree research tool if you take full advantage of it.
24/7 Assistance
One of the best things about JustAnswer is that you can ask questions and have them answered at any time of the day or night. Genealogical experts are available 24/7, enabling you to get an answer as fast as possible.
Verified Experts
All JustAnswer experts have to go through a rigorous testing and certification process before they're able to provide answers. This enables you to rest assured that you're working with genealogical experts who know their stuff.
How JustAnswer Protects Your Privacy
JustAnswer acts as a public forum, and there's no way to make your questions and answers private. If you're performing personal genealogical research, it's best not to include your last name or any other personal details in your question to protect yourself.
There's also a privacy policy that details exactly how JustAnswer uses your data. A close look shows that JustAnswer uses cookies to collect a large amount of information about your browsing habits, location, and more. It also shares this information with various parties, which could be a concern if you're worried about privacy. JustAnswer doesn't sell or license any personal or genetic data.
However, you shouldn't run into any major issues if you want to ask general genealogical questions.
How JustAnswer Works
How to Get Started With JustAnswer
To get started with JustAnswer, you will need to use the chat box that's built into the company website to ask your first question. An AI assistant will ask you to provide more information about your request, before asking you to create an account and sign up for a premium membership.
If you decide to go ahead with this, you will be able to speak directly with a genealogical expert, who will usually respond to your request within a few minutes. Simple questions are usually answered in a short amount of time, although harder questions can take a few hours to get an effective answer.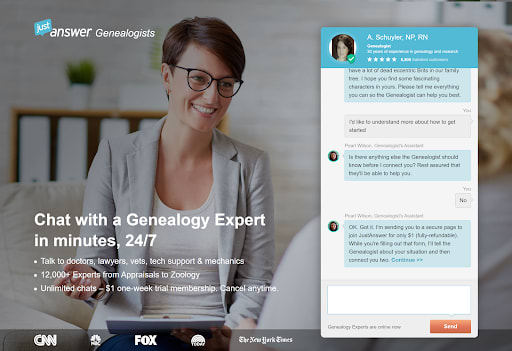 Getting The Results
You will have full access to your expert's answer as soon as they provide it. You will receive an email notification, and you can configure text message notifications if required. Note that all questions and answers are public, so anyone can view them.
JustAnswer Customer Support
How to Contact JustAnswer
JustAnswer offers reliable support options for both premium subscribers and anyone thinking about creating an account. You can speak with the live chat team 24/7, and you should receive a reply within minutes. Email support is also an option, although the company states that it could take up to 24 hours to receive a response here. There are also a number of phone numbers enabling you to contact support within the US and internationally.
Are FAQ Pages Available on JustAnswer?
There are limited self-help resources, but in the Help Center, you will find a number of FAQs, which do a good job of answering basic questions. However, there are no tutorials, guides, or other resources.
JustAnswer Pricing
A JustAnswer membership will set you back $28 per month. There are no hidden fees, and you can have unlimited conversations with experts in a wide range of fields. At the time of writing, there were 8 genealogy experts to choose from on JustAnswer, and they all had a success rating of 85% plus (most had 94% plus).
You may also be offered premium services if an expert can't answer your question effectively via text. Premium services include remote support sessions and phone calls, and you will be made aware of the potential cost before accepting an offer. A monthly subscription includes 2 free phone calls, which can be made through the iOS app.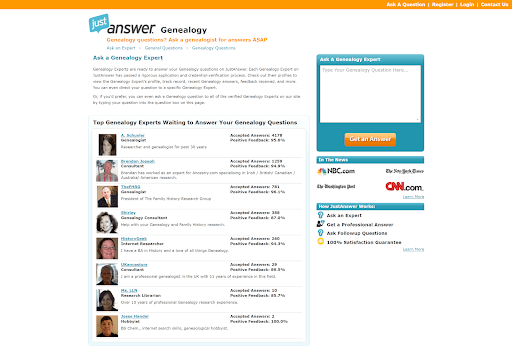 JustAnswer coupons and promo codes
When you sign up for JustAnswer, you will be able to access a 7-day trial for just $1. This is automatically applied when you create a new account.
JustAnswer Alternatives
How Does JustAnswer Compare to Other DNA and Genealogy Research Tools?
$59 (DNA test), $129 to $299 (annual subscription)
$2950 to $10800 per project
$149 (DNA test), $99 (annual subscription)
Getting answers from genealogical experts
Genealogical research tools
Expert-guided genealogical research
JustAnswer vs MyHeritage
MyHeritage is quite different from JustAnswer. It enables you to take a DNA test to trace your ancestry, and it offers a selection of family tree building and research tools. We'd suggest starting with a platform like MyHeritage and moving on to JustAnswer if you need additional assistance. However, MyHeritage can be a little expensive if you require a premium subscription.
JustAnswer vs Legacy Tree Genealogist
Legacy Tree Genealogists offers a number of packages that involve an expert performing genealogical research on your behalf. It's expensive, with prices starting in the thousands, but it's a good option if you have the money to spend. JustAnswer is a much simpler platform, enabling you to ask genealogical experts short questions.
JustAnswer vs GenealogyBank
GenealogyBank is another popular genealogy research platform that comes with comprehensive family tree research tools. It also offers DNA testing through the GPS Origins ancestry test, and it integrates with the FamilySearch family tree builder. JustAnswer provides completely different services, enabling you to access in-depth answers from genealogical experts.

JustAnswer Visit Site
Bottom Line
All things considered, JustAnswer presents as an excellent tool for amateur genealogists. It doesn't offer any DNA testing or family tree research tools, but you can use it to ask genealogical experts questions about your research or what you should be doing.
At just $28 per month, JustAnswer is quite affordable. This is especially true when you consider the fact that you can ask unlimited questions. However, all questions and answers are public, which you should take into consideration if you want to include personal information about your research.
But this can be a positive thing as well, as it enables you to browse past questions and answers to see if anyone else has asked the same thing as you. All experts go through a comprehensive verification and certification process, and you can check their past ratings to ensure they're a good fit.
Although it's not a traditional family tree research tool, JustAnswer has a lot to bring to the table. If you're looking for a little extra help with your genealogy, you might just find this to be the perfect tool.