In a Nutshell
Gene Food analyzes your DNA for more than 120 genetic traits to recommend a diet plan. The company has 20 different diets, each of which is tailored to help individuals with specific genes achieve better nutrition, digestion, and weight loss. Gene Food doesn't offer its own DNA tests, but uses DNA info from AncestryDNA, 23andMe, or MyHeritage DNA. With results in just five minutes, this service could be great if you want more from your DNA test.
pros
20 detailed diet plans based on your genotype
Uses DNA files from AncestryDNA, 23andMe, and MyHeritage DNA
Results in five minutes
cons
Doesn't offer its own DNA test kits
More expensive than competitors
Types of Tests and Kits You can Get from Gene Food
Gene Food doesn't offer its own DNA test kits. Instead, the company requires users to upload a raw DNA file from AncestryDNA, 23andMe, or MyHeritage DNA. Gene Food may also be able to work with DNA files from other testing companies, but you must contact the company to find out if your file can be analyzed.
Other Features at Gene Food
Gene Food doesn't include a family tree builder or any genealogy-related DNA services. Instead, it analyzes your existing DNA results for more than 120 metabolism-related genes, and, based on your genotype, will recommend one of 20 specialized diets. These diets offer actionable recommendations for what types of food to eat—like meat, fermented foods, dairy, or grains—or not to eat. Each diet comes with a two-week meal plan and a sample shopping list to get you started.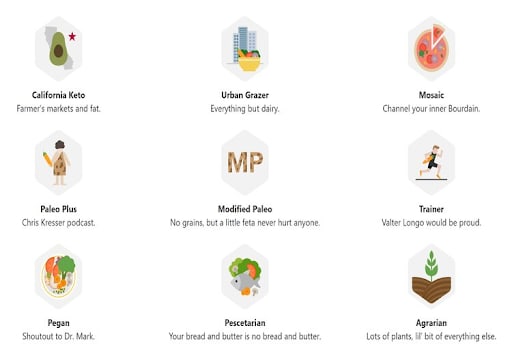 Gene Food also analyzes sleep- and caffeine-related genes. The platform will suggest an optimal bedtime and provide information about what time of day is most productive for you based on your genotype.
How Much Does Gene Food Cost?
Gene Food offers a single analysis plan that costs $79.99. Keep in mind that this does not include the cost of DNA testing, as you must already have a raw DNA file from AncestryDNA, 23andMe, or MyHeritage DNA.
Gene Food is more expensive than competitors like DNAfit, which will analyze raw DNA files from 23andMe starting at $39.20. However, DNAfit analyzes a much more narrow selection of traits and does not have pre-designed diets for users to follow.
You can request a refund from Gene Food only if you have not yet looked at your results. Once you view your analysis results, the company does not offer refunds.
How to Get Started With Gene Food
Uploading your DNA file to Gene Food and getting your results takes as little as five minutes.
The Sign-up Process
To get started with Gene Food, you'll need your raw DNA file from AncestryDNA, 23andMe, or MyHeritage DNA. You can get this file by logging into your account with any of these providers and downloading your DNA results as a .txt or .zip file.
Then visit Gene Food's website and click Upload Raw DNA Data. You can upload your DNA file and then proceed through the checkout process to purchase Gene Food's analysis. The only personal information required is your name, phone number, and email.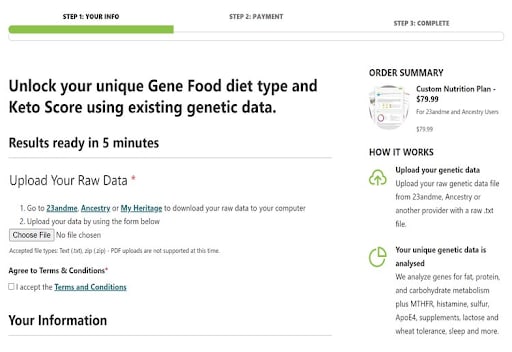 If you have a DNA file from a different company, you must contact Gene Food before purchasing the analysis. Gene Food's team will check your file to determine whether it is compatible with their analysis platform.
Getting the Results
Results from your Gene Food analysis are ready in just five minutes and you can view your report online.
I really like the way that Gene Food presents the results of its analysis. To start, the report offers an overview with a recommended breakdown of fats, carbohydrates, and proteins, plus five simple "rules" that you can follow to guide your diet. It also explains which of the platform's 20 diet types you fall into and what that diet entails.
After that, the report goes into more detail about your metabolism. It explains which genes are related to traits like fat and protein metabolism, LDL cholesterol risk, and histamine tolerance, and what your specific genotype means for your metabolism. This section does a nice job of helping you understand why Gene Food recommends a specific diet for you.
Finally, the report takes a closer look at each individual gene that Gene Food analyzes. This includes a science score from A-D, which provides more context about how well-established the link is between a specific gene and a metabolic trait.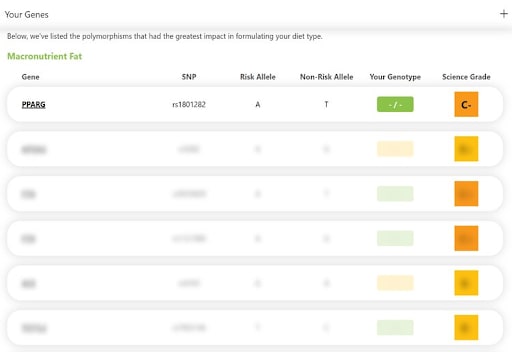 Gene Food also offers resources specific for each of its 20 diet types. Your report is accompanied by a two-week meal plan and shopping list to help you get started on your recommended diet.
One thing I especially like about Gene Food is that it also shows you which of the other 20 diets your recommended diet is most closely related to. So, if you want to diverge from the meal plan, you have the necessary context to determine what aspects of your diet are more or less important.
How Gene Food Protects Your Privacy
Gene Food never has a physical sample of your DNA for analysis, only the raw DNA file you uploaded. The company deletes this raw file after it is processed, but does retain data about the specific genes that it analyzes. The company never shares this data with third parties. In addition, Gene Food adheres to HIPAA requirements for secure data storage.
Help and Support
How to Contact Gene Food
Gene Food's customer support team is available by email only. We got in touch and received a response within several hours.
Are FAQ Pages Available on Gene Food?
Gene Food offers a detailed FAQs page that explains how to get your DNA file, what you can learn from your report, and how Gene Food protects your data.
How Gene Food Compares to Other DNA Testing Companies
Creating a personalized meal plan
Combining DNA analysis and blood testing
Gene Food vs Living DNA
Living DNA offers both ancestry and health DNA tests. Unlike Gene Food, it offers its own test kits, but does not enable users to upload data from other DNA test providers.
Living DNA's health test offers information about your metabolism and food sensitivities as well as your exercise response. It's particularly good for building a fitness plan because you can see how your body might react to strength or endurance training. Its tests offer recommendations for foods to eat or avoid, but the platform doesn't have detailed diets or meal plan recommendations like those that Gene Food offers.
Gene Food vs DNAfit
DNAfit is similar to Gene Food in that it enables users to upload raw DNA files from 23andMe for analysis of metabolism-related genes. In addition, DNAfit offers its own diet, health, and ancestry tests.
DNAfit's analysis-only option is significantly cheaper than Gene Food's and provides information about many of the same genes. It also offers diet recommendations and an online meal planning tool. Overall, DNAfit can be used similarly to Gene Food, but you have to build your own meal plan rather than have a ready-to-go plan handed to you.
Gene Food vs InsideTracker
InsideTracker uses a combination of DNA analysis and blood tests to monitor your health and nutrition over time. DNA offers a static look at your genetic predisposition towards certain metabolic traits, while blood tests offer a snapshot of how your body's metabolism is working right now.
InsideTracker enables users to analyze existing DNA results for just $29, making it much cheaper than Gene Food. However, the results are focused on the level of individual genes, making it more difficult to figure out what overall diet might work best for your body.
Is Gene Food Worth It?
Overall, I was impressed with the quality of Gene Food's analysis and the presentation of its results. By categorizing you into one of 20 different diets, Gene Food makes it easy to figure out what you should eat based on your genotype. Importantly, Gene Food provides a lot of context about the genes that are contributing to your diet recommendation, so you have the information you need to make personal modifications to your meal plan.
Gene Food is more expensive than platforms that offer similar analysis of existing DNA results, like DNAfit, but this premium can be worth it if you prefer having a ready-made meal plan and simple diet rules to follow. With DNAfit and other platforms, it's up to you to build your own meal plan using the information provided by your genotype analysis.