In a Nutshell
Hily is a dating app designed to make it easier and more fun to establish connections. It is aimed at anyone looking to date casually or find a long-term partner. You can meet and chat with members for free or upgrade your account to use advanced search filters and gain more insights. The app also offers live streaming where you can receive coins that generate income. With its millions of users, you're likely to meet someone through Hily.
pros
Video chats
Zodiac compatibility
Profile statistics
cons
Expensive membership
Limited premium features

Hily Visit Site
Best For
Meeting new people
Number of Members
22.5 million
Favorite Features
Video calls

Live streaming

Compatibility quiz
Video Chat
Yes
How Much Does Hily Cost?
Hily offers basic and premium membership options. A premium account will cost $14.99 each week, while a three-month plan is $74.99 and a 1-year subscription costs $119.99.
There is a free seven-day premium trial available, though you must cancel your subscription before the final day to avoid charges. You can also disable automatic renewals to prevent charges.
Premium membership enables use of a set number of features each day. For instance, you can send 100 reactions and check your compatibility with 10 other members per day.
If you'd like further use of any premium perks, you can visit Hily's store and purchase individual features based on separate prices.
Hily Boost is a feature you must pay for separately regardless of your membership. This costs $5.99 a week and guarantees 10x more profile views.
A weekly membership option will cost $59.96 per month. This is significantly more expensive than similar dating apps, which charge $10 to $30 per month. However, if you choose a three-month plan, you'll pay roughly $25 per month.
What Can You Do with Hily for Free?
Hily allows you to do many things without having to pay. After setting up your profile, you can find potential matches by tapping 'yes' or 'no' on other users' profiles.
If you match with someone, you can start a conversation through instant messaging, video, or voice chat. You can also send unlimited messages, though you are only able to like a select number of profiles each day.
Other free features include live streaming, uploading a 'story', analyzing profile statistics, sending gifts, and taking a compatibility quiz. With live streams, you can even earn money when other members send gifts in the form of Stream Coins, the in-app currency.
Once you pass a set threshold of coins, your coins will turn into diamonds. You can then convert your diamonds into tangible income by sending them onto your PayPal or bank account.
Overall, it seems highly likely that you'll find a date for free with Hily, as you can match and communicate with other profiles.
Premium Features and Upgrades on Hily
Upgrading to premium membership will provide you with more communication options and insights. Premium members can disable ads, browse profiles anonymously, search profiles globally, discover the most popular profiles, and use advanced filters.
The following premium features carry daily limits:
Being able to like profiles

Finding out who has reacted to your profile

Sending a message and reacting to your crush with one tap

Changing how you reacted to a profile

Finding out your compatibility with other users
If you'd like increased use of these premium features or wish to try them with a free account, you can visit Hily's premium store. Based on your location, the prices and allowances of these features will vary. You can spin a daily roulette to win the use of some premium features for free.
Hily's premium store additionally sells streaming purchases. You can buy coins to gift to other streamers as well as pay to boost your streaming profile. Stream coins start at $9.99 per 1,500 coins and go up to $49.99 for 16,000.
How Hily Works
Hily is a dating app that aims to make it easier to find people to connect with. Once you have made a match by swiping yes or no, you can make voice and video calls with that person. Hily also has live streaming where you can meet and chat with members.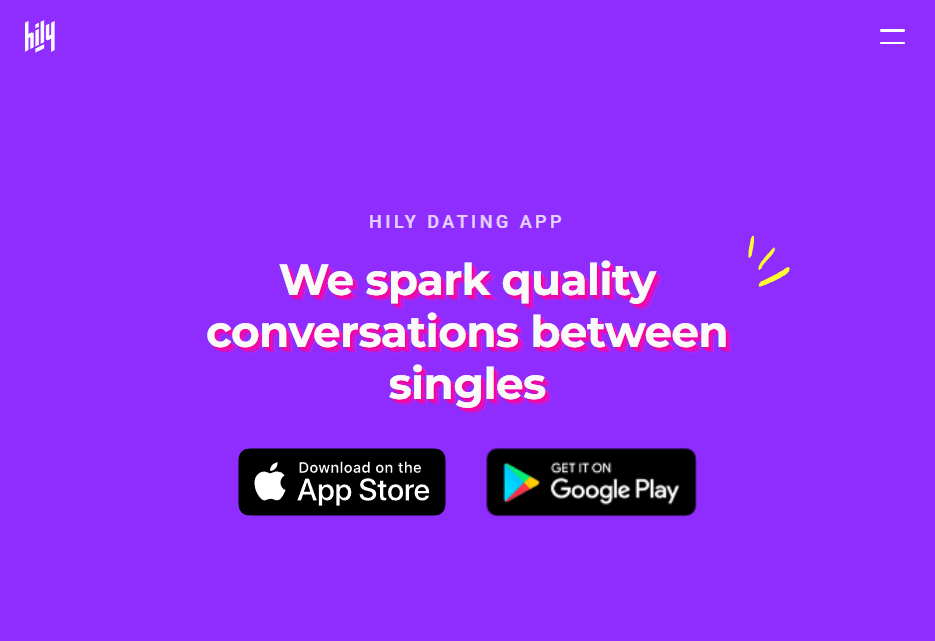 How to Sign Up for Hily
To sign up for an account, first head to your phone's store and search for 'Hily'. Click to Install the app on your phone.
After installing the app, open it and create a profile by signing up with your Facebook or Snapchat account. If you have previously registered for Hily, you can sign in using your email address or phone number.
After selecting which social media account to use, you'll receive a prompt to approve Hily accessing this account. You'll also need to fill out some basic details about yourself, such as your date of birth, gender, and location.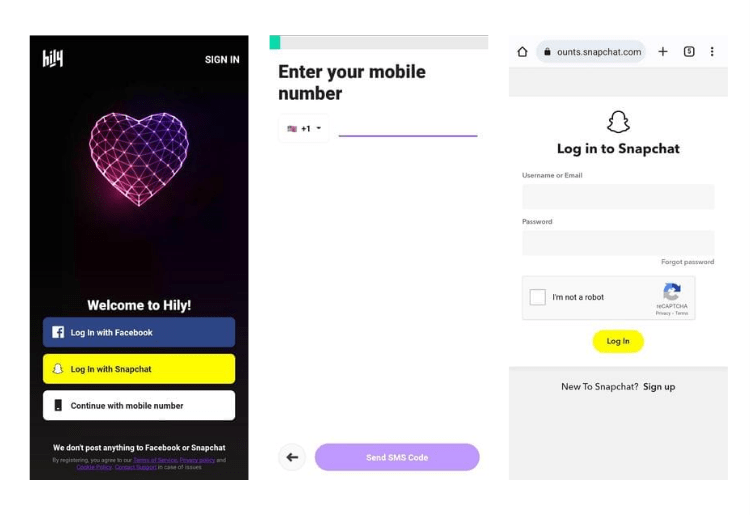 Setting Up Your Profile on Hily
To set up your profile, you'll need to fill in some more details about yourself. You must disclose your occupation, lifestyle habits (smoking, alcohol, dietary requirements), and your preferred distance and age of your ideal match.
You'll also see questions relating to your beliefs, interests, and appearance—but you can skip these should you prefer.
If you have a Snapchat or Facebook profile photo, this will become your Hily profile photo once you have answered the relevant questions.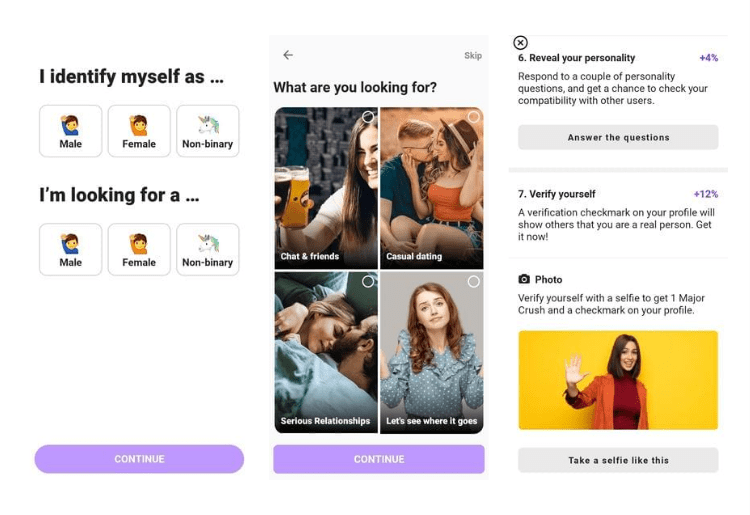 To upload and edit images, click on your profile tab in the bottom right-hand corner, then tap on your profile image at the top. On this page, you'll see your current profile image with six other 'plus' buttons for you to add additional pictures. Tap on each button to upload photos from your gallery, Facebook, or Snapchat.
You can also select and upload videos. Next to your photos, look for the box labeled 'Live' with a play button. This will allow you to record a video of yourself or upload one from your device.

With your profile ready, it's time to look for a match. Hily provides lots of ways to help you find people to connect with.
How to Find Matches on Hily
To find matches, head to the Finder page at the bottom left of your panel and you'll see profile images next to a person's name and age.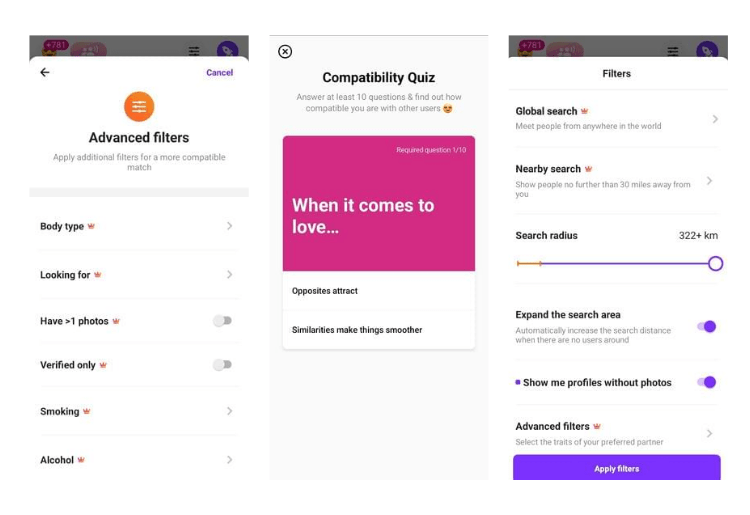 You can like a profile by either double-tapping or pressing the smiley heart emoji. When you and another profile have each liked each other, you'll become a match. A notification will show on your panel to alert you of any new matches.
The Finder page has search filters at the top to help you narrow the age range and location of profiles. Premium members can use advanced filters to search by height, lifestyle choices, education, occupation, verification status, and type of relationship sought.
You can also meet others through live streaming. When watching someone's stream, you can comment, send reactions, and present gifts.
While premium members can communicate with anyone, free accounts can only communicate with their matches. A conversation can begin through instant messaging, video call, voice note, or from commenting on somebody's profile.
Safety & Security
Now you know how to find a match, you may be wondering about safety. On Hily, you can choose to verify your profile to prove you are a genuine person. There are three different ways to verify a profile: email, Facebook, or photos.
All profile images will be manually approved once uploaded. Any image containing nudity, violence, children, or other people will be subject to removal.
Hily's privacy policy advises they store the following personal details: IP address, name, email address, date of birth, and phone number. They may also collect basic information on your location and the type of device you use. Third-party services may also have access to your data for marketing purposes.
Hily App
You can download Hily on Android and iOS. You can install through Google Play, the App Store, and Huawei AppGallery. The dating platform is not available on desktop.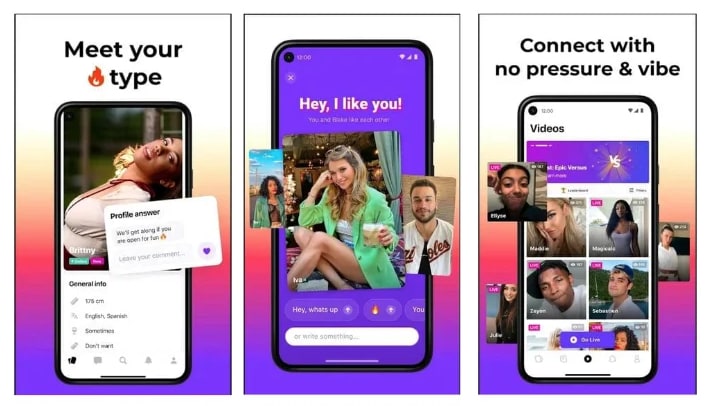 Hily Customer Service
Hily has a 24/7 customer support team available through live chat and email. Although there is no promised return time for either method, the live chat features human agents who tend to respond within minutes.
Further support is available through the Hily FAQ when you navigate to Contact Us. If you are not satisfied with the app, this is also where you can provide feedback.
For refunds, head to the store where you purchased Hily, click on your profile icon, and tap Subscriptions. Under your Hily account, you should see an option to request a refund. Bear in mind that Hily cannot help any iOS users with refunds due to the App Store managing all charges and subscriptions.
Google Play may consider refunding if they receive your request within 48 hours of purchase. Beyond this period, Hily will consider your refund request if you forgot to cancel your subscription before it renewed, you contacted Hily before your subscription period ended, and you haven't used premium features since your subscription update.
If Google Play decides against a refund, you can contact Hily's customer support team.
How to Cancel or Pause a Hily Subscription
To cancel or change your subscription, go to Google Play/App Store and sign into the account you used to buy Hily. Click on your profile icon and tap on Subscriptions. Select Hily, and finally tap Cancel Subscription.
How Hily Compares to Other Dating Sites and Apps
Casual and serious partners
$10 per month. $20 per month aged 30+
$34.99 per month (variable)
Hily vs Zoosk
Zoosk uses Behavioral Matchmaking technology to help singles find their ideal match for a long-term commitment. Meanwhile, Hily uses a compatibility quiz to help singles match. Both platforms have advanced search filters, but only Hily has video chat and live streaming.
Hily vs Tinder
On the surface, both apps are very similar. They each offer video chat, page boosts, the option to meet someone outside your country, and the option to go back and unlike a profile. However, Hily provides live streaming and is considerably more expensive than Tinder per month.
Hily vs OkCupid
OkCupid aims to help people form meaningful connections, whereas Hily seeks to make it easier to establish a connection. Both platforms have video chat, alongside premium features such as ad-free and advanced search filters.
Does Hily Work?
If you're interested in casual dating or meeting someone for a serious relationship, Hily might be the app for you. Granted, it is more expensive than its peers, but it does offer fun features such as comparing zodiac compatibility and playing games during live streams.
Hily is worth the investment if you're looking for an easy way to meet new people to date.