And what a phenomenon it is. Today, more than 200 million people use online dating every month, and according to the Pew Research Center, some 15% of all Americans have reported using online dating sites or apps.
Nowadays meeting somebody online is about as every day as it gets, and at Top10.com we decided to reach out and speak to some couples to hear how they found love online.
Dianne & Didi's Love Story
Dianne's story is one a lot of us can relate to—she got to that point where you're tired of trying to meet people when you're out at the bar and decided to try online dating.
"I wanted to expand my dating pool and meet more potential interests than just being out and about," Freeman said, adding that she first tried Tinder but moved to OkCupid because "people were more serious" on the dating site.
Apps like Tinder and Bumble have changed the dating game by letting users swipe through a seemingly endless batch of nearby users who they likely wouldn't have met otherwise. These apps do have their detractors though, who paint them as being superficial, too centered on looks, and too geared toward people looking for a quick hook-up.
People do also find love and get married thanks to these apps, but when people are looking to get serious, the traditional online dating sites like Zoosk and Match tend to create a more reliable, holistic approach to finding love.
When she was first using the website, Dianne said she would start by looking at users' pictures "and then what they wrote and how they wrote it. I generally didn't respond to people who didn't take the time to fill out their profiles because I felt like it implied that they weren't that serious," Dianne said, though she did add one caveat.
"In the end, my husband didn't have a very detailed profile and it didn't matter."
Though it worked out for Dianne and her partner, you'll have much better luck with online dating if you add photos and text to your profile. Adding pictures allows you to put a little bit of your personality out there, and gives you a chance to make a good impression. In fact, eharmony reports that profiles with pictures are 9 times as likely to draw in communication than profiles without. It probably goes without saying that you should avoid pics where you're doing anything embarrassing or illegal, or ones where it's easy to tell you cropped your ex out of the frame.
Her husband made the first move, Dianne said, in case you were wondering if some things in online dating are like its offline counterpart. Not only that, but Dianne was the first person he reached out to.
So there you go, sometimes you hit the jackpot your first time playing the slots.
Avani & Naresh's Love Story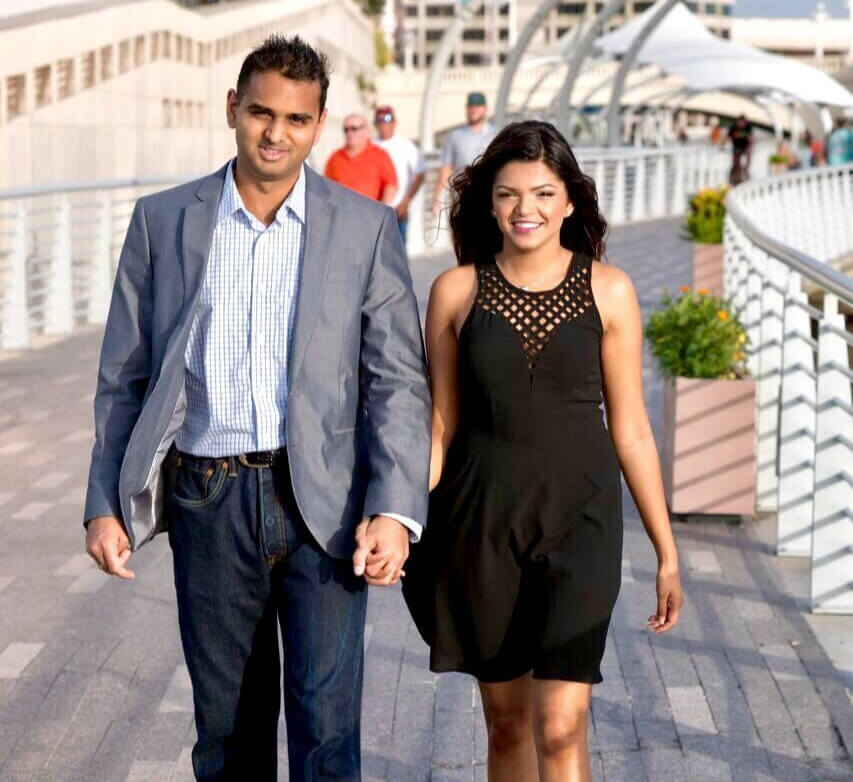 Like we said though, it wasn't all that long ago that online dating wasn't quite the phenomenon it is today, and more the type of thing you might try on the recommendation of a friend.
"A colleague at the office got me into online dating. This was way back in 2012 when online dating was taboo," says Naresh, who had a copywriter friend put together his online dating profile.
He met his wife Avani, who was in her first year of residency when free time is a luxury, to put it lightly.
"I first tried online dating during my first year of residency. My limited time to go out and the ease of access with online dating were the most important factors that made me try online dating," Avani said.
In the end, the 2 met on a dating app, drawn by the convenience of dating on-the-go.
"I first used online websites, but moved on to dating apps because it was even more convenient and easy to use. It also seemed like more young professionals were on dating apps," Avani said.
Naresh said the site represents a multi-front approach to dating and suggests that singles not limit their options.
"Dating sites and apps are not mutually exclusive. I recommend singles be everywhere: websites, apps, physical dating events, etc."
For singles looking for the whole package, dating sites like Match offer it. You'll get access to online dating both on the web and with an app, as well as live singles events.
Naresh added that "I don't think anyone with dating experience is serious up front. There are way too many options to be so serious right off the bat. Both sides are playing the game and feeling the waters," but that at the same time "daters still have that hope deep down that something can turn serious or eventually work out with that special one person they're hoping to meet someday."
In just the past 2 years the couple has attended 4 weddings of friends who met through online dating, and in December 2018 they tied the knot too, so something's clearly working.
Michelle & Nicole's Love Story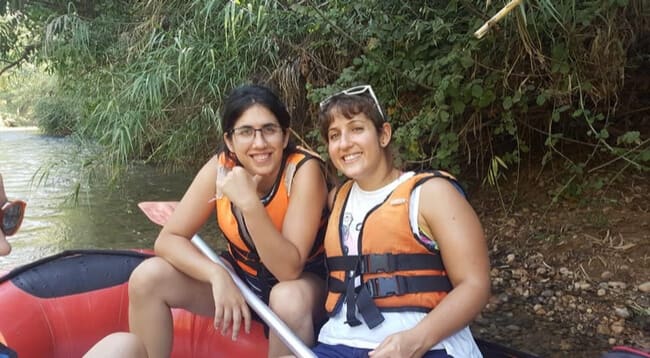 Michelle's first foray came at the suggestion of a friend, who led her to an online dating site.
"I was at a housewarming party with a friend, and she suggested it and we were kinda bored anyway so I said yeah, why not—and we opened myself a profile." It was the pictures that attracted her to her partner, who she met within less than a month of signing up for the site.
Michelle said she wasn't so concerned about safety when meeting up with her partner for the first date, though they did choose to meet up in a public place.
Safety is a concern when using online dating, be it from people trying to pilfer your personal data online, or potential predators who are looking for targets. Most sites include rigorous security protocols to protect your data online, but there are some steps you should take as well.
Namely, don't share too many of your personal details online (address, phone, full name), and when setting up a first date with someone online, take some precautions. You should make sure to meet in a neutral, public setting such as a cafe or restaurant, and may want to notify a friend and have them text or call you during the date. It's also probably a good idea to take it easy on the alcohol during that first date, and not just for safety's sake.
For Michelle—like with Dianne—it was the first person she met on the site.
If there's a drawback to online dating for Michelle though, it's that her and her partner "keep talking about how we wished we had a different 'how we met' story, we're together for almost 3 years now and the app is like a distant memory."
That sounds like a side effect we can live with.
Bethany & Brett's Love Story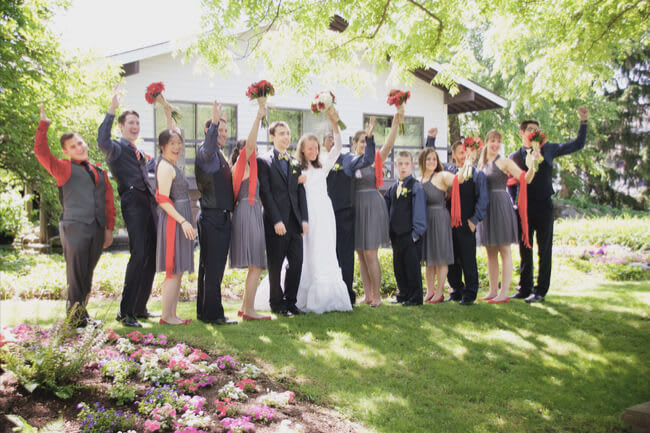 You could be in your freshman year of college or years into a graduate program and one thing holds true—sometimes it can really pay off to listen to your roommate.
Bethany was in a clinical PhD program when a classmate—her roommate—convinced her to try out online dating.
"We were both in a clinical PhD graduate program, and beginning to be worried that we had been in school so long, we would be behind on starting a family."
Bethany's roommate had some mixed results at first with online dating, but then met her future husband online.
"I thought it would never work, but eharmony was giving a free weekend, and being a data scientist, I decided to try it for 'research' purposes, and analyze their algorithm. I was matched with some interesting people and went on one date with a guy which was absolutely horrible and was ready to quit," Bethany said, adding that one man kept "sending me messages and pestering me" before she finally decided to meet up with him. He just happened to be her future husband, Brett.
Bethany said she preferred eharmony to the dating apps because "it was the only site I could find that was research based. Like I mentioned, I am a research psychologist so I only trusted something that seemed to be based in solid psychology."
By the time Bethany and Brett had their first date, they'd already spoken at length about faith, politics, interests, and family and life goals. They'd been in touch by text and on the phone and finally decided to meet at a halfway point between her home in Athens, Ohio and his place in Michigan (a 4.5 hour distance).
"We met halfway and went to church, out to lunch, and then went disk golfing and spent the rest of the afternoon talking and playing Monopoly deal in his car. We knew from the moment we met it was right."
And while it might not sound like the most romantic thing, Bethany said that compatibility and matching like-minded people is a key priority for online dating sites.
"As a psychologist and someone who benefited from eharmony, I strongly believe that matching people on key personality dimensions is paramount. You may disagree over favorite foods or activities, but if your personality is similar or a good fit with your partner's, I think you will be better able to overcome differences and work together for a successful marriage."
For Brett, the decision to try online dating was made because "meeting via traditional methods was not going very well, so it seemed a good idea to try the online thing and see what happened."
Brett said the fact that you can screen people before you meet them is much more efficient and that "if you meet online, you can eliminate a lot of people that may not be the best fit, and the other person can do the same thing, so you'll only meet if both people have met some basic criteria."
He wasn't ever sold on dating apps, saying that "just looking at a picture and swiping left or right means you don't care about the character of the person, but are only interested in their physical characteristics. Now, there are a number of people of both genders who at some point in their lives may just be looking for someone to 'hook-up' with. For that purpose, apps such as Tinder are great tools. But if you want to have a deeper relationship, you will need to put more effort into it."
Well, Brett and Bethany did get married, so he might know what he's talking about.
Start Your Love Story, Online
It's no secret that the internet has radically changed the world of dating, and sometimes, it can seem like it happened overnight. Today's dating world is one of options and possibilities, but still one where the same principles hold true—put your best face forward, be honest and true to yourself, and put in the effort. Sometimes finding love requires some luck, but with online dating, you've got science on your side.