While both sites boast user counts in the millions, there are some distinct differences.
Match at a Glance
Best for: Serious relationship seekers, casual dating
Number of members: 22+ million
Recommended age: 35-50+
Favorite feature: Live events
Match takes a universalistic approach to online dating, with users occupying every end of the dating pool spectrum, from 20-somethings to mature singles, from casual daters to those seeking serious relationships.
EliteSingles at a Glance
Best for: Educated professionals interested in a serious relationship
Number of members: 13+ million, with 165,000 new members every week
Recommended age: 35-55
Favorite features: 5-factor personality assessment test & the ability to "like" specific sections of a profile
EliteSingles, meanwhile, gathers together a much more specific group of users, typically between 30 and 50, who are educated, goal-oriented, and looking for serious partners.
Read the full EliteSingles review
Both dating sites have proven successful and have their fans. But which will reign supreme when they go head to head on the elements that really matter?
We measured each site against each other based on a list of criteria we find to be important in an online dating site. These include:
Sign-up process: How easy is it to join? How long does it take? Do you need Facebook to create an account?
Ease of use: Is the site easy to navigate? Are there confusing search filters? Unnecessary clutter? How much effort does it take to get started and start meeting people?
Communication tools: How do you reach out? Chat? Message? Phone call? Which site best fosters the transition from interest to interaction?
Pricing: How do the prices compare? Are there membership discounts? Extra features you need to pay for? Which is the most affordable option?
Mobile app and Site: Can you match on the go? Is the mobile app as intuitive or as detailed as its desktop counterpart?
Search: How do you find who you're looking for? Are there filters in place that let you find matches that share your interests?
Safety: What efforts does the site take to ensure that its users are safe, well-informed, and equipped with tools for dealing with spammers or inappropriate behavior?
Sign Up
Signing up to Match takes under 10 minutes from start to finish. You will be asked some basic info, then prompted to begin filling in your profile with your education, physical appearance, lifestyle and interests. At this point you can also include some 'Deal breakers' which help Match keep unwanted singles from your inbox. Some examples include whether your partner has or wants kids, or lifestyle choices like smoking or drinking.
EliteSingles signup is a whole different ball game. You'll be asked questions on everything from your past relationships to your sexual interests, as well as what your friends think of you, how you react to stress and what kind of family values you think are important. This is all to create a personality report which helps match you based on core compatibility.

EliteSingles Get Matched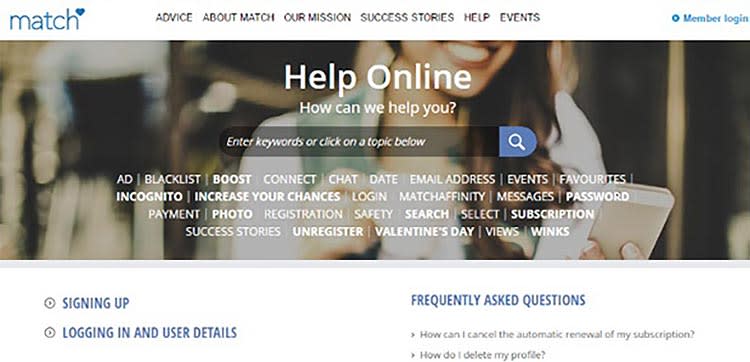 While Match is quick and simple, EliteSingles is in depth and accurate. It all depends what you're looking for.
Winner: It's a Tie!
Ease of Use
If you're looking to find an ideally suited match, the step-by-step nature of the EliteSingles personality quiz and targeted matches make a really easy journey to compatibility. But nothing is simpler than the Match sign up. In under 10 minutes you can be browsing new singles, checking out the latest Match events, and swiping through eligible matches by a ton of great criteria.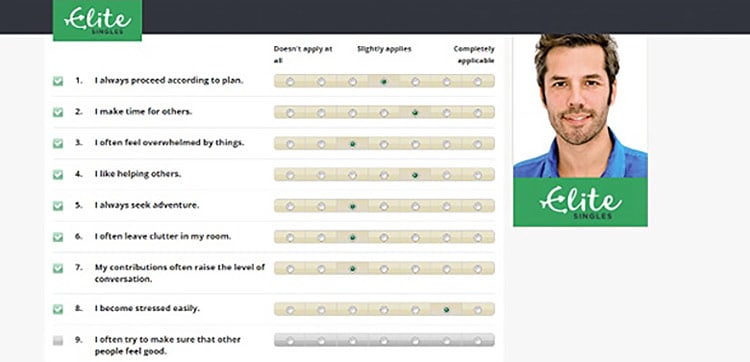 We also love that both sites have in-depth FAQ sections, but find the Match help center easier to find answers on.
Winner: Match
Communication Tools
Chatting with singles is a huge part of checking out if there is chemistry. EliteSingles encourages singles to send inbox messages, smiles and flirts back and forth. They also offer some help with breaking the ice, using questions and some guided communication options. Match wins this section easily though, with inbox messages, instant chat, and even the MatchPhone option. This lets you chat without giving out your number until you feel comfortable. The amount of mobile apps Match has makes chatting on the move a lot easier, too.

Match Get Matched
Pricing
Comparing these two dating sites on price is complicated, as the services are so different. Match offers a more competitively priced monthly package, which is $20.99 per month for six months.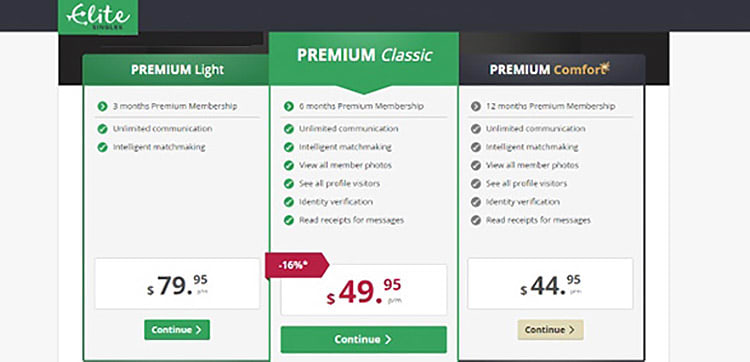 EliteSingles is certainly higher in price, with the same 6 months costing $39.95 per month. But remember, you are receiving more of an elite service with matchmaking, a personality quiz, and manual verification of all profiles. In terms of value for money—we can't choose.
Winner: It's a Tie!
Mobile App and Site
Match wins on breadth here, with apps available for iOS, Android, Windows, Blackberry and Palm too. EliteSingles has mobile apps for the two major platforms, Android and iOS, but not for Windows or any other. The app is a more basic version of the site, meaning you'll never miss an interaction, but it doesn't have the wow factor you see with the Match app and some other mobile designs.
Winner: Match
Search
Match has a number of ways to find the kinds of singles you're looking for, including a traditional search tool, saved searches, and even a reverse match tool where you can see what kind of singles you are being suggested to. You'll get SingledOut matches which are more compatible every single day, and you can also play the fun swipe game to see which singles are nearby or you might have missed.
EliteSingles has a search tool, but it's fairly basic-using profile filters only. There is also no keyword search here - something Match does offer. You will receive between 3-7 matches every day, plus up to 20 extra ones once you subscribe.
Winner: Match
Safety
If you're looking for safety tools, both sites have plenty of security measures in place. Match has a dedicated InPrivate mode so that you can browse the site without any members seeing you. It also has phone support where EliteSingles has only email. However when it comes to verification tools, EliteSingles manually verifies each and every profile, and has advanced ID authentication in place as well if you want to show you are exactly who you say you are. Both sites have some safety tips for keeping protected both on and offline, but EliteSingles is the winner here.
Winner: EliteSingles
Overall Winner
EliteSingles is everyone's number 1 choice when it comes to core compatibility. But if you're looking for an all round great dating site with the best communication and search tools, as well as A+ mobile functionality, try Match.

Match Get Matched