In a Nutshell
Website.com offers everything you need to get started building your website, whether for personal, business or portfolio use, or even for setting up your online store. What's more, all of this is done with no knowledge of coding or website design. In this Website.com review, we'll look at how you can simply use the drag and drop editor and the intensive image gallery feature to build your dream online presence.
pros
Excellent design flexibility
A large number of attractive templates
Decent online store tools
cons
No email marketing tools
The editor can be a little confusing

Website.com Compare All
What Is Website.com?
Website.com's website builder was launched in 2012, and it has grown and developed over the years to become one of the leading options on the market today. Its competitive prices and leading design flexibility make it stand out well above the crowd.
There are numerous resources available to help you start your website. The entire site creation process is heavily guided, and you shouldn't have any trouble achieving the design that you're looking for—as long as you're willing to put a little time into it.
Ultimately, Website.com is great for those looking for a little more design flexibility and slightly more powerful customization tools than what the average website builder offers. It's not great for those looking to get online as fast as possible, though, so we recommend looking elsewhere if this is your main goal.
Using Website.com
Signing up for a new Website.com account is a straightforward process. Use your name and email or the one-click signup option by connecting your Facebook or Google account. In our testing, we did have to agree to receive promotional emails before being able to sign up fully, which was frustrating.
The editor is a little confusing to use, but this is largely due to the huge range of tools and excellent customizability on offer. The main management dashboard is poorly designed, though, and doesn't stand out as anything special.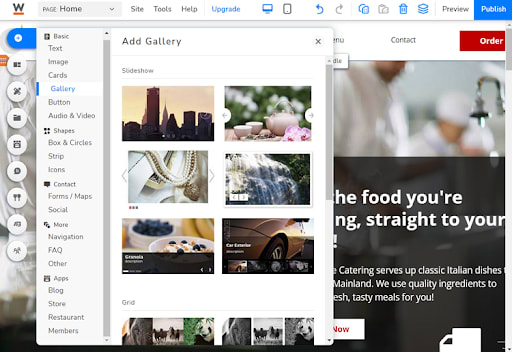 Website.com Features and tools:
Website.com is an advanced website builder backed by a suite of excellent tools and features. We picked out a few of our favorites to showcase here.
Free lifetime domain
It's common to see a free domain offer with a new website builder subscription. However, this is generally only valid for the first year. Website.com goes one step further, offering a free, automatically renewed domain for the entirety of your website builder subscription.
Form builder
There's a tidy little form builder that you can use to create your own highly customized forms to embed on your website. You can add any of a selection of field types, and there's even support for security tools such as CAPTCHA.
Collaboration tools
Several collaboration tools enable you to add staff accounts and control global site permissions. This is great for those looking to create a large website that will be used and/or managed by more than one team member.
How to Create a Website with Website.com
Once you've signed up for a new Website.com account, you will be taken to the editor so you can begin customizing your site. First, you will be required to select a template. There are over 500 designs covering virtually every type of website, so you should be able to find something that you like. However, do note that many of these are only available with a premium subscription.
As has become the norm, all templates are fully responsive and mobile-optimized, which is great to see. You can change your template once you've started editing your site, but your content won't be carried over. You must choose wisely from the beginning, or else you may find yourself wasting a great deal of time changing your design in the future.
The editor itself is similar to that of Wix, a well-known leader in the website building industry. It offers advanced design flexibility through its drag-and-drop editing interface, which enables you to place elements exactly where you want. There are no pre-coded element positions to restrict you—your design is virtually only limited by your imagination.
For many users, the Website.com editor will be quite confusing to get started with. But this is largely due to the excellent selection of customization tools on offer, which is up there with the best that we've seen. As long as you're willing to put in the time to familiarize yourself with the editing interface, you shouldn't have any issues.
There's no design assistant as such, but you can benefit from built-in video tutorials and various tips spread throughout the editor. You can preview your site before publishing, and simple keyboard shortcuts are available to streamline the site creation process.
One downside is that you can't export your website. Overall, though, we are quite happy with Website.com's editor and the overall site creation experience.
Adding Multimedia to Your Website.com website
Website.com boasts a neat file manager that you can use to organize image, video, audio, and text files. Most common media types are supported, although you can only upload images and videos from your computer. There's no way to connect to third-party platforms like YouTube, Facebook, or Google Drive and import files directly from them. There are also no notable image editing tools, and stock media is only available with a high-end subscription.
Marketing Functionality with Website.com Websites
Website.com comes with a built-in blogging app that you can use to add and manage blog posts. It's up there with the best website builder blogging tools that we've seen, and it's backed by great data collection and analytics tools.
On the downside, email marketing and newsletter tools aren't available. You can connect to various social media sites, including Facebook, Instagram, Twitter, and Pinterest, but don't expect advanced integrations.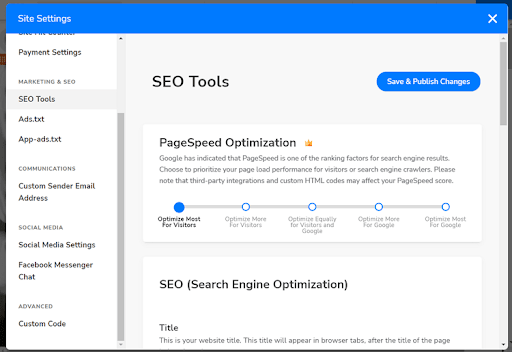 SEO Functionality and Add-Ons with Website.com Websites
Website.com offers decent SEO functionality without being excellent. It enables you to add custom meta titles and meta descriptions to all pages. Sitemaps are automatically generated to help the search engines index your site better, and it's extremely easy to connect Google Analytics or Google Search Console.
The mobile-friendly nature of the templates and the builder itself is great for SEO, but the complexity of Website.com's designer does raise a few concerns about poor performance and the impact that this could have on your search engine rankings.
E-Commerce
Website.com supports e-commerce with all of its premium plans. It doesn't offer the power of more advanced options, such as Shopify, but it has everything that you will need to sell a few basic products through your website. One thing worth noting is that the store app is somewhat limited, and you won't be able to customize it with the same drag-and-drop flexibility that you have with the rest of your website.
How much does Website.com cost?
Website.com offers one free forever and five premium subscription options. Discounts are available with annual payment terms, and even larger discounts of up to 67% off are available with your initial subscription. All premium plans come with a free lifetime domain and unlimited site pages, along with access to a tidy mobile editor and a suite of excellent templates. Monthly terms come with a one-off $15 setup fee.
Price per month (monthly term)
Price per month (annual term)

Website.com Help and Support:
Website.com support is available via phone, live chat, and online ticketing. Phone service is only available from Monday to Friday, 9am to 6pm (PST). You can submit an online ticket at any time. Live chat hours aren't specified, but it appears to be available sporadically, when support agents happen to be online.
There's also a great selection of self-help resources, including a suite of well-written articles and guides available through the searchable Website.com knowledge base. A short FAQ page contains answers to common questions, a learning center exploring more general website building topics, and several informative video tutorials.
How Website.com Compares to Other Website Builders
$6.99 to $29.99 per month
Email marketing functionality
Website.com vs HostGator
Website.com and HostGator are quite similar. Both offer leading design flexibility through their drag-and-drop interfaces, and both are quite powerful once you get the hang of using them. Website.com is much better for blogs, though, and its editor is slightly more powerful. HostGator doesn't have a free forever plan, but its prices are much more competitive.
Website.com vs GoDaddy
GoDaddy is a beginner-friendly website builder with a basic editor. While Website.com offers leading design flexibility, it's a little more confusing to use. It is still a clear choice if you want to build a highly customized site, but GoDaddy is great for getting a simple site online fast.
Website.com vs Web.com
Web.com doesn't come close to Website.com on any level. It's a basic platform that doesn't stand out as a good option for anything more than a very simple site. We recommend using Website.com over Web.com in virtually all situations.
Bottom Line
Website.com isn't the most beginner-friendly website builder on the market, but it sits right up there among the most powerful. It offers excellent design flexibility, and its drag-and-drop editor means that your site's appearance is virtually only limited by your imagination.
There's a decent selection of additional tools, along with e-commerce support, an advanced blogging portal, and great SEO integrations. Prices are quite competitive, although the customer service is limited. Overall, we recommend signing up for a free account and giving Website.com a try.