HubSpot Visit Site
Overview
About
HubSpot provides marketing and sales solutions including a CRM. The company was founded by Brian Halligan and Dharmesh Shan in the year 2006. HubSpot is publicly listed and has its headquarters in Cambridge, Massachusetts.
Ideal for
CMS Hub is a great fit for companies that want an easy means of developing a scalable website that stands a good chance of converting and generating sales. Businesses that are already using HubSpot for its CRM and marketing automation features will derive added benefit from building sites using the company's CMS as the tool integrates with the rest of the HubSpot suite.
Why Go With
CMS Hub is an ideal tool for a business already using HubSpot. Additionally, its features make it a great choice both for design newbies that want an easy to build website but who want to build the site on a tool that isn't overly simplistic and which is capable of scaling to support future needs.
How HubSpot Works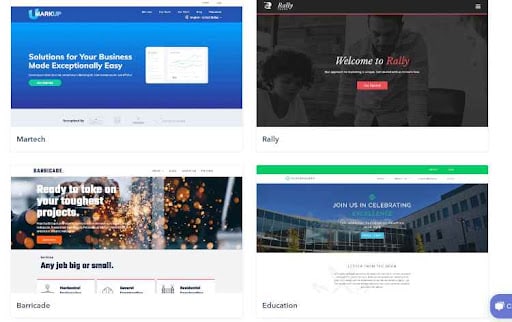 The tool's features include:
HubSpot DB
HubSpot DB is a relational database storage system that makes it easy for users to store large amounts of data in a relational structure. For those that want more advanced implementations, data for the CMS can be taken in through an API. This feature makes it a breeze for users to roll out dynamic content without the hassle of setting up complex architectures in the cloud.
Membership Manager
Using the CMS, webmasters can easily gate certain content for member-only access. Additionally, the displayed content can be personalized to the logged-in user. Data can also be taken in from the CRM and displayed in the user area. This is a perfect feature for anybody that wishes to deploy a membership area built on HubSpot.
Multi-language Support
If your site needs to be rolled out in several international local language versions, then HubSpot allows users to set up easily segregated local language sites on the backend. This means that when users access the site, they will be presented with a version in their local language. Once they select it, local content in their language will be displayed.
A/B Testing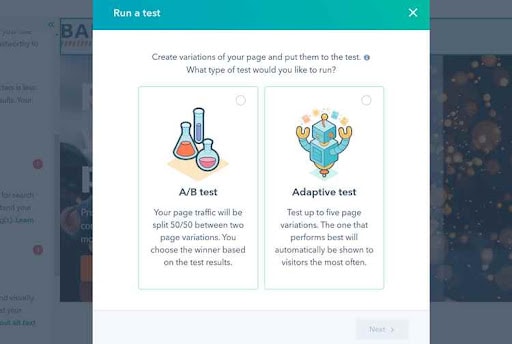 Another one of HubSpot's strong suits is its ability to make it easy for marketers to A/B test their websites. Just as HubSpot offers this in other products, it's also part of the CMS Hub offering. Users can choose to run both A/B testing on designed pages in which traffic will be automatically routed to 2 different versions of a website. Additionally, they can use adaptive testing in which up to 5 versions of a page will be displayed. The CMS will report the winner.
Hosting
One of the biggest headaches involved in getting a website on the internet is dealing with hosting. If hosting is sluggish, then the website will be slow for users as well. The good news is that HubSpot includes hosting on all its plans. So those that want to get websites on the internet quickly will have one less vendor to worry about choosing.
SEO Tools
As inbound marketing specialists, SEO is at the core of what HubSpot does. Therefore, it should come as no surprise that their CMS tool features plenty of SEO guidance. For one, by clicking on the 'optimize' tab of the site builder, the CMS will automatically pull up a series of SEO recommendations to optimize the site for search engine visibility.
For instance, in the test page that we built, the optimizer was able to detect that the title and domain name were unique and that there were fewer than 300 outbound links on the page.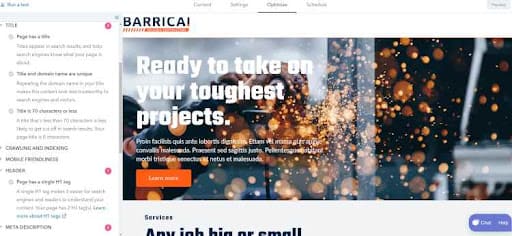 By making sure that every published page passes HubSpot's exacting SEO checks, which are based upon well-established search engine ranking best practices, users can rest assured that they are building a site that will do more than just sit on the internet.
Customization
The good thing about designing with HubSpot's CMS is that users don't need to know how to build their site from scratch. For starters, the CMS contains a wide variety of different themes suitable for a variety of different site types. For instance, there are themes for:
Marketing technology websites
Educational websites
Careers blog websites
Once users find a template with the right look and feel then they can customize the theme. Designing sites is as easy as dragging and dropping elements into the theme. Elements that can be added in place include:
Buttons
Pricing tables
Latest post lists
User profiles
Social follow icons
Testimonial sliders
Payment Processing
HubSpot has developed an integration with popular payments processing provider Stripe for an easy way for webmasters to add payments support to their websites. Using the integration, webmasters can add Ecommerce and payments processing capabilities to their website or landing page. The module can be added to any existing form. If users need support integrating this Ecommerce capability from a third party, then any HubSpot Diamond tier partner is capable of setting things up.
HubSpot Customer Support
HubSpot maintains a rich online help center which is full of resources for those that need guidance in using the CMS and getting their website set up. HubSpot is home to an active community as well as a knowledge base. Additionally, the company puts out its own certification program for those that want to demonstrate mastery of core marketing concepts. Paying customers, of course, can access support directly. All tiers can access customer support through email and in-app chat, while those on the Professional and Enterprise tiers have additional access to support via phone.

HubSpot Visit Site
HubSpot Pricing
CMS Hub comes in 3 tiers: Start, Professional, and Enterprise.
Website pages
Blog
Drag-and-drop editor
Website traffic analytics
Hosting
SSL certificate
Website themes
Reporting dashboard
Smart content
Custom reporting
Password-protected pages
Custom objects
Adaptive testing
Site performance monitoring
For the Starter and Professional tiers, you can save 10% by making an annual commitment and paying for the full year upfront. The Enterprise tier is suitable for customers that really want to shift into high gear in terms of technical features: in addition to the powerful HubDB relational database, users can add custom objects and serverless functions. Additional functionalities also include multiple currency configurations and additional brand domains.
Bottom Line
HubSpot is one of the industry leaders in inbound marketing, and when it comes to its CMS Hub tool, that focus on helping webmasters build sites that get discovered and convert certainly shows through. The website builder tool allows users to A/B test every single page and receive automatic checks to make sure that it's flawless from an SEO standpoint. Particularly for users that are already using parts of the HubSpot ecosystem, this is a great tool for building sites quickly.