In a Nutshell
If you need to get a website onto the internet in time for dinner, then Domain.com is a suitable option. The company sells domains, offers hosting services, and makes a domain builder with tiers for everything from basic websites to Ecommerce builds. The 6-page limit on the Starter plan isn't generous, but for those that want to get a website onto the internet complete with SEO optimizations and customizable layouts, this is a suitable choice.
pros
Fast, streamlined website creation
Beginner-friendly section-based editor
Very competitive prices
cons
A notable lack of advanced tools
No free trial or free forever version

Domain.com Visit Site
What is Domain.com?
Domain.com is known as a leading domain registrar, but it also offers a selection of hosting services and website building solutions. It was founded in 1999, and it's a subsidiary of the Endurance International Group—the same parent company that owns Bluehost, HostGator, and Network Solutions, along with a suite of other web technologies companies.
One thing that stands out about Domain.com is its streamlined, no-frills website builder. It's far from the most advanced option we've seen, but it enables those with little experience to get online with a minimum amount of fuss.
There are a small number of resources to help you get started with your website, but don't expect anything too fancy. The platform is simple, intuitive, and very competitively priced, though, making it a great option for beginners on a tight budget.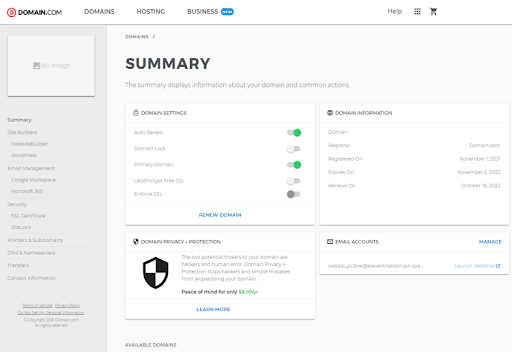 Using Domain.com
Signing up for a website builder subscription is straightforward, but there are a few things worth mentioning. For one, you have to purchase a domain through Domain.com to use its website builder. And there are numerous upselling attempts throughout the checkout process, which was a little annoying. Both credit card and PayPal payment options are available.
Unfortunately, the main dashboard is a little confusing to navigate. There were no obvious menu options for the website builder, and it took a few minutes for us to find it hidden away under the Business tab. And even then, our website builder subscription was unavailable. In the end, we had to cancel our first subscription and purchase a new plan before we could access the builder. On top of this, the editing interface was a little buggy, and we had to refresh it a couple of times during the testing process.
Domain.com Features and tools:
Domain.com's website builder is far from the most advanced we've used, but some tools and features are worth noting.
SSL Encryption
All Domain.com website builder plans come with free SSL encryption. With this, all data transmissions will be fully secured, enabling you to rest easy with the knowledge that hackers and other malicious third parties can't access your or your customers' information.
Domain registration
As its name suggests, Domain.com specializes in domain registrations. Its registration portal is easy to navigate, and its prices are competitive. On the downside, domain privacy is only available as a premium add-on, and it costs an additional $8.99 per year.
SiteLock security
For just $3.99 per month, you can add SiteLock website security to your site. This includes advanced malware scanning and removal, blacklist monitoring, distributed denial of service (DDoS) attack prevention, and an advanced web application firewall.
How to Create a Website with Domain.com
When you launch the Domain.com website builder for the first time, you will be guided through a short questionnaire. Here, you will be able to specify the type of site you want, upload a logo and background image, and select various design and layout settings. The builder will then generate a custom template based on your answers.
Once you've worked through the questionnaire, you will be taken on a quick tour of the editing interface. This is excellent, and it will help you familiarize yourself with the available tools. On the downside, you can't switch from the template that Domain.com generates for you. What you can do, though, is change the global font, color, layout, and navigation settings to modify your overall design.
All designs are fully responsive, which is something that's expected from modern website builders. There's no mobile editor, but the desktop editor does enable you to edit in mobile view to ensure your site looks good across different devices.
Domain.com uses a section-based editing interface. With this, you can add different blocks, reorder blocks, and personalize the content within each block. However, you will be largely constrained by the precoded layout that you select at the beginning. There are no options to fine-tune element positioning within blocks, and you can't add custom code.
In saying this, the lack of design flexibility isn't necessarily a bad thing. Sure, it makes it a little difficult to create a highly customized site, but it also allows foolproof editing for those with little time or experience. The editor is extremely beginner-friendly and easy to use, and you won't have any problems.
On the downside, there are no major keyboard shortcuts available. You can't export your site or your site's code to another platform, and you can't import an existing site to edit within the Domain.com website builder. What you can do is preview your site before publishing to ensure it looks and responds as it should.
Overall, Domain.com does what it does well. It's far from the most advanced website builder, but it presents an attractive option for those looking to create a simple website with a minimum amount of fuss.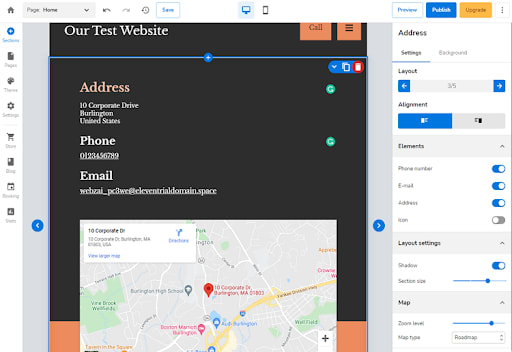 Adding Multimedia to Your Domain.com website
Domain.com's multimedia options are quite basic. You can upload images from your device or add from a link, but there are no integrations with third-party platforms. Popular file types including JPG, JPEG, and PNG are supported, and you can add multiple files at once if required. There's also a decent stock photo library that you can select images from. On the downside, videos can only be added by embedding them from YouTube. There's no option to upload them directly or to embed videos from other sites.
Marketing Functionality with Domain.com Websites
Domain.com offers no native email marketing or newsletter functionality, but there are streamlined integrations with Google Workspace and Microsoft 365. The blogging tool is decent without being exceptional. A very basic Facebook integration is available, but don't expect anything else on the social media front. Basic site stats such as visitor numbers are collected and available to view via the Stats tab inside the editor, but again, there's nothing too fancy here.
SEO Functionality & Add-Ons with Domain.com Websites
The Domain.com website builder includes very basic search engine optimization (SEO) tools with all plans. You can add simple metadata to each page, but there's no way to perform in-depth technical optimization. Integrating Google Analytics is very easy, but note that this is the only way to access in-depth analytics and reporting tools.
E-Commerce:
You can create a simple online store with Domain.com's eCommerce plan. You can add products to any page on your website, although the product listing tools are very limited. Basic tax calculation tools are included, and you can use PayPal or Stripe as your payment gateway. Product variants can be added if required, and there are simple discount and categorization tools. Overall, Domain.com's online selling tools are functional but unadvanced.
How much does Domain.com cost?
The Domain.com website builder is available with three different subscription options. Prices start at just $1.99 per month for the Starter plan, which enables you to create a website with up to 6 pages. The Business package ($6.99 per month) advances this to unlimited pages and adds site analytics, version history, and phone support. Upgrading to an eCommerce plan ($12.99 per month) will give you access to a selection of basic online selling tools.
All plans come with unlimited storage and bandwidth, a free SSL certificate, and full blog functionality. But there are no discounts for long-term subscriptions and no free forever plan or free trial for you to test the builder.
Domain.com Help and Support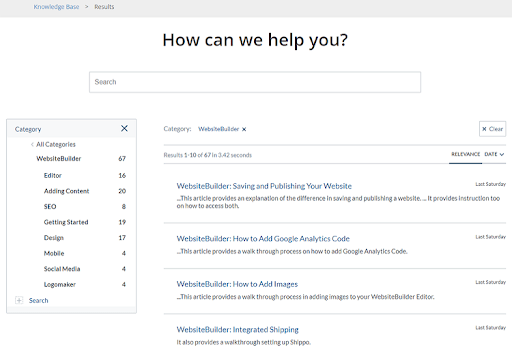 24/7 live chat and email support are available with all Domain.com subscriptions. Phone support is available with a Business or eCommerce plan. Priority support comes with the eCommerce plan, which means you will be bumped to the front of the queue if you have any issues.
We tested the live chat, and it was among the worst we've experienced. We asked a simple question about whether or not a version of the website builder came with a hosting subscription and were unable to get a straight answer, even after 20 minutes of back and forth.
A small selection of self-help resources is available via the Domain.com Knowledge Base. The website builder section contains 67 articles outlining everything from getting started with the editor to integrating your social media accounts and optimizing your SEO settings. In general, these are very well written and contain step-by-step instructions accompanied by images. There are a small number of FAQs, but little other help content to speak of.
How Domain.com Compares to Other Website Builders
$1.99 to $12.99 per month
$6.99 to $29.99 per month
$12.80 to $34.80 per month
Email marketing functionality
Only through Google Analytics
Domain.com vs GoDaddy
Both Domain.com and GoDaddy offer beginner-friendly website creation solutions. GoDaddy is a better option for those looking for integrated marketing and SEO tools, while Domain.com offers a slightly more powerful editing interface.
Domain.com vs Web.com
Frankly, Web.com is one of the worst website builders we've used, and Domain.com eclipses it in virtually every way. It's cheaper, easier to use, and comes with a much more powerful and beginner-friendly editor.

Domain.com Visit Site
Domain.com vs Site123
Site123 has better email marketing and e-commerce tools than Domain.com, but it's also a little more complicated to use. The Domain.com user interface is very intuitive, and it enables you to build a new website in just hours.
Bottom Line
Domain.com may not be the most popular website builder on the market, but it's certainly a viable option for those looking to create a basic site with a minimum amount of effort. If you can look past the lack of marketing tools, the basic online store and blogging features, and the slightly buggy editor, there's a lot to like.
In sum, Domain.com's website builder presents a competitively priced option for those with little web development experience and little desire to learn how to use a more complicated platform.