In a Nutshell
If you need to get a website onto the internet in time for dinner, then Domain.com is a suitable option. The company sells domains, offers hosting services, and makes a domain builder with tiers for everything from basic websites to Ecommerce builds. The 6-page limit on the Starter plan isn't generous, but for those that want to get a website onto the internet complete with SEO optimizations and customizable layouts, this is a suitable choice.
pros
AI-assisted website builder
Tiers for different functionalities
SEO functionalities included
cons
Starter plan limited to 6 pages
Ecommerce requires separate plan
Ideal for
Domain.com is a good choice for users that want an editor with a friendly interface that lets them easily create websites but who also need some added functionalities including SEO optimization, an SSL certificate, and lead capture forms. It's also great for users that want to make sure that the websites they build are responsive and look as good on mobile as they do on desktop devices,
Why Go Wit
Domain.com's website builder offers:
Domain.com's website builder offers:
An easy AI-assisted site building process
An Ecommerce tier for those that want to sell online
SEO optimization baked into every plan
Lead capture forms for easily collecting subscribers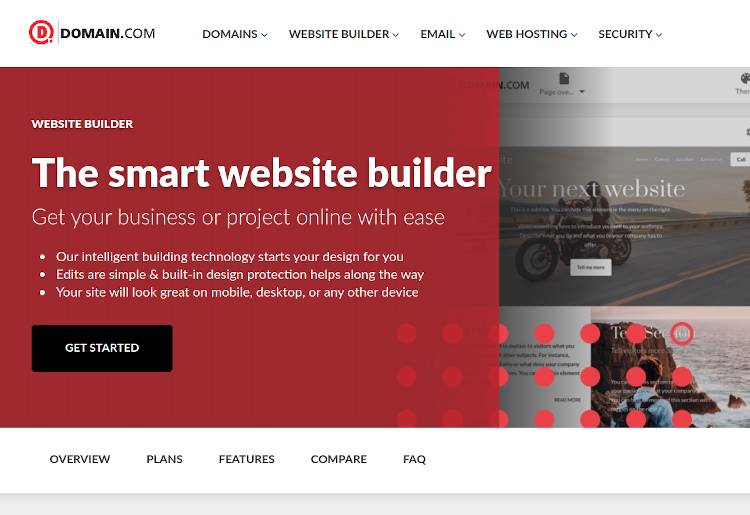 Features
Drag and Drop Website Builder
When designing a site with Domain.com, users don't need to worry about knowing HTML, CSS, or any code at all in fact. As a what you see is what you get (WYSIWYG) building environment, the only skills that users need to get under their belt are dragging and dropping.
Assuming that users are able to use a mouse, they have a variety of attractive and responsive themes available to choose from. The themes have all been carefully optimized for SEO—although the tool still allows the user to get under the hood and customize titles and descriptions to best align with their search engine marketing objectives.
Hosting Included
Domain.com offers the full range of technical systems that support bringing a website online. Domain.com offers stable shared hosting that is backed by a 99.9% uptime guarantee. That means that users can remain confident that their website will not be subject to any unexpected outages. Of course, the website will also be professionally hosted. Webmasters can rest assured that a large part of the job of securing their website will be handled by the professionals. All sites are secured by an SSL certificate to ensure the safety of customers' data.
Search Engine Optimization
Trying to dominate the Google rankings is hard work without the right tools in place. Domain.com puts the proper SEO tools at users' disposal to make the process easier for users. These include the ability to edit meta titles and descriptions.
Ecommerce
Users that opt for the Ecommerce plan are able to roll out Ecommerce functionalities. These include the ability to set up and operate an online store, and a digital downloads manager for users that wish to sell downloads, such as ebooks, through their website. Additionally, sellers can handle inventory management and tax compliance through the backend of their Ecommerce store. The Ecommerce plan is designed to give users all the options they need to run a successful online web presence including coupons and discounting, and transactional email dispatching.
Image Library
Having to scour the internet for stock imagery can be an awful lot of work for frequent bloggers. Not only does Domain.com's website builder support a blogging functionality, but users also gain access to a massive stock library containing more than half a million images.
Marketing Features
To help users sell more online, Domain.com's builder contains a few key marketing tools:
Social sharing
Contact management
Lead capture forms for collecting leads through the website
An ad credit offer for customers that choose to run digital advertising campaigns with Google Ads and Bing
Pricing
The website builder service is priced at 3 tiers. However, remember that the price quoted includes web hosting. So once users have a domain name at the ready they will not need to pay any additional fees to have the website hosted on Domain.com's infrastructure.
The Starter package includes up to 6 pages so it's of limited utility for webmasters that wish to roll out basic portfolio websites that don't require a lot of content. For those that wish to take things further, the Business plan includes all the Starter functionalities but allows webmasters to develop unlimited pages. There's also an analytics integration for users that want to be able to gain insights into how visitors are interacting with their website. Finally, Business users can avail of telephone support. Upping to the Ecommerce tier allows users to avail of all the Ecommerce features on the platform. These include the ability to track a sales inventory directly through the platform, to display inventory, and to process sales.
More Reasons to Choose
Domain.com is an all-in-one solution for webmasters that wish to get their website on the internet with hosting and web design included in the same package.
Customization
Domain.com includes a full selection of themes that are capable of integrating Ecommerce elements to display products attractively. All themes are also optimized for display on mobile devices. However, users are still free to edit the sites to their preference through the easy drag-and-drop editor. While the customization options are not as detailed as what webmasters could achieve by coding sites themselves, the options available are enough for most users to be able to display the type of websites that their clients will want to buy from.
Payment Processing
PaymentSphere is Domain.com's engine for accepting inbound card payments. It allows webmasters to sell to customers who can then pay online conveniently using their credit card.
SEO Tools
Domain.com's website builder is designed to support basic search engine optimization. The tools include meta tag editors. Additionally the company has put together some good resources for users that want to learn how to make the best use of the tool to drive their websites higher in SERPs.
Customer Support Services
Domain.com's customer support team can be reached 24/7. The company also operates a support email and phone number where users can get assistance with the product. Finally there is a knowledge base accessible online which contains tutorials for everything from setup to advanced hosting. Users can even directly share their screen online.
Domain.com Visit Site
Review in Short
Domain.com is a drag-and-drop website builder that includes hosting services for those that want everything to set up a website in 1 box. The 3 tiers include support for Ecommerce and multiple pages. Users that want the ability to achieve pixel-perfect custom designs will probably want to look elsewhere. But for many users the website builder hosting packages are great solutions for quickly setting up a web presence.
About
Domain.com was established in 1998 and has to date been used to bring more than 1.2 million websites onto the internet. It is well established as both a domain reseller and a host. According to its Crunchbase profile, Domain.com is based in the USA and has a staff of between 11 and 50 people.