In a Nutshell
BoldGrid may be a fairly new website builder, but it can give the likes of Squarespace, Weebly and Wix a run for their money. In fact, BoldGrid even outshines these industry leaders in some aspects. Its biggest advantage is that it's powered by WordPress and packed with a plethora of features and functionalities that you can use.
pros
Drag-and-drop website builder for WordPress
Professionally designed layouts and templates
Affordable pricing
cons
No out-of-the-box hosting plan
Steep learning curve for page editor

BoldGrid Visit Site
What is BoldGrid?
BoldGrid is a WordPress-based website builder developed by the same team that created plugins like W3 Total Cache and Easy SEO. What makes BoldGrid unique is that it's built on top of WordPress, making it possible for developers to use a drag-and-drop page editor while also taking advantage of the highly flexible WordPress content management system (CMS).
BoldGrid is impressively affordable and comes with tons of templates and plugins to extend its functionality. However, it has a steep learning curve compared to other website builders that don't rely on WordPress. There are video tutorials to help you get started, but plan to spend some time learning how BoldGrid works. Overall, BoldGrid is ideal for website creators who want to use WordPress, but don't know how to build a theme from scratch or dive into CSS code.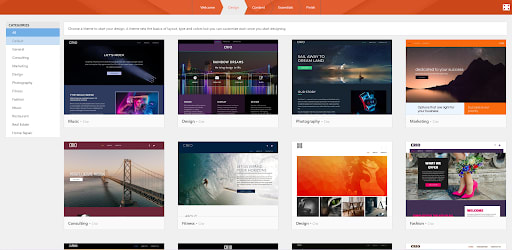 Using BoldGrid
In order to use BoldGrid, you need to have a WordPress website and a hosting plan with a third-party provider. Unlike many other website builders, BoldGrid doesn't come with its own hosting service. You can get BoldGrid by installing the plugin on your existing WordPress website and signing up for a plan.
That said, if you want to take BoldGrid on a test run without first setting up a website, you can. On the BoldGrid website, there's a "Start for Free" option that lets you build a new dummy site in a controlled environment called Cloud WordPress. If you like what you find, it's straightforward to transfer your test website to a permanent hosting environment at any point.
BoldGrid itself has a bit of a learning curve, in part because it's editing tools are built directly into WordPress. So, you'll need to jump back and forth between WordPress features and BoldGrid features when designing your site. Once you get the hang of it, though, BoldGrid is fairly easy to work with.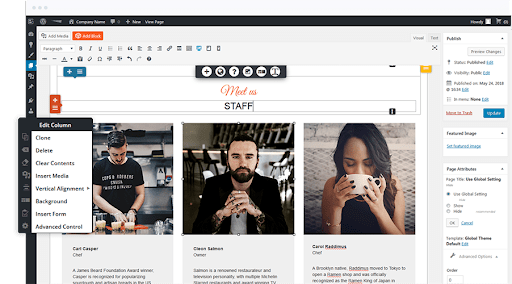 BoldGrid Features and Tools
BoldGrid Central
BoldGrid Central is a unified dashboard for managing all your WordPress websites that use BoldGrid. It's included with all plans free of charge.
BoldGrid Plugins
BoldGrid offers a number of free and paid plugins to expand the functionality of your WordPress website. A few examples include Crio, a "super-theme" with lots of customization options; Easy SEO, a search engine optimization tool; and W3 Total Cache, a free caching plugin to speed up your website.
How to Create a Website with BoldGrid
The first step for building a website with BoldGrid is to choose a template. BoldGrid comes with over 200 website templates, all of which are fully responsive for mobile devices. If you get into the design process and want to change your template, you can do so at any time. However, all of your site customizations will be lost.
The next step is to add new pages and posts and customize them using the drag-and-drop BoldGrid editor. The editor has a somewhat steep learning curve, in part because it exists inside the WordPress dashboard instead of as a standalone interface. However, there are on-page prompts and video tutorials to help you through the process.
BoldGrid uses blocks to build your pages rather than individual content elements. Blocks typically contain multiple elements, including text, images, and more. While this does limit your flexibility, it makes it easier to lay out your site. You can also quickly resize blocks or change layout options if you want to modify the look and feel of your page.
One of the nice things about using BoldGrid is that it's easy to back up or transfer your website. BolGrid offers the free Total Upkeep plugin, which lets you transfer your website from one hosting provider to another. There are also plenty of free WordPress plugins that can help you export your site's code if you want to migrate to another CMS.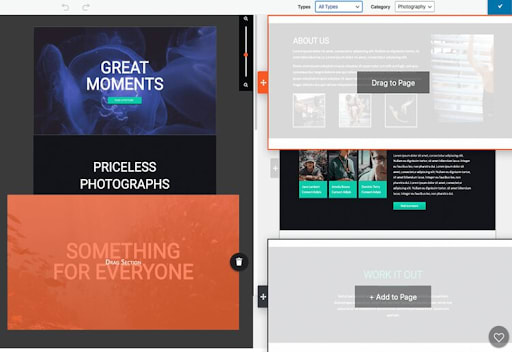 Adding Multimedia to Your BoldGrid Website
BoldGrid supports a wide variety of multimedia files, including images, audio, video, and documents. File types supported include .jpg, .jpeg, .png, .mp3, .m4a, .pdf, .docx, .mp4, .m4v, and .mov.
You can easily upload multiple files simultaneously using the WordPress media library. This is a pretty intuitive module that also makes it easy to organize and search your files for reuse later. There's no stock image library packaged with BoldGrid, but you can import images licensed under Creative Commons directly from the WordPress media library.
Marketing Functionality with BoldGrid Websites
BoldGrid doesn't come with any built-in marketing features. However, there's a host of other plugins, both free and premium, that you can install to get these features on WordPress. You can use any of these plugins in combination with BoldGrid to market your website.
A few examples of WordPress marketing plugins:
Google Analytics for keeping track of your visitors
OptinMonster for building popups and forms
SmashBalloon and AddtoAny for social media marketing
Newsletter for email marketing
Google Analytics and AddtoAny are free, but the others require paid subscriptions.
Blogging functionality is already built into WordPress, and you can use BoldGrid's drag-and-drop editor to customize your posts.
SEO Functionality and Add-ons with BoldGrid Websites
BoldGrid is an SEO-friendly website builder with fast-loading pages and mobile-friendly designs. While the built-in editor doesn't have any SEO-specific features other than the ones already on WordPress, BoldGrid offers a free plugin called Easy SEO to address all your search engine optimization needs.
Easy SEO enables you to optimize page titles and descriptions, check keyword density, toggle search engine indexing, and determine the overall quality of your post or page. Other paid SEO plugins, such as Yoast SEO or All in One SEO, are also available through WordPress.
Ecommerce
To add Ecommerce functionality to BoldGrid, you'll need to install the free WooCommerce plugin for WordPress. WooCommerce is an extremely advanced Ecommerce plugin with tons of options for selling online and in-person. Among other things, it includes features like shipping management, inventory management, marketing, and cross-selling on social media. BoldGrid is optimized to work seamlessly with WooCommerce, and you can set up an online store in minutes using BoldGrid's drag-and-drop website builder.
How Much Does BoldGrid Cost?
WordPress Website Builder
BoldGrid comes with a free version that lets you use its website builder with limited features. There are 3 paid plans, which add more content blocks and plugins to expand your site's functionality. Note that if you want to use BoldGrid to build more than one website, you'll need to purchase a separate license for each website.
BoldGrid Help and Support
BoldGrid comes with a built-in help button as well as links to relevant video tutorials. Customer support is ticket-based, with a turnaround time of 2 business days for free users and 1 business day for paid users. There's also BoldGrid Team Orange, a dedicated Facebook group for answering all your questions related to BoldGrid.
How BoldGrid Compares to Other Website Builders
Email marketing functionality
BoldGrid vs Squarespace
BoldGrid is a WordPress-based website builder, whereas Squarespace is independent and offers its own hosting. As a result, there's a significant difference in how much they cost—the cheapest Squarespace plan costs more than BoldGrid's most expensive plans. Squarespace is somewhat easier to use than BoldGrid, and it comes with tools for marketing, Ecommerce, and traffic analytics.
BoldGrid vs Wix
Wix is another easy-to-use website builder that offers its own hosting with all plans. It includes more than 800 templates, as well as advanced tools for Ecommerce and email marketing. Overall, Wix offers more customization and more features than BoldGrid, but it's significantly more expensive.

BoldGrid Visit Site
BoldGrid vs Jimdo
Jimdo is a basic website builder that includes hosting with all of its plans. Jimdo has fewer templates than BoldGrid, but it distinguishes itself by offering an automated design process rather than a drag-and-drop page builder. Jimdo offers a free plan, but it costs more than BoldGrid if you want to sell products online.
Bottom Line
BoldGrid is a WordPress plugin that offers a drag-and-drop website builder for WordPress. It comes with more than 200 templates and is compatible with thousands of WordPress plugins for marketing, SEO, Ecommerce, and more.
While BoldGrid has a steep learning curve, it enables you to take advantage of the powerful WordPress CMS without having to code your design. Overall, BoldGrid is a good option if you're determined to build your website in WordPress, but it's not as user-friendly as other website builders and doesn't include hosting