Bluehost Visit Site
Overview
Bluehost is a US-based web hosting provider founded in 2003. The company is best known for its managed WordPress hosting plans, which come with WordPress pre-installed on your site and keep your software up to date automatically.
Bluehost launched a WordPress website builder in 2021 to make it easier to create websites in WordPress, even if you don't have coding experience. The builder lets you switch between adding premade page sections to your site and adding content using WordPress's standard editor. It's not quite as easy to use as a site builder not designed around WordPress, but it's one of the simplest options available if you're determined to use WordPress software to build your website.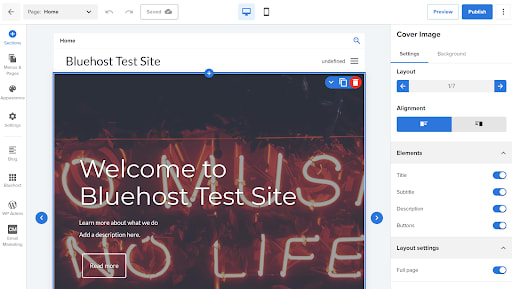 How Bluehost Works
Using Bluehost is straightforward. The company has a reputation for making things simple for users, and we found that to be the case throughout the experience of setting up a site. There's a checklist of things to do when you first sign in, and it's easy to switch between the Bluehost site builder and the standard WordPress site editor. That said, the site builder has a slight learning curve if you haven't used WordPress before.
Bluehost Features and Tools
Managed WordPress Hosting
All website builder plans include managed WordPress hosting from Bluehost. That includes unlimited storage and bandwidth, a free SSL certificate, and a free domain for one year. Bluehost will keep your WordPress installation and plugins up to date automatically.
Unlimited Websites
One of the best things about the Bluehost site builder is that there's no limit to the number of sites you can build. Each site has its own WordPress dashboard and can be connected to its own domain.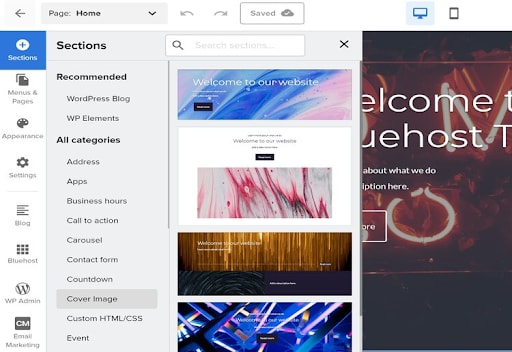 How to Create a Website with Bluehost
The process of creating a website with Bluehost is slightly more complex than it is for other website builders. To start, Bluehost will take you to your hosting dashboard and prompt you to create a new WordPress website. Before you can choose a template or make any edits, you'll need to log into your new WordPress dashboard.
In WordPress, you can select from any of more than 300 pre-installed themes to get your site started. You also have the option to apply any WordPress-compatible theme to your site, but only the themes provided by Bluehost are compatible with the Bluehost site builder. Unfortunately, it isn't easy to change themes later, since you'll have to redesign your site from scratch.
You can open Bluehost's website builder from within your WordPress dashboard. The editor offers premade page sections, each of which includes multiple elements such as text boxes, image containers, buttons, and more. You can choose which elements to show and hide within each section, and there are several predefined layout options for each section.
We found this to be much easier to use than WordPress's standard site editor, although you still have access to the WordPress interface if you want to use it. WordPress's editor makes it difficult to divide your site into sections with different backgrounds, and it's even more difficult to arrange content side by side. The Bluehost editor makes these essential design tasks simple.
However, the Bluehost site builder isn't a drag-and-drop editor. Page sections are full-width by default, and there's no way to add or rearrange individual content elements. You can edit your site's HTML code to make fine-grained changes, but this option is only suitable for experienced site designers.
One nice thing about Bluehost's builder is that once your site is created, you can migrate it to another host just like you would any other WordPress site. If you do migrate, you'll lose access to Bluehost's site editor, but you'll be able to keep all the page sections that you've created up to that point.
Overall, Bluehost's site editor makes the process of designing a website in WordPress dramatically simpler. However, it's still not a drag-and-drop editor, and it's nowhere near as flexible as other site builders that are independent of WordPress.
Adding Multimedia to Your Bluehost Website
Bluehost relies on WordPress's built-in media management system to handle multimedia. This is one of the highlights of using WordPress, so we were glad to see that this system is preserved.
You can easily import photos, videos, PDFs, and most other common file types from your computer. Simultaneous uploads are supported, too. Once your files are added to WordPress, you can organize them into folders and give them descriptions so your library is fully searchable. Bluehost also provides you with a library of hundreds of stock images to help jump start your design.
Overall, we were very happy with the website's multimedia tools and thought they were very easy to use.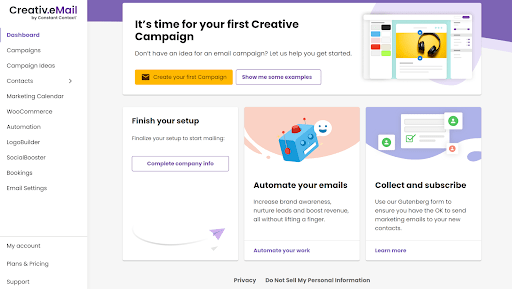 Marketing Functionality with Bluehost Websites
Bluehost offers several important marketing tools. First, the CreativeMail email marketing plugin is included with all Bluehost website builder sites. It enables you to collect contacts, segment them into groups, and build an unlimited number of email campaigns for free.
Second, Bluehost websites have access to WordPress's renowned blogging tools. You can schedule posts ahead of time, run ads on your posts, and share your posts across social media. Notably, you can also create posts from within the Bluehost editor, meaning that you can incorporate Bluehost's content sections to craft your posts.
SEO Functionality & Add-Ons with Bluehost Websites
Bluehost's website builder helps boost your site's SEO by making it easy to add meta titles and descriptions to your pages. You can also add meta descriptions to images and videos using WordPress's media manager. All sites also have access to WordPress's plugin marketplace, which is packed with add-ons for improving SEO.
One thing that's missing from Bluehost's website builder is a built-in traffic analytics dashboard. However, you can easily assess your site's traffic by integrating Google Analytics or using a WordPress plugin.
Ecommerce
Bluehost's website builder integrates with WooCommerce to enable you to sell an unlimited number of products, digital downloads, and subscriptions on your website. WooCommerce is extremely flexible and offers built-in tools for customizing your product pages, managing shipping and inventory, and marketing to customers.
Importantly, many of WooCommerce's advanced features require paid extensions. Which extensions are included with your Bluehost site builder plan will depend on your plan tier.
Bluehost Customer Support
Bluehost offers 24/7 customer support by phone, email, and live chat. The company also has an online knowledge base and a resource center. There's no section dedicated specifically to the website builder in the knowledge base. However, the resource center has a number of step-by-step tutorials that illustrate how to create a website using the site builder.
For questions related to WordPress rather than Bluehost's builder, you'll find a huge number of online forums where you can get support as well.
Bluehost Pricing
Bluehost offers 3 website builder plans: Basic, Pro, and Online Store. All plans include managed WordPress hosting, support for an unlimited number of websites, and email marketing tools.
The Pro plan enables you to accept payments for an unlimited number of products with WooCommerce. The Online Store plan offers more advanced ecommerce features, including the ability to sell subscriptions, book appointments, and send customers personalized discount codes.
Plans must be paid in 12- or 36-month terms and there is no free trial. However, you can get steeply discounted pricing for your first term.
Bluehost Alternatives
How Bluehost Compares to Other Website Builders
Email marketing functionality
Built-in and Google Analytics
Built-in and Google Analytics
Built-in and Google Analytics

Bluehost Visit Site
Bluehost vs Wix
Bluehost's website builder centers on WordPress, whereas Wix's builder is a standalone content management system. Wix is much more flexible, enabling you to drag and drop hundreds of content elements anywhere on your page. So, it's better-suited for advanced creators who don't like the restrictions of Bluehost's website builder.
Bluehost vs IONOS
The 1&1 IONOS MyWebsite builder is somewhat less expensive than Bluehost's WordPress builder and offers somewhat more design flexibility. However, IONOS's blogging capabilities are limited by comparison, and the platform doesn't support integrations for growing your online store. Overall, IONOS is a great choice for businesses getting online for the first time, but Bluehost offers opportunities to scale.
Bluehost vs Site123
Site123 is a user-friendly site builder that lets you create your website in sections, much like Bluehost's builder. It's fairly affordable, but the included tools for marketing, SEO, and ecommerce are fairly basic. Site123 is a good option for first-time designers, while Bluehost offers more tools for growing your online presence and customizing your site.
Bottom Line
The Bluehost website builder makes it easy to create a website using WordPress. It offers more than 300 templates and premade sections that you can add to your pages with a click. The builder also comes with Bluehost's managed WordPress hosting, so you can build an unlimited number of sites and never worry about keeping your software up to date.
Ultimately, whether Bluehost's website builder is right for you comes down to whether or not you want to build a website in WordPress. The Bluehost builder doesn't offer as much design flexibility as standalone site builders like Wix. However, you get access to WordPress's exceptional tools for blogging, media management, SEO, and ecommerce, plus the freedom to move your site to another host later. So, Bluehost's site builder may make a lot of sense for individuals and small businesses that prioritize flexibility and growth over design capabilities.