In a Nutshell
The KOHLER Walk-In Bath, also known as the Belay™ Walk-In Bath, stands out for its innovative hydrotherapy tech and stylish design. With a large range of safety and comfort features on offer, KOHLER has created an attractive product that's sure to be a hit with customers who can afford its hefty price tag. In this KOHLER review, we'll take a close look at what the KOHLER Walk-In Bath can do for you.
pros
Low 3-inch threshold
Built-in handrails
Adjustable hand shower
cons
Can't order directly
Could be cheaper
Some customers report installation difficulties

KOHLER Visit Site
KOHLER at a Glance
Best for: Advanced hydrotherapy
Price: Custom pricing
Warranty: Lifetime limited warranty
Therapy types: Heated backrest, whirlpool jets, BubbleMassage
Main safety features: Low step, handrails, textured surfaces, wide door
Tub Types
Regular KOHLER tubs come in various designs, including the Stargaze freestanding bath, the Archer alcove bath, and the Sunward drop-in bath. The KOHLER Walk-In Bath, on the other hand, is only offered in a single design with standard dimensions of 52" x 28" x 39". However, these can be adapted to your available space as each KOHLER Walk-In Bath is customized during installation.
Every KOHLER Walk-In Bath can be personalized with a range of finishes, accompanying bath wall, and color choice. For your bath hue, you can select between White and Biscuit, and stylish KOHLER Walk-In Bath faucets are available in both Vibrant Brushed Nickel and Polished Chrome.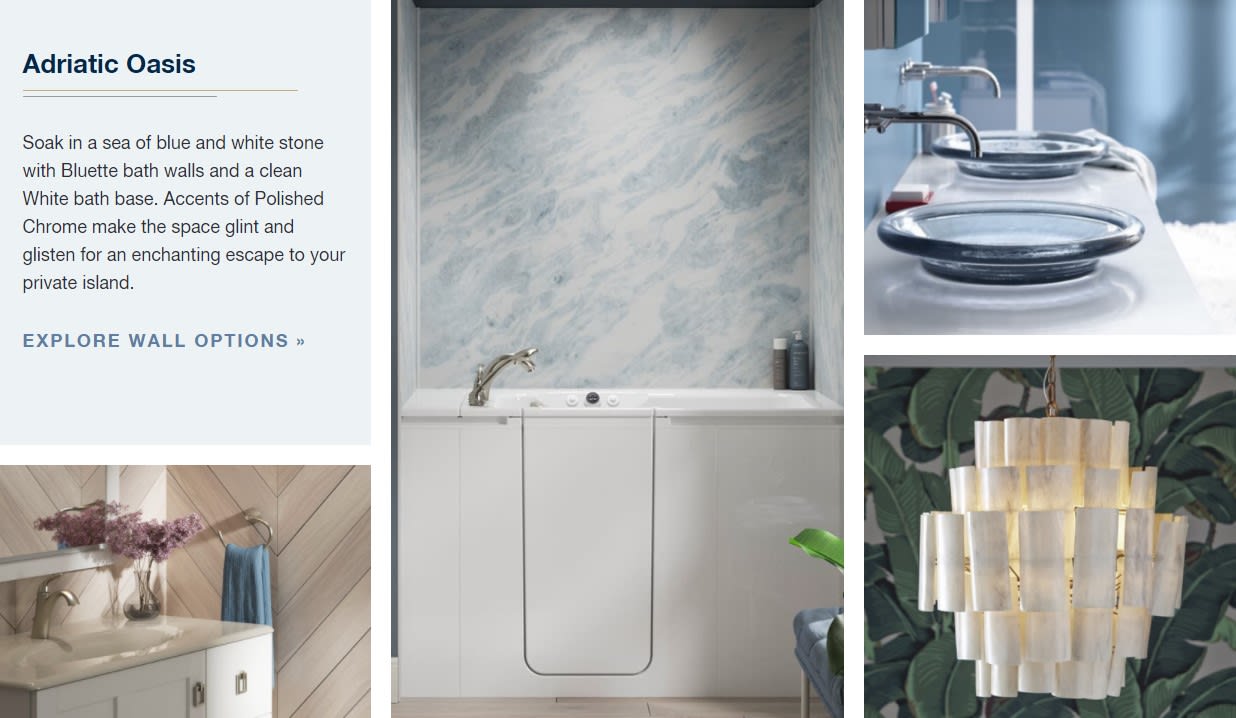 KOHLER Walk-in Bath Cost
Like many walk-in bath manufacturers, KOHLER offers pricing by quote only. In fact, the company specifically states that it is unable to release a price range because every KOHLER Walk-In Bath is custom-fitted to the bathroom of its purchaser. In order to get a quote, you'll need to contact a KOHLER representative directly or fill out a form to arrange a quote appointment.
KOHLER doesn't release price ranges, so you'll need to contact them directly to get a customized price quote based on what you need. The final amount you'll pay for a KOHLER Walk-In Bath will be determined by factors such as the difficulty of installing a tub in your bathroom and the add-on accessories you select.
We can tell you that the KOHLER Walk-In Bath is more expensive than some of its competitors' products on the market. However, that's understandable given that the company uses premium materials and goes the extra mile when it comes to hydrotherapy and comfort.
Testimonials
"I just love my new walk-in bath. I'm really glad I waited for KOHLER to make a walk-in bath, because of the great name. It is so soothing, comfortable, and more importantly safe. I just absolutely love it!" — Doreen, PA
"The whole process was great but the presentation was the best part, it was really good and it gave me a good feeling about the whole thing. I was most satisfied with the overall courtesy and timeliness of the people and with the jets in my KOHLER walk-in bath." — Gary, TX
"Ever since my wife broke her leg last year she hesitated to use the old tub. Now, she feels very safe using the new walk in with all of the features. She has no problem using the new tub. She is not afraid of falling." — Gerry, PA
Walk-in Tub Features
The primary features of the KOHLER Walk-In Bath are all related to mobility and accessibility. The bath's design facilitates independent bathing and makes it extremely easy for users to enter and exit the bath. To make that possible, each KOHLER Walk-In Bath includes the following:
A 3" walk-in threshold which is significantly lower than that of many competing brands
Extra-wide door to make getting in and out of the tub simple
Ergonomically positioned handrails to help you get a firm grip
Multifunction pivoting shower head
Textured flooring so you can move around safely
Accessible controls that you don't have to stretch for
Beyond safety, the KOHLER Walk-In Bath sets itself apart from the crowd with superior comfort features. These are focused on creating a spa-like environment in your own bathroom. To take your bathing experience to the next level, KOHLER Walk-In Baths feature:
Whirlpool jets for a powerful back, leg, and foot massage
Soothing BubbleMassage™ air jets
A quick drain system so you aren't waiting around after your soak
An extra-wide reclining seat
A heated backrest with 3 temperature settings
While the above features all come standard, the KOHLER Walk-In Bath can be further customized with a decorative LuxStone® bath wall and surround. These are made from an engineered stone material and you can pick multiple texture schemes to match the look-and-feel of your bathroom.
Walk-in Tub Installation
To buy a KOHLER Walk-In Bath, you'll first need to get a free quote via a virtual or in-home appointment. Once you've decided to go ahead with your KOHLER purchase, the company will arrange for a certified professional to come and fit your new tub. KOHLER says its walk-in bath is designed to facilitate easy installation so, once your tub is prepped, it should be installed in a single day.
Of course, in some cases, it may take longer to install your tub, and you'll need to contact your local KOHLER authorized dealer to find out what the expected installation time for your bathroom will be.
Once you've settled on an installation date, you'll be able to relax as you don't need to hire a separate plumber to manage the installation. A KOHLER technician will handle everything, including the necessary electrical and plumbing work. The technician will also dispose of your old tub for you.

KOHLER Visit Site
Warranty
Kohler offers a lifetime limited warranty with all KOHLER Walk-In Bath purchases. This covers any manufacturing defects you encounter with your bath's hydrotherapy system, door seals, or hand shower. Of course, there are some exceptions to this warranty but, in general, KOHLER will repair issues that arise under normal use, as long as the original purchaser still owns the home where the tub is installed.
Summary
As long as you can afford its high price point, KOHLER's Belay™ Walk-In Bath is well worth taking a look at. For customers with limited mobility or conditions that need to be addressed through hydrotherapy, the KOHLER bath is an ideal product as it comes with a long list of safety and comfort features.