In a Nutshell
American Standard carries a variety of high-quality walk-in tubs with numerous added feature options. With the largest network of walk-in tub installers in North America and 140 years in the bathroom business, American Standard is a standard-setting company that stands behind its products.
pros
Well-known and reputable brand
Numerous product options
Good customer service
cons
May be pricier than other options
No custom sizes
Installation costs vary widely

American Standard Visit Site
American Standard at a Glance
Wide range of quality products
$5,000 - $16,000 including installation
Chair-height seat, grab bars, anti-scald control
Tub Types
American Standard offers a wide array of tubs for every needs and budget. The 4 main categories of walk-in tubs available from this manufacturer are:
Walk-in Air Baths: These baths include air jets that deliver a therapeutic effect. With variable strength settings, air jets gently massage bathers and encourage improved circulation.

Walk-in Bathtubs: American Standard carries a variety of standard soaker tubs with safety features. Sealable doors can be configured to swing in or out, low-step entry assists individuals with limited mobility, and anti-slip coating on the tub floor prevents falls.

Combo Massage Tubs: These offer the most luxurious experience available in walk-in tubs. American Standard carries a range of tubs equipped with both air and water jets, as well as features like neck rests, aromatherapy, and chromotherapy.

Walk-in Whirlpool: Equipped with water jets, these tubs deliver an invigorating massage and include a self-cleaning system for easy care. Whirlpools can also be purchased with add-on luxury features.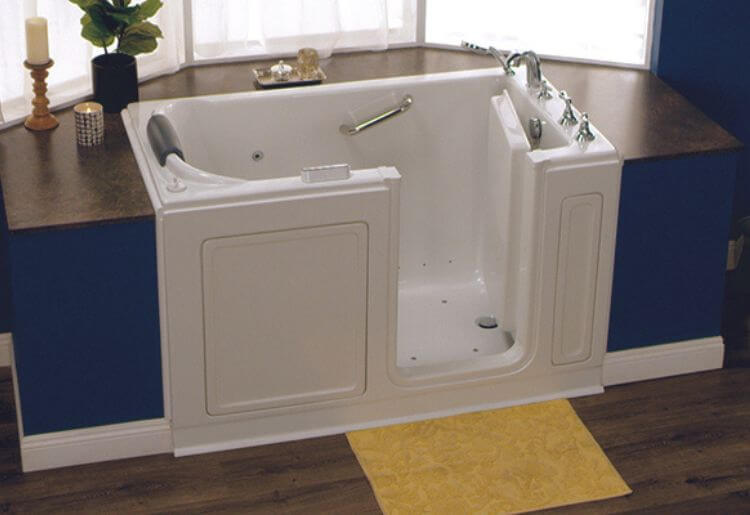 Pricing
One of the best things about American Standard is that they include installation by a certified dealer. The price range of a fully-installed American Standard walk-in tub ranges from $5,000 – $12,000, depending on the type of tub, installation and bathroom requirements, and the features you choose. Once you get a quote from an American Standard installer, you know that it will include any plumbing, electric, or remodeling needs.
Testimonials
"The sales rep from American Standard was very nice and she explained everything to me and I love it. I have bad arthritis and I'm a heart patient and so I needed a tub because I was afraid of the shower. This tub is ideal plus, the quality is very good. American Standard is wonderful. If people has to get one, get it from them. My first one was from another company but American Standard has a much better tub." -Margaret from Florida
"We decided that I needed some relief from my back issues and purchased a walk-in tub from American Standard. Their rep was very knowledgeable. The installation went very smoothly. They had projected they need two days, but they got everything finished in one day. We're totally happy with the tub. I like being able to get in and having some more relief after playing golf or a lot of activity." -Timothy from Washington
"The American Standard walk-in tub is wonderful. and I love everything about it. We love the jets, the heating part and the spray nozzle that you can take and pull out and spray, wash your hair and all that good stuff. The gentleman who came here was great. He showed us the nozzle and the handles, and all that he had in his briefcase and he explained how it was done and everything. You couldn't have a nicer person selling the tub than he was." -James from Kentucky
Walk-in Tub Features
All American Standard walk-in tubs come equipped with basic safety features, delivering accessibility solutions for individuals with limited mobility, the elderly, and people in wheelchairs. One great feature of American Standard tubs is their included quick-draining system.
Grab bars can be placed at convenient heights and angles.

A chair-height ensures ease of transfer.

Sealable, leak-free doors can open outward for wheelchair access or inward to safe space.

Low step-up entryway threshold

Anti-slip coating to prevent dangerous falls
Other features included in various American Standard walk-in tubs are underwater LED-lighting chromatography systems, targeted massage jets, aromatherapy, neck rests, and hydrotherapy. These luxury options offer a completely relaxing experience, promoting comfort and safety.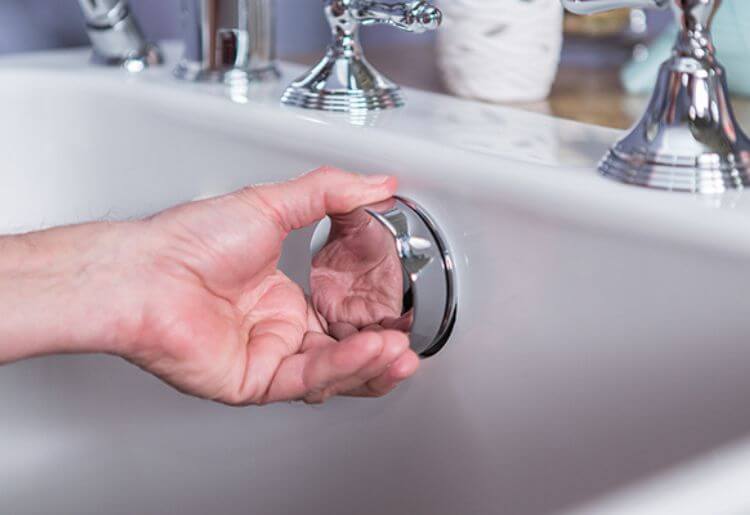 Walk-in Tub Installation
American Standard walk-in tubs include installation by manufacturer-certified specialists. These trained experts will remove your old tub and install your new American Standard walk-in tub quickly—often within less than one day. American Standard tubs are designed for easy installation, durability, and minimum hassle. After your tub has been installed, the skilled installation team will walk you through all of the features of your new tub and ensure that everything is operating correctly.

American Standard Visit Site
Warranty
American Standard offers one of the most comprehensive warranties in the industry, including a lifetime limited warranty on walk-in tub, installation, and labor. The company also offers exceptional customer service, with multiple avenues to get answers or request assistance.
Summary
Accessible walk-in baths give individuals with impaired mobility a comfortable, safe, and luxurious experience. American Standard carries a diverse selection of walk-in tubs with a variety of safety and wellness options for any need or budget. With expert installation, a lifetime warranty, and responsive customer service, American Standard is a premium walk-in tub provider that puts the customer first.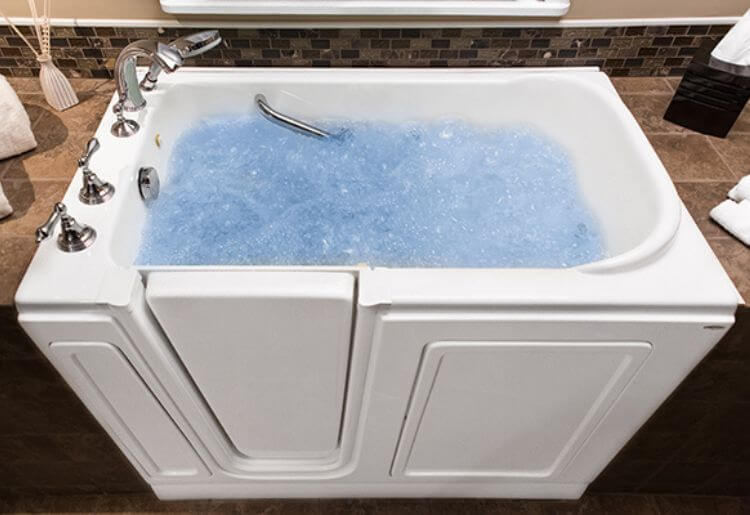 Sold and installed by Safety Tubs Company, LLC an affiliated company of American Standard Brands. Liberation by American Standard™ is a licensed brand and product of Safety Tubs Company, LLC. ©2023 AS America, Inc. Safety Tubs® is a registered trademark of AS America, Inc. Receive a free American Standard Cadet toilet with installation of a Liberation Walk-In Bath, Liberation Shower, or Deluxe Shower. Offer valid only while supplies last. Limit one per household. Must be first time purchaser. Financing subject to third party credit approval. Some financing options cannot be combined with other offers and may require minimum monthly payments. State/Local Licenses or Registration: AR: 0344500716; AZ: 298339; CA: CSLB B982796; City of Denver CO: 244726; CT: HIC.060365; FL: CGC1521836; IA: C124385; ID: RCE-39433; LA: 556881; MA: 178962; MI: 2102207900; MN: BC693327; NE: Reg. 45758; NJ: HIC 13VH07702200; NYC: HIC 2022748-DCA; OR: 206553; PA: PA103639; TN: 7899; UT: 9182566-5501; VA: 2705156343; WA: SAFETTC867LP; WI: 1313129; AL:24641; MT:220207; MS:R17858; ND:53915; WVA: WV54341; SC:G119163; MD:133010; NM:388077; NV B2-0086966; Safety Tubs Co.LLC does not sell in these counties: Nassau NY, Westchester NY, Putnam NY, Rockland NY, Suffolk NY.
* 12-month Financing Details: Subject to credit approval. Prior sales excluded. A minimum purchase of $10,000.00 is required. Terms and Conditions apply. No interest will be assessed on the promotional purchase if you pay the promotional purchase in full within 12 months from the purchase date. An interest rate of 17.99% will be charged to your account for 84 months for any balance that remains if the promotional purchase is not paid in full within 12 months. Customer must pay applicable sales tax. Not valid with any other offer or promotion. See the Design Consultant for details. Other restrictions apply. We reserve the right to discontinue or alter the terms without notice. Offer valid thru March 31, 2023.
** Installation Promo: 50% off installation is equal to 10% off of the net total project price. Discount applied at time of purchase. Receive free toilet with full installation of eligible purchase. Terms and Conditions apply. We reserve the right to discontinue or alter the terms without notice. Offer valid thru March 31, 2023.