However, finding a responsible vendor or walk-in tubs installation contractor is easier said than done. There are plenty of shady characters out there who try to upsell customers on walk-in tub features they have no use for or rebrand cheaper tub models while slapping on an inflated price tag.
To help you navigate the complexities of hiring a trustworthy, legitimate walk-in tub professional, we've put together this comprehensive guide. By paying attention to the indicators listed below, you'll be able to work out whether a walk-in tub contractor is legitimate or if you would be better off looking elsewhere.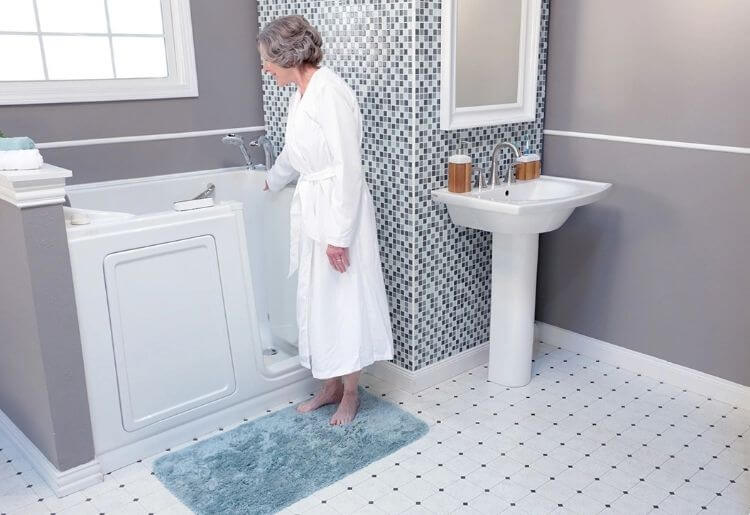 Check Out Licenses and Certifications
As a tradesperson, a walk-in tub installer will likely need to be certified by a state license board to operate legitimately in your area. Regulations obviously differ regionally, but verifying that a specialist is properly licensed is an important thing to do before signing a contract for an expensive tub installation.
Working with an unlicensed provider opens you up to all sorts of risks should something go wrong while installing your tub. For example, if you aren't satisfied with the quality of the work done, it will be far harder to get your money back from an unlicensed business and there might not be any regulatory body to submit a formal complaint to.
Of course, it's just as important to find out about the certifications of the tub being installed as it is to know that the installer is properly licensed for the work they're doing. There are plenty of poorly-made walk-in tubs out there that don't meet American product quality standards. If you wind up with one of these, you may experience leaky seals and have to spend hundreds of dollars on repairs down the line. Even worse, a low budget tub could become a safety hazard if the user is unable to open the tub door after use.
Be Cynical About "Made in the USA" Claims
It's important to do your homework when it comes to tub certifications. A "Made in America" badge might just mean that the product is assembled in the US, not that it actually meets strict health and safety standards for the North American market. For peace of mind, ask any specialist you consider hiring for paperwork showing that their products hold UL or UPC regulations.
Avoid Tub Specialists Who Oversell Unnecessary Add-ons
Walk-in tubs are designed specifically for a vulnerable demographic and this, unfortunately, means that they are a great opportunity for aggressive sellers looking to cash in. The most common way that non-legit sellers try to make a fast buck while vending walk-in tubs is to push customers into buying upgrades they don't need.
For most, almost all the value of a walk-in tub is found in the fact that they make entering and exiting easy even with limited mobility. Basic walk-in tubs cost around $2,000 and facilitate access with grippy surfaces, handrails, and accessible fixtures.
However, with extras like water and air jets, fancy controls, and multiple drains, it's easy to push the cost of a walk-in tub to $6,000 and beyond. If you're looking for an affordable and accessible walk-in tub, you can easily make do without these extras. Stay well clear of any specialist who tries to get you to purchase a high-end tub with additional features and ignores your requests for a more budget-friendly model. Anyone who attempts to oversell you during the model selection process might also upcharge you for unnecessary installation procedures.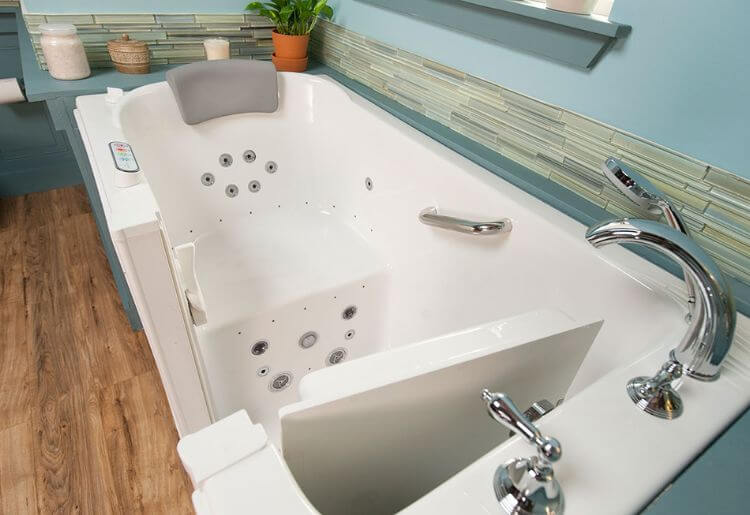 Explore Previous Customer Reviews and Referrals
Review aggregation websites mean the internet is an invaluable tool for doing a thorough background check on walk-in tub specialists. Be sure to read any reviews from previous customers carefully to see if they were satisfied with the quality of their tub and how their installation was handled.
With time, manufacturing or installation defects will become more apparent. Because of this, the most informative reviews to look out for are often those posted by customers who bought their tubs months or even years prior to posting.
Of course, almost anyone can go online and write a review for a walk-in tub specialist even if they haven't bought from them. To avoid being fooled by fake recommendations, be on your guard for write-ups that lack detail. Also, consider sticking to sites like the Better Business Bureau (the BBB) where reviews are monitored closely to make sure they're legitimate.
If you can't find any reviews online, a good alternative is to ask to be referred to a past customer the walk-in tub installation specialist has worked with. During your conversation, you'll be able to get the same kind of information you would get from an online review.
Ask What Warranties Are Offered
Purchasing a walk-in tub is a major expense and so you should make sure that your supplier offers an appropriately comprehensive warranty. A walk-in tub provider that doesn't give any kind of coverage is certainly one to avoid.
Most regular bathtubs come with a manufacturer warranty for at least a year, but because walk-in tubs are significantly more complicated, you should look for three-year coverage at least. Top-tier brands will often provide a lifetime guarantee on door seals but these can often be voided if the tub isn't installed by a certified specialist. Before putting your money down, consider contacting the manufacturer directly to double-check that the specialist you've picked out holds the appropriate status.
A Final Word
For people with limited mobility, walk-in bathtubs can make a world of difference, allowing users to take long, relaxing soaks without the discomfort of a tall tub barrier. But while walk-in tubs are a great innovation, the same can't be said of all the specialists working with them. Before committing to a walk-in tub purchase, be sure to follow the advice laid out above to avoid making a poor investment.
Finding the right walk-in tub specialist is easyAmerican Standard focuses on making life safer and healthier by improving your quality of life with their walk-in tubs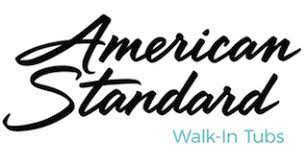 Visit Site