In a Nutshell
TeamViewer is one of the best known remote access tools with cross-platform solutions for both private customers and MSPs and technical support teams. Its consumer client features unattended access support and full keyboard and mouse control. Its premium product includes a VPN channel. TeamViewer is a robust and scalable remote access tool.
pros
Cross platform client including Linux GUI
Premium offering has dedicated VPN channel
Separate IoT and AR targeted products
cons
Relatively expensive
Some apps only suitable for experts
TeamViewer at a Glance
Personal use and use by IT professionals
2048 RSA private/public key exchange and AES
(256-bit) session encryption
What Services and Features Does Teamviewer Offer
Teamviewer offers a variety of different remote access products targeted at different customers and use-cases.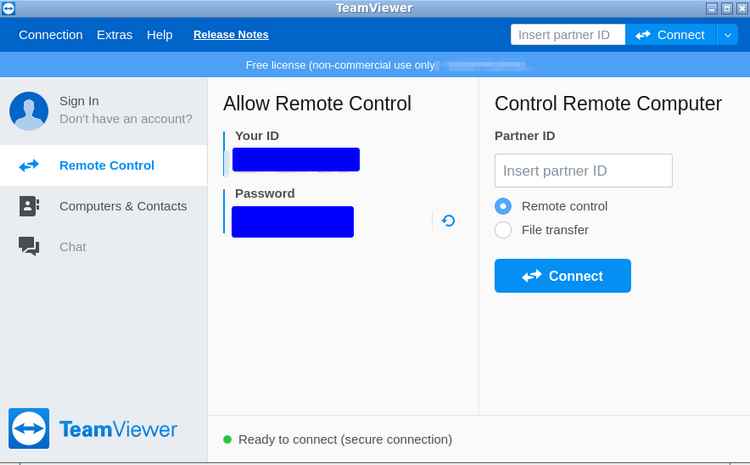 TeamViewer Personal
Teamviewer's flagship product is its consumer remote connection device. The remote access tool works with Windows, MacOS, Android, iOS and Linux. The consumer connection tool can be used both by individual users who need to access their own machines as well as by managed support teams who need to troubleshoot problems remotely for end-users
Its features include:
Full Remote Device Control
Teamviewer allows users to remotely take over control of a device including the keyboard and mouse in order to take actions on the endpoint being controlled. All those who require support need, in order to get Teamviewer to work, is to provide their ID and session password to those on the other end. The tool also supports real time chat and file transfer
Unattended Access
Teamviewer is ideal for use even by users who just want to control their various computers remotely. For instance, many office workers will install Teamviewer on their work computer so that they can access the files and screens of their work PC without being physically present. In order to allow this to work, users just need to enable a password for unattended access. Once this setting has been configured, users are able to connect to their remote machines whenever they are powered on.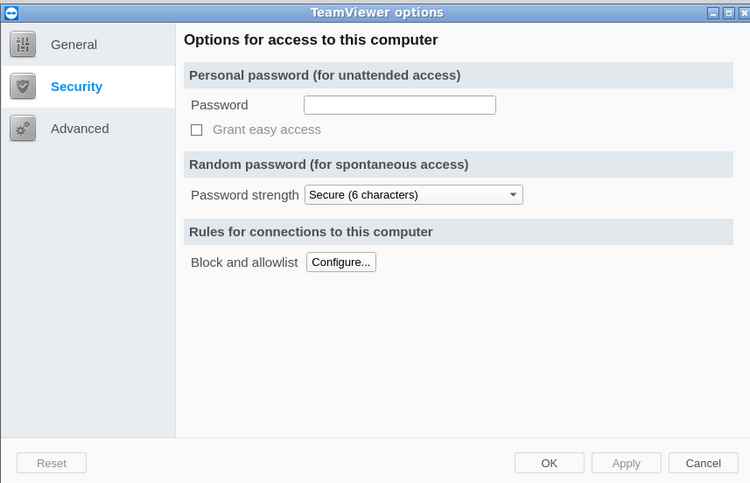 Trusted Device Management
Using Teamviewer, users can associate devices with their account. Once they have done so, connecting to them becomes as easy as clicking on an icon and initiating a connection—and then confirming on the other side (if unattended access isn't configured). Teamviewer can be used to connect between 2 computers with different operating systems. For instance, a Linux desktop can connect to an Android phone so long as the latter has the Quick Support app installed.
Multimonitor and 4K Support
Teamviewer supports multimonitor support. If the connecting device has multiple monitors connected, then Teamviewer can detect the connected displays and toggle between the monitor to display from the connecting terminal. Additionally, Teamviewer supports access to 4K / ultra high definition computers. Screen resolution is automatically scaled down to support the connecting device's output interface.
TeamViewer also produces:
TeamViewer Tensor: This enterprise remote support and access tool can be deployed and scaled in hours and supports single sign on security as well as bring your own device (BYOD) and comprehensive logging. It's suitable for deployment in large enterprise networks with federated access and policy controls.
Teamviewer Remote Management: This remote monitoring tool is designed for use by IT departments that need to monitor, track and patch a wide suite of endpoints and cloud applications. It supports asset tracking and management as well as backup and web monitoring.
Servicecamp: Customers looking at using TeamViewer to provide remote support to clients may wish to use Servicecamp, which is TeamViewer's integrated support desk management and ticket tracking application.
Teamviewer IoT: Teamviewer also produces a remote access tool designed to run on top of remote IoT endpoints. This product offering supports remote alarming and is intended for use in Industry 4.0 and other IoT use-cases.
Teamviewer Pilot: With Teamviewer Pilot, support personnel can overlay annotations on top of a video feed and have them virtually adhere to those real-life objects. Augmented reality (AR) makes it easy to convey to users what steps they need to take to resolve an issue.
Prices, Plans and Value for Money
Although Teamviewer provides a free version for personal use, a premium subscription to Teamviewer provides users with Business, Premium, or Corporate licenses to access more managed devices and to use the platform with commercial endpoints. The right license for the business depends upon the number of managed devices required and whether third party integrations will be needed. Additionally only the Corporate license supports mass deployment and device access reporting.
Billed annually
Ease of Use and Setup
Setting up Teamviewer remote access is a straightforward process—although the company has quite a number of different clients and apps depending on what operating systems users need to connect to.
To use the device on Linux, for instance, users need to create an account and then associate the computer with it. Remote access can be obtained by providing the ID and password to a support person. Alternatively, users can associate various computers to their account and easily initiate connections between them by clicking on the endpoint and granting permission. Configuring unattended access further speeds up the process.
Teamviewer Security
All Teamviewer connections are secured using an RSA public/private key exchange. The encryption used is 256 bit AES. Users therefore do not have to worry that by allowing remote access to their computers that the contents of their computers, and what's being displayed on their screens, could be intercepted and viewed by hackers. Rather, the content travels through the internet in an end-to-end encrypted tunnel.
Teamviewer Performance
In general, Teamviewer offers speedy connection performance. The latency introduced by the program itself should be minimal. Naturally, however, if users are connecting to computers with a slow internet connection speed then the speed of the connection being streamed across the internet is being slowed down. Therefore it is advisable that users that need support have a strong and stable connection.
Teamviewer Customer Service
Teamviewer provides a comprehensive customer support experience for those that require help. For one, the company operates a worldwide network of toll free contact numbers for those that require support. Telephone support is available on all 3 paid tiers of the main solution. Additionally, customers can submit a ticket in order to receive personalized support. Finally, Teamviewer has a comprehensive online knowledge base as well as an active community forum.
At the time of writing, for instance, the main TeamViewer topic on the knowledge base had more than 14,000 active topics.
What People Say About Teamviewer
"TeamViewer ensures a smooth and efficient connection, shortens the time for troubleshooting, saves travel costs, and improves customer satisfaction."
He Ying, Director of CT Product Support Team, Technical Support Center, H3C
"With TeamViewer IoT we can detect impending downtimes and inform the customer before he even notices anything – an enormous added value for the customers as well as for ourselves."
Viktor Grauer, Member of the Executive Board, KELCH GmbH
"TeamViewer has sped up the response time to support tickets, which has improved the relationship between the IT department and its customers"
Brian Wisneski, Tuscola Intermediate School District
FAQs
Does Teamviewer have a Linux app?
Yes, there's a fully functional GUI for Linux.
Does Teamviewer have a client for routers?
No, Teamviewer doesn't have a client designed to run on Router firmware. However, users can troubleshoot router settings by doing so from their computer and then connecting in via Teamviewer.
What platforms are there Teamviewer apps for?
Windows, Mac, Linux, Chrome OS, Raspberry Pi, Android, and iOS
Bottom Line
Teamviewer is a capable and powerful remote access tool that has scaled out its offering to embrace augmented reality (AR) and the IoT. For both consumers and support teams, it contains more than enough functionality to connect to managed endpoints whether a human is available at the other end or not.