In a Nutshell
Splashtop is a one-stop shop for remote desktop software. The company offers a simple remote desktop interface for individuals and business users as well as a helpdesk interface that's tailored toward IT professionals. Splashtop allows you to connect across nearly any device and protects your sessions with strong security features. On top of all that, Splashtop is impressively affordable.
pros
Inexpensive pricing for individual users
Distinct software for individuals and IT professionals
Access a desktop from your mobile device
cons
Chat features cost extra
No free tier available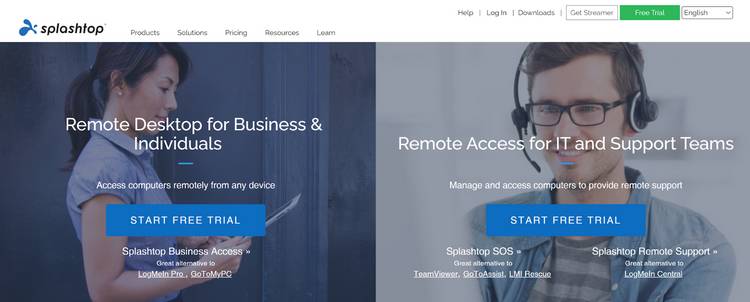 Splashtop at a Glance
Individuals, IT professionals, business teams
Starting from $5/user/month for individuals or $17/user/month for IT technicians
256-bit AES encryption, 2-factor authentication
What Services and Features Does Splashtop Offer
Splashtop offers several different software packages that cater to different types of users. For individuals, the interface is simple and enables you to connect to a remote desktop in just a few clicks. You get access to a file transfer tool, remote printing, and an audio chat tool. Business teams also get access to advanced features like wake-on-LAN and text chat.
For IT professionals, Splashtop offers a robust helpdesk platform. The software enables technicians to connect remotely to unattended computers within your network. Plus, multiple technicians can remotely access a single computer at the same time and network administrators can control user access privileges to manage network security.
Regardless of what Splashtop plan you choose, the software works across a wide range of devices. You can remotely connect to or from an Android or iOS mobile device using the Splashtop app, for example. All plans also include session logging, which is typically reserved for enterprise applications.
Prices, Plans and Value for Money
Splashtop offers a wide variety of plans, enabling you to choose the option that's most suitable for your needs. In general, Splashtop's pricing is very competitive. Just note that all plans are billed annually—there is no option to pay month-to-month.
Individuals will be most interested in the Business Access plans, which start at $60 per year for a single user. If you have a small business team, the Business Access Pro plan costs $99 per user per year and offers features like chat, multiple simultaneous connections, and wake-on-LAN.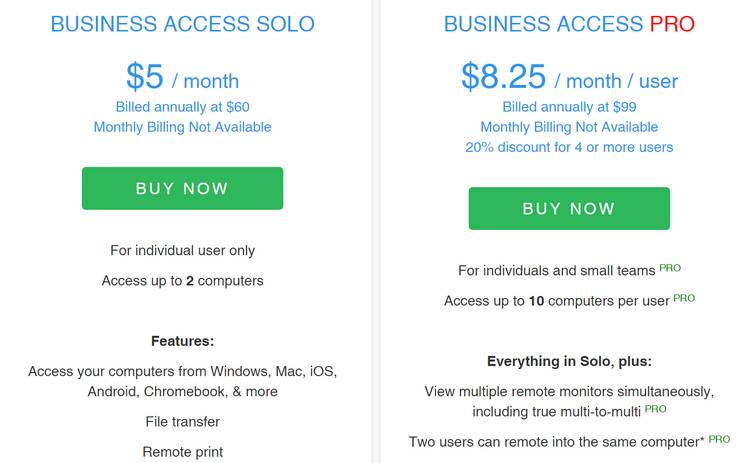 IT technicians have 2 options. The Remote Support Plus plan allows unattended access for up to 25 computers for $299 per year, with an unlimited number of technician licenses. Alternatively, the SOS plan starts at $199 per technician per year and supports attended access for an unlimited number of computers. Splashtop offers additional SOS plans that include limited unattended access.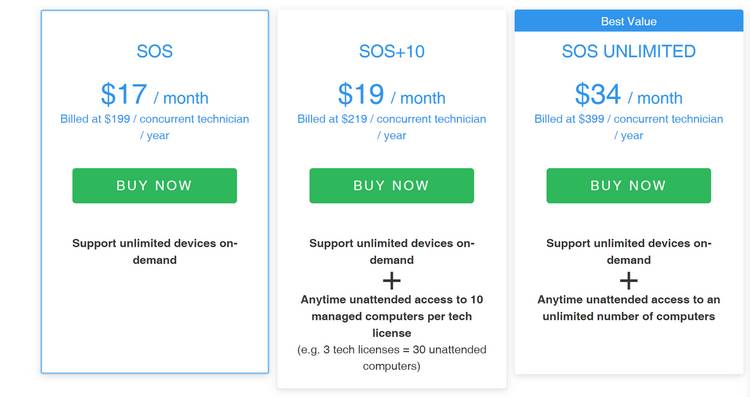 Ease of Use and Setup
Setting up Splashtop for remote access across an entire network of computers is surprisingly easy. Just install the Splashtop control app on the device you want to use for remote control and download the Splashtop streamer app on the devices for remote access. You can access all your connections through your Splashtop account, with no need for additional passwords.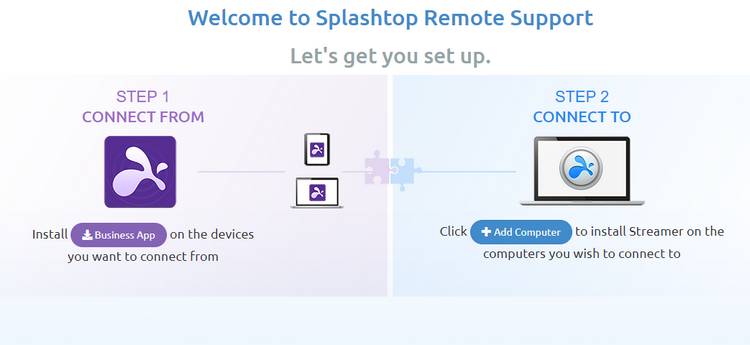 Individual plans and some IT plans offer unattended access, in which case the remote session starts immediately. For IT plans that require attended access, there must be someone at the remote computer to accept the remote session.
Splashtop Security
Splashtop protects all remote sessions with 256-bit AES encryption and transfer-layer security (TLS). All devices must be authenticated prior to connection, and you can further protect your account by enabling 2-factor authentication. Splashtop routes connections through an Amazon Web Services server cloud, which offers built-in firewalls and protection against distributed denial-of-service attacks.
Splashtop Performance
Splashtop has a reputation for strong performance, and it lived up to that reputation in testing. When connecting from an Android smartphone to a Windows desktop, there was almost no visible lag. File transfers between the connected devices were also relatively quick.
Splashtop Customer Service
You can get in touch with Splashtop's customer support team by phone, live chat, or email ticket. We found that the wait for help during the business week can be more than 30 minutes by live chat, which is less than ideal if you run into an issue with the software.
Thankfully, Splashtop's website has a robust and well-organized knowledge base. You can also try the community forum for help if you can't find what you need in the tutorial documents.
What People Say About Splashtop
"This is an absolutely genuine and reliable provider. I have used Splashtop for several years. As a small, independent IT provider, this product fits my budget, meets all of my remote support needs and satisfies my clients. The support staff takes security very seriously. I don't hesitate in recommending Splashtop as an in-house or remote support solution."—Barham Technologies
"I was looking for a reasonably priced remote support solution that also enabled clients to use the same software to access their computers. Once COVID-19 hit, this software enabled me to access smaller clients that did not have any remote access abilities to continue to provide support."—The Project Station, LLC
"I moved our company from LogMeIn Central to Splashtop and couldn't be happier. Super easy to set up, deploy, and maintain. Cost was a driving factor and it fit well into my budgetary guidelines. It's very affordable in the realm of remote support tools.—Devenish
FAQs
Does Splashtop offer a free trial?
Yes, Splashtop offers a 7-day free trial before you must sign up for an annual subscription.
Can Splashtop wake up a sleeping computer?
Splashtop offers wake-on-LAN with the Business Access Pro plan for individuals or for Remote Support and SOS plans.
Is support free with Splashtop?
Yes, all Splashtop plans include unlimited support by phone, live chat, and email ticket.
Bottom Line
Splashtop is a comprehensive remote desktop software with offerings for individuals, business teams, and IT professionals. The plans are very reasonably priced and you can access any of your desktop or mobile devices using this software. Better yet, Splashtop takes security and customer service seriously, so you can feel confident about using this software.