In a Nutshell
With millions of users, LogMeIn is one of the best-known producers of remote access software today. The LogMeIn Rescue package is the company's solution for IT technicians and help-desk services. As the LogMeIn Rescue review below demonstrates, for anyone searching for an easy way to make technical assistance available to customers or employees, this platform is certainly worth a look.
pros
All major desktop platforms supported
Customize user experience through branding
Solve problems for users seamlessly
cons
Expensive subscriptions
Permissions system may confuse users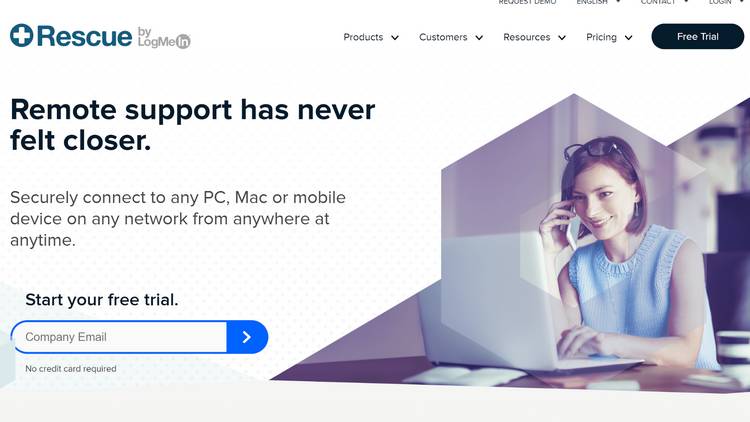 LogMeIn Rescue at a Glance
Large enterprises, IT support teams and help desk services
Base rate of $108.25 per month
Single Sign-On (SSO), 2-factor authentication, PIN code validation
What Services and Features Does LogMeIn Rescue Offer
At the core of the Rescue by LogMeIn package is a remote desktop device support service for macOS and Windows. IT teams can use this to access a device within approximately 20 seconds, even if it doesn't have any pre-installed software. Using the remote device support service, your team will be able to directly manage a remote device or take control of it using a frequent task script.
Rescue by LogMeIn is packed full of features to streamline the remote access process for support personnel. For example, you can run up to 10 access sessions at once and toggle between them while your support processes run. Remote diagnostic and unattended access features are also thrown in, meaning you can quickly figure out what's going on with a device and address issues without waiting for the user to be available.
The LogMeIn Rescue + Mobile package is an optional extra that extends the platform's features to mobile devices running Android and iOS. Rescue + Mobile offers key device diagnostics and a series of 1-click scripts to address common issues.
Prices, Plans and Value for Money
LogMeIn Rescue has some of the most advanced features of any remote access support service on the market today. Unfortunately, that means it comes with a high price tag that makes the service inaccessible to all but large enterprise businesses.
The standard Rescue Remote Support package costs $108.25 per month which is billed as $1,299 annually. To add support for mobile devices, you'll need to pay an additional $37.50 per month, bringing the total cost to $1,749 per year.
If you're hesitant to commit to such a large expense immediately, you can sign up for a 2-week free trial instead.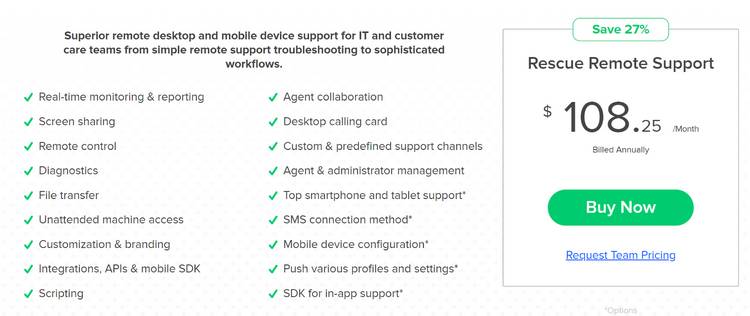 In many cases, LogMeIn will adapt the Rescue system to your specific needs and will provide a personalized price based on your unique use-case. As a result, for a large team or to find out about pricing for the Rescue Live Lens and Rescue Live Guide standalone packages, you'll need to request a quote.
Ease of Use and Setup
Granting access to an IT professional using LogMeIn rescue is extremely easy. There are numerous connection options and most of them only take a minute or 2 to carry out. For instance, if a user is requesting support on a Windows PC and using a Firefox web browser, all they need to do is to navigate to LogMeIn123.com, enter a unique code, and then download and run an executable file.
LogMeIn Rescue also keeps things straightforward and simple from the perspective of a technician too. A great example of this is that when an accessed device requires a reboot, which is almost always necessary at some point during a support session, Rescue by LogMeIn can keep the technician connected through a Reboot & Reconnect tool.
LogMeIn Rescue Security
To keep the information of your users and tech team secure, Rescue by LogMeIn encrypts all data using an AES-256-bit encryption protocol plus TLS (transport layer security) 1.2.
LogMeIn Rescue also employs an array of other security measures, such as advanced permissions control, to protect users. Additionally, 2-step verification through the LastPass Authenticator app and Single Sign-On logins are supported to verify user identity.
LogMeIn Rescue Performance
Customers report that, under most circumstances, LogMeIn Rescue connects quickly to remote access devices and streams display minimal lag. The platform performs well even when streaming high-resolution displays to a remote technician.
LogMeIn Rescue Customer Service
If you run into trouble with LogMeIn Rescue, you'll normally be able to solve your problem by having a look through the LogMeIn support knowledge base. The support site is full of informative articles, and you can even attend a free live training session to get better acquainted with the more advanced elements of the Rescue system.
It's possible to get in touch with a LogMeIn sales agent directly at 900 905-409, but technical queries should be directed to 1-866-478-1805. If you prefer, live chat service is available too.
What People Say About LogMeIn Rescue
"LogMeIn Rescue has become an invaluable tool in our support operations. We include a support button directly in our POS system, so shops can directly connect and have issues resolved quickly." - Matt Langley
"IT is always an expense, but what we have saved with Rescue goes back to granting wishes." - Daniel Rivera
"Like with any other service, you want something that's smooth, easy to use, and less of an uplift for the end user. That's the level of support Rescue lets us provide." - Michael O'Leary
FAQ
Is LogMeIn secure?
LogMeIn Rescue makes use of encryption, active defense protocols, and 2-factor authentication, making for a highly secure platform.
Is there a LogMeIn Rescue free trial?
Yes, you can test the service for 2 weeks without paying.
Does LogMeIn Rescue work on mobiles?
It does, provided you purchase the Mobile Rescue add-on package.
Bottom Line
If you're looking for a premium remote access system for your technical support team, you'll be hard-pressed to find a better solution than LogMeIn Rescue. This service has been designed from the ground up to make life easy for IT professionals. It keeps things efficient with multiple session management, mobile device support, and a handy live chat tool.