In a Nutshell
Central by LogMeIn can be thought of as a comprehensive remote access solution that IT teams can use to manage, monitor, and enhance tech infrastructure. What's more, with LogMeIn Central, you can permit trusted employees to use your computers via an encrypted connection. In this LogMeIn Central review, we'll tell you everything you need to know about this popular remote access platform.
pros
Rapid installation and deployment
Automation of complex IT tasks
Remote endpoint management
cons
Could be cheaper
Overkill for simple remote desktop tasks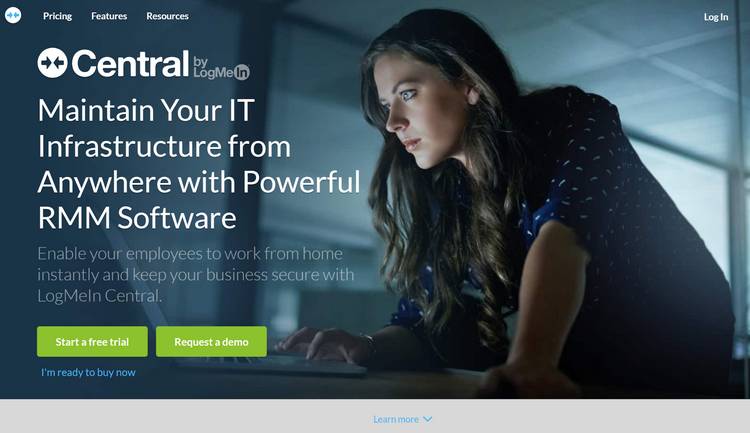 LogMeIn Central at a Glance
Large organizations with complex infrastructure management needs
$80 per month for 25 computers
256-bit SSL encryption, two-factor authentication
What Services and Features Does LogMeIn Central Offer
You can use LogMeIn Central to allow your employees to work from home without compromising on your company's security. LogMeIn Central is a remote access solution, but it's also so much more than that.
This platform is effectively an endpoint management tool for IT technicians with a comprehensive suite of Remote Management and Monitoring (RMM) features. You can, for example, use LogMeIn Central to administer user hierarchies, groups, and permissions, so every worker can get to the resources they need.
To prevent user workflow from being interrupted, LogMeIn Central supports background access. This means you can perform vital maintenance tasks or run antivirus operations without the client computer's functionality being impaired.
Besides IT teams, managed service providers are sure to appreciate LogMeIn Central's ability to automate software updates and remotely control computers. Businesses running kiosks, point-of-service networks, and digital signage will also find that the platform's straightforward and powerful remote management tools fulfill their needs.
Prices, Plans, and Value for Money
LogMeIn Central might have some killer features, but they don't come cheap. Subscription costs begin at $80 per month for 25 computers, which is billed annually as $960. For a larger network of 50 computers, you'll pay $103 per month, and packages max out at 250 devices.
If you have a network of more than 250 computers, you can still use LogMeIn Central, but you'll have to request a quote.
The base plan nets you the majority of the platform's most important features such as HD remote access, desktop sharing, and file transfers. However, some key features such as advanced scripting and LogMeIn antivirus require you to purchase an add-on package.
The security and automation packages both cost an additional $58 per month while the LogMeIn Central Insight add-on, which grants access to asset management, dashboard, and alerting tools, costs $55 per month.

Ease of Use and Setup
Managing a device remotely or administering a system remotely through LogMeIn Central is easy to do thanks to a clean, intuitive user interface. Here, computers are displayed as groups and you can view your latest security alerts and performance reports.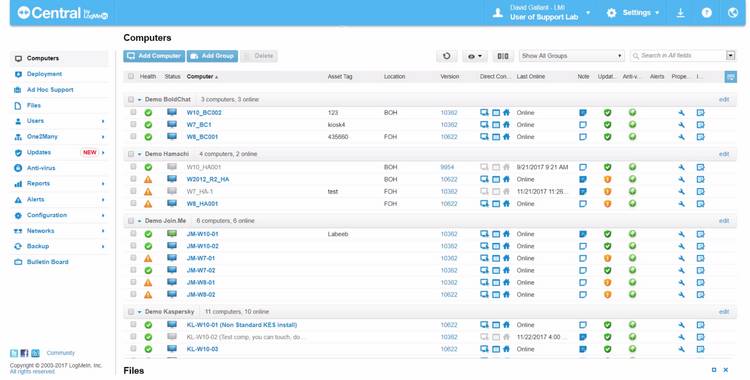 Installing the LogMeIn Central host software only takes a few moments once you've read through the installation guide and have ensured that your computer meets the system requirements. Joining the host via phone, computer, or tablet client device is even easier. Several connection methods are available, including desktop shortcuts, web portals, and apps.
LogMeIn Central Security
To ensure no intruders gain access to your system or information, LogMeIn Central harnesses 256-bit SSL encryption. You can also set up individual account permissions along with 2-factor authentication so that users can only access the resources they actually need.
Even better, LogMeIn Central can enhance the overall security of your IT infrastructure. The platform comes with a built-in antivirus management tool that scans, evaluates, and eradicates threats remotely. It also includes a patch management function so you can deal with system vulnerabilities as soon as they are recognized.
LogMeIn Central Performance
The LogMeIn Central platform is a top performer, and the interface remains responsive even when connected to hundreds of computers and system end-points. Users report minimal amounts of lag and clear high-definition desktop streaming. However, one weak performance point uncovered in our LogMeIn Central review is that the program handles remote multi-monitor access in a somewhat confusing manner.
LogMeIn Rescue Customer Service
Should you encounter a problem with LogMeIn Central, you'll find that there are plenty of helpful resources to make use of in the LogMeIn Central knowledge base. Guides on how to connect client and host computers are detailed but still easy to scan quickly if you're in need of answers in a hurry.
Want to get in touch with a LogMeIn representative directly? Then you can either launch a live chat query or call the company's toll-free support number. International users will be glad to hear that LogMeIn staffs offices around the world, so you may wish to call your local LogMeIn office instead.
What People Say About LogMeIn Central
"It's pretty simple: when a cafe's point-of-sale system isn't up, the cafe's down. By keeping our POS up and running, Central is helping us make money." - Chris Incorvati
"Having a view into the status of our software, especially AV, from Central tells us exactly what we need to know." - Daniel Spees
"With Central, we're able to be proactive and can often get to a problem before the customer even knows there is one." - Jonathan Bengston
FAQ
Can LogMeIn Central improve my system's security?
Yes, through antivirus and patch management for remote devices, you can use LogMeIn Central to keep your network free from vulnerabilities and malicious software.
Can I get a free trial of LogMeIn Central?
A 2-week free trial is on offer with no credit card required.
How can LogMeIn Central boost my IT efficiency?
Automating routine workflows in LogMeIn Central can free up your time to work on more serious or challenging IT issues.
Bottom Line
Searching for a 1-stop-shop for remote management, monitoring, and access? Then you'll be in the right place with LogMeIn Central. This secure system makes it amazingly easy to identify any infrastructure issues before they impact your employees or clients. LogMeIn Central will help you take a proactive approach to security and vulnerabilities through a fully-fledged antivirus and patch management system.