In a Nutshell
ConnectWise offers a suite of tools for remote IT management, including ConnectWise Control for remote desktop access. Control can be used as a helpdesk software or as a platform for unsupervised remote access, and is geared for managing enterprise-scale systems. Remote users can access a command line, run updates in the system background, and view detailed reports on remote session activity.
pros
Supports remote access in background
Plans for thousands of remote users
Includes user access management
cons
No plans for less than 25 users
Helpdesk use is expensive
ConnectWise at a Glance
Access from $30 per month
Support from $19 per month
What Services and Features Does ConnectWise Offer
ConnectWise offers several products for remotely managing your company's computer network. Control is the company's remote access solution, which is further split into Access and Support offerings.
Access is best suited for giving your workforce and your IT team remote desktop access to an unlimited number of computers. With Control Access, individual users can access their desktop from any device and take advantage of seamless file transfer and remote printing. Access also gives IT teams unlimited access to network computers. Importantly, technicians can remotely log into a computer and access a command line without interrupting an employee working on that same computer.
Support is a helpdesk software that is licensed to a single technician rather than to whole business teams. It offers supervised remote access for an unlimited number of computers as well as unsupervised access for a limited number of computers. Control Support also includes remote meeting functionality with no limit to how many participants can join.
Prices, Plans and Value for Money
Control Access pricing varies based on how many user accounts you need to create. Plan options start at $30 per month (paid annually) for up to 25 users and range up to $1,250 per month for 2,500 users. All users can access an unlimited number of remote computers.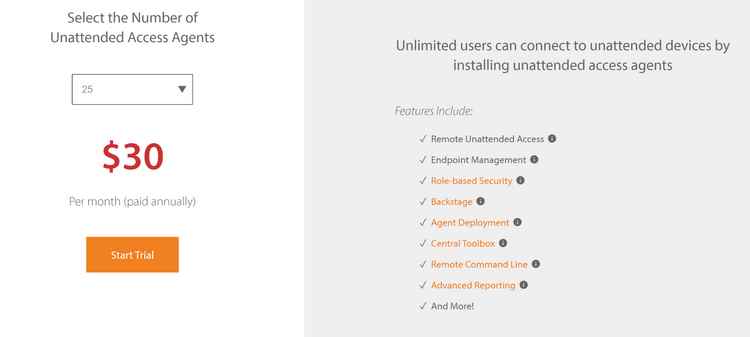 Control Support pricing is for a single technician license. The One plan costs $19 per month and limits you to a single concurrent session and 10 unsupervised remote computers (you can access an unlimited number of supervised computers). The Standard plan costs $35 per month and offers up to 3 concurrent sessions and an unlimited number of unsupervised connections. The Premium plan costs $45 per month and allows up to 10 concurrent sessions.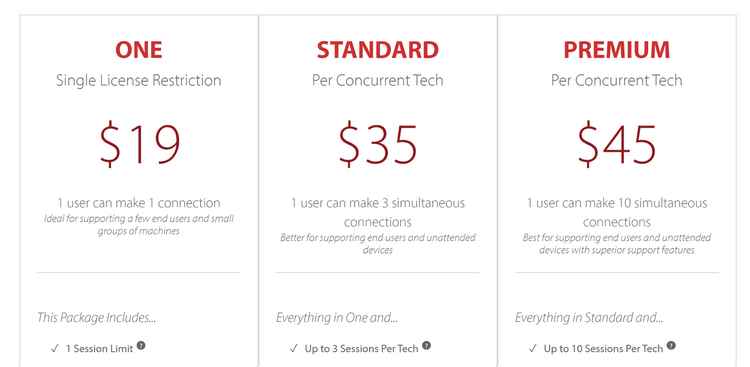 You can test out ConnectWise Control Access or Support for free for up to 14 days.
Ease of Use and Setup
Initially setting up ConnectWise can be somewhat challenging. To set up a work computer for remote access, an individual user must have access to both the remote and host computers at the same time. That makes it hard to set up remote access from home, for example, since you must have an IT admin log into the remote computer first in order to approve the connection.
Creating a supervised remote session can also be confusing. A technician can create a shared session that individuals can access through the ConnectWise website. However, the individual must still set permissions for the session and the technician may have to manage meeting IDs and passwords for multiple concurrent sessions. The whole process takes some technical savvy on the part of the individual who needs tech support in the first place.
ConnectWise Security
One of the best things about ConnectWise for enterprise-scale businesses is that it's highly secure. All connections are protected by 256-bit AES security, and ConnectWise Control is self-hosted on your company's servers.
Even better, administrators can set user access roles to define what accounts can remote into a computer, what accounts get command line access, and what accounts can operate in the background of a desktop that's currently in use. So, it's possible to clearly distinguish between individual remote workers and IT technicians who need deeper system access.
ConnectWise Performance
ConnectWise Control's performance will depend to some extent on your company's server infrastructure since the software is self-hosted. However, Control has a reputation for being somewhat slow. We found that changes made on the host computer typically lagged actions on the control device by 1 to 2 seconds.
ConnectWise Customer Service
ConnectWise Control comes with support by phone, email, and live chat. Chat support is available 24/7, and the company has a ticket management system to make its customer service more transparent. ConnectWise also has an extremely detailed online knowledgebase and a highly active user forum.
What People Say About ConnectWise
"Using ConnectWise Control makes it easy for us to provide service to our clients without having to make a trip to their site. We can do things off-hours, when clients are not using their computers, thus limiting disruption to their workday" - Richard Hogan, Hogan's Systems Consulting
"ConnectWise Control shines as a dependable tool that just plain works. I have already highly recommended it to peers in the industry." - Andrew Haskell, Haskell Technology Solutions LLC
"ConnectWise Control is the easiest support option I've ever found for users to deal with. The messaging is great and it's low-resource." - Josh Ryan, Webs
FAQs
Can individuals use ConnectWise Control?
ConnectWise Control plans are designed for businesses and plans start at 25 users.
What does ConnectWise Control do?
ConnectWise Control is a software for remote computer access, particularly by IT technicians.
Does ConnectWise Control have a free trial?
You can try out ConnectWise Control for free for up to 14 days.
Bottom Line
ConnectWise Control is a very powerful remote desktop solution for medium- and large-sized businesses. The software is best suited for IT technicians who need remote access to a company-wide business network. However, it can also be used to set up a remote helpdesk or to enable individual employees to access their desktops remotely. ConnectWise Control isn't the simplest software to use, but it offers key features like command line access and user access management.