Nebula Visit Site
Overview
Nebula at a Glance
What is Nebula?
Nebula is an online psychic reading service with over 300 advisors and 30 million customers. Nebula offers love, tarot, past life, and fortune readings, as well as astrology guidance and mediumship. Readings are intended as a self-reflection tool and can help you gain clarity on your love life, career, and other problems.
Costing as little as $2 per minute, Nebula is one of the most cost-effective services on the market, so it's especially suitable for those on a budget. It is also handy for those who need immediate access to psychic services as there are always readers available.
Nebula features
A range of readings. These include love, tarot, fortune, and past-life readings.
Mediumship and astrology guidance. Nebula provides mediumship sessions to connect you with the spiritual realm. These are intended as self-reflection tools to help you navigate the ups and downs of life. It also offers astrology readings to help you gain insight into your life path, personality, and planetary transits.
Live 1-on-1 chats. Nebula offers readings and mediumship services through live 1-on-1 chats. However, it doesn't offer video or phone calls.
Mobile app. Nebula has a high-quality mobile app that offers daily tarot pulls, horoscopes, and lunar readings. You can also gain free access to simple zodiac compatibility ratings, a community forum, and yoga, numerology, and zodiac guides. However, more advanced features such as yearly horoscopes, in-depth compatibility tools, or access to psychic readers are only available through paid subscriptions.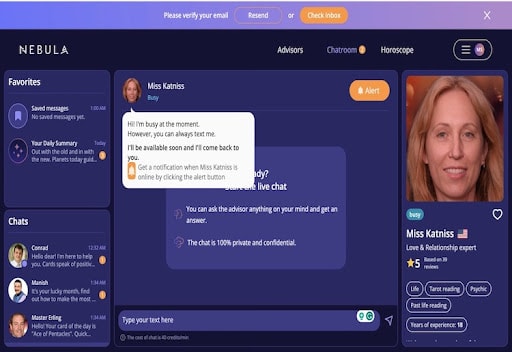 Is Nebula Safe and Reliable?
There are a number of reviews on Nebula's homepage, as well as icons highlighting that it has a 98.3% accuracy rating and 4.8 stars out of 5. These reviews come from Nebula's 30 million customers.
What I like about Nebula is that you can rate and review individual psychic readers, setting it apart from most other psychic reading services.
You can view each reader's mini-profile to see their profile picture, name, online status, experience, user rating, user reviews, years of experience, and number of consultations they've completed with Nebula. This level of detail will help you decide which user is right for you.
Nebula states their readers are thoroughly vetted and are re-certified annually. However, they don't state how they vet readers or what tests readers undertake.
How Nebula Works
Working with Nebula
Types of readings at Nebula
Nebula offers a range of different readings as self-reflection tools. These include:
Love readings
Mediumship
Tarot readings
Fortune telling
Past-life reading
Astrology support
You can see from a reader's profile exactly what area they specialize in for a personalized experience.
How to book a reading
Hover over the Psychics tab in the top middle of the homepage. From this, you click "All Psychics." Here, you can either search by category expertise or topic, or scroll down to see top-rated experts in different subject areas, such as top tarot readers or top love readers on Nebula.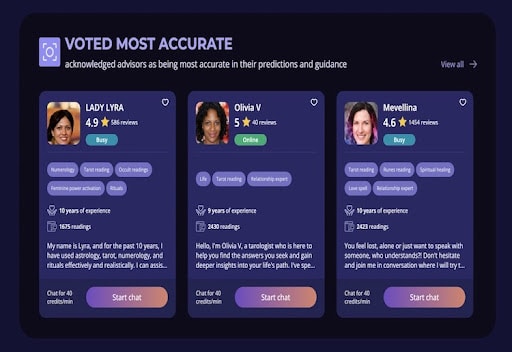 Once you've picked your reader, you're taken directly to a chat room. If the reader's unavailable, a notification will pop up telling you so. You have the option to send a message and wait for the reader to return or go back and pick another reader.
You'll need to top up with credits to speak to a reader. These translate to a payment of $2 per minute. However, some readers may offer the first three minutes for free or other sign-up deals so you can first check whether it's a good fit.
You can talk to your reader through the chat room and ask specific questions, seek guidance on a specific topic, or simply ask for clarity on a situation.
You can't prepay for a specific reading length, such as for 20 minutes. Instead, credits in your wallet are used up as you speak with your advisor. In addition, you can't pre-book a reader for a specific date and time. Rather, you need to wait until that time to find readers who are available or wait longer for your preferred reader to become available.
Once your reading is over, you can leave reviews and ratings for your reader. This will help other users gauge their skill level and expertise. You can "favorite" readers you work well with. However, you can't block those you don't get along with.
Nebula Customer Service
Nebula offers email customer support only. There are no live chat or calling options. However, it does have a thorough FAQ section with how-to guides for a variety of standard questions. These include how to change Nebula's language, how to cancel a subscription, and how to report inappropriate forum posts. You can also gain access to a Nebula tutorial through the FAQ section.
Nebula's customer service reps reply 24/7, even on weekends. Although there are no live chat or calling options, users can rest assured that their questions will be answered promptly.
Nebula offers blogs and expert guides in meditation, yoga, zodiac, and numerology exclusively through its mobile app. They're free to access and written by Nebula's team of experts.
How to get a refund from Nebula
Nebula offers a 100% money-back guarantee if you aren't satisfied with your reading. You'll need to fill in a form detailing why you're requesting a refund, and the team will assess it. All refunds are awarded on a case-by-case basis.
How to Cancel or Pause a Nebula Subscription
Android
Go to your Subscriptions section in the Google Play store. From here, you can select the app and cancel the subscription by clicking "Cancel subscription." There's no option to pause a subscription with Android devices.
iOS
To pause or cancel your Nebula subscription, you need to go through the App Store. Log into your account or click your profile picture. Go into the subscriptions tab and click the app's logo in your list of applications, then press "Cancel subscription" and "Confirm." There's no option to pause a subscription with iOS devices.
Is There a Nebula App?
Nebula offers a mobile app available on both Apple and Android devices. It's free to download and comes with basic features like a daily tarot pull, compatibility rating, lifestyle tips, and sun-sign horoscopes.
How does the Nebula app work?
The Nebula app offers all the same features as the website, plus more. Resources not on the website include tarot or palmistry reading guides, monthly and yearly horoscopes, compatibility ratings, and a forum to connect with like-minded users.
The app is free to download. However, you'll need to subscribe to access some of its more advanced features. You can also play a daily roulette game that gives access to prizes like discounted subscriptions and free reading minutes.
Nebula Pricing
How Much Does Nebula Cost?
You can subscribe to Nebula's app to gain access to members-only details like monthly horoscopes and palmistry lessons. You can buy a three-month subscription for $39.99, or a lifetime subscription for $49.99. There's also a three-day free trial, after which you can pay $8.49 for weekly access.
Nebula's psychic readings work on a token system whereby users need to purchase tokens which equate to reading minutes. You can buy a welcome pack of 100 credits for $2.99 instead of $19.99. Readers will then set individual prices for how much their service costs. For example, the costs range from 10 credits per minute up to 60 credits per minute.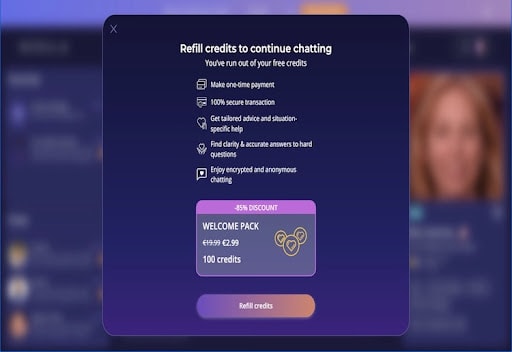 $2.99 for your first purchase of 100 credits
Nebula is one of the cheaper psychic reading services available, and the range of free content on its app makes it a competitive choice.
What can you do with Nebula for free?
Nebula offers free tarot pulls, daily horoscopes, lifestyle tips, and educational guides. Some paid tools are available for free if you watch a short video ad.
Nebula Alternatives
How Does Nebula Compare to Other Psychic Reading Services?
$2.99 for 100 credits instead of $19.99
$20 of credit if you sign up to the website and $1 per minute introductory price
$1 per minute for your first 30 minutes
Love readings
Mediumship
Tarot readings
Fortune telling
Past-life reading
Astrology support
Psychic readings
Horoscopes
Tarot readings
Life path readings and advice
Tarot readings
Psychic readings
Mediumship
Numerology readings
Dream analysis
Crystal psychics
Rune readings
Live astrology readings
Dream interpretation
Love readings
Angel cards
Past-life readings
Tarot readings
Psychic readings
Nebula vs. Keen.com
Nebula is considerably cheaper than Keen. However, the latter has been featured in more reputable publications, including Cosmopolitan, Women's Health, and Refinery29. On the other hand, Nebula offers a wider range of free resources on its app.
Nebula vs. California Psychics
California Psychics offers more services than Nebula. However, Nebula's services are cheaper, it provides a better introductory offer, and it has a more user-friendly app and website.
Nebula vs. Psychic Source
Psychic Source also has a wider range of features compared to Nebula. However, it doesn't beat Nebula on price, and the latter offers more free-to-use resources through its mobile app.

Nebula Visit Site
Is Nebula Worth It?
Nebula is one of the cheapest online psychic reading services currently available. However, this low price doesn't mean a low-quality service. Reviewers on its site award it a 98.3% accuracy rating and 4.8 stars out of 5.
Nebula stands out because of the range of free resources available on its app. I like the mix of lifestyle tips, tarot, horoscopes, compatibility ratings, and learning guides. Plus, the forum makes it easy to connect with like-minded people.