Ava Visit Site
Overview
Is Ava Legit?
Ava is solely responsible for performing all readings, and there are no other readers available on the site.
I found the welcome reading, Sensory Reading, and the final email, containing a teaser for the final Ancient Tarot of the Wise reading, to be driven by fear tactics to entice a purchase. For example, there was an energetic blockage that only Ava could remove.
There is no actively updated social media for Ava, nor a profile on Trustpilot or the Better Business Bureau. However, Scam Detector gave Ava a 47/100, which is a medium-low trustworthy rating.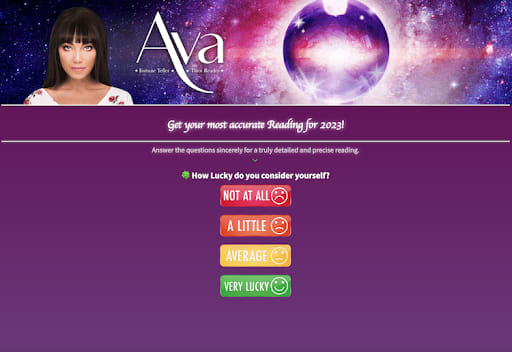 Ava Features and Tools

Free welcome reading, including a digital talisman to protect your aura.
All readings performed by Ava herself.
A Sensory Reading highlighting any energies present in your aura, details about your destiny, an angel message, lucky numbers, as well as key events to be aware of over the coming month.
Ancient Tarot of the Wise reading, highlighting in detail what your life could look like after your soul has been restored, your aura balanced, and energetic blockages cleared.
Free monthly personalized astrological report.
Free gift in the form of a protective trigram talisman to safeguard, secure, and shield you, your home, and your loved ones from negative forces.
The sacred seal of the first user of the Ancient Tarot of the Wise, designed to make it possible to solidify your power, wealth, success, and happiness.
A refund guarantee if you are not satisfied with your reading.
Working with Ava
In addition to the free welcome reading and Sensory Reading, you may purchase Ava's Ancient Tarot of the Wise reading, which comes with three free gifts (sent instantly after payment) for $49.99. To book a reading, follow the link in your final email. You will need to complete the billing information to process payment.
Please note that all of Ava's paid readings are performed via a personalized email report.
Should you want to know more about Ava, there is autobiographical information available detailing her gift, how it started, how it works, how she manages it, and her process of giving readings.
There is no direct way to contact Ava besides the contact form on the website.
How Ava Works
How to Get Started with Ava?
Getting started with Ava is simple. On the homepage, complete the sign-up form by providing your name, email, and birth date. A few hours later, you'll receive a free welcome reading. An hour after you receive your welcome reading, your free Sensory Reading will arrive.
Finally, after another hour, you'll receive a teaser to your Ancient Tarot of the Wise reading with a link to purchase the reading in full.
Aside from visiting the eShop to purchase a meditation, there is nothing to purchase on the site. Ava is dedicated to providing a quality experience without added sales pressure. If you want to purchase a paid reading after your series of free email readings, you'll need to follow the link in your final email.
At the bottom of the page where your reading is displayed, you will find a link to purchase a reading, but only click it when you're ready to purchase, as it is a one-time use link.
Accepted methods of payment include Visa, Mastercard, and American Express.
Help and Support
If you encounter an issue, your first line of support is the Contact page. Ava is partnered with Apps & Go Limited, which handles all customer service inquiries. Apps & Go Limited's customer service department will communicate with you via email and is trained to answer all of your questions.
There is no dedicated blog or FAQ page. However, you can find general terms and conditions of use by visiting the legal terms page of the website.
How to get a refund from Ava
Ava offers a 30-day, 100% money-back guarantee if you are unsatisfied with any service or product.
To begin the refund process, complete the form on the Contact page, with "Refund Request" as the subject, accompanied by the service/product you purchased. Repeat this same information in the email body before sending it.
Apps & Go Limited will facilitate the refund, sending the funds back to the bank or credit card account used. Pay attention to entering complete and correct information (first and last name and your full postal address for a quicker refund).
The speed at which your refund is issued is not mentioned in any detail.
What about the Ava app?
Ava does not have an app available.
Ava Pricing
How Much Does Ava Cost?
You will find no reference to pricing unless you sign up for the free reading on the landing page of the site. Once subscribed, you'll receive a welcome email that includes a glimpse into your destiny, a second email with your specialized Sensory Reading, and a final email where you can purchase a reading for $49.99 (regularly $99.99).
Purchases are encrypted and secured with a 100% guarantee. You can pay in full in your local currency, or in three separate installments without incurring an additional fee. If your bank charges a currency conversion fee, you will be responsible for paying it to the bank. Major credit cards accepted include Visa, Mastercard, and American Express.
New users $49.99 per reading (regularly $99.99 per reading)

Ava Alternatives
How Does Ava Compare to Other Psychic Reading Sites?
Ava is different from other psychic sites in that there is no pool of psychics from which to pull. Ava personally does each reading, and pricing is based on the service purchased, not on a per-minute basis, and is delivered completely via email. There are no options available for phone, video, or chat readings.
$1 per minute for new users
First three minutes are free and 70% off first reading
Starting at $1.99 per minute
$1.99 per minute increasing after 10 minutes
Ava vs. Psychic Source
Psychic Source is one of the most popular psychic sites, priding itself on top-notch customer service while having a proven and trustworthy database of psychics. With so many readers available, it's easy to obtain a reading anytime. While Ava gives readings for a flat rate, Psychic Source uses a per-minute model beginning at $4.99-$15.
Ava vs. Kasamba
Comparing Ava to Kasamba simply doesn't work because the company structures are completely different. Kasamba has a database of readers from which you are able to connect via phone or live chat, while only Ava herself can perform email readings. Kasamba is structured based on a per-minute model with rates ranging from $1.99-$30 per minute.
Ava vs. Keen
Comparatively, Ava is more expensive than Keen due to the difference in pricing structures. Keen charges $1.99 per minute for 10 minutes and offers an introductory rate for the first reading. Ava, on the other hand, sells you nothing upfront. Instead, you receive two detailed readings free of charge, followed by a free teaser reading. You will then receive access to purchase a reading complete with additional gifts, bonuses, and a $50 discount.
Ava Visit Site
Bottom Line
Ava certainly provides a lot of depth and care in her free offerings, so it was definitely worth my time and energy. Ava does a fantastic job explaining her gift, how it works, how the Ancient Tarot of the Wise works, and how she uses her hypersensitivity during readings.
Ava does not spam her subscribers, nor is she pushy about setting up a paid reading. I would recommend her if you're seeking insight into any situations in your life. Just remember—only you can remove blockages to your aura and energy.