Zoho Projects Visit Site
Overview
Zoho Projects at a Glance
Best for: Mid-sized companies
Key use: Project planning
Price: From $18-$120+ per month. The yearly plan is cheaper. Add additional users for $5 or $6 per user per month.
Free trial: 10 days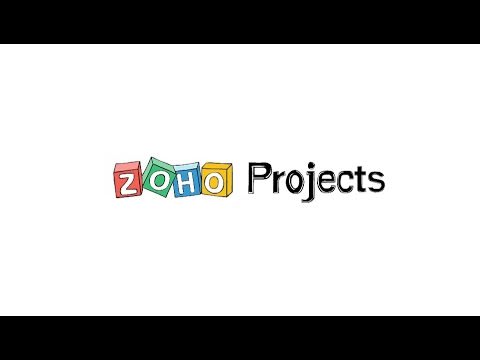 How Zoho Projects Works
Features and Functionality
Zoho Projects is a feature-rich, cloud-based tool that allows businesses to organize projects, collaborate, schedule work, plan events, create task dependencies, upload and share documents, and track and resolve issues. It can be integrated with other applications from Zoho's vast array of business applications, or with Google apps, Slack, Dropbox, Github and more. Some of Zoho Project's standout features include: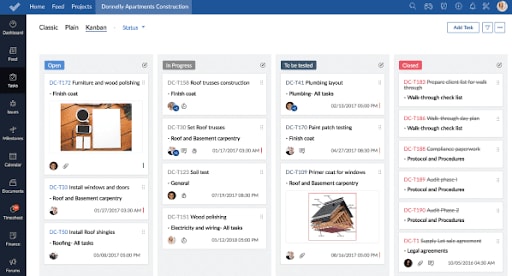 Zoho helps you make projects more manageable by breaking them down into smaller steps and assigning individual tasks to team members. Each project can be segmented into milestones, task lists, tasks, and even subtasks. You can give each of these units start and end dates, descriptions, attach relevant documents to them and assign them to an employee. Their status can be updated as a percentage completed at any time, so you can keep tabs on their progress. You can see every aspect of a task that you have assigned--or that has been assigned to you-- in list form or Kanban view. Rather than having tasks spread throughout your email inbox, you can see them all in one place, in a clear hierarchical manner, with their whole history and relation to the larger project included.
Zoho includes a timesheet feature that allows you to manually enter in the number of hours you spend on a task, as well as a timer to record your actual working hours on a given task. Your stopwatch entries will automatically be added to the timesheet. This allows you to keep track of employee activity, identify the efficiency of a project and keep track of billable hours. You can also integrate with Zoho Invoicing to turn timesheets into invoices.
In addition to helping you organize and track the progress of your tasks, Zoho Projects helps you take all the information collected from the tasks making up a project to give you dashboards and reports that help maximize efficiency. Gantt charts show a project's interdependent tasks on a grid so you can see how much time is scheduled for each task, as well as which tasks must be completed before a dependent task can be started. You can actually drag and drop tasks on the chart and dependent tasks will be updated in accordance.
Resource utilization charts give you a bird's eye view of your employees' availability. It lets you see who has too much work and who is free for further tasks. Task reports show you the status of a project's tasks so you know what percentage of the whole project is complete and when you are in danger of falling behind. In addition, you can customize reports for your own specific needs.
While you can integrate with a third-party application to submit bugs and issues, such as JIRA, Zoho has a built-in solution that functions in much the same way, allowing all of your departments to work together in one portal. You can submit bugs, classifying their level of urgency and tracking them in the same way you track other tasks. This can be added to your project reports, giving you a more complete picture of a project's efficiency.
Zoho has a number of other features to save time and automate recurring processes, such as project templates that include all of the automatic reports that will be generated. You can also set up business rules in which certain actions will automatically trigger a response on Zoho, and automate your Service Level Agreement on the platform. You can be notified in advance to avoid breaking rules that you have set, such as resolving a critical issue within so many hours.
Collaboration Tools
Zoho Projects seeks to make collaboration between those involved in a project easy. Users can post comments, share documents or media files, and @mention people on any task, milestone or event. While Zoho is a relatively easy-to-use project, it is likely that some team members will not check their Zoho portals as much as others. These people will have updates on projects and tasks directly sent to their email if you @mention them. This helps ensure that nothing falls between the cracks. However, those that do keep Zoho open in their browser can check their feed to see all status updates on a project. They can comment directly on the feed and their fellow team members can answer.
For sharing lengthier ideas with team members, Zoho has a forum in which different topics are categorized into folders. This tool is particularly targeted to companies that have team members around the world who need to share information and stay on the same page.
Zoho features chat rooms as well, for real-time collaboration. This is a particularly useful function that many other project management softwares do not provide. You can create chat topics and invite whichever team members you want. This is also a valuable tool for teams with members at multiple sites who can't necessarily hold meetings all of the time.
Zoho's Activity Stream allows you to see project developments on a timeline, so that you can see what other team members are doing on a daily basis.
In addition, you can create an information archive for each project that team members can add pages to, such as specs, style guides, or whatever data team members refer back to frequently.
Ease of Use
Zoho features a relatively easy setup and is not complicated to use on a daily basis. Of course, there may be a learning curve for team members who have no experience using project management software, but not anymore than with any other rival product. There is help built right into the Zoho workspace that gives you a tour of the page and walks you through processes, such as adding a new task. The workspace is well-organized with clear navigation despite the great number of features that Zoho offers. More complicated tasks, such as integrations and customization will require a more expert hand, however there are an array of videos and webinars to walk you through this as well.
Data Privacy
Zoho Projects has state-of-the art security procedures in place, such as 2-step sign in verification for those who want an extra layer of protection. The company complies with the EU-US Privacy Shield Framework, ensuring responsible handling of your personal information. Zoho's facilities boast 24/7/365 security and safeguards against fires and floods. Zoho's network security system includes the latest hacking prevention technologies and encryption.
Zoho Projects App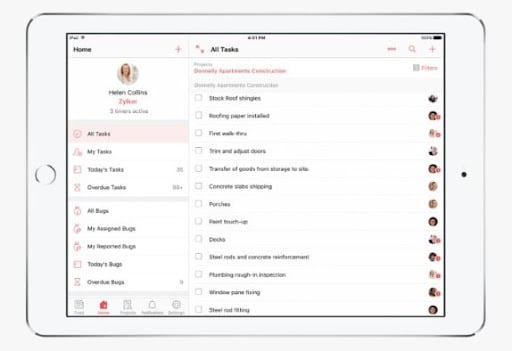 Zoho Projects is a cloud-based tool, meaning that you don't need to install anything into your computer to use it, or download software. You can log into your Zoho account from any computer through your web browser, such as Chrome or Firefox. Zoho does not offer a desktop app that allows you to open it independent of your browser, as some of its competitors do.
Mobile Apps
Zoho has both an Android app and iOS app so that you can keep track of your projects and tasks on the go. You can't access the full range of features from your phone, however you can create new tasks, post status updates, submit a bug, record hours in the timesheet module, and upload files from your phone. Unfortunately, Zoho Projects does not have an offline option, as some of its competitors do. This is particularly useful for employees on the go who don't always have access to WiFi. The app has a 3.4 out of 5 rating on the App Store and a 3.9 out of 5 rating on the Play Store.
Zoho Projects Customer Support
Zoho support can be reached by phone, email or you can submit a request and you'll get a call back. The company does not have a live chat option and does not advertise 24/7 support, but it is highly responsive and also offers a resource center with valuable information on how to use the product. Upon signing up for Zoho's free plan or any of its free trials, you will get a call from support offering to help, as well as introductory emails helping you initiate setup, step-by-step.
Zoho Projects Pricing
Pricing & Special Offers
Zoho Projects offers an extremely limited free plan and 4 paid plans. While the free plan advertises 2 projects, one of those is actually a built-in introduction to the product that takes you through its features. It allows for 3 users, limited functionality and you can only attach files up to 10MB. Even for trying the product out, you may have to opt for a 10-day free trial of one of the paid plans, because you can only see some of the functions with the free plan.
Zoho's paid plans are reasonably priced when compared to other project management services, with a flat monthly rate. You can sign up on a month-to-month basis, but it will cost you about 25% more than signing up for a full year.
Zoho's $18/month Standard Plan is good for teams up to 10 users who can suffice with 10 projects annually. It includes all of the basic functions you'll need for task management and collaboration, but does not include more advanced features such as editable Gantt charts, project budget, and integration with Zoho's accounting tools. For these features you'll have to upgrade to the $48/month Express Plan, which gives you up to 50 users and unlimited projects as well.
The $75 per month Premium Plan gives you all of this, plus more project templates, more storage, more integrations and more tools to gauge the efficiency of your project. The $120+/month Enterprise Plan is suited to large companies with multiple projects going at once. It gives you 20+ users and the ability to add more users if you contact Zoho for a customized quote. It allows for more customization and task dependency across projects.
Zoho Projects Alternatives
How Zoho Projects Compares to Other Project Managers
Dedicated account manager
BigCommerce, Magento, WooCommerce, and dozens more
Slack, GSuit, Trello, Asana, Jira, Dropbox, and more
Flick, integrated personal calendar
5-20+ (more queries customer quote)

Zoho Projects Visit Site
Bottom Line
Zoho Products is an easy-to-use and affordable project management tool that can help you more effectively collaborate, manage tasks, and get insights into your projects. It has plans for both small teams and large companies with a host of useful features. It can be used as a standalone product or it can be integrated with Zoho's other business applications for a comprehensive business management system.