FreshBooks Visit Site
Overview
Key Use: Tracking time spent on projects and automatically generating invoices
Price:
$15/month for 5 billable clients (Lite plan) up to $50/month for 500
billable clients (Premium plan) Custom pricing available for 500+ billable clients.
Currently on sale at 70% off for 3 months:
Lite- $4.50/month; Plus- $7.50/month; Premium- $50/month
Storage: No limit on storage for attached project files
Free trial: Free unlimited 30-day trial
How FreshBooks Works
Features and Functionality
Pop-Up timer
Keeping track of time expenditure on client projects couldn't be easier with FreshBook's pop-up timer.
In order to use the pop-up timer, users simply need to create a client, associate a project with them, and click on the play button. Users can even change the timer if, for instance, they move between several client projects in close succession. A 'billable' button lets users toggle whether or not the current activity should be added to the client's invoice. Finally, a "what are you working for" section allows users to populate notes describing the exact activity they were working on.
Activity Tagging
In addition to adding narratives manually, users are able to create and assign tags for their projects. These make it easy for clients to quickly review what they are being billed for—and divide the invoice between different departments.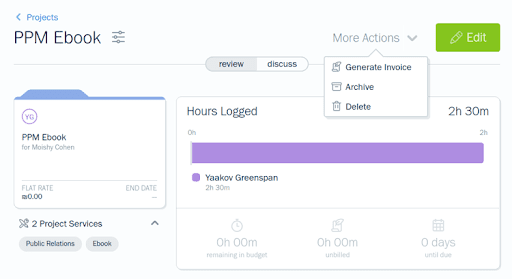 One Click Invoice Generation
FreshBooks makes it easy to track time expenditure on client projects—but even easier to get paid! Because the Projects tool sits within the online cloud accounting platform, it's main purpose is to easily generate invoices to bill clients. All users have to do is click the 'Generate Invoice' button from the drop down at the top of the screen and an itemized invoice for their client will be automatically produced. It can then be inspected and sent to the client for payment.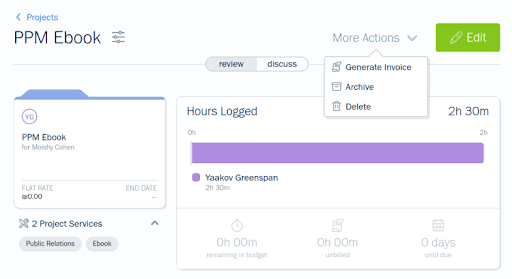 Collaboration Tools
FreshBooks knows that freelancers don't work in a vacuum—and its Project tool makes it easy to quickly send project files back and forth with clients. The Project tab is divided between 'Review' (for reviewing time tracking entries) and 'Discuss' (for sharing files).
In the 'Discuss' tab, users are able to quickly upload, annotate, and make notes about files that they share through the system.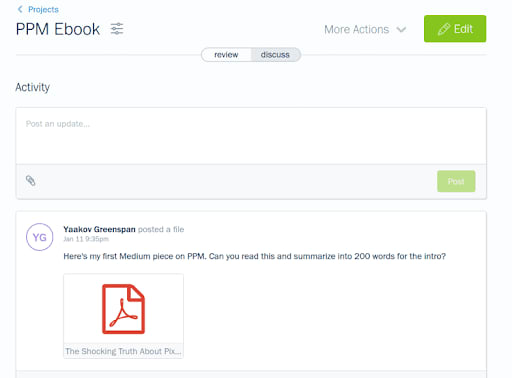 Additionally, users can invite other team members to the project. The search functionality also lets them filter according to the user role.
The list of file types that can be shared through this means includes:
Documents such as Word files and PDFs
Image files includes .gifs, .jpeg and .png
Spreadsheet formats including .xlsx
Files can be up to 50MB in size. A maximum of 40 files can be attached to any one project post.
Users are able to add additional FreshBooks users to their Project teams—and give them different levels of access. Adding an 'Accountant', for instance, is free, but only gives the user the ability to access reports, categorize expenses, and create journal entries. All other access types, including Admins, are billed at the usual cost of FreshBooks licenses.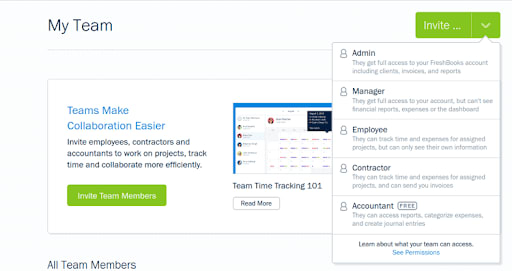 Data Privacy
FreshBooks does store all users' business data in the cloud, so it's important that users feel confident in trusting the provider with their sensitive business particulars.
Some good news on that front:
FreshBooks has an easy-to-understand privacy policy posted on their website which details the encryption that the company uses to secure all data transmitted through the app. The tool always uses the Secure Sockets Layer (SSL) protocol when transmitting any information, such as credit cards, between the user and its cloud.
Additionally, the company appointed a dedicated Data Protection Officer (DPO) and is fully compliant with the General Data Protection Regulation (GDPR). Any European citizen wishing to exercise their rights under the GDPR can make a data request to the company and obtain any Personally Identifiable Information (PII) that it holds about them. Although all PII is always scrambled within FreshBooks' internal systems and not held in a human-readable format.

FreshBooks Apps
FreshBooks does not offer any apps for desktop; rather, its functionality is designed to be accessed online from its website.
The company does, however, offer mobile apps for both Android and iOS. For freelancers that want to track time spent on work done outside of their workspaces, such as at meetings or with clients, this is a great addition.
Both apps can be installed through the official app repositories: the Apple App Store and Google Play.

Both apps offer the following features:
Create invoices on the go
Photograph lunch receipts and other deductible expenses and import them directly into the online expenses area
Notifications for important client questions and conversations
FreshBooks Customer Support
FreshBooks offers excellent customer support that is noted for being both responsive and competent.
The company operates a live chat system powered by Solvvy which automatically tries to guess the best solution for users' queries:
That was all that was required to resolve our "problem." But if we had to dive deeper, we could have either opened a ticket or spoke to the company's dedicated helpline. The company even promises that a "Support Rockstar" will answer the call "within 2 rings."
FreshBooks Pricing
Pricing & Special Offers
Project management is simply one of the features within FreshBooks, which is primarily intended as a cloud accounting and invoicing platform. In addition to the project management and billing functionalities, FreshBooks allows users to generate, send, collect, and log invoices.
The software must be bought as one product, as individual components are not sold separately. The licensing costs are: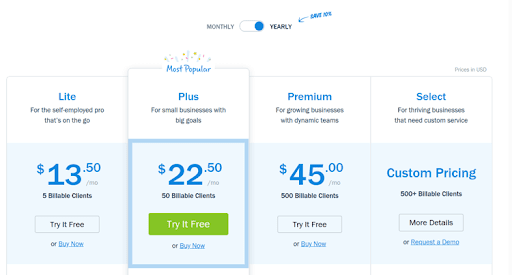 Yearly pricing:
Cost per month (billed annually):
On sale $4.50 per month yearly (reg. $15)
On sale $7.50/month yearly (reg. $25)
On sale $15/month yearly (reg $50)
Monthly pricing:
Custom pricing is also available which provides a personal Account Manager, customizing training, and integration with Quickbooks and Xero.
Besides allowing users to bill more clients, Plus includes the following extra features above Lite:
Double-entry accounting
Configure retainers for clients billed on that model
Automate recurring invoices
Create unlimited client proposals
Charge client credit cards
Premium includes all Lite and Plus features and increases the total allowable clients to 500.
Our opinion is that all plans represent good value. Choose the best value for your requirements. FreshBooks is a mature solution that includes everything businesses need to streamline their client invoicing and billing process. For freelancers and small business owners that spend a lot of time working on projects—whether billing on a fixed basis or per hour-- the extra features that Plus provides are a great value-add.
FreshBooks Alternatives
How FreshBooks Compares to Other Project Managers
Dedicated Account Manager
Hundreds including Dropbox and Hubspot
Multiple options including Jira, Zendesk, and Outlook
Pro and Enterprise tiers only
Free up to 3. Premium offers 26 or more.

FreshBooks Visit Site
Bottom Line
If you're a freelancer, solopreneur, or small business owner who works on lots of client projects, then FreshBooks' project management software is a terrific tool. We loved that users can view a tagged list of time entries and then automatically generate an invoice. The collaboration feature is a nice add-on and the interface is mostly drag and drop. It is highly recommended.