In a Nutshell
Upserve's impressive range of services and applications come packed to the brim with more than 100 incredibly useful features, such as menus that can be customized in an instant and real-time updating of tables, seating, and customer profiles. Combine this with Upserve's amazing analytical capabilities, and you have a POS system capable of handling all the workload of a busy restaurant—and more—with ease.
pros
Swift, simple, and adapts to any type of hospitality business
Highly detailed reports and analytics available
cons
No Ecommerce capabilities
Compatible with Apple products only

Upserve Visit Site
What's on Offer
Upserve HQ (Analytics)
Breadcrumb POS by Upserve
Upserve Payments
Upserve Live (Mobile App)
A highly intuitive interface that is easy to navigate and simple to use
An "Offline" mode which captures credit card details even when the internet is down
Highly competitive payment processing fees and charges
24/7/365 customer support through a variety of channels
Hardware rentals and equipment purchases
Streamlined partnering with third party applications such as QuickBooks
Deeply detailed reporting features
No setup or installation fees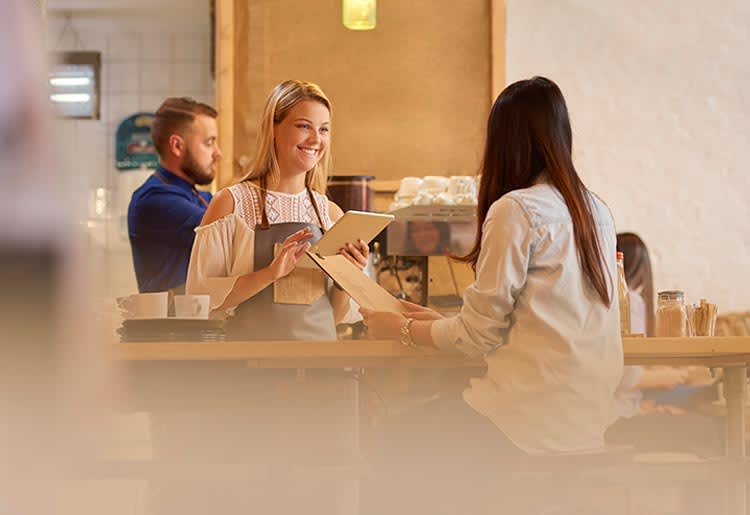 More Reasons to Choose Upserve POS
As many hospitality businesses are seasonal, Upserve offers a seasonal operation feature with its Breadcrumb POS system. Instead of being charged in full while your business is inactive, you only need to pay a minimum monthly service fee.
Being a cloud-based POS, managers are also able to check important shift data, sales, and employee performance from anywhere, as long as they have an internet connection and an iPad or iPhone.
Who Uses Upserve
Created by former hospitality professionals, Breadcrumb POS by Upserve has been exclusively designed with its end users in mind: restaurant managers and servers that need a fast-working, simple system. Their point of sale service is extremely capable of handling the unique workload of hospitality businesses.
Ease of Use
Breadcrumb's point of sale system integrates into existing and new hospitality businesses with ease. All you needed to get started is to open an account via the website and to ensure there is a stable WiFi connection throughout your entire premises.
Setup generally takes a couple of days until hardware arrives and everything is installed correctly, however Upserve can offer same-day setup under certain circumstances. Additionally, this company does not charge for setup and installation, something which is welcomed by many business owners.
Regular, complimentary software updates ensure that Breadcrumb's service runs at optimum speed and efficiency at all times. And the combination with Upserve's incredible analytics and reporting makes this a very well-rounded POS.
Though there is a great deal of information available via the website, no specific details regarding the application process have been provided. Customers interested in Breadcrumb's point of sale service are first advised to begin with a 14-day free trial, which may begin after a client opens an account and enters some basic information. The website is secure, and you can breathe easy knowing that your details are kept safe via encryption.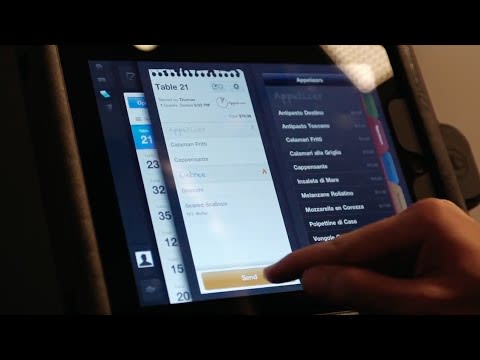 What's Unique About Breadcrumb POS?
One of the most unique features of this POS is the Offline Mode, which is an incredible lifesaver for customers and their businesses. If, for whatever reason, there's a power outage or the internet connection gets shut down, the point of sale enables servers and staff to continue to collect encrypted credit card details and store them securely on its system. Once connections have been restored, the system will automatically process the outstanding payments. This is a crucial feature as one of the downsides of using a cloud-based POS is that if the internet or power is cut, the entire system usually becomes inoperable.
This service also offers a very competitive payment processing plan. Card swipe costs are calculated using Interchange Plus pricing, with a minimal 0.10 per transaction fee. However, there is no further information on their website regarding per transaction costs for EMV (chip) dips, checks, or debit cards.
Additionally, as Breadcrumb is currently owned by Upserve, their customers are able to access Upserve's highly detailed analytics, reporting, and inventory features.
Pricing (Software and Hardware)
Single location restaurants, small staff
Multi-location, multiple terminals, avg. ticket order over $30
Large multiple location groups (50-500 locations)
Upserve offers more pricing options than most for both software and hardware, including the ability to purchase hardware outright, monthly financing, and Prix Fixe which is a service offering that eliminates the need for high upfront capital expenditures for hardware or software.
Upserve added Breadcrumb POS into its Restaurant Management Platform—a single solution to help restaurateurs run their most critical operations in the restaurant. The entire Platform includes Breadcrumb POS, Upserve HQ (analytics and reporting), Upserve Live (mobile app), and fair rates for Upserve Payments (payment processing).
The Upserve Platform comes in 2 editions, Core and Pro, which determine how much you pay. Both editions include the first Breadcrumb POS terminal for free. Additional terminals run $50/month each for the POS license. Core is $99/month/location while Pro is $249/month/location.
While Core and Pro editions are mainly for the awesome Upserve HQ features, there are slight differences for Breadcrumb POS. The major differences being unlimited integrations, and EMV and contactless payments with the Pro edition, which also includes the 1st EMV reader valued around $250.
Upserve offers 2 types of billing plans for Breadcrumb POS:
1. Monthly Contract. The standard is a 3-year contract paid each month. You can, however, get a discount for paying the annual contract sum in advance. And if you'd rather not be tied into a contract for a long duration, they do offer month-to-month contracts, but at a premium. Hardware can be purchased through their store site.
2. Monthly Contract with Hardware Included. This pricing is determined based on your needs and includes the hardware for your device amortized across your contract duration. This package is great if you're looking to reduce upfront hardware costs.
Contract Terms
In a refreshing twist, Upserve offers potential customers the unique opportunity to read through its entire Merchant Agreement via its website. This transparency is highly invigorating and demonstrates clearly that it has nothing to hide—whether in its fees and charges or contract terms and arrangements.
Upserve makes sure that all the legal aspects of its services are spelled out in great detail, including what happens if the system enters "Offline Mode" and that it reserve the right to suspend operations should it suspect fraud. Issues with hardware purchases, and returning faulty hardware are also diligently covered, ensuring that potential customers are fully aware of all vital points before engaging their service.
Since Upserve delivers everything as a Platform, it's hard to remove one solution from the mix since each Platform solution includes payments, Breadcrumb POS, and Upserve HQ. As previously stated, there are 2 options for purchasing the Breadcrumb POS—hardware excluded and hardware included.
If customers wish to cancel their monthly plan, they must look at their contract for duration length or may incur expenses for canceling the contract earlier than contract end date, so it is highly recommended that customers review these terms and conditions thoroughly before signing. These fees for early termination are pretty standard with any contract.
Upserve offers free installation, free 24/7 US-based support, and free software updates.
Bottom Line
From basic features such as easy menu customization, through to in-depth, detailed analytics, Breadcrumb does a lot of heavy lifting, taking the load off its customers.
While the past few years were somewhat turbulent under Groupon's ownership, since teaming up with Upserve, this company's reporting capabilities and customer service department have improved immensely.

Upserve Visit Site
About Breadcrumb POS By Upserve
Originally founded by Seth Harris in 2011, Breadcrumb POS made waves in the hospitality industry with its friendly interface and streamlined processes, and grew its customer base quickly. After a short run, in 2012 the company was acquired by Groupon. Following on from a strategic partnership formed in 2015, Upserve purchased Breadcrumb from Groupon in May 2016. Since then, Upserve has continued to improve upon Breadcrumb POS's existing features, and payment processing services, and has further expanded its customer service offering. Together, they now serve more than 6,000 restaurants in every US state.
Physical Address
10 Dorrance Street
Providence, RI, 02903
United States