In a Nutshell
Lightspeed offers powerful POS systems for the retail and restaurant sectors, putting greater focus on retail in the U.S. Whether you use Lightspeed Delivery for your restaurant or Lightspeed eCom to sell products, you get the same level of detail and function. Accounting integration with Quickbooks takes only a few clicks. You can also manage special orders and discounts from your Mac or iPad, and include special touches like branded receipts.
pros
Native analytics for products, sales and employee management
No setup fees
cons
High per-month costs
Customer complaints of software glitches

Lightspeed Visit Site
Here's Why Successful Businesses Choose Lightspeed
"We have been using Lightspeed since it was first introduced. The company has been great to work with and really cares about small businesses. The program keeps evolving and seems to get better and better with every update. I would recommend it to any small business that wants to be as efficient as possible and wants a POS that can grow with them."
- Ray's Bike Shop
"Lightspeed Restaurant is extremely user-friendly and offers excellent technical and customer support. Lightspeed has a lot of options for formatting the POS, which is an asset to any restaurant."
- Hive Cafe Solidarity Cooperative
"Lightspeed is like your most important employee. It manages your entire business for you. Now, I can focus on what Exclucity is going to look like in 5 years, in 10 years. I'm 1000% confident that we will continue to expand and continue to grow."
- Exclucity
Why Go With Lightspeed
Lightspeed is a business management tool for the service and retail industries as well as a powerful POS system. The restaurant POS allows you to create floor plans that match your restaurant seating plan, control system access between your staff members and the ability to create and edit your menu online. You can print your orders anywhere, seamlessly sending information from your front desk to the kitchen. Specific features for different types of business is what sets Lightspeed apart—for example a bar tab integration for clubs, or a bill splitting for café's and dining.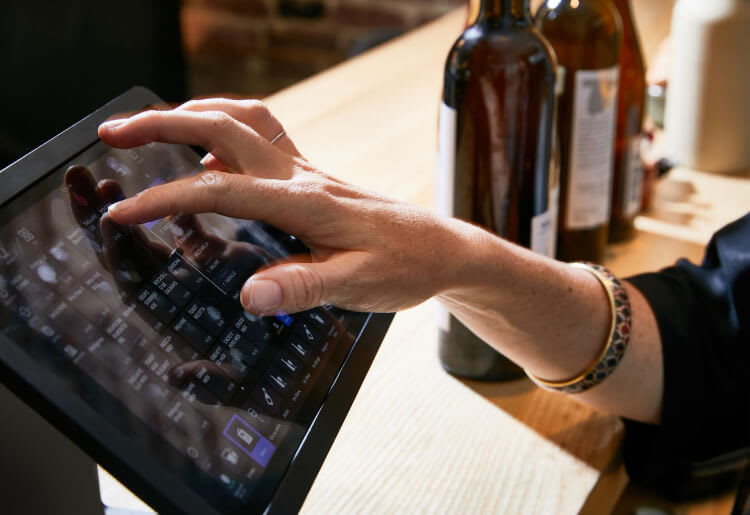 What's On Offer
While some platforms cater to only one industry, Lightspeed has very different functionalities for different industries. That means the available features can vary wildly from retail to restaurants, and even to specific verticals within each industry. These include:
LightSpeed Retail:
Import your stock to an online platform with one click
Create discount codes
Use spreadsheets to update product data
HD product display
Choose from customizable eCommerce templates
Create point-based rewards systems with Lightspeed Loyal
Allow customers to create wish lists
Organize shipments through eCom's back office
Integrates with shipping apps like EasyPost and Shipstation
Improve marketing with built-in SEO tools
Create newsletters and send email notifications
Websites available in up to 14 languages
Track performance with weekly sales reports
Typically, Lightspeed Retail is best suited for businesses with physical inventory that's sold in whole units. Businesses whose products are priced by weight (such as candy stores, delis, and gas stations) or sold in fractional quantities (such as fabric shops) have proven to be less compatible with Lightspeed, as have resale shops (whose products don't have skus) and service-based businesses (which have no physical inventory). Lightspeed is also prohibited from use by businesses that sell motorized vehicles.
Lightspeed Retail typically performs best with the following types of businesses:
Clothing and apparel stores
Sporting goods and footwear sellers
Gift, toy, and hobby shops
Vape and smoke shops
Wine and beverage stores
Electronics stores
Jewelry stores and jewelry repair businesses
Pet shops and pet supply stores
Home decor and furniture stores
Any other business with physical products sold in solid units
Lightspeed Restaurant:
Create customizable menus with photos and menu descriptions
Adjust floor plans for the whole staff to view
Kitchen display allows you to create viewable kitchen plans
Create individual staff profiles
Process takeout and delivery orders
Access data, menu, and ordering system from mobile devices
View progress through real-time reporting
Create individual staff reports to track hours and performance
Get an overview of sales and cash drawer activity with end-of-day reports
No matter what you use Lightspeed for, you can expect many other features, including:
Multi-tender options

Inventory management with extensive customization right down to individual item/piece inventory tracking. You can also bundle items for group item sales and promotions

Purchase order management for tracking vendors and PO's, merchandise management, shipment correction, and event customer/warranty returns

Employee management with a basic time clock for employees, employee sales, customizable roles and more

CRM functionality to better engage current customers, prevent customer loss, manage customer data, etc.

Work order management

Multi-store functionality to transfer between locations, and warehouses and kiosk/mobile POS functionality for things like tradeshow events.

There are also different integrations available, including QuickBooks, Xero, NimbleSchedule, Booxi, and MailSync or MailChimp.
Additional integrations and add-ons for Lightspeed POS include:
Accounting software

Loyalty rewards to integrate with CRM-related programs to track and reward customer behaviors

Scheduling to keep track of employee hours over the web, including time-off requests and shift trades

Ecommerce integration so you can use your own web store to sync data between the platforms

Rental management for retailers who rent equipment, like bikes or tools

Email marketing to take advantage of platforms like MailChimp for building customer engagement and return purchases
More Reasons to Choose Lightspeed
Lightspeed is technically a cloud-based POS platform with all information stored on Lightspeed services and synced automatically to each device you use. If you use a desktop device then you can also access Lightspeed through a browser interface. That's not required if you prefer a mobile or tablet experience—the iOS app can be downloaded to your iPad to use as your POS device.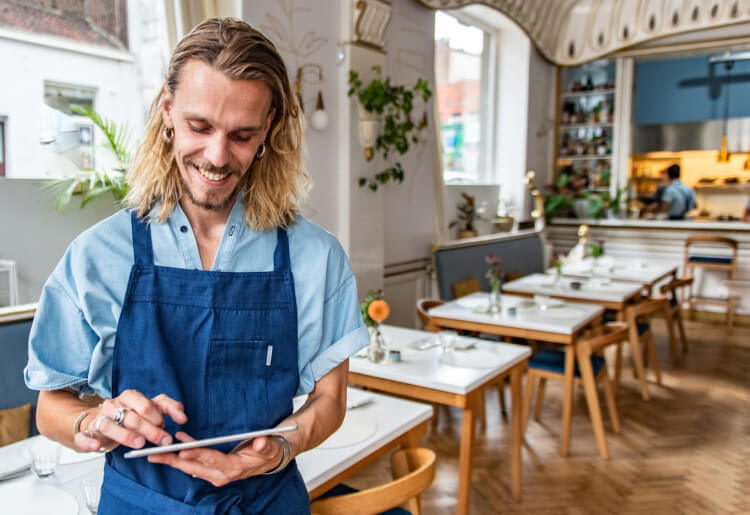 In either case, you'll need the additional hardware for checkout purposes, including a register and printer as well as integration with a barcode scanner for retail establishments. Because it can be run in both formats, Lightspeed sells all the peripheral hardware in bundles if you don't have it on hand. This includes the choice of the iPad POS kit (drawer, stand, socket scanner, receipt printer—iPad not included) or the Desktop POS kit including the draw, USB scanner, and printer. Like the iPad, you'll need to source your own computer.
Due to the browser interface you're not locked into using an Apple desktop product. This gives you more freedom with the environment you're working in.
Ease of Use
The front end register and the back end management tools are both very easy to use. Like many iPad solutions it's beautifully designed and involves a very small learning curve to get to grips with. You will be guided through the desktop or iPad software to add inventory and manage payments. There are also a lot of customization options, for inventory, analytics and design. The iPhone app is also easy to use, although you cannot use it to take payments.
Whether you're working tableside with guests or ringing out a long line of customers during a big promotion, you want your POS to function effortlessly. Lightspeed offers an extremely intuitive design that's easy to operate both in the front and back end.
Because it's primarily browser based, the setup and configuration is an easy step-by-step process with a wizard to guide you through setup from start to finish. The management functions are strategically grouped by categories in the back end, making all the most vital information readily available as opposed to be being buried within various menus.
Whether working in the front or in the backend, the buttons are easy to hit with clear and concise direction on functionality and progression through your sales process. It's nearly impossible to get lost in menus. From product to employee management, customization and utilization of this POS platform is a breeze… and a pleasure to work with. Once you get the hang of it, it feels effortless.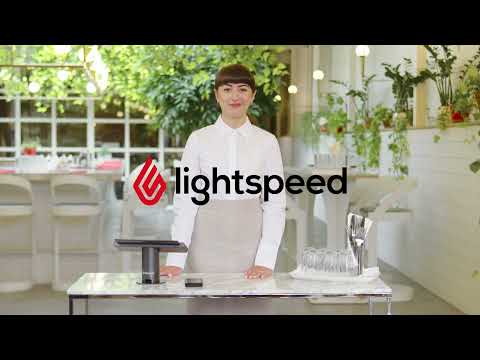 What's Unique About Lightspeed?
Lightspeed comes loaded with hundreds of pre-set printable reports that you can customize any way you like based on the date. Reporting is critical to running a business and Lightspeed definitely delivers. The platform allows you to view profits by total revenue or margin, track effectiveness of promotions, schedule and task employees, run end-of-day, and much more. The advanced reporting features of Lightspeed include a variety of responsive widgets so you can create a visual dashboard of the most critical elements for running your business. Also, any report can be exported to an Excel spreadsheet.
Beyond the advanced reporting, it also offers features for selling services alongside physical products. That extends the use of Lightspeed beyond just retail to include any service-based setting, like oil-change shops or any other business with service and repair orders.
Don't think that the software is limited to just retail or service—Lightspeed also offers customized POS software fit for the restaurant industry as well.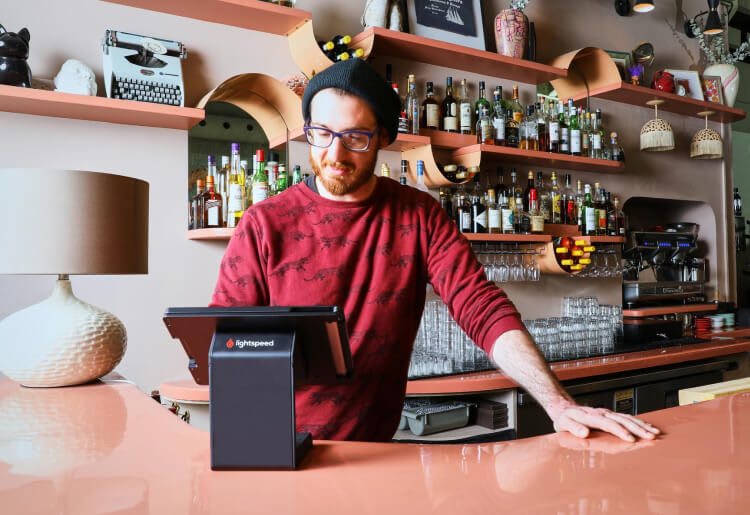 Customer Support
Lightspeed boasts 24/7 support through its toll free phone number and contact form, as well as a live chat feature. The staff are friendly and knowledgeable and you will receive setup help completely free of charge, as well as free updates with as much support as you need to learn any new functionality. With secure backup on the cloud, you're never at risk of losing customer data or important inventory information.
Pricing (Software and Hardware)
Retail
* Prices are for annual payments. If you choose to pay by month the rates increase.
All of Lightspeed's retail plans include a POS system with payment terminals, while benefits start to accrue with the starter plan. For example, the starter, standard, advanced, and pro plans all include eCommerce capabilities. The top 3 tier plans (standard, advanced, and pro) also include accounting tools, while the upper tiers also include customer loyalty tools and analytics.
Restaurant
The restaurant POS is offered at one simple price, though users have the option to add upgrades such as customer-facing displays, advanced reporting, and self-order table menus. The premium add-ons include accounting, loyalty apps, self-order kiosks, and delivery integrations.
Contract Terms
Lightspeed has a 14-day free trial so you can try out the POS before you commit, making sure it's the right solution for you, and then you'll be offered a long term contract to get the lowest prices on a monthly basis. The standard term is 14 months. For hardware, Lightspeed guarantees a 30-day warranty of its own, which then transfers over to a manufacturer's warranty.
Bottom Line
Lightspeed wins on features, with dedicated systems for retail and restaurant, as well as specialized options for subcategories within the restaurant industry, such as cafés or bars. You can choose your own powerful integrations from over 250 partners and buy all-in-one hardware solutions directly.
If you need to balance an efficient and intuitive interface with high functionality for front and back of house, then Lightspeed is a great choice. Just be mindful that functionality may change or be limited by the type of business—a representative will get you set up with what makes the most sense for you. If you're a small business or startup this likely isn't the right choice due to the high cost.

Lightspeed Visit Site
About Lightspeed
Lightspeed is a POS software provider based in Montreal, Canada. It was founded in 2005 with an aim to help local businesses recreate the convenience of an online shopping experience in a brick and mortar location.
Physical Address
700 St-Antoine Est, Suite 300,
Montreal, Quebec, Canada, H2Y1A6
711 Capitol Way South, Suite 705,
Olympia, Washington, United States, 98501