In a Nutshell
Toast is designed with restaurants in mind, keeping all your tech ingredients in one place for a stellar and efficient POS that makes running your restaurant easy. With its newly released Toast Payroll & Team Management product, Toast offers a well-rounded business solution.
pros
Tableside payment to turn tables quickly
Built with restaurants in mind
Easy-to-use, custom-built Android tablets
cons
High setup/monthly costs
Proprietary hardware required

Toast Visit Site
Restaurateurs Are Raving
"Our tip pool has doubled since we implemented the Toast Guest-Facing Displays, just as I knew it would...This is one of those times when technology has really provided the opportunity for a financial win for the business."
Jeff Good, Managing Partner of Broad Street & President of Mangia Bene Inc.
"We've saved about 15-20% annually by not having to pay for multiple platforms… when I priced it out over the course of the year, we'd be saving a few thousand dollars just by moving everything over to Toast Payroll."
John Rhodes, GM of Alto Pizza Kitchen and Bar
"Without Toast, it would be much harder to do the volume we see at lunch. We might do 100 to 200 tickets over the course of a couple hours. Kitchen display screens have helped us achieve that level of service."
Brad Gillis, Co-Founder of Homegrown
How It Works
Toast is a completely web-based platform with all information stored in the cloud. There is a LAN network necessity for customer functionality. All POS data, mainly your menu and local configurations, are downloaded and cached on individual connected devices. This allows your POS system to function even if your broadband connection drops.
No WiFi is needed as the devices are hardwired at POS, however handheld mobile tablets that require WiFi are available. Printing takes place via the local area network. In the event of an outage any credit card transactions are queued locally and then batched when connectivity returns.
The main hardware bundle offered is the terminal bundle, which includes a receipt printer, tablet, stand, and credit card reader, with additional routers and kitchen printers sold separately. You can also purchase the mobile device or handheld tablet bundle which enables you to take orders and payments directly at the table.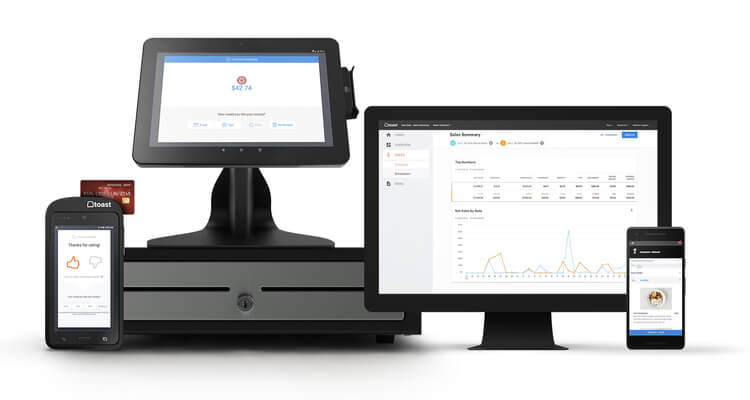 Toast does not use iOS integration and instead works on Android technology. For their hardware bundles they offer Elo tablets, which are set up and configured ahead of time by their operations team. This way all customers are on official Toast hardware, which ensures higher quality technical support should an issue occur.
Reporting
From standard sales reports to labor, product mix, tips and more, there are a wide variety of reports available. All reports in the Toast POS system are updated in real time, so no matter where you're viewing them, you'll get up-to-the-second updates that change as you view them.
The summary report is the most robust as it includes net sales, gratuity, tips, table turn, a complete breakdown of all of your service types, and guest counts. It's a scannable dashboard that provides the overview a manager or owner needs when they're too busy walking the floor to dig through individual reports in the middle of a rush. If you want to drill down into any of the metrics you can do just that with a simple tap.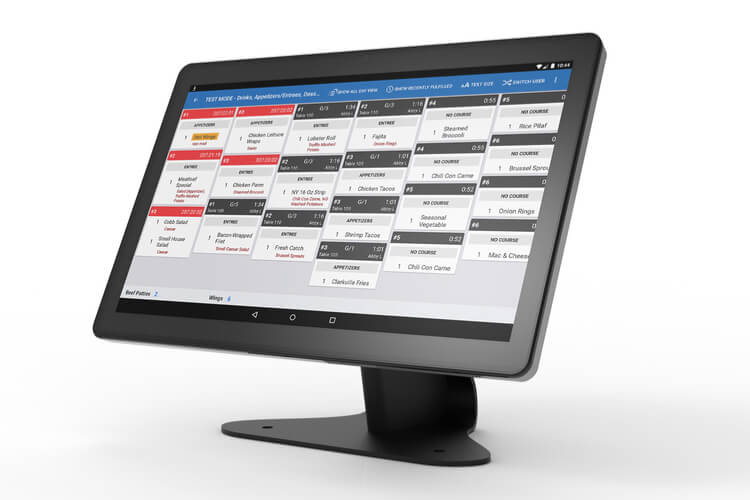 Ease of Use
Even if you didn't have a rep from Toast at your side helping you through setup and training, it would still be ridiculously easy to learn this system. Despite the amazing stretch of features built into Toast, you can still master enough to function and run your business in a few hours. It's not difficult to learn, and the 30-60 minute training you receive initially goes a long way to helping you understand it, even without technical skills.
Cost and Contracts
The Toast starter packing is free, and is which is great for small restaurants who need one or two terminals. The Essential package, which includes online services like digital ordering and the Toast Takeout App, starts at $165 per month. Custom price plans are also avaible, but you'll need to schedule a call with a Toast representative.
This is where you have to think about the ROI of the product and decide if the more efficient operation with a robust platform like this will help you run a cleaner shop, turn tables faster, and thus pay for itself. If you can make it work the way it's intended, then the price isn't really that bad.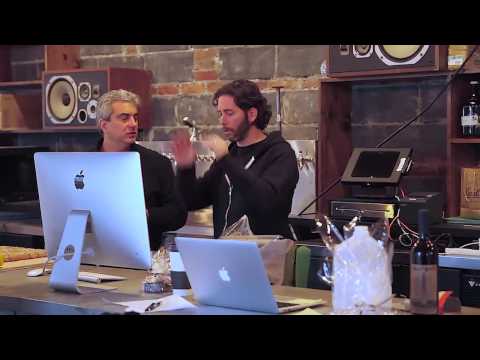 For restaurants that expect to need more than 6 terminals, we recommend speaking with a rep about custom pricing for volume. And of course Toast does charge for a few add-ons, although they are developed in-house and not externally:
$25/month for adding access to the loyalty program

$50/month for creating and utilizing physical and digital gift cards

$50/month for integrated online ordering
Thankfully, there are no contracts required. There is financing available with flexible payment options so you don't have to pay the full hardware cost upfront, which is likely to pull you into a contract for the equipment. Check with your rep about financing requirements and stipulations.

Toast Visit Site
Features and Add-ons
It's surprising just how much is packed into Toast given the simplicity of the interface and intuitive design. For example:
Streamlined ordering with countertop terminals or at-the-table ordering with mobile tablets

Digital receipts sent to customers via email (a great way to capture email addresses)

Fully customizable menu groups categorized into smaller menus, such as breakfast, lunch and dinner, and further categorized in submenu groups like appetizer, salad, entrée, kids, etc. The modifier system for the menu is amazingly detailed giving you a lot of control over your menu

Native CRM functions for customer management and remarketing

Employee management for labor and scheduling

Time tracking

Loyalty programs
Toast Payroll & Team Management
Toast can help you streamline operations with its payroll and team management platform, created specifically for restaurants.
What do you get with Toast Payroll and Team Management?
Payroll that syncs with POS

Automated tip distribution

Hours synced to payroll

Accurate payments

Tools that help you stick to changing regulations

Bottom Line
Toast is a true full-service POS system for restaurants that lets you run your entire restaurant from one interface. The feature-rich platform impresses at every level and runs on Android rather than iOS. This makes it cheaper and more versatile, and a great option for those restaurants that prefer not to invest in Apple products.