In a Nutshell
SkyTab is a point-of-sale (POS) system offering convenient and seamless all-in-one platform solutions for food and beverage (F&B) businesses. It comes with state-of-the-art hardware devices, user-friendly software interfaces, and extensive POS and customer management features to help you run your business efficiently and provide customers with a wonderful dining experience. If you need a top POS system, consider checking out SkyTab.
pros
Robust functionality and easy-to-use interface
Local in-person support
Extensive mobile point-of-sale features and integrations
cons
Proprietary hardware required
Some extra fees beyond monthly payments

SkyTab Visit Site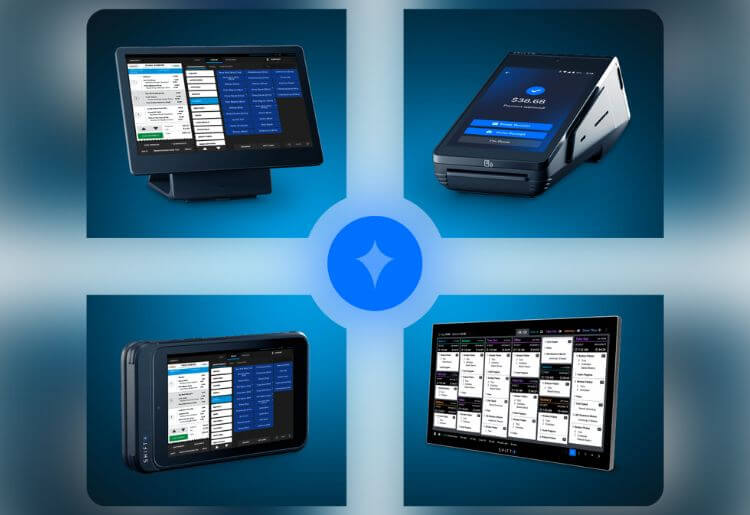 Why Go with SkyTab
If you're looking for a POS system with robust functionality, state-of-the-art hardware, and plenty of modern tools, then SkyTab can meet and exceed your expectations. SkyTab seamlessly integrates with many third-party apps like DoorDash, Uber Eats, Mailchimp, and many more so you can streamline your operations. SkyTab provides reports and analytics to help you make timely and better decisions and gives you a general sense of the state of your business. Its features compare well with other providers, but its additional and unique features set it apart for bringing efficiency to your operations and enhancing your customer's dining experience.
Safety and convenience in payment processing are crucial in the restaurant business. SkyTab offers contactless payment options as well as credit card solutions through its parent company Shift4—a global payments and financial technology provider. Customers can order online, reserve seats, and split checks when it comes time for payments. As for your staff, there's a tip option available and a table management system with a customizable floor plan ensures your team caters to the patrons well. Overall, SkyTab makes the experience smoother and easier for both customers and staff.
What's On Offer
SkyTab offers several features to keep your business operations efficient and user experiences great.
Enter orders and accept payments at the table or even on deliveries using the SkyTab Mobile devices

Integrated online ordering and secure payment processing

Online reservations and waitlist functionality

Customer management tools such as loyalty programs and marketing campaigns

Conduct customer service surveys and receive alerts for poor dining experience ratings

Real-time insights for reporting and analytics

Integrates seamlessly with third-party business apps for online ordering and delivery, marketing, inventory, accounting and many more

Contactless payments through NFC and QR codes
Ease of Use
Getting started with and using SkyTab is pretty straightforward. Using the online form, you'll need to provide your personal information—name, business, phone, email, city, and state. A sales representative will then contact you to guide you on setting up your account, paying for the service, and the application documentation you will need.
SkyTab's hardware includes the main POS system workstation, the mobile handheld terminal, the purpose-built tablet designed to assist with table orders, and an intuitive kitchen display system with a 22-inch screen. Each of these devices have a nice design and the handheld devices are comfortable to handle. Moreover, the device interfaces are user-friendly and the software is very intuitive.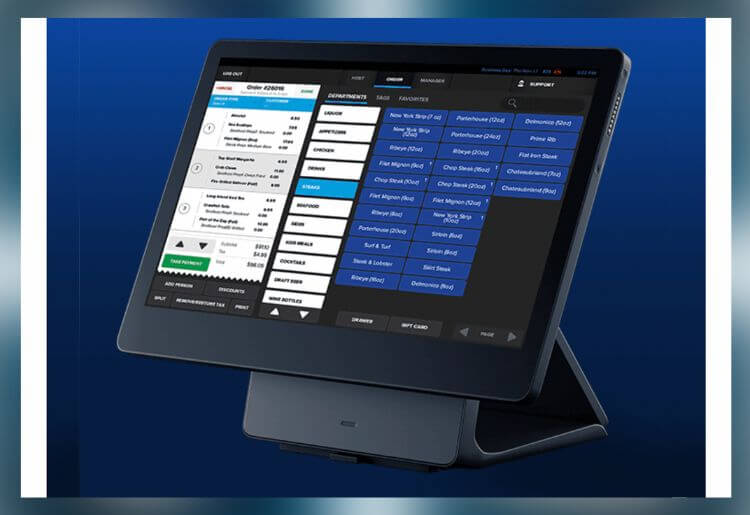 The SkyTab handheld terminal, SkyTab Mobile, not only processes payments and prints out receipts, it also enables customers to rate their dining experience and leave a review about the service. Managers will get a notification on their phones in real time if a customer's rating is below the preset standard, providing opportunities to quickly resolve any issues.
What's Unique About SkyTab ?
SkyTab stands out among other POS systems for a couple of reasons.
Your staff will be able to accept payments at the restaurant table, on the patio, or even outdoors, for example, on a golf course. SkyTab Mobile has 4G LTE connectivity, meaning you can even take payments while on delivery when there is no WiFi.
Split checks and easy-to-process tips
With SkyTab, you can easily split checks at a table if the customers decide to pay separately. Furthermore, the system offers four options for customers to tip servers: using one of the three preset amounts or clicking the Other button to specify a custom tip amount.
The InCharge mobile app has real-time insights about total sales, staff performance, open tickets, etc, enabling managers to have vital information at their fingertips. Addtionally, Lighthouse Business Manager (LBM) delivers reports and helps with online ordering, email marketing, reservation management, and more.
Customer Support
SkyTab provides email and phone options for its customer support. When I tried the online form that leads to the email option, I received a response in about 10 minutes. The customer service agent offered to get my personal details so that a SkyTab team member who was closest to my location could contact me. Local, in-person support is a nice touch. Most other POS providers don't deliver this level of service, so it's something that sets SkyTab apart from the rest.
A resource center is also available on the SkyTab website offering educational content for merchants in the form of on-demand videos, live webinars and more. SkyTab has a blog, but it only has seven posts thus far.
Pricing (Software and Hardware)
SkyTab is available for $29.99 per month per workstation, plus additional monthly fees for accessories such as SkyTab Mobile or a kitchen display system. Your subscription provides access to a mobile app for analytics and cloud-based POS reporting and management tools.
Onsite installation and support from the company to get you started will be free of charge. SkyTab charges fees for third-party marketplace integrations, though the company claims it has negotiated with its partners to keep these as inexpensive as possible. Payment processing fees range from 3-4%.
SkyTab offers a 30-day risk-free trial. If you're unsatisfied with the product and its functionality, you can send everything back to SkyTab for free.
Contract Terms
The commitment term for a SkyTab agreement is one year, and you're expected to use Shift4 for the duration of the contract as your only payment processing provider. Both parties can terminate the contract under various circumstances, for example, unauthorized or unlawful use and defaulting on any obligation.
SkyTab offers a lifetime warranty on its hardware, and the company will fix or replace any malfunctions or damages at no cost to you. Shift4 will provide technical support 24/7. However, you'll be expected to maintain the equipment well. You'll receive complimentary training for using the equipment during installation, and you'll be able to access online training and webinars for your devices afterward.
About Shift4
Shift4 (NYSE: FOUR) is boldly redefining commerce by simplifying complex payments ecosystems across the world. As the leader in commerce-enabling technology, Shift4 powers billions of transactions annually for hundreds of thousands of businesses in virtually every industry.

SkyTab Visit Site
Physical Address
2202 North Irving Street, Allentown, Pennsylvania 18109, United States.