1. TouchBistro
Best For: Building a custom POS platform for your restaurant
Pros
24/7 customer service
Mobile ready even when the WiFi goes down
Very easy to use
Cons
Somewhat higher pricing compared to other point of sale systems
Requires manual setup accessible only through iOS device
Pricing
Quick service and small restaurants
Mid-size restaurants or bars
High-volume restaurants or bars
Features
One reason that TouchBistro is the top grossing food and drink app in more than 37 countries is that it was built by food service workers for food service workers. They know what works for them and what doesn't.
TouchBistro can stay humming online even when you go offline and with an easy-to-use, intuitive interface, it shouldn't take long at all to get all your staff up to speed using the system.
The cloud reporting analytics are very handy for managing a restaurant, in that they give you access to to all types of information about inventory and labor, to help you find where and how you can cut your costs.

TouchBistro Get Started
2. Toast
Best For: Working out in the field with an easy handheld POS
Pros
Some of the best prices in the industry
A wide range of software integrations
Easy to use
Offline mode
Integrated online ordering available
Cons
Higher setup/monthly cost
Proprietary hardware required
Pricing
$100 per month, additional terminals are $50 per device
$25/mo for adding access to the loyalty program
$50/mo for creating and utilizing physical and digital gift cards
$50/mo for integrated online ordering
Features
If you're looking for software integrations, there are dozens of food service apps that you can integrate with Toast, one of the most affordable, easy to use POS systems available today. The system has an intuitive, drag-and-drop interface that any employee should be able to master, and if you ever have any issues, the company has responsive and effective customer service options.
You can also make changes easily on the fly with the "quick edits" feature.
And if you add an extra $50/month, the system will run integrated online ordering, so that customers can place orders with your company online and buy gift cards from your business.

Toast Get Started
3. Revel
Best For: Mobile food businesses
Pros
Never miss a bill—the system works even when offline
Integrate with QuickBooks and your restaurant's social media accounts
Get a great overlook of your business with the "insights" feature
Cons
Requires a 30-day cancellation notice to avoid additional monthly fee
Robust feature suite may be overkill for startups and small businesses
Pricing
Prices only given by custom quote
Features
One of the biggest names in the industry, Revel can work wonders for major restaurants and even the smallest taco truck or caterer. The company has 2 main levels, Revel, which is meant for major businesses, and Revel Food Truck POS, which is specifically designed for food trucks.
When working with Revel, you can use the "insights" feature to access real-time data at any moment in order to get an idea of how your company is doing on sales, inventory, manpower, and more. In addition, the company can integrate with your social media accounts in order to track your promotions and word-of-mouth efforts to another level.

Revel Get Started
4. Best POS System
Best For: Integrating with Apps
Pros
Easy set up and short learning curve
More than 200 available apps
Seriously extensive reporting and insights
Cons
Can be costly to get set up if multiple terminals are needed
You may need to pay for some features that are standard elsewhere

Pricing
Prices only given by custom quote
Features
Best POS System is a Clover reseller. Clover is an all-in-one business management tool that can really help you run your restaurant.
The system is very easy to set up and you shouldn't need long to get your staff up to speed using it.
Once you're up and running, you can make use of extensive reporting and insights that can show you all types of information about your sales and what your business—and your competitors—are doing. You can also get great insights about your workforce, inventory, and customers.
The company also allows you to integrate with more than 200 software apps, so you can build the platform that's just right for your specifications.

Clover Get Started
What is a Restaurant POS System?
The POS systems of today combine state-of-the-art digital features and utilize extensive data to help businesses work faster than ever.
Call them "smart registers" if you like, what these platforms do is allow you to process transactions instantly—from a central register or a mobile device—and also monitor your inventory, sales, and labor, to name just a few "smart" features.
Why Restaurants Need A POS System?
All types of eateries from food trucks to fine dining restaurants with fixed price menus have adopted digital POS systems. The main reason is the simple fact that food service is a hectic, high-pressure industry in which any measure that can help you stay organized—and in business—is worth taking a look at. Here are some of the other important factors to consider:
Quicker processing
First things first, a POS system will help your restaurant process bills quicker and more efficiently, and will do so while also making sure that you and your clients' details and data are kept secure at all times. This can also be done directly from a mobile device, meaning that if your work takes you far from the kitchen—say, out at a catered event—you can use a mobile device that can make instant transactions.
Increase efficiency
Much like with retail POS systems, these platforms are mobile and can be used by staff throughout the restaurant. This means that the waitstaff can head out on the floor and take and place orders, without having to head back to the kitchen. They don't have to worry about memorizing orders or reading them off a scribbled pad.
Analyze important data
Next up is the data. POS systems crunch all types of numbers about your business, ranging from which appetizers are selling best—and when—to which tables tend to have higher sales, and which members of your waitstaff just can't find a way to upsell dessert. The data can also tell you how you're doing on your inventory, which supplies you're buying too much of, and which you need to stock up on right away. This can be a boon when it comes to cutting down your food costs. And when it comes to your staff, there are all types of features on POS systems to help you manage your staff, including shifts, holidays, and sick days.
Better customer service
You can also use a POS system to handle all types of customer outreach. This can include everything from special sales campaigns and rewards, to coupons and invites to restaurant events. Your POS can keep these events organized and help you take the steps you need to maximize word of mouth and your connection to your customers. A POS can also be a lifesaver at the front of the house, helping your hosts seat and manage tables, and juggle reservations no matter how busy you get.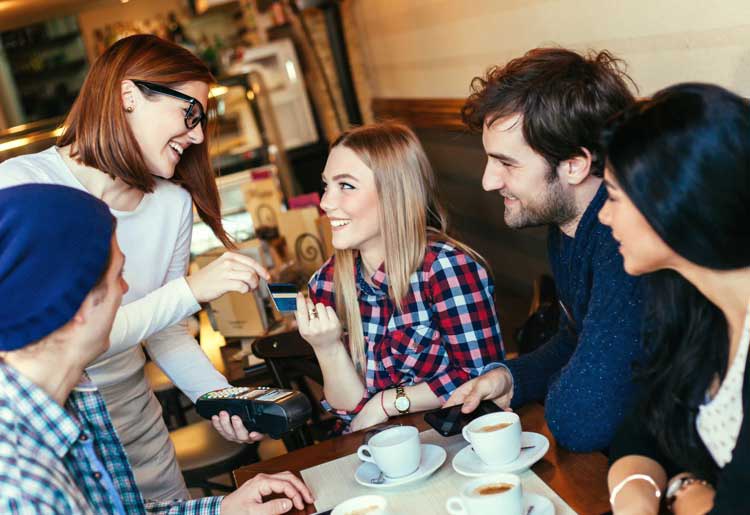 What Do Cafes Need From Their POS Systems?
Cafes and coffee shops have unique needs that are not common to standard restaurants. Let's take a look at some of these areas in which the right POS system can make all the difference between an inefficient mess and a smooth, modern operation.
Order customization
Double soy vanilla cappuccino with cinnamon on top instead of chocolate? Getting your customers' orders correct has never been easier thanks to the modifying options included in cafe POS systems. People are more particular with how they like their coffee than they are with just about any other food or beverage item. You'll have options to add or remove any component of a coffee drink directly on your touch screen with the right POS system.
Economical design
For owners of cafes and coffee shops, counter space is valuable real estate. Compared to a bulky cash register, or even a traditional POS, the tablet POS systems made for cafes take up very little space, allowing you to keep your counters tidy and your workflow unhindered.
Speed under pressure
Cafes and coffee shops cannot afford to have slow lines that wind out of the door into the street. You should be able to place complex orders on your POS with the touch of a button, flip your screen so customers can sign digital credit card slips, and take your operation mobile to take orders and payments throughout the line with a handheld device. If you make your customers late for work, they might not come back.
Customer loyalty programs
As a cafe owner, you have the opportunity to get daily, repeat customers. An automatically-tracked customer loyalty program that rewards customers with discounts and free items for purchases is an effective way to win repeat customers that requires no effort. With the right POS system, you can manage such a loyalty program digitally, without having to physically punch a card.
What If You Own A Food Truck?
When looking into a POS system, it's important to consider what your needs are and which extra features just aren't relevant for you. A food truck won't need many of the features of a larger, enterprise establishment, such as planning table reservations and the like.
A typical food truck has a very small workforce, so a system that is easy to operate is key, as is reliable customer service that can provide prompt answers if things go haywire. In addition, unless you plan on expanding to more locations in the near future, a company that offers discounts as the number of POS registers increases probably won't be a deal-maker. In addition, companies that provide lower credit and debit processing fees will help a small business cut expenses.
Important POS Features for Restaurants and Cafes
Anybody who has worked in food service knows that it's fast-paced. Things can change in a flash and sometimes it can seem like if something can go wrong, it will go wrong. When looking for a POS system, consider the ways it can simplify things, allowing you to make changes in an instant to adapt to all circumstances.
Credit card transactions and bookkeeping: These platforms can instantly split a check for multiple diners and allow you to make secure transactions in a flash no matter where you are inside—or far from—the business. A POS system makes your waitstaff more agile, efficient, and saves them some of the headaches that make waiting tables one of the more stressful jobs out there. These transactions will be instant and secure, allowing you to keep things well organized—and safe.

Inventory management: With a POS you can track your company inventory at all times down to the smallest denominator. Being that food costs can make or break a business, this can really give you a boost keeping things under budget.

Remote management: You're not always going to be inside your restaurant—including when things get hectic, so you'll need a POS system that can stay online and in charge, no matter where you are. In addition, most systems can still make transactions even when you go offline, so if you and your food cart are out working a festival and the WiFi is spotty, you should be fine.

Payroll/workforce management: POS data can give you great insight on employee productivity; for instance, if you are a bar owner you can tell which bartender sells the most craft cocktails and which members of your waitstaff are doing the best job selling the daily special. In addition, a POS can help organize scheduling, sick days, and vacation days, as well as payroll and pay stubs. This is especially handy when tax season rolls around.

Third party integrations: Most POS systems can integrate with a variety of Ecommerce and bookkeeping software. These can help you plan and carry out special customer discounts and award programs, and run an online store, just to name a couple.
How To Choose the Best Restaurant POS System
No 2 restaurants are exactly the same, and what works for you might not be the right recipe for somebody else. Before ordering a POS system, take the time to consider what type of restaurant you're running and what your needs are. Are you a major, big ticket restaurant or a humble pizza restaurant? Will most of your business be mobile, out in the field (like with a food trailer) or is your main money-maker an in-house dinner service?
If you're a small volume eatery you may want to look for a POS that's better suited for small businesses, or ones where the emphasis is on mobile capabilities. If you're a bigger restaurant it's probably more wise to look for a system that really puts a lot of focus on its desktop register, integrations, and sophisticated analytics. In addition, for a small business, having a system that is easy to operate and does not require an IT team is a must. This is also true when it comes to customer service. If you're a small team, if things go bad you're going to want to be able to get a hold of help quickly. You should also look at the credit card processing fees. Considering that most of your food sales will be by credit, a little difference here or there can really add up.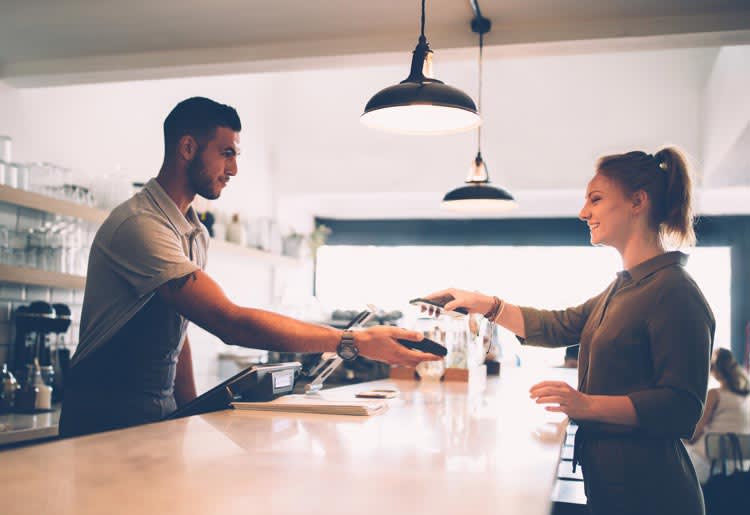 Your Restaurant, Your POS
Sometimes, your restaurant can feel like your baby. You've poured your heart and soul into it and you want everything to run just right. A top restaurant POS system can make a big difference in the everyday operations of your business and make it easier for you to turn your dreams into reality.