While transitioning to outdoor dining can be a logistical headache, there's no reason it can't be a success. Here are our top 10 tips for restaurants taking the dining experience outdoors.
1. Check the Permitting Situation
Many cities have made it easier to apply for outdoor seating during the pandemic. For example, New York City's Open Streets program lets restaurants apply online and self-certify to use the sidewalk or curb lane adjacent to their business, with the option to expand in front of adjacent properties with owner's approval. Dallas' Temporary Parklet Program permits the activation of on-street adjacent parking spaces or sidewalks for use as additional seating or service areas. San Francisco is offering free temporary permits to use the sidewalk, parking lane, or the entire street for dining–provided you leave 6 feet of sidewalk available for pedestrians.
Of course, COVID-19 regulations are subject to change, so make sure to stay up to date with the permitting situation in your city.
2. Embrace the Outdoor Space
However much outdoor space your city allows, make the most of it. In fact, taking the dining experience outdoors may provide an opportunity to do things you couldn't do indoors, like running a joint initiative with a neighboring business or utilizing outdoor structures in innovative ways.
3. Invest In Outdoor Furniture
Moving outdoors doesn't have to cost a lot, but one thing you probably will need to invest in is outdoor furniture and décor. When shopping for outdoor furniture, pick items that are consistent with your brand, match the outdoor setting at your restaurant, and are weatherproof.
There's just no knowing how long COVID-era regulations will be around–even with a vaccine on the way. And what's more, the outdoor trend might continue even after things go back to "normal". Therefore, it's worth investing a little extra on furniture that lasts.
4. Don't Forget Heating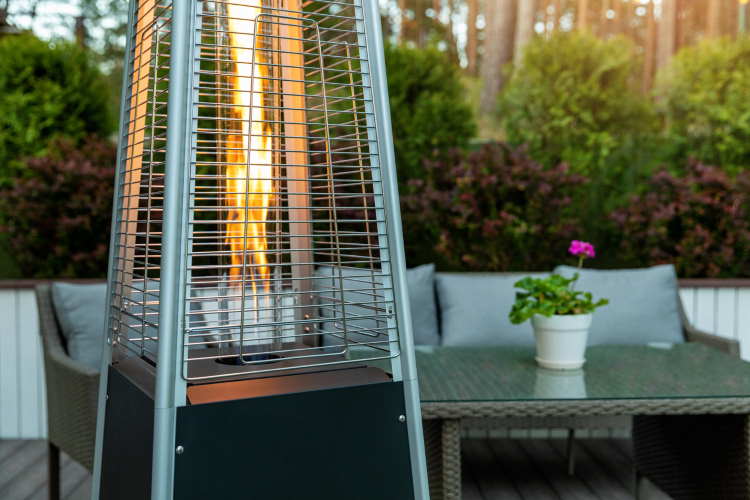 This is a geography-specific tip, but as we head into the winter months: don't forget heating. This is unfortunately something fraught with high costs and regulations. According to recent reports, heaters are in short supply, forcing restaurant owners to pay up to $100 per day for rentals. In Chicago, restaurant operators can purchase propane or natural gas heaters and fire pits so long as the heating devices are kept away from combustible materials like tents; but in New York City, propane heaters are banned.
Regardless, heating is critical to the winter outdoor dining experience.
5. Ensure Social Distancing
When it comes to social distancing, the challenge is to adhere to regulations and make sure your customers feel comfortable. Each city has its own rules about how many people you can have per square foot, and diners will generally be understanding of this. As for masks, some cities require them to be worn at restaurants and some don't. Whatever the rules in your city and your restaurant, just make sure to set your expectations up-front–so as to avoid any unpleasant experiences with customers.
6. Take Care of Non-Smokers
Most places in the U.S. have banned smoking in restaurants, but outdoor smoking is another issue altogether. Only Hawaii, Maine, Michigan, and Washington prohibit smoking in outdoor dining and bar patios by state law.
If your jurisdiction allows smoking and you wish to accept smokers, then take care to clearly separate the smoking and non-smoking areas.
7. Test Your Technology
It's a lot easier to set up technology in an enclosed, indoor space than it is outdoors–especially if the outdoor area is large. When setting up your outdoor dining area, run a checkup to make sure that Wi-Fi, extension cords and other equipment can safely reach where you need them. Also, don't forget to protect expensive equipment from weather exposure.
8. Come to the Diners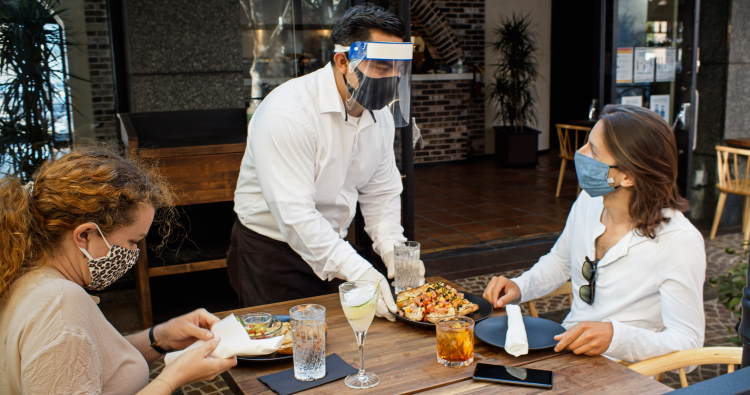 When running an outdoor dining area, you want everything to run as smoothly as it does indoors. That means making the experience as comfortable and convenient for diners as possible. Obviously no restaurant owner is going to go to the trouble of building new bathrooms outdoors (we can only imagine what the permitting process would be like!) but there are other things you can do – like investing in a mobile POS system that you bring to the customer.
If you're operating indoor and outdoor dining areas simultaneously, make sure to appoint someone to be in charge of the outdoor area. The last thing you want when expanding outdoors is to have outdoor diners feel neglected.
9. Create a Buzz
Whether it was your choice to open outdoor dining or it was forced on you, this is a chance to create a buzz. Market it, talk about it on your social media, and even consider launching a special outdoor menu.
10. Remain Consistent and on Brand
Indoors or outdoors, it is still the same restaurant. However you choose to set up and operate your outdoor dining area, don't forget to be consistent. Keep doing the little things you did when things were indoors–and the customers will keep coming back again and again.
Outdoor Dining Is an Opportunity
Like any big change, taking the dining experience outdoors requires its fair share of resources. However, if you plan it out properly, there's no reason you can't make it a great success.
You may also like:
The Best POS Systems For Restaurant and Cafe Owners
Top 10 Essential Hacks To Cut Business Costs During a Recession