In a Nutshell
Spot & Tango is a customizable whole, fresh dog food delivery service providing some of the healthiest meals your dog has ever had. Since your dog is individual, meal plans are tailored to fit their nutritional needs and preferences. From picky eaters to allergies and variations in breed/size, Spot & Tango meals can be tailored to fit them. Spot & Tango meals are all-natural, human-grade ingredients, delivered free, and in eco-friendly packaging.
pros
Top-quality ingredients & customizable plans
Happy Pup Guarantee
Unkibble dry food option
cons
Only 3 meal options
Not available for cats
Limited pricing info on website
Spot & Tango at a Glance
Best for pet types: Dogs.
Price: From $1 per serving.
Shipping costs: Free shipping.
Meal options: Turkey and red quinoa, beef and millet, lamb and brown rice.
Subscription options: Customizable subscriptions, pause, skip, or cancel deliveries, rush or delay shipments, change recipes, etc.
What's Unique About Spot & Tango?
Spot & Tango is a fun and pet-friendly whole food diet that is delivered to your doggie door. Meals are prepared from the best ingredients, including human-grade, 100% fresh, and sans any artificial preservatives, fillers, or additives. Meals are also GMO- and hormone-free and prepared in a USDA-certified kitchen. Aside from the name, here are a few other things that make Spot & Tango all-natural dog food stand out from the competition:
Spot & Tango keeps things nice and simple. In fact, this company cuts things down to 12 basic ingredients. In every meal, you'll get spinach, carrots, peas, apples, eggs, parsley, apple cider vinegar, safflower oil, vegetable stock, and the protein of your choice. Sometimes, Spot & Tango will trade out apples for cranberries, or brown rice for something else. But that's it. No complicated recipes. Just solid protein, healthy fats, and the right mix of vitamins and minerals for your dog.
Another thing pet parents will appreciate about Spot & Tango is the Happy Pup Guarantee. If your dog doesn't lick their bowl clean on the first try, Spot & Tango will refund your money. This is quite helpful for pet parents who have picky eaters. If your dog snubs the food, Spot & Tango will give you back your money or help you find a recipe that is more suitable for your finicky eater's palette.
But possibly the biggest reason to switch to a Spot & Tango diet are the tremendous health benefits for your dog. Many studies are showing the massive improvement for animals who've been fed a fresh, real food diet. From shinier coats to reduced allergies, and better digestion, fresh food dog foods like Spot & Tango are really making a difference. In fact, this meal plan can actually extend your dog's lifespan, both qualitatively and quantitatively.
How it Works
When you order from Spot & Tango, you can customize most of the meal plan. Here's how it works:
Fill out some basic info about you and your pup like their name and your email address (because dogs don't have email accounts, obviously).

Next, you'll be asked whether you want fresh or dry (UnKibble as Spot & Tango likes to call it).

Now, you can choose which meals you want to order. This will be based on your dog's profile and flavor preference.

Finally, you can choose between the regular plan or a topper plan. Topper plans are less expensive because you'll be combining the meals with your dog's regular food.

Proceed to checkout and wait for your fresh, healthy dog food delivery to arrive.
What's on Offer?
Spot & Tango doesn't have a ton of options when it comes to flavor. But this is dog food we're talking about. Most dogs I've met have been positively popping over any food that tastes good. So, variety isn't a major requirement for most dogs.
That being said, if your dog is a bit of a food snob, Spot & Tango does offer 4 different options for pet parents to choose from. There are 3 wet food options and 1 dry one. Let's take a closer look:
Spot & Tango has 3 fresh food recipes to choose from: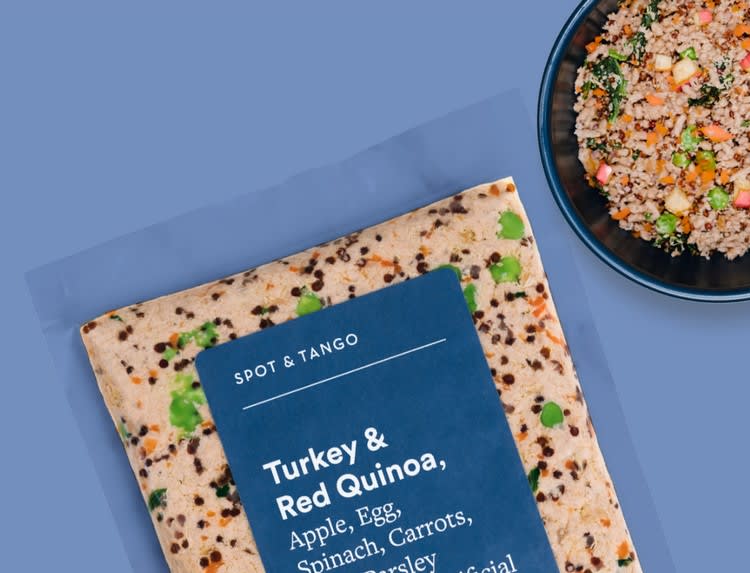 Ingredients include turkey, red quinoa, spinach, carrots, peas, apples, eggs, parsley, apple cider vinegar, safflower oil, vegetable stock, and oodles of vitamins and minerals.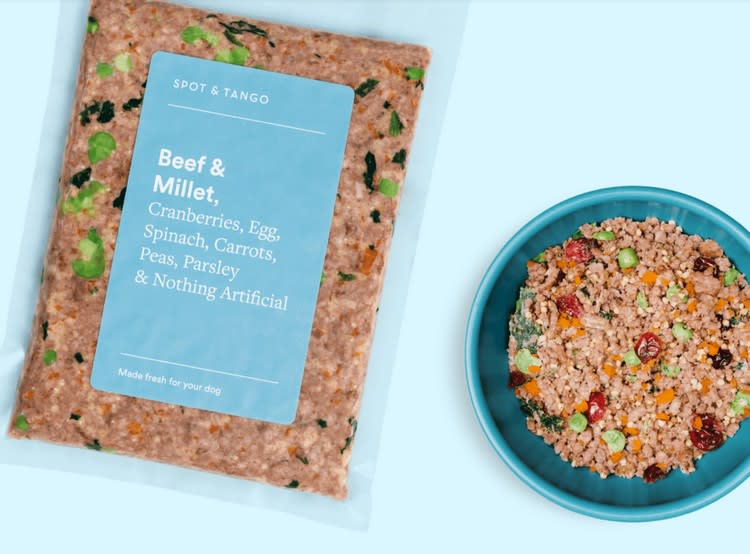 Ingredients include beef, millet, spinach, carrots, peas, cranberries, eggs, parsley, apple cider vinegar, safflower oil, vegetable stock, and all the vitamins and minerals your pup needs for the day.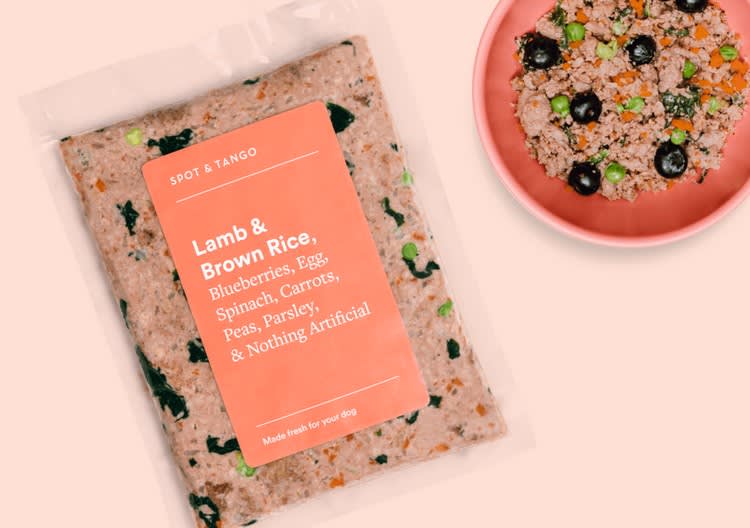 Ingredients include lamb, brown rice, spinach, carrots, peas, blueberries, eggs, parsley, apple cider vinegar, safflower oil, vegetable stock, and a hearty helping of vitamins and minerals.
All 3 are made with healthy, whole, and all-natural ingredients that your dogs are guaranteed to love (no really, there's a money-back guarantee on that).
Spot & Tango also has a dry food option that they've termed UnKibble. This is a reference to the highly-processed junk food that most unaware pet parents feed their beloved animals. Spot & Tango's dry dog food is made with fresh, real ingredients, and then gently dried at a low temperature to maintain nutritional integrity. Dry food plans are also customizable and come with a custom scooper, so you don't have to measure anything.
Food Freshness and Quality
Spot & Tango provides 100% fresh ingredients in all its meals. The ingredients are all sourced from local farms, and only human-grade products are used. All foods meet USDA standards for human consumption, meaning nothing is artificial, processed, or doctored.
In terms of quality, Spot & Tango meals are formulated by some top veterinary nutritionists. From there, the meals undergo analysis from a team of vets to ensure that each recipe meets the required daily amounts for a balanced healthy lifestyle for your dogs. At the end of the day, Spot & Tango meals meet nutritional levels set by the AAFCO.
Spot & Tango Pricing
Pricing for each plan varies depending on factors like how old your dog is, how active they are, which breed, and how much your pup weighs. So, it is hard to put an exact price on your meal plan until you've filled in all the necessary details. What we can tell you is that fresh plans start at $15 a week, and UnKibble plans start as low as $7 a week. That's a dollar a day, which is competitive by any standards.
Spot and Tango Visit Site
What's more, Spot & Tango offers free 2-day shipping to the contiguous 48 states.
Spot & Tango Help & Support
Spot & Tango has a helpful FAQ section that has most of the commonly asked questions and answers directly on the website. Topics include questions about the food, customizing your order, and managing your subscription. If you want to speak to a customer service rep, you can reach someone during the business hours provided below.
Open Hours:
Monday - Friday, 9am-5pm ET.
Bottom Line
Spot & Tango is a solid choice for pet parents looking to feed their dogs a healthier diet. Whether you want to switch entirely or just supplement the meals with a health boost, Spot & Tango plans can accommodate your needs. Two-day shipping is free across the country, and Spot & Tango subscriptions and plans are highly customizable.