In a Nutshell
Chewy is an online pet food delivery superstore that covers every type of pet food you can imagine. From hamster pellets to horse feed and everything in between, you'll get discounted prices on a variety of foods and supplies for your pets. Chewy also has convenient delivery options, including auto-shipping, daily deals, and 24/7 customer support. Add to that a 100% satisfaction money-back guarantee, and Chewy pulls way ahead of the competition.
pros
Tremendous variety of pet foods and pharmacy available
Discounts and daily deals
100% money-back guarantee
cons
Doesn't ship to Alaska
Not all orders ship for free
First experience can be overwhelming w/ so many choices
Chewy at a Glance
Best for pet types: Dogs, cats, fish, birds, reptiles, horses, rabbits, guinea pigs, hamsters, chinchillas, degus, gerbils.
Price: Varies depending on the kind of pet and type of food.
Shipping costs: Free shipping over $49, otherwise $5.
Meal options: Dry, wet, veterinary diets, raw food, human-grade, frozen food, freeze-dried, dehydrated foods, specialty diets, food toppings, life stages diets, health-featured foods.
Subscription options: Yes.
What's Unique About Chewy?
Chewy is one of the most prominent online pet food delivery services, and it's not hard to understand why. The site is a superstore, offers fast shipping that's free for orders over $49 (who isn't spending that much when you place a pet food and supplies order, anyway?), and offers convenient shipping options. What's more, Chewy stands out from other pet food delivery services in a few ways, including:
We've seen wide selections before, but my gosh, the variety you'll get from Chewy, is really second to none. With no exaggerations, pet parents can stock up on all of their pet supplies, including everything from pet food to bedding and hygiene products. Chewy even has an online pharmacy that can supply you with important prescription medications and other healthcare products such as ear and eye care, allergy relief, skin and coat products, flea and tick treatments, heartworm treatments, and more.
What's more, Chewy's selection is enormous. For example, if you look under the dog food category, you'll find no less than 3,700 results. By any measure, that's impressive. Within this broader category, you can narrow down your choice into food types that include dry, wet, raw, human-grade, frozen, freeze-dried, dehydrated, and veterinary diet foods. You can select a specific brand, dietary requirement (gluten-free, high-protein, pea-free, weight control, ect.), life stage, health feature, flavor, packaging type, texture, price, or breed size. As you can see, the selection is extraordinary; Chewy really delivers everything a pet parent could ask for.
In keeping with the vast variety theme, Chewy also services the greatest variety of pets. And the company has food and pet supplies for animals you wouldn't even think were classified as pets. The list is extensive, but Chewy supplies food and accessories for pets, including:
Dogs

Cats

Fish

Birds

Rabbits

Guinea pigs

Ferrets

Hamsters

Rats

Mice

Chinchillas

Gerbils

Degus

Hedgehogs

Sugar gliders

Hermit crabs

Lizards

Frogs

Newts

Turtles

Horses
That's an adorable list.
Auto-shipping is an easy way to ensure that you don't run out of kitty litter, dog food, or your pet's favorite after-dinner treats. Chewy makes this a simple procedure by including it in the checkout process. You just select the items you want to have delivered on a regular basis (you might want dog food delivered every 2 weeks, but those chew toys don't need to be frequent players), set the delivery frequency, and you're good to go. While many pet delivery services offer auto-shipping, Chewy combines convenience with savings by giving continuous customers a discount on all items that are autoshipped. Plus, for your first autoship order, you'll save an extra 30%.
How it Works
Ordering from Chewy is the same as it is when placing any online shopping order.
Browse through the website and pick the items that you are interested in buying. This might take longer than with some other sites because Chewy has such a tremendous variety. Pet parents beware, you may get sucked in.

Place the items in your cart and create an account.

Fill in your billing and shipping information, decide if you want to auto-ship, enter promo cards, etc. and checkout.
Your order will arrive somewhere between 3-6 days, depending on what you've ordered and where you live. Medications can take up to 8 days. It's worth noting, though, that during Corona, shipments are running slightly longer, as is the case with all online delivery services.
One thing that we are very impressed with about Chewy is how neat and organized the website is. Everything is well categorized and easy to find. You can select main parent categories like dog food or cat litter. Then, you can filter down with specific subcategories until you have a selection of exactly what you're looking for. With intuitive categories and an incredible amount of subdivisions, Chewy has done an excellent job of keeping its tremendous stock simple to browse through. It makes the entire user experience a pleasure.
What's on Offer?
As we've already mentioned, Chewy has a dizzying amount of options in its storehouse. You can get everything from raw, human-grade food to standard, 10 lb bags of kibble. Here's a small sample of the types of foods that you can get from this pet food superstore:
Dry food

Wet food

Veterinary diets

Raw food

Human-grade

Frozen food

Freeze-dried and dehydrated food

Food toppings

Treats

Jerky

Bones

Specialty diet foods (grain-free, corn, wheat, and soy-free, gluten-free, pea-free, high-protein, non-GMO, sensitive digestion, weight control, low glycemic, organic, vegetarian, vegan, indoor, low-protein)

Lifestage diets
And there are also pet supplies like dental care, cleaning supplies, litter, carriers, bowls and feeders, beds, and so much more.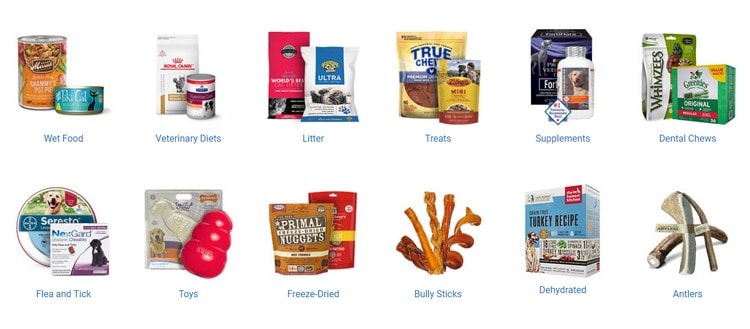 Food Freshness and Quality
Chewy's variety includes all types of food qualities, as is indicated by the list above. You can get the regular processed Kibble that's considerably lower quality (but a boatload cheaper) than the other options. Or you can get organic, fresh, whole, human-grade pet food for nothing but the best. So, the options are there for you to choose from.
Chewy Pricing
As we've already mentioned, Chewy has the widest variety of pet foods and pet supplies under the sun. So, there's no way to quantify how much you're going to pay for your order since there are too many variables to consider. What type of products will you include in your order, how much of each item, which brand, what quality, etc. are all factors that will contribute to how much your order total will come to. For example, a 2 lb bag of forti-diet mouse, rat, and hamster pellets will cost you roughly $5. Meanwhile, a 10 lb bag of The Honest Kitchen human-grade dog food will cost you close to $130 per bag. So, there is really no way to say how much Chewy items cost. It's across the spectrum.
What we can say about Chewy pricing is that it is competitive. Chewy is a superstore, which means it orders in bulk. It's also an online store, so there's very little overhead to cover. What all this means for the pet parents shopping here is that prices are generally lower across the board than if you'd go into your local pet shop and buy the same items.
Chewy also ships orders over $49 for free. All other orders will have a flat-rate shipping fee of $4.95. Also, Chewy has a 100% money-back guarantee. It's a solid guarantee, too. Chewy's policy is unconditional, meaning you can request a return for any reason. What's more, the guarantee extends for a full 365 days from the purchase date. That's quite an offer.

Chewy Visit Site
Help & Support
Not surprisingly, Chewy customer support is available 24/7. You can reach a service rep at the toll-free phone number or send an email. Chewy also has a helpful FAQ section on the site.
Bottom Line
Chewy is one of the easiest pet food delivery services to recommend because it has so much going for it. From the tremendous variety of pet foods and supplies available to the broad selection of pets serviced, Chewy covers the spectrum. Free shipping for orders over $49 and a flat-rate $4.95 shipping on all other orders also sweetens the pot. Chewy even has a mobile app for iOS and Android, making pet food deliveries even easier and more convenient.