In a Nutshell
Ollie is a dog food delivery service that combines premium quality ingredients, freshly cooked meals, fast shipping, and just the right amount of pet parent humor to create a winning combination. Ollie meals are nutritionally-balanced by canine nutritionists, personalized to fit your dog's needs, and delivered straight to your doorstep every 2 weeks with affordable plans and free 2-day shipping.
pros
Personalized to fit your dog's needs
2-day free shipping
Meals loaded with nutrition and superfoods
cons
Dog-only food delivery service
Packaging is a little cumbersome
Can't order individual meals (only plans)
Ollie at a Glance
Best for pet types: Dogs
Price: From $2 per serving (ballpark)
Shipping costs: Free 2-day shipping
Meal options: Beef, chicken, turkey, lamb meals
Subscription options: Yes, 2-week delivery cycles

What's Unique About Ollie?
Ollie likes to call themselves the humans behind the dogs. The team is made up of dog moms and dads, so they really get you and your pups. As with other fresh dog food services, Ollie had its meals crafted by veterinary nutritionists so that every meal is balanced with the proper amount of healthy nutrients that your dog needs every day. This includes proteins, vitamins, and minerals.
But Ollie does health food one better. Vegetables are great, and fresh is a must. But what Ollie does that other fresh dog food companies don't is add in extras to really make these meals pack a healthy punch. This includes superfoods like chia seeds and kale and gives Ollie meals an added level of nutritional benefits that you don't find in other brands. So, don't be surprised if you notice freshly chopped carrots, spinach, and even whole blueberries in these meals.
What's more, all Ollie meals are made with responsibly-sourced ingredients. All proteins are hormone-free and high quality, human-grade meats. Proteins are pasture-raised in the United States, and lambs come from free-range farms around the country.
And while this isn't an exclusively-Ollie unique feature, Ollie has a 100% money-back guarantee. If your dog isn't completely happy with their meal, Ollie will refund your money.
How it Works
Ordering from Ollie only takes a few minutes, and you can do it online.
The process starts by you filling out a puppy profile (like most dog food delivery services that have personalized meal plans).
The profile asks you questions about your dog so that Ollie can suggest the right amount and variety of meals for your dog. Questions include things like your dog's name, breed, gender, age, weight, body type, level of activity, and any known allergies.
What's interesting about the Ollie profile is that it asks what kind of food your dog is currently eating. We like that because it's a detail that many other dog food companies miss, but it is an important question to be asked.
Next, you'll be given the recommended meals based on your profile answers. You don't have to choose these flavors, though.
You can select up to 4 of the flavors to try during your trial month.
Once you've made your selection, you can proceed to checkout.
Enter your shipping address, account information, and billing details. The first box you order will contain 2 weeks' worth of food for your dog.
After that, your order will be delivered automatically every 2 weeks unless you change the order frequency.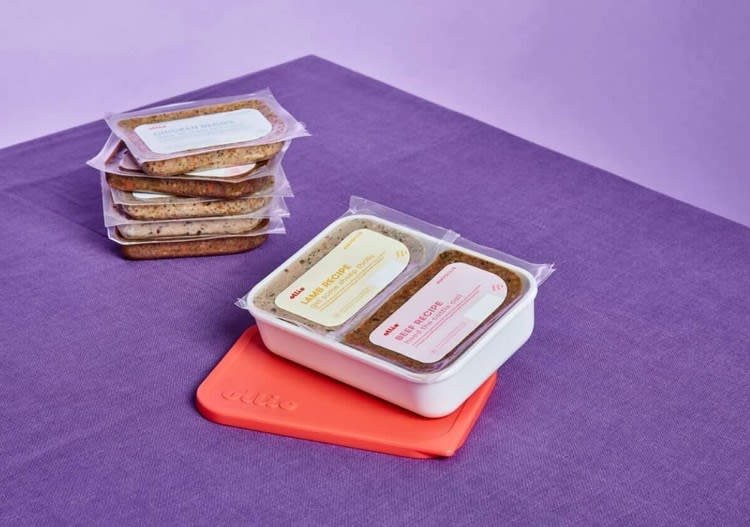 What's on Offer?
Ollie meals come in 4 flavors with a dash of humor sprinkled in. Here are your options:
Beef: Heed the cattle call
Ingredients include: Beef, beef heart, sweet potato, peas, potato, beef kidney, carrot, beef liver, spinach, chia seed, dicalcium phosphate, blueberries, fish oil (preserved with tocopherols), iodized salt, zinc gluconate, rosemary, vitamin E supplement, pyridoxine hydrochloride (vitamin B6), riboflavin (vitamin B2), and potassium iodide.
Chicken: Dare to cross the road
Ingredients include: Chicken, chicken gizzard, carrots, peas, chicken liver, rice, chia seeds, spinach, potatoes, whole dried eggs, dicalcium phosphate, calcium carbonate, blueberries, fish oil, Iodized salt, cod liver oil, zinc gluconate, rosemary, copper gluconate, vitamin E supplement, potassium Iodide, pyridoxine hydrochloride (vitamin B6), and riboflavin (vitamin B2).
Turkey: Get your gobble on
Ingredients include: Turkey breast, turkey liver, kale, carrots, lentils, blueberries, coconut oil, pumpkin, chia seeds, dicalcium phosphate, iodized salt, zinc gluconate, cod liver oil, iron sulfate, manganese gluconate, manganese sulfate, copper gluconate, vitamin E supplement, thiamin hydrochloride, and potassium iodate.
Lamb: Get some sheep thrills
Ingredients include: butternut squash, kale, lamb liver, chickpeas, cranberries, potato, chia seeds, dicalcium phosphate, iodized salt, calcium carbonate, zinc gluconate, taurine, vitamin E supplement, iron sulfate, pantothenic acid, potassium iodate, manganese gluconate, thiamin hydrochloride, and folic acid.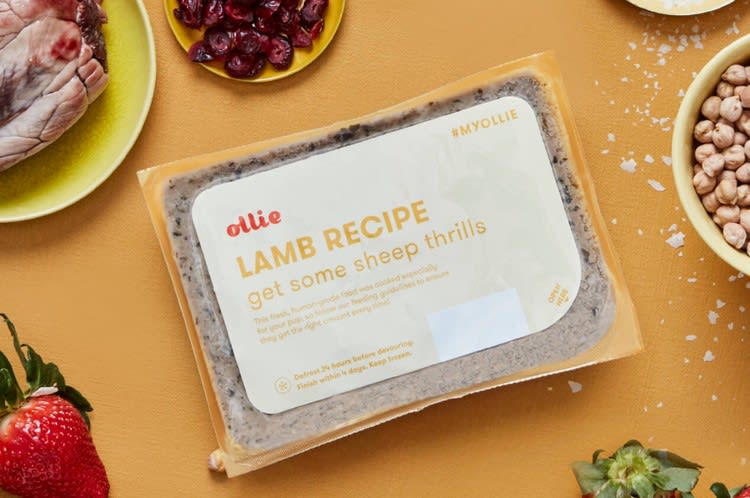 In addition to the witty quips, Ollie meals are jam-packed with some delicious ingredients, even by human standards. Meals all come with a generous helping of the respective protein, a good dose of vegetables, and a nice combination of vitamins and minerals.
Ollie meals come with plenty of health benefits, including a shinier coat, fewer allergies, healthier weight maintenance, and more energy for your pup.
Food Freshness and Quality
We've already talked about the high-quality ingredients that go into the Ollie meals. Pasture-raised, free-range, hormone-free proteins are coupled with fresh vegetables and fruits for a winning combination. There are no fillers, flavors, or preservatives, either. Ollie gently cooks the meals so that the nutritional value of these important ingredients isn't compromised (overheating can zap the vitamins in veggies).
And then there are the superfoods. Ollie tosses in some incredible ingredients (like the stuff WE should be eating on a daily basis) to boost the health benefits of its meals. Things like chia seeds, fish oil (great for omega-3 fatty acids), cod liver oil, spinach, and kale are included in the recipes. These really put a power boost onto already healthy meals, making them a great choice for your dogs.
Ollie meals are shipped in modified atmospheric-packaging that seals in the freshness. Unopened, Ollie meals can be kept in the fridge for up to 14 days. Once you open a package, though, the food should be used within 5 days.
Ollie Pricing
Ollie doesn't have a set price list for its dog food plans because each plan is tailored to fit your individual dog's specifications. A chunky Siberian husky is going to eat a lot more food on a daily basis than a frisky pomeranian. Puppies need more calories a day than older dogs. And an active dog will burn through more nutrients than a slow-moving Shih Tzu. Since there are so many factors that decide how much food is right for your dog, it's tough to give a generic price list.
What Ollie does say is that meals for small dogs generally start at less than $2 a day for dogs that are exclusively being fed an Ollie meal plan diet. The average price per day for Ollie meal plans is more like $6. You can also order partial meal plans to slowly ease your dog into an Ollie diet or to supplement their current food with a healthier alternative.
Ollie meals ship for free with 2-day shipping across the United States.

Ollie Get 50% off
Help & Support
Ollie customer support, termed Canine Care, can be reached via the phone, email, or social media outlets during the below business hours. There is also an extensive help center you can browse through to get answers to basic questions.
Business Hours
Monday – Friday 9am — 7pm
Bottom Line
Ollie is a healthy alternative to standard dog food or kibble. You get the real deal with these meals, fully loaded with the proper nutritional balance of vitamins, minerals, proteins, and moisture. Plus, Ollie meals come with a boost of superfoods like chia seeds, kale, spinach, and cod liver oil, making them one of the healthiest dog food delivery services out there. Free 2-day shipping makes this an even more attractive option for most pet parents.