In a Nutshell
Pet Plate is an all-natural ingredient pet food delivery service that was built on a noble premise. Desperate for a healthier alternative to the highly-processed, mass-market pet foods out there, Pet Plate founder Renaldo Webb (and trusty sidekick Winston) launched this initiative. Consulting with veterinary nutritionist Dr. Streeter, Webb formulated the Pet Plate menu—meals that are nutritionally balanced to fit the daily requirements for dogs.
pros
All-natural ingredients
Resealable containers
Designed by vet nutritionist and personalized
cons
Can't get trial samples
No vegetarian options
Subscription-based plans only (no a la carte)
Pet Plate at a Glance
Best for pet types: Dogs.
Price: From $1.50 per serving (for full menu).
Shipping costs: Free shipping.
Meal options: Chompin chicken, barkin beef, tail waggin turkey, lip lickin lamb, full meals, topper meals.
Subscription options: Yes.
What's Unique About Pet Plate?
Pet Plate is one of the few pet food delivery services that specializes in ultra-healthy food for your dogs. The meals are of top quality (as we'll talk about in just a minute), and they're prepared in USDA kitchens, meeting USDA-facility standards. In fact, every batch is tested to meet these guidelines, and then flash-frozen to lock in the freshness. But here's what makes Pet Plate more unique than other pet food delivery services in this niche:
Maybe you want to switch your dog to a full fresh-ingredient diet today. Or maybe you don't. Maybe you just want to try out this new lifestyle for a little bit to see how your pup takes to the different food. Dogs can be very particular about food tastes, textures, and even appearances, especially if they're picky eaters. For this reason, Pet Plate offers a topper plan. This is a smaller size kit that you are supposed to add to your dog's current food. This lets you slowly get your dog used to the new, healthier diet option, and see how they react without the full month commitment.
This is a big perk of ordering from Pet Plate. Unlike other natural dog foods, Pet Plate meals come in handy resealable containers. This way, if your pup only eats some of the food, you can close up the lid, and save the rest for tomorrow. It's much more convenient packaging to deal with for serving and for storing. A word of caution, though. Fresh food can't be stored for very long, even in the fridge. Pet Plate recommends not keeping the food for more than 5 days once opened or a week undefrosted.
Pet Plate is so confident that your dog will love the food that it is willing to give you a Clean Bowl Guarantee. The company guarantees that your dog will lick their bowl clean, or you can have your money back for the first box.
Best of all, though, are the health benefits that come from eating a Pet Plate diet. Noticeable differences you can see in your dog include improved digestion, healthier weight, less stress, more energy, more meal-time excitement, allergy relief, and a healthier coat.
How Pet Plate Works
There are 4 basic stages to ordering from Pet Plate:
1. Fill out your pup's profile
Here, you'll answer basic questions about your dog. This may seem like a waste of time, but really Pet Plate is getting to know your pup, so it can calculate the best diet plan for your furry friend. Profile questions include things like, what's your dog's name, gender, and breed. You'll also be asked if your dog is neutered or spayed, what their birthday is, and how much they weigh. You can fill in the ideal weight too, but that's optional. Finally, Pet Plate will ask how active your dog is and what body type they have (from very thin to bootylicious).
2. Pet Plate will suggest meals for your pup
Once you finish the pup profile, Pet Plate will suggest different meals based on your answers. There are up to 4 flavor options, and you can choose them all or fill up your order with the flavors that you know your dog loves the best.
3. Pick a plan
Pet Plate has 2 plan options. You can choose between the full meal plan or the topper plan. The full meal plan is ideal for pet parents who want to give their dogs a complete diet of natural dog food. Alternatively, you can order the topper plan if you want to mix the fresh food diet together with their regular food.
4. Check out
Pick your meal plan and proceed to checkout. Here, you'll fill in your shipping and billing information. Confirm your order, and the delivery will be scheduled.
Orders are delivered every 4 weeks, and you can skip, pause, or cancel whenever you want.
What's on Offer?
Pet Plate has 4 dog-friendly flavors, including: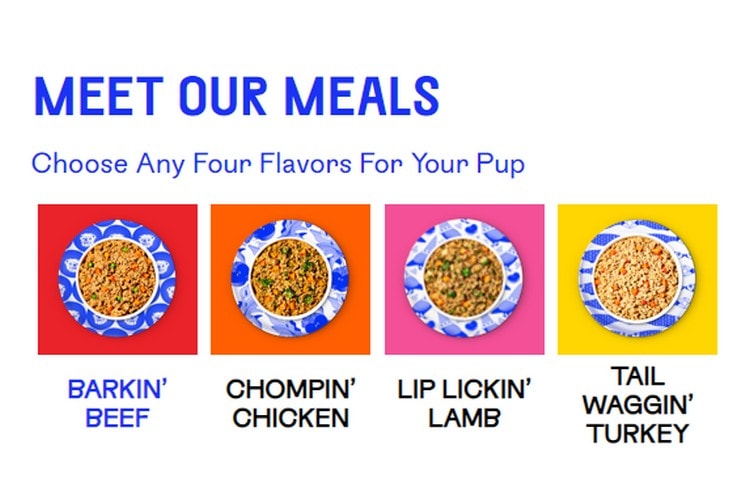 They all come with a hearty helping of the selected protein, along with a medley of vegetables, fruits, vitamins, and minerals.
Food Freshness and Quality
Pet Plate meals are chock full of all the good stuff. All ingredients used in these meals are fresh, human-grade, and premium quality. As mentioned, meals were vet-designed for the proper daily requirements for doggy nutritional needs, too. Plus, Pet Plate puts in lots of quality proteins like beef liver, ground beef, turkey liver, ground lamb, and lamb liver. And there's a ton of fresh fruits and vegetables in these meals, including:
Sweet potatoes

Broccoli

Butternut squash

Apples

Carrots

Green peas

Pumpkin
Pet Plate loads the meals with plenty of vitamins and minerals, as well. And then there are some extra ingredients that bring more nutritious value to the meals like brown rice, quinoa, safflower and salmon oil, potassium, copper gluconate, taurine, calcium carbonate. By the way, Pet Plate meals are flash-frozen to preserve freshness and nutritional value.
Pet Plate Pricing
Getting a price quote from Pet Plate is a little tricky. That's because how much you pay actually has to do with several different factors, including how old your dog is, which breed he is, how much she weighs, how active he is, and other important details. A bigger dog will naturally need more food. So, your price quote will be higher than someone who's raising a toy poodle.
Pet Plate meals start at $1.50 a serving, though, making it a very affordable option. And if you order the topper plan to mix in with your regular dog food, the price goes down even further.
What's more, with Pet Plate, shipping is always free. We like that because some other pet food delivery services make you order a minimum before clearing the free shipping threshold. You can also get a 40% discount on your first order.

Pet Plate Visit Site
Pet Plate Help & Support
Pet Plate has terrific customer support options. It's not 24/7, but you can send a service rep an email, call them on the phone, or speak with someone via live chat during the business hours listed below.
Phone hours:
Monday-Friday: 10am-5pm ET
Live Chat hours:
Monday-Friday: 10am-5pm ET
Bottom Line
Pet Plate offers pet parents a good alternative to the processed dog foods that are prevalent on the market today. If you're looking for a healthier boost to your dog's diet that will deliver strong results like shinier coat, better digestion, and more energy, Pet Plate is a good option. Plates start at just $1.50 a serving, and free shipping and topper plans make the meals even more affordable.