In a Nutshell
Nom Nom is a well-known fresh, whole food pet food delivery service, built on the principle that fresh is better. Offering nutritionally-balanced meals for both dogs and cats, Nom Nom has a better-than-most selection of meals, personalized pet plans, and flexible delivery options. In addition to regular meals, Nom Nom has health supplements, including GI-targeted probiotics and full spectrum probiotics for cats.
pros
Real, fresh, human-grade food
Can order sample packs
Science-based nutrition plan
cons
Pricing only after you fill out questionnaire
Only 2 meal options for cats
Nom Nom at a Glance
Best for pet types: Cats and dogs
Price: From $3 per serving
Shipping costs: Free shipping (48 continental states)
Meal options: 4 dog meals, 2 cat meals, supplements
Subscription options: Weekly, bi-weekly, monthly
What's Unique About Nom Nom?
Nom Nom is one of the premier real food pet diets out there. That means this was one of the first companies on the scene when veterinary nutritionists started coming out about the importance of whole, fresh food diets for your pets. Aside from being a trail-blazer, Nom Nom offers some great reasons to choose these meals over the competition, including:
When you browse through the various pet food delivery services, there's one thing that you'll notice immediately: they're very heavily dog-based. Now, we have nothing against dogs, dogs are awesome! But if you have a cat, it does make it harder to get your meal plan on. That's one way that Nom Nom differentiates itself from other real pet food delivery services like The Farmer's Dog or Ollie. Nom Nom serves up delicious meals for both dogs and cats. Meowzers!
What's more, the Nom Nom meals are a good option for your pets because they are nutritionally-balanced by veterinary nutritionists to suit your pets' daily nutritional needs. Meals come jam-packed with important vitamins and minerals, including vitamin D, vitamin E, vitamin B1, B12, iron, manganese, copper, zinc, and selenium. Bottom line, Nom Nom meals give your pets what they need to maintain a healthy, happy lifestyle.
How it Works
Nom Nom has a fairly flexible delivery schedule. The one thing we don't like is that you can't choose your delivery date. You can choose how often your food gets delivered, though, and Nom Nom has more options in that regard than most pet food delivery services. So, that's a plus. Here's how ordering works:
You'll start out by filling out a pet profile for your pet.
This involves answering a few basic questions about your pet like how old they are, what type of animal and which breed they are, and how much they weigh. You can also tell Nom Nom about any allergies, sensitivities, or taste preferences your pet has.
Then, you'll get a diet plan recommendation.
Once Nom Nom knows enough about your pet, you'll be given a recommendation for which meals will work best for your pet.
Select and seal the deal.
You can take the meals on offer or opt for other meals that you think your pet will enjoy more. There is also the option to add healthy snacks to your order. Confirm your order, put in your payment and shipping info, and proceed to checkout.
Your meals will be delivered straight to your door according to your delivery schedule. You can choose from weekly, bi-weekly, or monthly deliveries.
What's on Offer?
As we've already mentioned, Nom Nom offers nutritious meal plans for both dogs and cats, a plus if you have one or both animals roaming about your home. Here's what you can get from this well-known brand:
Nom Nom has 4 different meal options you can choose from for dogs. This is twice as many as the cat options, making us wonder if the world is biased towards dogs altogether (again, no judgments, just noting). For dog owners, you can choose between the following 4 flavors:
Beef mash

Chicken chow

Pork potluck

Turkey fare
These meals include a healthy dose of protein, including eggs, beef, chicken, pork, and turkey. In addition to the generous helping of proteins, the Nom Nom meals have plenty of fresh vegetables like carrots, yellow squash, and spinach.
The cat food selection is more limited. You have 2 meals to choose from: chicken cuisine or fish feast. But then, if a cat finds a meal he likes, you don't need a lot of variety. These meals are also made with whole, human-grade food, including tilapia, salmon, beef fat, chicken breast, asparagus, cantaloupe, spinach, and more goodies.
Nom Nom has a line of health supplements for both dogs and cats, including:
Joint and mobility support for dogs

Full-spectrum probiotics for dogs/cats

GI-targeted probiotics for dogs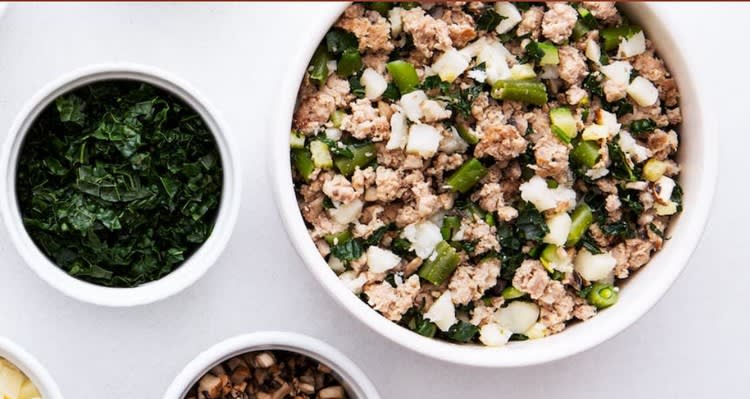 Food Freshness and Quality
It's no secret that a real food diet is the best option for pet parents who care, which is why you should be looking for a pet food brand that provides quality, whole foods in their recipes. This is one area that Nom Nom excels in. The company's basic policy is, "don't feed your pets anything you wouldn't eat yourself." All Nom Nom meals are prepared fresh before each delivery. Additionally, ingredients are all human-grade whole foods, USDA-approved, and proudly sourced in the USA.
This might not sound so impressive considering the fact that there are several other pet food delivery services that have their meals designed by veterinary nutritionists. But Nom Nom still takes the prize by having Dr. Justin Shmalberg on the team. Dr. Shmalberg is one of the few board-certified veterinary nutritionists in the country, and he personally designs each meal offered by Nom Nom. In addition to being nutritionally-balanced, Dr. Shmalberg also made sure that these meals met or exceeded the nutritional requirements set by the AAFCO. This includes at least 70% moisture, whole, fresh vegetables, and human-grade proteins in every meal.
Something else that we found interesting about the Nom Nom meals was the extra ingredients that were thrown into the mix. Not only do these meals come with whole proteins and fresh vegetables, but Nom Nom meals have health-boosting ingredients like fish oil and kale, otherwise known as superfoods. That kind of extra detail really makes a company stand out for quality.
Pricing
As with most pet food delivery services in the real-food diet industry, Nom Nom does not publish a specific pricing list for its meals. That's because there are so very many factors that can change the final price you pay. For example, the meal plan formulated for a 100-pound Newfoundland will be dramatically different from the costs you'll pay for a 5-pound kitten's daily meal requirements.
With all of the various breeds, special dietary requirements, and animal specifications, it's hard to draw up a concrete pricing list. Nom Nom does calculate that meals start at around $3 a day, but again, this can vary on how many meals you want per day and what type of animal you are buying food for.
You can save by ordering personalized meal plans, rather than the standard variety packs. As a member, you'll also get a few treats tossed into your delivery once in a while.
One thing we can say is that Nom Nom has free shipping. This is a big plus for pet parents because many pet food delivery services do charge for shipping. Nom Nom also has occasional promotions, like the 20% off first order offer we were given when we signed up.

Nom Nom Visit Site
Help & Support
Nom Nom has a helpful FAQ section you can browse through for most of the usual questions you might come up with, along with a massive Help Center with even more detailed questions and answers. You can also get in touch with customer care personnel via email or over the phone during the below hours:
Hours: Monday - Friday, 9 am - 5 pm PT
Bottom Line
Nom Nom is a good option for real-food diet seekers. There are several meal options, personalized pet plans, and flexible delivery options. Plus, the meals are nutritionally-balanced by one of the top veterinary nutritionists in the country. Pet parents looking to upgrade their pets' diets will do well with this brand.