In a Nutshell
Smalls is a pet food delivery service that focuses only on cats. This is unusual for the industry, as most pet food delivery services will feature mostly dog food, and sometimes exclusively so. Smalls offers cats uniquely-tailored meals designed specifically for cat nutrition. All ingredients are real, whole, and healthy for your felines, and Smalls offers a sample box, so your cats can try out the flavors for themselves.
pros
Top-quality food for cats
Sampler box available
Excellent customization options
cons
Have to pay for shipping
Doesn't ship to Alaska
Money-back guarantee limited to 30 days
Smalls at a Glance
Best for pet types: Cats
Price: From $0.30 per serving
Shipping costs: $10
Meal options: Minced and pate-style, chicken, turkey, fish, beef
Subscription options: 2, 4, 8 weeks
What's Unique About Smalls?
We've already mentioned that Smalls stands out by focusing on the feline populace. This makes a big difference, too. Since Smalls is geared toward cats, all recipes are designed and calculated according to a feline's daily nutritional needs. So, your cat is getting exactly what they need to stay healthy and live a more satisfying life. Additionally, Smalls is a little different for a few more reasons, including:
You'll get a personal cat concierge to work with during your transition. This is great, the concierge will check in with you during the first week to see how your cat is responding to the new food. They're also available to answer questions or help you tailor your meal plan to better fit your cat's needs.
Another thing that's great about Smalls is how customizable the orders are. You can pick exactly how much fresh or dry food you want, which flavors, and how often. A lot of pet delivery services let you customize your meal plans, but no one does it to this extent.
But what we really like about the Smalls cat food diet are the health benefits pet parents can see with their own eyes. Starting at about one month from eating this specialized diet, litter boxes will have less odor (since more nutrients are being digested properly). A month later, parents will notice shinier, healthier coats. And that comes along with fewer hairballs getting hacked up. The following month, don't be surprised if your kitty seems more energetic and playful. This is a result of the healthier, real food diet it's been eating consistently.
How it Works
Smalls works like other pet food delivery services you might have seen.
You'll start by taking a cat quiz, answering questions about your feline. Questions include what type of build does your cat has, what type of food are they currently eating, and how old is your cat.
Here's where things get really interesting. Smalls will recommend 3 meal plans for your cat. They'll consist of varying combinations of fresh and dry cat food. Both are healthy options, but if your cat is used to one or the other, Smalls may recommend starting out with a slower progression to help them get used to a certain type of food.
What's nice about Smalls is that it offers a sampler box for pet parents who are just getting started on their adventure into wet, fresh cat food. This gives you a chance to test out flavors and see what your cat likes best.
Finally, you can create a subscription plan that redelivers every 2, 4, or 8 weeks, depending on your preferences.
What's on Offer?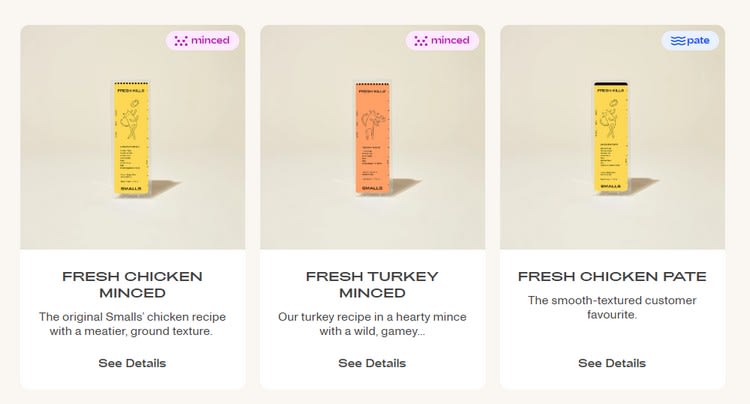 Smalls also has a good amount of variety in its cat food diet selection. This is helpful for pet parents who are nervous to switch out their current food for a new flavor. Cats can be picky eaters, to say the least, so having a good selection of flavors allows pet parents to find the one that their cats will really love. Smalls even has a selection of consistencies because cats are notorious for being finicky about how the food looks and feels while they dine. Here are some of the flavor options available from Smalls:
Fresh chicken minced

Fresh turkey minced

Fresh chicken pate

Fresh turkey pate

Fresh beef minced

Fresh beef pate
The minced recipes have a meatier, ground texture. Meanwhile, the pate has a smoother texture for cats who prefer a finer dish. The meals are made from real proteins, including chicken thighs, breasts, liver, ground beef, beef liver, beef heart, and turkey thighs. Additionally, Smalls meals are loaded with healthy greens, including green beans, kale, and spinach. Finally, these meals are prepared with a good dose of vitamins and minerals like calcium carbonate, magnesium gluconate, copper gluconate, pantothenate, riboflavin, folic acid, and vitamin B12 (there are a lot more, but you get the point).
Smalls also produces an organic litter solution for pet parents who want to maintain the hygiene of their home without compromising Mittens' health. Called Digs, after the ceremonious way cats like to dig into the dirt to bury their business, this litter is pretty impressive. It's anti-tracking, so cats don't end up dragging the stuff all over the house. And it's almost dust-free. More importantly, Digs is scent-absorbing, for a fresher, cleaner odor around the home. And in case you were worried, Digs is environmentally-friendly, as well. The litter is completely biodegradable.
You can get two types of Digs for your cat:
This litter is all-natural and traps odors, so your home is fragrance-free. It's made out of millet, corn starch, and vegetable adhesives.
Made out of silica sand, soda ash, and wager, Silica is even more powerful for odor-absorption, with tiny crystals that trap in the smells.
Food Freshness and Quality
Cats are carnivorous creatures. That means that their main source of nutrition should be protein. But protein that's been sitting around in a storage room for months doesn't exactly thrill a feline to its core. Instead, for the optimal results of nutrition, cats should be eating fresh protein. The fresher, the better, which is why Smalls is such a big success. The meals are made out of fresh animal proteins. They're gently cooked so as to preserve the nutritional value and taste of fresh protein, while still maintaining the healthier benefits of cooked food.
All Smalls cat meals are made with USDA, human-grade ingredients. There are no preservatives, colorants, or artificial flavorings added to "beef up" these dishes. It's straight-up, top-quality ingredients. All meals are AAFCO-approved for all cat life stages. And these dishes are designed to have high moisture levels, making it easier for cats to digest them.
In terms of packaging quality, all meals are packed in ice that can last up to 2-3 days during transit. Food should be kept in the refrigerator upon delivery. FYI, all of Smalls packaging is 100% recyclable, including the insulators, boxes, and bags.
Pricing
How much your specific meal plan will cost will vary considerably. Here is an average price per serving you can expect from a Smalls menu plan:
Freeze-dried chicken/turkey/duck
Chicken/turkey/fish kibble
Minced chicken/turkey/beef
Since Smalls lets you tailor your meal plan, you can decide how much you want to spend, and choose the options that fit your budget.
Here's a quick look at how much a monthly subscription would cost for one cat:
75% Essential + Raw Kibbles, 25% Fresh
75% Essential Kibble, 25% Fresh
75% Fresh, 25% Essential Kibble
75% Fresh, 25% Raw Kibble
75% Essential Kibble, 25% Raw Kibble
Help & Support
Smalls has excellent customer service. Not only do you get your own personal cat concierge like we already mentioned, but there's a great FAQ section on the site with tons of answers to regular questions you'd ask. What's more, email support is available 24/7.

Smalls Visit Site
Concierge Hours:
Monday- Wednesday: 10am - 9:30pm ET
Thursday: 10am - 8pm ET
Friday: 10am-6pm ET
Bottom Line
Smalls is the go-to pet food delivery service if you are a cat parent. The service offers shipping to the entire continental US (though it's not free unless you get a promotional discount), flexible shipping options, and easy ordering. What's more, these meals are made with human-grade, premium-quality ingredients. And the meal plans are as customizable as you could wish for.