In a Nutshell
BarkBox is a fun, new innovation for pet parents who just love their pups. These gift boxes come delivered each month and are filled to the brim with exciting new toys, treats, and chewies curated to fit your dog. BarkBox selects a fun theme for each box, offers free shipping to the continental US, and has unique options for birthdays and more.
pros
Themed toys and treats delivered each month
Free shipping
Special birthday treats added to your box
cons
Not a full meal plan
Free shipping not available in Alaska or Hawaii
No cancellation policy
BarkBox at a Glance
Best for pet types: Dogs
Price: From $22 per month
Shipping costs: Free shipping
Meal options: Treats, chews
Subscription options: 1 month, 6 months, 12 months
What's Unique About BarkBox?
What's unique about BarkBox? Well, just about everything. It's not your typical pet food delivery service at all. In fact, it doesn't even deliver food, per se. Instead, BarkBox delivers joy, or at least that's what the advertisements claim. The box contains a combination of toys, treats, and chews that are chosen to make pups happy. Here are a few things we like about this service:
BarkBox tailors your boxes to suit your dog, including age, stage, and personality. For example, maybe you have an energetic new pup who is raring to go at all hours of the day. BarkBox will toss in more toys for this stage of life. On the other hand, you may have a pup that needs to trim down a little around the midsection. In this case, BarkBox can cut down the number of treats in your box. Allergies? BarkBox can cover those, too.
BarkBox also lets you add items or customize your box to better suit your doggie needs. You can add seasonal items, monthly staples, and more.
BarkBox does a good job of designing resilient dog chews, tough enough to withstand the friskiest and most aggressive biters. So much so that the company even offers a guarantee. If your dog chews through these toys, BarkBox will send you another durable toy to replace it.
In addition to the chew thru guarantee, BarkBox offers customers a satisfaction guarantee. If you are not happy with an aspect of your box (or rather, if your DOG isn't happy), the Happy Team is there to set things right. There are no specifics about the parameters of that guarantee. But BarkBox states that it'll work with pet parents until their dogs are tail-wagging happy.
How it Works
You can order BarkBox boxes online in steps:
Fill out the questionnaire, including your dog's name, size, breed, and birthday.

Tell them if there are ingredients you specifically don't want (chicken, beef, liver). Specific allergies will be noted at a later date.

Pick a plan (you also have the option to add a premium doggie toy to your box).

Put in your payment details and confirm your order.
Boxes are shipped on or around the 15th of every month, and it usually takes 2-8 business days to arrive (within the continental US, 4-12 days in Canada). You'll start out with a classic toy box that includes 2 toys, 2 treats, and a chew. But you can tailor this box after the first month if you want to tweak your order.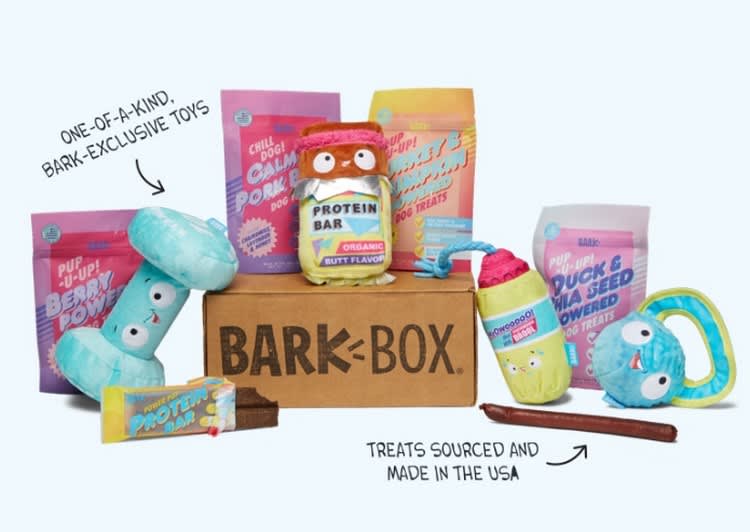 What's on Offer?
While you can tailor the boxes to any assortment you'd like, the classic BarkBox boxes come with 2 toys, 2 treats, and 1 chew. BarkBox also has a Super Chewer box set. This is a tailored box for dogs who love to chew. The contents of these boxes are slightly more durable and appropriate for the dog in your life who just can't be without something in their mouths. Super Chewer box sets come with 2 tough, fluff-free toys, 2 hearty chews, and 2 big bags of treats.
What's cool about these boxes is that the toys aren't just another piece of rubber for your dogs to chew on for a while. Each toy is designed to be innovative, interesting, and different.
It's important to note that these BarkBox boxes are not a replacement for your dog's normal daily diet. They'll still need to eat regular meals according to their specific meal plan. BarkBox boxes are more of an added bonus, a treat, and a fun snack to be given here or there.
Food Freshness and Quality
While the point of these boxes isn't to offer a healthy meal plan (in fact, BarkBox doesn't offer that at all), BarkBox is still very conscious about doggie health and safety. Toys are designed by in-house designers, optimized for safety, and made using top quality materials. Additionally, the treats are formulated by Bark's edible experts for optimal health benefits. All toys and chews are made with all-natural ingredients. Edibles are also soy-free, wheat-free, and corn-free, to avoid unpleasant reactions in the digestive tract.
Pricing
BarkBox has a number of pricing options, including subscription plans that reduce the price per box. Here's a list of the standard pricing:
You can also get individual gift boxes according to this price list:
Price for Classic box packages

Price for Super Chewer box packages

As you can see, the more you sign up for, the less each box costs. The Super Chewer boxes are more expensive because these toys are made of even more durable materials and include an extra edible for your dog.
Watch out because subscriptions automatically get renewed at the end of the subscription time. So, if you don't want to continue, be sure to cancel before the term is renewed. Good news is that shipping is free for all 48 continental United States. For Canada, Alaska, and Hawaii, you'll have to pay $8 for shipping. BarkBox uses FedEx and USPS to deliver the boxes.

BarkBox Visist Site
Help & Support
BarkBox has one of the best help centers we've seen on pet delivery services to date. The FAQ section is neatly organized and easy to browse through, making it a cinch to find the answers to your questions.
Additionally, BarkBox has email, text, and live chat customer support.
Bottom Line
BarkBox is a good choice if you are looking for a fun way to pamper your pup. The toys and edibles are all of top quality, and they're likely to keep your dogs happy and busy for a long time. BarkBox offers a satisfaction guarantee and lets you really customize your boxes to fit your doggie wants. Shipping is almost always free, and there are discounts when you sign up for multi-month subscription plans. We don't like that BarkBox doesn't offer actual dog food, but for an extra frills service, BarkBox is top-notch.